Abstract
Introduction and hypothesis
Genital prolapse affects up to 50 % of multiparous women and has an impact on quality of life (QoL) for many. Vaginal obliterative techniques are relevant in older patients who are not sexually active. We performed Labhardt's colpoperineocleisis in such patients. The objective was the evaluation of subjective outcomes of this technique using PGI-I.
Methods
Retrospective cohort analysis of patients. We performed a bivariate, multivariate analysis, and survival curves for subjective improvement.
Results
Seventy-four cases were analyzed. Average age of the patients was 72 years, median parity 4, 95.9 % POP-Q stage III or IV, anterior leading edge defect in 61.1 %. Operating time: 54 min, estimated blood loss 70 ml, no intraoperative complications, 12 patients had protocol deviations with changes in the recommended type of suture. Median hospital stay was 2 days and average follow-up 24.9 months. There was 13.5 % anatomical recurrence, 3 of which (30 %) were in patients with protocol deviations. 1.9 % developed clinically significant de novo stress urinary incontinence (SUI). PGI-I: 64 (86 %) reported subjective improvement and 10 did not. In the subjective improvement group, 98.4 % reported being very much or much better. In the non-subjective improvement group 80 % reported that they were the same as before surgery and 20 % were worse. In bivariate analysis anatomical recurrence showed significance and persisted after multivariate analysis with an OR of 8322 for subjective failure.
Conclusion
Labhardt's colpoperineocleisis is a safe technique with good subjective results. It has few complications, an acceptable recurrence rate, and a low rate of de novo SUI. It may be important to use the #0 or #1 polydioxanone sutures, as these are associated with better outcomes in this series. Comparative studies with other obliterative techniques are needed.
This is a preview of subscription content, log in to check access.
Access options
Buy single article
Instant unlimited access to the full article PDF.
US$ 39.95
Price includes VAT for USA
Subscribe to journal
Immediate online access to all issues from 2019. Subscription will auto renew annually.
US$ 199
This is the net price. Taxes to be calculated in checkout.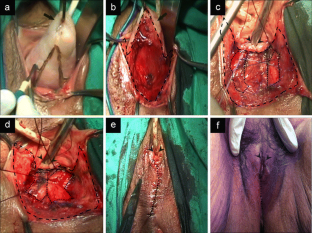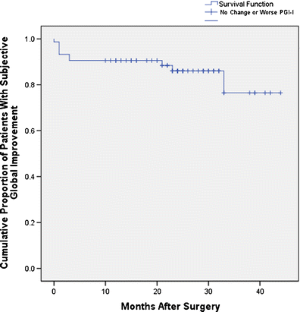 Abbreviations
POP:

Pelvic organ prolapse

PGI-I:

Patient global impression of improvement

SUI:

Stress urinary incontinence

OR:

Odds ratio

BMI:

Body mass index

POP-Q:

Pelvic organ prolapse quantification

ISI:

Incontinence severity index
References
1.

Olsen AL, Smith VJ, Bergstrom JO, Colling JC, Clark AL (1997) Epidemiology of surgically managed pelvic organ prolapse and urinary incontinence. Obstet Gynecol 89:501–506

2.

Wu JM, Hundley AF, Fulton RG, Myers ER (2009) Forecasting the prevalence of pelvic floor disorders in U.S. Women: 2010 to 2050. Obstet Gynecol 114:1278–1283

3.

Maher C, Feiner B, Baessler K, Adams EJ, Hagen S, Glazener CM. (2010) Surgical management of pelvic organ prolapse in women. Cochrane Database Syst Rev CD004014

4.

FitzGerald MP, Richter HE, Siddique S, Thompson P, Zyczynski H (2006) Colpocleisis: a review. Int Urogynecol J Pelvic Floor Dysfunct 17:261–271

5.

Abbasy S, Kenton K (2010) Obliterative procedures for pelvic organ prolapse. Clin Obstet Gynecol 53:86–98

6.

Reiffenstuhl G (1996) Vaginal operations. In: Surgical anatomy and technique. Williams and Wilkins, Baltimore, pp 161–180

7.

FitzGerald MP, Brubaker L (2003) Colpocleisis and urinary incontinence. Am J Obstet Gynecol 189:1241–1244

8.

Denehy TR, Choe JY, Gregori CA, Breen JL (1995) Modified Le Fort partial colpocleisis with Kelly urethral plication and posterior colpoperineoplasty in the medically compromised elderly: a comparison with vaginal hysterectomy, anterior colporrhaphy, and posterior colpoperineoplasty. Am J Obstet Gynecol 173:1697–1701

9.

Smith AL, Karp DR, Lefevre R, Aguilar VC, Davila GW (2011) LeFort colpocleisis and stress incontinence: weighing the risk of voiding dysfunction with sling placement. Int Urogynecol J 22:1357–1362

10.

Wheeler TL, Richter HE, Burgio KL, Redden DT, Chen CC, Goode PS, Varner RE (2005) Regret, satisfaction, and symptom improvement: analysis of the impact of partial colpocleisis for the management of severe pelvic organ prolapse. Am J Obstet Gynecol 193:2067–2070

11.

Labhardt A (1932) Kolpoperineokleisis subtotalis. Prolapsoperationen bei alten Frauen. Zbl Gynäkol 56:834–838

12.

van Huisseling JC (2009) A modification of Labhardt's high perineoplasty for treatment of pelvic organ prolapse in the very old. Int Urogynecol J Pelvic Floor Dysfunct 20:185–191

13.

von Massenbach MW, Ohlenroth G (1965) Results of subtotal colpoperineocleisis according to the Labhardt method modified by H. Martius. Geburtshilfe Frauenheilkd 25:695–700

14.

Kilic G, Tunca JC (2007) Use of the Labhardt procedure to repair pelvic organ prolapse. Clin Exp Obstet Gynecol 34:91–92

15.

Pizarro-Berdichevsky J, Galleguillos G, Cuevas R, Aramayo M, Blumel B, Pattillo A, Gonzalez S, Majerson A, Alvo J, Valdevenito G, Cuello M, Ortiz J (2012) Colpoperineocleisis de Labhardt: una alternativa segura y eficaz para el tratamiento del prolapso genital en pacientes sin actividad sexual. Rev Chil Obstet Ginecol 77:201–210

16.

Bump RC, Mattiasson A, Bo K, Brubaker LP, DeLancey JO, Klarskov P, Shull BL, Smith AR (1996) The standardization of terminology of female pelvic organ prolapse and pelvic floor dysfunction. Am J Obstet Gynecol 175:10–17

17.

Barber MD, Brubaker L, Nygaard I, Wheeler TL, Schaffer J, Chen Z, Spino C (2009) Defining success after surgery for pelvic organ prolapse. Obstet Gynecol 114:600–609

18.

Kasturi S, Bentley-Taylor M, Woodman PJ, Terry CL, Hale DS (2012) High uterosacral ligament vaginal vault suspension: comparison of absorbable vs. permanent suture for apical fixation. Int Urogynecol J 23:941–945

19.

Chung CP, Miskimins R, Kuehl TJ, Yandell PM, Shull BL. (2012) Permanent suture used in uterosacral ligament suspension offers better anatomical support than delayed absorbable suture. Int Urogynecol J 23:223–227

20.

Wong MJ, Rezvan A, Bhatia NN, Yazdany T (2011) Uterosacral ligament vaginal vault suspension using delayed absorbable monofilament suture. Int Urogynecol J 22:1389–1394

21.

Madhuvrata P, Glazener C, Boachie C, Allahdin S, Bain C (2011) A randomised controlled trial evaluating the use of polyglactin (Vicryl) mesh, polydioxanone (PDS) or polyglactin (Vicryl) sutures for pelvic organ prolapse surgery: outcomes at 2 years. J Obstet Gynaecol 31:429–435

22.

Srikrishna S, Robinson D, Cardozo L (2010) Validation of the Patient Global Impression of Improvement (PGI-I) for urogenital prolapse. Int Urogynecol J 21:523–528

23.

FitzGerald MP, Richter HE, Bradley CS, Ye W, Visco AC, Cundiff GW, Zyczynski HM, Fine P, Weber AM (2008) Pelvic support, pelvic symptoms, and patient satisfaction after colpocleisis. Int Urogyneco J Pelvic Floor Dysfunct 19:1603–1609

24.

Nilsson CG, Kuuva N, Falconer C, Rezapour M, Ulmsten U (2001) Long-term results of the tension-free vaginal tape (TVT) procedure for surgical treatment of female stress urinary incontinence. Int Urogyneco J Pelvic Floor Dysfunct 12 [Suppl 2]:S5–S8
Consent
Written informed consent was obtained from the patient for publication of this video article and any accompanying images.
Acknowledgements
We are deeply grateful to Dr. Manuel Fernandez who has devoted his professional life to gynecological–oncological surgery and as a great vaginal surgeon, selflessly taught us this technique. We would also like to thank Dr. Marco Aramayo, Dr. Marco Arellano, and Jacobo Alvo for their critical review of this manuscript.
Conflict of interest
None.
Electronic supplementary material
Below is the link to the electronic supplementary material.
About this article
Cite this article
Pizarro-Berdichevsky, J., Galleguillos, G., Cuevas, R. et al. Labhardt's colpoperineocleisis: subjective results of an alternative treatment for genital prolapse in patients who are not sexually active—2-year follow-up. Int Urogynecol J 25, 417–424 (2014). https://doi.org/10.1007/s00192-013-2205-9
Received:

Accepted:

Published:

Issue Date:
Keywords
Pelvic organ prolapse

Gynecological surgical procedures

Frail elderly

Quality of life

Vaginal prolapse