Abstract
With the increasing popularity of mesh in prolapse surgery, complications such as intravesical mesh will arise more frequently. In three cases intravesical mesh was identified in the trigone of the bladder following laparoscopic mesh hysteropexy, open sacral colpopexy, and transvaginal mesh repair and presented 9 months to 7 years later with a variety of symptoms including recurrent urinary tract infections, suprapubic pain, and constant urinary leakage. Each underwent uncomplicated laparoscopic transvesical removal of intravesical mesh. Intravesical mesh can present years following index prolapse surgery and can develop despite the bladder integrity being documented as being intact at the initial surgery. The laparoscopic approach to the removal of intravesical mesh is feasible, minimally invasive, and a precise approach to this challenging complication.
This is a preview of subscription content, log in to check access.
Access options
Buy single article
Instant unlimited access to the full article PDF.
US$ 39.95
Price includes VAT for USA
Subscribe to journal
Immediate online access to all issues from 2019. Subscription will auto renew annually.
US$ 199
This is the net price. Taxes to be calculated in checkout.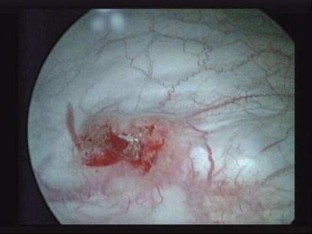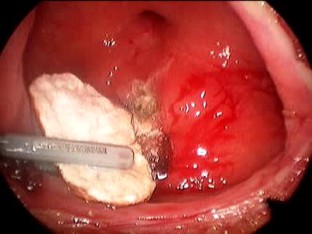 References
1.

Maher C, Feiner B, Baessler K, Glazener C (2010) Surgical management of pelvic organ prolapse in women. Cochrane Database Syst Rev Issue 4. Art. No.: CD004014. doi:10.1002/14651858.CD004014.pub4

2.

Ridgeway B, Walters MD, Paraiso MF, Barber MD, McAchran SE, Goldman HB et al (2008) Early experience with mesh excision for adverse outcomes after transvaginal mesh placement using prolapse kits. Am J Obstet Gynecol 199(6):703.e1–703.e7

3.

Araco F, Gravante G, Piccione E, Araco F, Gravante G, Piccione E (2009) Bladder erosion after 2 years from cystocele repair with type I polypropylene mesh. Int Urogynecol J 20(6):731–733

4.

Yamada BS, Govier FE, Stefanovic KB, Kobashi KC, Yamada BS, Govier FE et al (2006) Vesicovaginal fistula and mesh erosion after Perigee (transobturator polypropylene mesh anterior repair). Urology 68(5):1121.e5–1121.e7

5.

Firoozi F, Ingber MS, Goldman HB (2010) Pure transvaginal removal of eroded mesh and retained foreign body in the bladder. Int Urogynecol J 21(6):757–760
Acknowledgments
One case was presented as surgical video Combined IUGA/ICS meeting Toronto 25 August 2010.
Conflicts of interest
None.
Electronic supplementary material
Below is the link to the electronic supplementary material.
About this article
Cite this article
Maher, C., Feiner, B. Laparoscopic removal of intravesical mesh following pelvic organ prolapse mesh surgery. Int Urogynecol J 22, 1593–1595 (2011) doi:10.1007/s00192-011-1465-5
Received:

Accepted:

Published:

Issue Date:
Keywords
Laparoscopic removal intravesical mesh