Abstract
We examine the innovation performance of MNE subsidiaries and their embeddedness in sources of local knowledge in a policy framework within the context of an emerging economy. Based on first-hand evidence from multiple case studies, we found that: (1) there was variability between the subsidiaries in terms of the cumulative manner and speed at which they improved their innovation performance over time, using progressively levels of accumulated capability as a proxy; (2) these differences in innovation performance improvement reflected heterogeneity between the subsidiaries in terms of the learning efforts made to acquire knowledge from local organizations; (3) the varied frequency in which the subsidiaries developed such local relationships reflects their differing responses to a common industrial policy that makes use of tax incentives to stimulate such links. The paper reveals the limitations of this conventional type of industrial policy in stimulating industrial development and the embeddedness of MNEs. It also suggests that a new direction for policy, which incorporates public–private negotiations and a focus on the firm-centred building of innovation capabilities, should be pursued in order to accelerate the innovation performance progress of latecomer firms.
This is a preview of subscription content, log in to check access.
Access options
Buy single article
Instant access to the full article PDF.
US$ 39.95
Price includes VAT for USA
Subscribe to journal
Immediate online access to all issues from 2019. Subscription will auto renew annually.
US$ 99
This is the net price. Taxes to be calculated in checkout.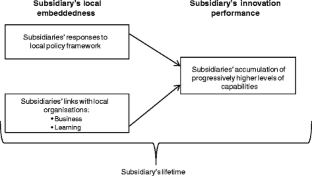 Notes
1.

Indeed, in the broader study from which this paper derives, we have examined the role of both intra-corporate and local link in affecting the innovation performance improvement of subsidiaries.

2.

This paper does not consider levels of innovation performance achieved by the case-study firms as a measure of success or failure. Our purpose is to explore heterogeneity across the cases in terms of the extent of and speed at which they have improved their innovation performance and the role embeddedness.

3.

This is a method of digital wireless communications transmission allowing a large number of users to access a single radio-frequency channel without interference.

4.

Indeed, Omega had started its relationships, based on joint education and training program, with research institutes (e.g. Cesar) and universities in North-eastern Brazil as early as 1999. Omega's first approached neighboring universities in South-eastern Brazil, but its proposals to develop such kind of relationship were turned down.
References
Almeida P, Phene A (2004) Subsidiaries and knowledge creation: the influence of the MNC and host country on innovation. Strateg Manage J 25:847–864

Andersson U, Forsgren M (2000) In search of centre of excellence: network embeddedness and subsidiary roles in multinational corporations. Manag Int Rev 40:329–350

Andersson U, Forsgren M, Holm U (2001) Subsidiary embeddedness and competence development in MNCs—a multi-level analysis. Organ Stud 22:1013–1034

Andersson U, Mats F, Holm U (2002) The strategic impact of external networks: subsidiary performance and competence development in the multinational corporation. Strateg Manage J 23:979–996

Ariffin N (2000) The internationalisation of innovation capabilities: the Malaysian electronics industry. Unpublished PhD Thesis, SPRU, University of Sussex, Brighton

Ariffin N, Bell M (1999) Firms, politics and political economy: patterns of subsidiary-parent linkages and technological capability-building in electronics TNC subsidiaries in Malaysia. In: Jomo KS, Rasiah R, Felker G (eds) Industrial technology development in Malaysia. Routledge, London

Ariffin N, Figueiredo PN (2004) Internationalisation of innovative capabilities: counter-evidence from the electronics industry in Malaysia and Brazil. Oxf Dev Stud 32:559–583

Avnimelech G, Teubal M (2008) Evolutionary targeting. J Evol Econ 18 (2):151–166

Bartlett C, Ghoshal S (1990) Managing across borders: the transnational solution. Harvard Business School Press, Boston

Bell M (2006) Time and technological learning in industrializing countries: how long does it take? How fast is it moving (if at all)? Int J Technol Manag 36(1–3):25–42

Bell M, Pavitt K (1993) Technological accumulation and industrial growth: contrasts between developed and developing countries. Ind Corp Change 2(2):157–211

Bell M, Pavitt K (1995) The development of technological capabilities. In: Haque IU (ed) Trade, technology and international competitiveness. The World Bank, Washington

Birkinshaw JM, Hood N, Jonsson S (1998) Building firm-specific advantages in multinational corporations: the role of subsidiary initiative. Strateg Manage J 9:221–241

Birkinshaw J, Hood N, Young S (2005) Subsidiary entrepreneurship, internal and external competitive forces, and subsidiary performance. Int Bus Rev 14:227–248

Boehe DM (2007) Product development in MNC subsidiaries: local linkages and global interdependencies. J Internat Manag 13:488–512

Cantwell JA, Janne OEM (1999) Technological globalisation and the innovation centres: the role of corporate technological leadership and locational hierarchy. Res Policy 28:119–144

Cantwell JA, Mudambi R (2005) MNE competence creating subsidiary mandates. Strateg Manage J 26:1109–1128

Chesbrough H (2006) Open innovation: a new paradigm for understanding industrial innovation. In: Chesbrough H, Vanhaverbeke W, West J (eds) Open innovation: researching a new paradigm. Oxford University Press, New York, pp 1–14

Cohen WM, Levinthal DA (1990) Absorptive capacity: a new perspective on learning and innovation. Adm Sci Q 35:128–152

Criscuolo P, Narula R (2008) A novel approach to national technological accumulation and absorptive capacity: aggregating Cohen and Levinthal. Eur J Dev Res 20(1):56–73

Dacin MT, Ventresca MJ, Beal BD (1999) The embeddedness of organizations: dialogue and directions. J Manage 25:317–356

Dougherty D (2002) Grounded theory research methods. In: Baum JAC (ed) The Blackwell companion to organisations. Blackwell, Oxford

Dunning JH (1994) Multinational enterprises and the globalization of innovatory capacity. Res Policy 23:67–89

Dunning JH (1998) Location and the multinational enterprise: a neglected factor? J Int Bus Stud 29(1):45–66

Dyer JD, Singh H (1998) The relational view: cooperative strategy and sources of interorganisational competitive advantage. Acad Manage Rev 23:660–679

Eisenhardt KM (1989) Building theories from case study research. Acad Manage Rev 14:532–550

Evans P (1995) Embedded autonomy: states and industrial transformation. Princeton University Press, Princeton

Figueiredo PN (2003) Learning, capability accumulation and firms differences: evidence from latecomer steel. Ind Corp Change 12(3):607–643

Figueiredo PN (2008) Industrial policy changes and firm-level technological capability development: evidence from Northern Brazil. World Dev 36:54–92

Garcia-Pont C, Canales I, Noboa F (2009) Subsidiary strategy: the embeddedness component. J Manag Stud 46:182–214

Gerybadze A (2003) Knowledge management and transnational R&D projects. The role of asymmetric understanding and group cognition processes in distributed work. Discussion Paper No. 03-01, Center for International Management and Innovation, University of Hohenheim, Stuttgart

Goshal S, Barlett C (1990) The multinational corporation as an interorganisational network. Acad Manage Rev 15:603–626

Granovetter M (1985) Economic action and social structure: the problem of embeddedness. Am J Sociol 91:481–510

Granovetter M (1992) Problems of explanation in economic sociology. In: Nohria N, Eccles R (eds) Networks and organizations: structure, form and action. Harvard Business School Press, Boston, pp 25–56

Gulati R (1998) Alliances and networks. Strateg Manage J 19:293–317

Iammarino S, Padilla R, von Tunzelmann N (2008) Technological capabilities and global–local interactions. The electronics industry in two Mexican regions. World Dev 36:1980–2010

Kim L (1998) Crisis construction and organisational learning: capability building in catching-up at Hyundai Motor. Organ Sci 9:506–521

Kuemmerle W (2002) Home base and knowledge management in international ventures. J Bus Venturing 17:99–122

Lall S (1992) Technological capabilities and industrialisation. World Dev 20:165–186

Laursen K, Salter AJ (2006) Open for innovation: the role of openness in explaining innovation performance among UK manufacturing firms. Strateg Manage J 27(2):131–2150

Malnight TW (1995) Globalization of an ethnocentric firm: an evolutionary perspective. Strateg Manage J 16:119–141

Marin A, Bell M (2006) Technology spillovers from foreign direct investment (FDI): an exploration of the active role of MNC subsidiaries in the case of Argentina in the 1990s. J Dev Stud 42:678–697

Marschan-Piekkari R, Welch C, Penttinen H, Tahvanainen M (2004) Interviewing in the multinational corporation: challenges of the organisational context. In: Marschan-Piekkari R, Welch C (eds) Handbook of qualitative research methods for international business. Edward Elgar, Northampton, pp 244–263

Meyer KE (2004) Perspectives on multinational enterprises in emerging economies. J Int Bus Stud 34(4):259–277

Meyer-Krahmer F, Roger G (1999) New perspectives on the innovation strategies of multinational enterprises: lessons for technology policy in Europe. Res Policy 28(7):751–776

Miles MM, Huberman AM (1984) Qualitative data analysis: a sourcebook of new methods. Sage, Newbury Park

Narula R, Dunning JH (2010) Multinational enterprises, development and globalisation: some clarifications and a research agenda. Oxf Dev Stud (forthcoming)

Pauwels P, Matthyssens P (2004) The architecture of multiple case research in international business. In: Marschan-Piekkari R, Welch C (eds) Handbook of qualitative research methods for international business. Edward Elgar, Northampton

Rodrik D (2004) Industrial policy for the twenty-first century. Faculty Research Working Papers Series, RWP04-047, Harvard University, John F. Kennedy School of Government, Harvard University, Cambridge

Schmitz H, Strambach S (2009) Organisational decomposition of innovation and global distribution of innovative activities: insights and research agenda. Int J Technol Learning, Innov Dev 2(4):231–249

Teece D (2007) The role of managers, entrepreneurs and the literati in enterprise performance and economic growth. Int J Technol Learning, Innov Dev 1(1):43–64

Uzzi B (1996) The sources and consequences of embeddedness for the economic performance of organizations: the network effect. Am Sociol Rev 61:674–698

Yamin M, Otto J (2004) Patterns of knowledge flows and MNE innovation performance. J Internat Manag 10:239–258

Yang Q, Mudambi R, Meyer K (2008) Conventional and reverse knowledge flows in multinational corporations. J Manage 34:882–902

Yin RK (2003) Case study research: design and methods. Sage, London

Zukin S, DiMaggio PJ (eds) (1990) Structure of capital. Cambridge University Press, Cambridge
Acknowledgements
This paper forms one of the outcomes of a research project on the business strategies and competitive performance of MNE subsidiaries in the electronics industry in Brazil at EBAPE/FGV. An earlier version of this paper was presented at the 12th Conference of the International Joseph A. Schumpeter Society in Rio de Janeiro, Brazil, in July 2008. We thank the participants of the conference, two anonymous JEE reviewers and the editors of this Special Issue for their useful comments, and suggestions. We also thank Marcela Cohen for her assistance in carrying out this research. Any errors that remain are our own. We also gratefully acknowledge funding from the Brazilian Association for the Electro-electronics Industry (Abinee). All disclaimers apply.
Appendix
Appendix
About this article
Cite this article
Figueiredo, P.N., Brito, K. The innovation performance of MNE subsidiaries and local embeddedness: evidence from an emerging economy. J Evol Econ 21, 141–165 (2011). https://doi.org/10.1007/s00191-010-0180-6
Keywords
MNE-subsidiaries

Innovation performance

Capability accumulation

Local embeddedness

Learning links
JEL Classifications