Abstract
Low boron steels are the only class of steel capable of forming a fully martensitic microstructure after hot stamping when a cooled tool is used, and the maximum stress can reach 1500 MPa. The purpose of this work is to study the applicability of 22MnB5 sheet metal as protective masks in hot forging dies. Sheets that were 1.3 mm thick were cut in samples of 110 mm diameter and heat treated in conditions similar to direct hot stamping and placed on the hot forging die. Cycles of 25, 50, 75, and 100 forgings were performed, and at each cycle, the metallic mask was replaced for characterization. Microhardness profiles, micrographic analysis by optical and electron microscopy, and profilometry profiles were used to determine the occurrence of surface wear on the masks after each forging cycle. The main types of superficial wear were abrasive and plastic deformation. However, the masks showed high resistance to wear and did not present failures that would make them unusable until the studied condition of a cycle of 100 forgings.
This is a preview of subscription content, log in to check access.
Access options
Buy single article
Instant access to the full article PDF.
US$ 39.95
Price includes VAT for USA
Subscribe to journal
Immediate online access to all issues from 2019. Subscription will auto renew annually.
US$ 199
This is the net price. Taxes to be calculated in checkout.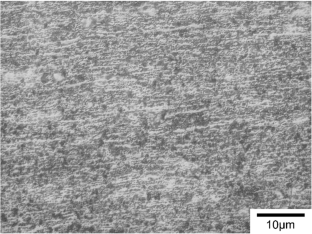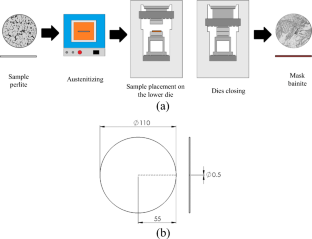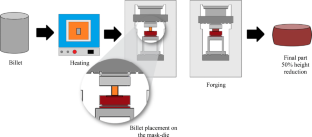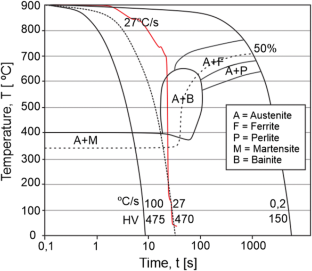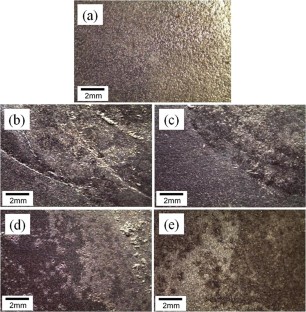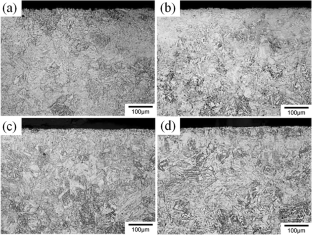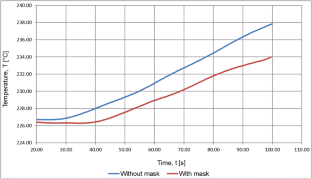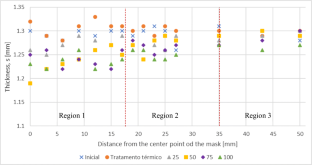 References
1.

Pereira MH, Souza RM, Souza TS (2016) Desgaste do punção de forjamento a quente – mecanismos de desgaste. In Blucher Engineering Proceedings. XXIV Simpósio Internacional de Engenharia Automotiva, São Paulo-Brazil

2.

OICA (2015) OICA members represent the global auto industry that drives economic progress. Organisation Internationale des Constructeurs d'Automobiles: www.oica.net/

3.

Hawryluk M, Gronostajki Z, Kaszuba M, Polak S, Widomski P, Smolik J, Ziemba J (2017) Analysis of the wear of forging tools surface layer after hybrid surface treatment. Int J Mach Tool Manu 14:60–71

4.

Santaella ML (2013) Thermo-mechanical fatigue of hot forging tool prediction, analysis and optimization methods through six-sigma. Dissertation, IWT Aachen

5.

Sjöström J, Bergström J (2004) Thermal fatigue testing of chromium martensitic hot-work tool steel after different austenitizing treatments. J Mater Process Technol 153-154:1089–1096

6.

Pirtovšek TV, Kugler MG, Terčelj M (2013) The behaviour of the carbides of ledeburitic AISI D2 tool steel during multiple hot deformation cycles. Mater Charact 83:97–108

7.

Marashi J, Yakushina E, Xirouchakis P, Zanten R, Foster J (2017) An evaluation of H13 tool steel deformation in hot forging conditions. J Mater Process Technol 246:276–284

8.

Behrens BA (2008) Finite element analysis of die wear in hot forging process. In Proceedings of CIRP 2008 - Manufacturing Technology 57(1):305–308

9.

Altan T, Ngaile G, Shen G (2005) Cold and hot forging - fundamentals and applications. ASM International, Ohio

10.

Arai T (2015) The thermo-reactive deposition and diffusion process for coating steels to improve wear resistance. Thermochemical surface engineering of steels:703–775

11.

Hawryluk M (2016) Review of selected methods of increasing the life of forging tools in hot die forging processes. Archives of Civil and Mechanical Engineering 16(4):845–866

12.

Yingyan Y, Zottis J, Wolfgarten M, Hirt G (2019) Investigation of applying protective sheet metal die covers for hot forging dies on a cross-forging geometry. Int J Adv Manuf Technol 102:999–1007

13.

Segebade ET (2014) Numerische Simulationen und Grundlagenversuche zur Implementierung einer austauschbaren Blechschutzschicht für Schmiedegesenke. RWTH Aachen University, Dissertation

14.

Rosenstock D, Segebade ET, Hirt G (2015) First experimental and numerical study on the use of sheet metal die covers for wear protection in closed-die forging. Key Eng Mater 651-653:266–271

15.

Wolfgarten M, Yingyan Y, Rosenstock D, Hirt G (2015) influence of the die geometry on the application of a sheet metal cover for wear protection in closed-die forging. In proceedings of 35th SENAFOR. Porto Alegre-Brazil

16.

Zottis J, Costa LL, Rocha AS, Schaeffer L (2017) Forjamento a quente com Máscaras Metálicas como Revestimento Superficial. Revista Ferramental 77:7–14

17.

Seeliger A (2016) Übertragung des Konzepts der Gesenkmaske auf einen industriellen Anwendungsfall. RWTH Aachen University, Dissertation

18.

Naderi M, Saeed-Akbari A, Bleck W (2008) The effects of non-isothermal deformation on martensitic transformation in 22MnB5 steel. Mater Sci Eng A 487:445–455

19.

Karbasian H, Tekkaya A (2010) A review on hot stamping. J Mater Process Technol 210(15):2103–2118

20.

Aranda GL (2002) Experiments and simulation of hot stamping of quenchable steels. Advanced Technology of Plasticity 2002, ICTP, international conference on Technology of Plasticity, 2:1135–1140. Yokohama, Japan

21.

Souza FB (2013) Simulação Numérica do Processo de Estampagem a Quente do Aço - USIBOR1500P. Dissertation, UFMG

22.

Marques A, Costa LL, Santos G, Rocha AS (2018) Wear study of hot forging punches coated with WC-CoCr and Cr3C2-NiCr through high-velocity oxygen fuel (HVOF) process. Int J Adv Manuf Technol 100:3–11
Acknowledgments
The authors thank IBF–RWTH Aachen University (Germany) for the technical partnership in the project BRAGECRIM; CNPq (National Council for Scientific and Technological Development) and Capes (Coordination for the Improvement of Higher Education Personnel) for financial support; and the Laboratório de Processamento Mineral (LAPROM) for technical support.
Additional information
Publisher's note
Springer Nature remains neutral with regard to jurisdictional claims in published maps and institutional affiliations.
About this article
Cite this article
de Costa, L.D.L., Brito, A.M.G., Rosiak, A. et al. Study of the applicability of 22MnB5 sheet metal as protective masks to improve tool life in hot forging process. Int J Adv Manuf Technol (2020). https://doi.org/10.1007/s00170-020-05010-9
Received:

Accepted:

Published:
Keywords
Wear

Die masks

22MnB5

Hot forging process