Abstract
This paper reports a case study of an Indian aerospace industry, XYZ Aeronautics Limited, with an objective to bring reduction in cycle time of outsourcing process. The focus is to identify bottleneck areas and investigate into the improvement opportunities. The paper enriches the present body of knowledge by contributing a methodology and its application for a real-life case study to understand the implications of outsourcing on operational planning. The analysis reported in this research is based on the available knowledge and extensive experience gained while working in the outsourcing department of the case organization for a long period of time. The research integrates action research, longitudinal case study research, and simulation for the detailed and scientific analysis of the problem for a case organization. The study employs a six-step analysis approach for investigating the outsourcing-related issues in case organization. The simulation study has helped to reduce the average cycle time of purchase order placement to 69 days, i.e., improvement by 33.65% over the present 104 days. This would enable the case organization to conduct "what-if" analysis and evaluate the implications of bringing improvements in select bottleneck areas for reducing cycle time of outsourcing process. The investigation is expected to help managers to negotiate on appropriate dimensions with vendors and convince them for the adoption of e-sourcing, e-contract, and e-catalog technologies.
This is a preview of subscription content, log in to check access.
Access options
Buy single article
Instant unlimited access to the full article PDF.
US$ 39.95
Price includes VAT for USA
Subscribe to journal
Immediate online access to all issues from 2019. Subscription will auto renew annually.
US$ 199
This is the net price. Taxes to be calculated in checkout.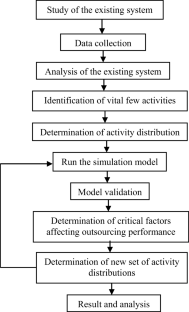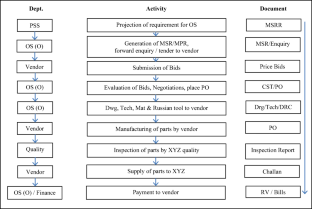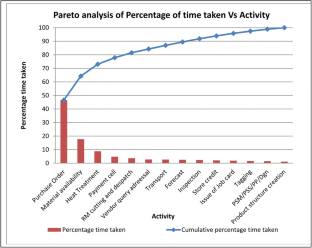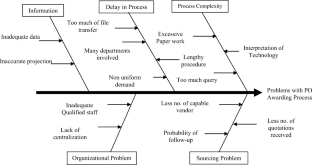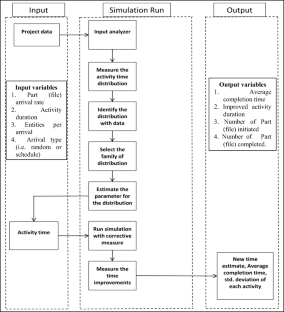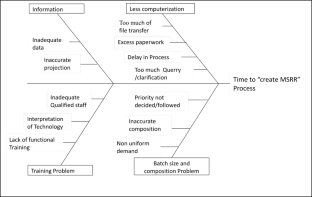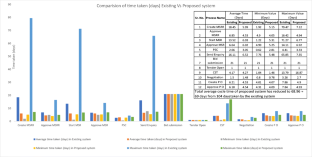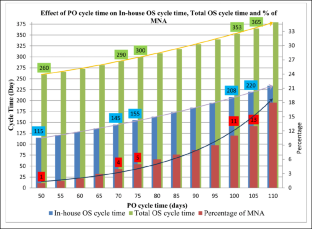 Abbreviations
AMD:

Aircraft Manufacturing Division

AOD:

Aircraft Overhaul Division

ARS:

Automatic replenishment stock

AOG:

Aircraft on ground

CAGR:

Compound annual growth rate

CPO:

Chief of production overhaul

CST:

Comparison of statement

CT:

Cycle time

RMS:

Repair maintenance and service order

L/RMSO:

Local/readymade store order

MSR:

Material sub-contract requirement

MSRR:

Material sub-contract requirement request

PSC:

Part structure correction

SMH:

Standard man hour
References
1.

Aertsen F (1993) Contracting out the physical distribution function: a trade-off between asset specificity and performance measurement. Int J Phys Distrib Logist Manag 23(1):23–29

2.

Anttiroiko A, Stephen JB, Pekka V (2011) Innovative trends in public governance in Asia. IOS Press, Netherlands

3.

Bağan H, Gerede E (2019) Use of a nominal group technique in the exploration of safety hazards arising from the outsourcing of aircraft maintenance. Saf Sci 118:795–804

4.

Bettis RA, Bradley SP, Hamel G (1992) Outsourcing and industrial decline. Acad Manag Exec 6(1):7–22

5.

Boulaksil Y, & Fransoo JC (2010) Implications of outsourcing on operations planning: findings from the pharmaceutical industry. International Journal of Operations & Production Management 30(10):1059–1079

6.

Broedner P, Kinkel S, Lay G (2009) Productivity effects of outsourcing: new evidence on the strategic importance of vertical integration decisions. Int J Oper Prod Manag 29(2):127–150

7.

Canez LE, Platts KW, Probert DR (2000) Developing a framework for make-or-buy decisions. Int J Operations Manag 20:1313–1330

8.

Chen KS, Chen KL, Li RK (2005) Contract manufacturer selection by using the process incapability index Cpp. Int J Adv Manuf Technol 26(5–6):686–692

9.

Chen K, Zhao H, Xiao T (2019) Outsourcing contracts and ordering decisions of a supply chain under multi-dimensional uncertainties. Comput Ind Eng (In-press). https://doi.org/10.1016/j.cie.2019.02.010

10.

Cooper MC, Ellram LM (1993) Characteristics of supply chain management and the implications for purchasing and logistics strategy. Int J Logist Manag 4:13–24

11.

Coghlan D, Brannick T (2001) Doing Action Research in Your Own Organisation. Sage, London

12.

Coughlan P, Coghlan D (2002) Action research for operations management. Int J Oper Prod Manag 22(2):220–240

13.

Dekkers R (2011) Impact of strategic decision making for outsourcing on managing manufacturing. Int J Oper Prod Manag 31(9):935–965

14.

Fontana ME, Aragão JPS, Morais DC (2019) Decision support system for outsourcing strategies. Prod Eng Res Devel 13:547–555. https://doi.org/10.1007/s11740-019-00907-1

15.

Fredriksson A, Wänström C, Johansson MI, Medbo L (2015) A structured procedure for materials planning during production transfer. Prod Plan Control 26(9):738–752

16.

Govindan K, Sarkis J, Palaniappan M (2013) An analytic network process-based multicriteria decision making model for a reverse supply chain. Int J Adv Manuf Technol 68(1-4):863–880

17.

Gunasekaran A, Irani Z, Choy K, Filippi L, Papadopoulos T (2015) Performance measures and metrics in outsourcing decisions: a review for research and applications. Int J Prod Econ 161:153–166

18.

Hassanain MA, Assaf S, Al-Hammad AM, Al-Nehmi A (2015) A multi-criteria decision making model for outsourcing maintenance services. Facilities 33(3/4):229–244

19.

Kafuku JM, Saman MZM, Yusof SRM, Mahmood S (2016) A holistic framework for evaluation and selection of remanufacturing operations: an approach. Int J Adv Manuf Technol 87(5–8):1571–1584

20.

Kitcher B, McCarthy IP, Turner S, Ridgway K (2013) Understanding the effects of outsourcing: unpacking the total factor productivity variable. Prod Plan Control 24:4–5

21.

Kremic T, Tukel OI, Rom WO (2006) Outsourcing decision support: a survey of benefits, risks, and decision factors. Supply Chain Manag: Int J 11(6):467–482

22.

Kumar R, Singh H, Dureja JS (2012) An approach to analyze logistic outsourcing problem in medium-scale organization by CFPR and VIKOR. J Manuf Technol Manag 23(7):885–898

23.

Law AM, Kelton WD (1991) Simulation Modeling and Analysis, 2nd edn, McGraw-Hill, New York

24.

Law AM, Kelton WD (2000) Simulation Modeling and Analysis, 3rd edn, McGraw-Hill, New York

25.

Lu Q, Meng F, Mark Goh M (2014) Choice of supply chain governance: self-managing or outsourcing? Int J Prod Econ 154:32–38

26.

Mazzola E, Bruccoleri M, Perrone G (2019) The curvilinear effect of manufacturing outsourcing and captive-offshoring on firms' innovation: the role of temporal endurance. Int J Prod Econ 211:197–210

27.

McDonald, Jacobs (2005) Brand name "India": the rise of outsourcing. Manag Sci 25(9):831–850

28.

McIvor R (2000) A practical framework for understanding the outsourcing process. Supply Chain Manag: Int J 5(1):22–36

29.

Meixell MJ, Kenyon GN, Westfall P (2014) The effects of production outsourcing on factory cost performance: an empirical study. J Manuf Technol Manag 25(6):750–774

30.

Mishra A (2012) China business process outsourcing (BPO) market 2011 & cities outsourcing analysis. Renub Research, Roswell

31.

Momme J (2002) Framework for outsourcing manufacturing: strategic and operational implications. Comput Ind 49:59–75

32.

Oke A, Onwuegbuzie H (2013) Outsourcing, subcontracting-in and radical innovativeness. J Manuf Technol Manag 24(4):511–535

33.

Olhager J, Persson F (2006) Simulating production and inventory control systems: a learning approach to operational excellence. Prod Plan Control 17(2):113–127

34.

Padhi SS, Mohapatra PKJ (2009) Contractor selection in government procurement auctions: a case study. Eur J Indust Eng 3(2):170–186

35.

Pawar K, Rogers H (2013) Contextualising the holistic cost of uncertainty in outsourcing manufacturing supply chains. Prod Plan Control 24(7):607–620

36.

Poudeh HD, Cheshmberah M, Torabi H, Gavareshki MHK, Hosnavi R (2019) Determining and prioritizing the factors influencing the outsourcing of complex product systems R&D projects employing ANP and grey-DEMATEL method (case study: aviation industries organization Iran). Technol Soc 56:57–68

37.

Quelin B, Duhamel F (2003) Bringing together strategic outsourcing and corporate strategy: outsourcing motives and risks. Eur Manag J 21(5):647–661

38.

Rehme J, Nordigården D, Brege S, Chicksand D (2013) Outsourcing to a non-developed supplier market: the importance of operational aspects in outsourcing. J Purch Supply Manag 19:227–237

39.

Saad N, Kadirkamanathan V (2006) A DES approach for the contextual load modeling of supply chain system for instability analysis. Simulat Model Pract Theory 14(5):541–563

40.

Sabri EH, Gupta AP, Beitler MA (2006) Purchase order management best practices: process, technology, and change management J. Ross Publishing, Richmond

41.

Sanchez-Rodri C, Hemsworth D, Martinez-Lorente AR (2004) Quality management practices in purchasing and its effect on purchasing's operational performance and internal customer satisfaction. Int J Log Res Appl 7(4):325–344

42.

Schlosser F, Wagner HT (2011) Applying importance-performance analysis to IT outsourcing: a survey among financial institutions. PACIS 2011 Proceedings. Paper 168. http://aisel.aisnet.org/pacis2011/168

43.

Sislian E, Satir A (2000) Strategic sourcing: a framework and a case study. J Supply Chain Manag 36(3):4–11

44.

Venkatesan R (1992) Strategic sourcing: to make or not to make. Harv Bus Rev 70(6):98–107

45.

Voss C, Tsikriktsis N, Frohlich M (2002) Case research in operations management. Int J Oper Prod Manag 22(2):195–219

46.

Westphal P, Sohal AS (2013) Taxonomy of outsourcing decision models. Prod Plan Control 24(4):347–358

47.

Yin RK (1994) Case study research: Design and methods. Sage Publications, Newbury Park

48.

Zhang M, Pawar KS, Shah J, Mehta P (2013) Evaluating outsourcing partners' capability: a case study from the pharmaceutical supply chain. J Manuf Technol Manag 24(8):1080–1101
Additional information
Publisher's note
Springer Nature remains neutral with regard to jurisdictional claims in published maps and institutional affiliations.
About this article
Cite this article
Jha, K.K., Thakkar, J.J. & Thanki, S.J. Cycle time reduction in outsourcing process: case of an Indian aerospace industry. Int J Adv Manuf Technol (2020) doi:10.1007/s00170-019-04909-2
Received:

Accepted:

Published:
Keywords
Outsourcing

Purchase order

Simulation

Cycle time

Action research