Abstract
Purpose
The purpose of this systematic review and meta-analysis was to evaluate the correlation between the incidence of herniation pits (HPs) and femoroacetabular impingement (FAI)-related morphologies.
Methods
A systematic search of the MEDLINE, EMBASE, and Cochrane Library databases was performed for studies evaluating the relationship between the incidence of HPs and FAI-related morphologies published up to August 16, 2019. Subgroup analyses were also performed to determine the differences in the relationship between the presence/absence of hip symptoms and cam-/pincer-type FAI.
Results
Seven studies involving 7950 hips were included. The pooled odds ratio (OR) for the incidence of HPs in the presence of an FAI-related morphology was 1.64 (95% confidence interval [CI] = 1.09–2.46; P = 0.02). In the subgroup analyses, the ORs for the incidence of HPs in the symptomatic and asymptomatic hips were 1.00 (95% CI 0.40–2.51; P = 1.00) and 1.59 (95% CI 1.42–1.77; P < 0.0001), respectively; the ORs for the incidence of HPs in the cam- and pincer-type FAI were 1.61 (95% CI 1.43–1.81; P < 0.0001) and 1.42 (95% CI 0.77–2.61; P = n.s.), respectively.
Conclusions
The incidence of HPs has a significant relationship with FAI-related morphology, especially in asymptomatic patients and those with cam-type FAI morphology.
Level of evidence
III.
This is a preview of subscription content, log in to check access.
Access options
Buy single article
Instant access to the full article PDF.
US$ 39.95
Price includes VAT for USA
Subscribe to journal
Immediate online access to all issues from 2019. Subscription will auto renew annually.
US$ 199
This is the net price. Taxes to be calculated in checkout.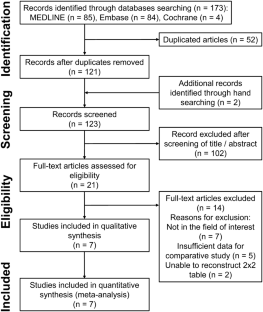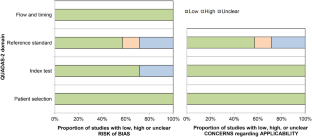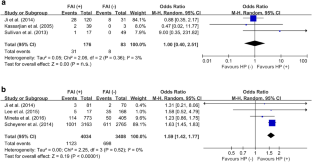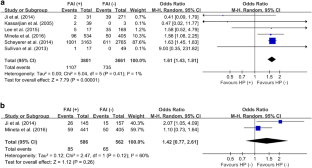 References
1.

Ganz R, Parvizi J, Beck M, Leunig M, Notzli H, Siebenrock KA (2003) Femoroacetabular impingement: a cause for osteoarthritis of the hip. Clin Orthop Relat Res 417:112–120

2.

Guo Z, Xu L, Su YB, Cheng XG (2013) Correlation between the prevalence of herniation pits and the alpha angle of the hip: computed tomography evaluation in healthy Chinese adults. BMC Musculoskelet Disord 14:288

3.

Higgins JP, Thompson SG, Deeks JJ, Altman DG (2003) Measuring inconsistency in meta-analyses. BMJ 327(7414):557–560

4.

Higgins JPT GS (2011) Cochrane handbook for systematic reviews of interventions version 5.1.0. 2011. https://handbook.cochrane.org/. The Cochrane Collaboration

5.

Ji HM, Baek JH, Kim KW, Yoon JW, Ha YC (2014) Herniation pits as a radiographic indicator of pincer-type femoroacetabular impingement in symptomatic patients. Knee Surg Sports Traumatol Arthrosc 22(4):860–866

6.

Kassarjian A, Yoon LS, Belzile E, Connolly SA, Millis MB, Palmer WE (2005) Triad of MR arthrographic findings in patients with cam-type femoroacetabular impingement. Radiology 236(2):588–592

7.

Keats T (1973) Atlas of normal Roentgen variants that may simulate disease, 5th edn. Mosby year book, St. Louis, pp 501–502

8.

Kim JA, Park JS, Jin W, Ryu K (2011) Herniation pits in the femoral neck: a radiographic indicator of femoroacetabular impingement? Skeletal Radiol 40(2):167–172

9.

Lee E, Choi JA (2015) Associations between alpha angle and herniation Pit on MRI revisited in 185 asymptomatic hip joints. Korean J Radiol 16(6):1319–1325

10.

Leunig M, Beck M, Kalhor M, Kim YJ, Werlen S, Ganz R (2005) Fibrocystic changes at anterosuperior femoral neck: prevalence in hips with femoroacetabular impingement. Radiology 236(1):237–246

11.

Mineta K, Goto T, Wada K, Tamaki Y, Hamada D, Higashino K, Sairyo K (2016) Comparison of femoroacetabular impingement-related radiographic features in a convenience sample of Japanese patients with and without herniation pits. Skeletal Radiol 45(8):1079–1088

12.

Moher D, Shamseer L, Clarke M, Ghersi D, Liberati A, Petticrew M, Shekelle P, Stewart LA (2015) Preferred reporting items for systematic review and meta-analysis protocols (PRISMA-P) 2015 statement. Syst Rev 4:1

13.

Panzer S, Augat P, Esch U (2008) CT assessment of herniation pits: prevalence, characteristics, and potential association with morphological predictors of femoroacetabular impingement. Eur Radiol 18(9):1869–1875

14.

Pitt MJ, Graham AR, Shipman JH, Birkby W (1982) Herniation pit of the femoral neck. AJR Am J Roentgenol 138(6):1115–1121

15.

Scheyerer MJ, Copeland CE, Stromberg J, Ruckstuhl T, Werner CM (2014) Radiographic markers of femoroacetabular impingement: correlation of herniation pit and femoral bump with a positive cross-over ratio. Adv Orthop 2014:432728

16.

Shea BJ, Grimshaw JM, Wells GA, Boers M, Andersson N, Hamel C, Porter AC, Tugwell P, Moher D, Bouter LM (2007) Development of AMSTAR: a measurement tool to assess the methodological quality of systematic reviews. BMC Med Res Methodol 7:10

17.

Slim K, Nini E, Forestier D, Kwiatkowski F, Panis Y, Chipponi J (2003) Methodological index for non-randomized studies (minors): development and validation of a new instrument. ANZ J Surg 73(9):712–716

18.

Sullivan C, Chakraverty J, Foley K, Narayanaswamy S, Kamath S (2013) Femoroacetabular impingement: presence of FAI-like features on conventional radiography in young patients presenting to primary care with hip pain. Acta Radiol 54(6):690–697
Ethics declarations
Conflict of interest
The authors declare that they have no conflict of interest.
Funding
There is no funding source.
Additional information
Publisher's Note
Springer Nature remains neutral with regard to jurisdictional claims in published maps and institutional affiliations.
About this article
Cite this article
Kim, C., Han, S., Yang, C. et al. Correlation between the presence of herniation pit and femoroacetabular impingement: a systematic review and meta-analysis. Knee Surg Sports Traumatol Arthrosc (2020). https://doi.org/10.1007/s00167-020-05888-8
Received:

Accepted:

Published:
Keywords
Herniation pit

Femoroacetabular impingement

Correlation