Abstract
The anterolateral ligament is recently recognized as an important structure in restoring rotational stability of the anterior cruciate ligament-deficient knee. Biomechanical and clinical studies confirmed the benefits of concurrent anterior cruciate ligament and anterolateral ligament reconstruction. However, present techniques mostly use hamstring tendons autografts and therefore additionally disrupt the knee biomechanics. The plantaris tendon is a well known and accessible graft and has excellent biomechanical properties for anterolateral ligament reconstruction. The present paper describes a new combined anterior cruciate ligament and anterolateral ligament reconstruction technique using plantaris tendon and semitendinosus tendon.
Level of evidence V (Case report).
This is a preview of subscription content, log in to check access.
Access options
Buy single article
Instant access to the full article PDF.
US$ 39.95
Price includes VAT for USA
Subscribe to journal
Immediate online access to all issues from 2019. Subscription will auto renew annually.
US$ 199
This is the net price. Taxes to be calculated in checkout.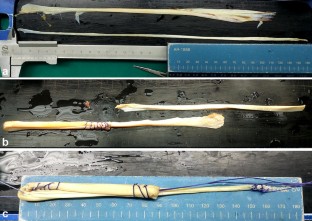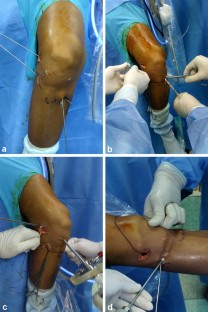 Abbreviations
2PL:

Double plantaris tendon

3STT:

Triple semitendinosus tendon

ACL:

Anterior cruciate ligament

ALL:

Anterolateral ligament

FH:

Fibular head

GT:

Gracilis tendon

GTB:

Gerdy's tubercle

LE:

Lateral epicondyle

PL:

Plantaris tendon

STT:

Semitendinosus tendon
References
1.

Amis AA, Bull AM, Lie DT (2005) Biomechanics of rotational instability and anatomic anterior cruciate ligament reconstruction. Oper Tech Orthop 15(1):29–35

2.

Bertelli JA, Santos MA, Kechele PR, Rost JR, Tacca CP (2007) Flexor tendon grafting using a plantaris tendon with a fragment of attached bone for fixation to the distal phalanx: a preliminary cohort study. J Hand Surg Am 32(10):1543–1548

3.

Bohnsack M, Surie B, Kirsch IL, Wulker N (2002) Biomechanical properties of commonly used autogenous transplants in the surgical treatment of chronic lateral ankle instability. Foot Ankle Int 23(7):661–664

4.

Bonanzinga T, Signorelli C, Grassi A, Lopomo N, Bragonzoni L, Zaffagnini S et al (2017) Kinematics of ACL and anterolateral ligament. Part I: combined lesion. Knee Surg Sports Traumatol Arthrosc 25(4):1055–1061

5.

Cerulli G, Placella G, Sebastiani E, Tei MM, Speziali A, Manfreda F (2013) ACL reconstruction: choosing the graft. Joints 1(1):18

6.

Claes S, Vereecke E, Maes M, Victor J, Verdonk P, Bellemans J (2013) Anatomy of the anterolateral ligament of the knee. J Anat 223(4):321–328

7.

DePhillipo NN, Cinque ME, Chahla J, Geeslin AG, LaPrade RF (2017) Anterolateral ligament reconstruction techniques, biomechanics, and clinical outcomes: a systematic review. Arthroscopy 33(8):1575–1583

8.

Getgood A, Brown C, Lording T, Amis A, Claes S, Geeslin A et al (2019) The anterolateral complex of the knee: results from the International ALC Consensus Group Meeting. Knee Surg Sports Traumatol Arthrosc 27(1):166–176

9.

Grassi A, Zicaro JP, Costa-Paz M, Samuelsson K, Wilson A, Zaffagnini S et al (2019) Good mid-term outcomes and low rates of residual rotatory laxity, complications and failures after revision anterior cruciate ligament reconstruction (ACL) and lateral extra-articular tenodesis (LET). Knee Surg Sports Traumatol Arthrosc 28:418–431

10.

Helito CP, Bonadio MB, Rozas JS, Wey JMP, Pereira CAM, Cardoso TP et al (2016) Biomechanical study of strength and stiffness of the knee anterolateral ligament. BMC Musculoskel Disord 17(1):193

11.

Kaeding CC, Léger-St-Jean B, Magnussen RA (2017) Epidemiology and diagnosis of anterior cruciate ligament injuries. Clin Sports Med 36(1):1–8

12.

Kennedy MI, Claes S, Fuso FA, Williams BT, Goldsmith MT, Turnbull TL et al (2015) The anterolateral ligament: an anatomic, radiographic, and biomechanical analysis. Am J Sports Med 43(7):1606–1615

13.

Kouloumentas P, Kavroudakis E, Charalampidis E, Kavroudakis D, Triantafyllopoulos GK (2019) Superior knee flexor strength at 2 years with all-inside short-graft anterior cruciate ligament reconstruction vs a conventional hamstring technique. Knee Surg Sports Traumatol Arthrosc 27(11):3582–3598

14.

Landes S, Nyland J, Elmlinger B, Tillett E, Caborn D (2010) Knee flexor strength after ACL reconstruction: comparison between hamstring autograft, tibialis anterior allograft, and non-injured controls. Knee Surg Sports Traumatol Arthrosc 18(3):317–324

15.

Lee DW, Shim JC, Yang SJ, Cho SI, Kim JG (2019) Functional effects of single semitendinosus tendon harvesting in anatomic anterior cruciate ligament reconstruction: comparison of single versus dual hamstring harvesting. Clin Orthop Surg 11(1):60–72

16.

Liu W, Maitland ME (2000) The effect of hamstring muscle compensation for anterior laxity in the ACL-deficient knee during gait. J Biomech 33:871–879

17.

Pagenstert GI, Hintermann B (2011) Proximal mini-invasive grafting of plantaris tendon. In: Easley ME, Wiesel SW (eds) Operative techniques in foot and ankle surgery. Lippincott Williams & Wilkins, a Wolters Kluwer business, Philadelphia, pp 974–977

18.

Park YB, Lee HJ, Ro DH, Lee GY, Kim S, Kim SH (2019) Anterolateral ligament injury has a synergic impact on the anterolateral rotatory laxity in acute anterior cruciate ligament-injured knees. Knee Surg Sports Traumatol Arthrosc 27(10):3334–3344

19.

Paterno MV, Schmitt LC, Ford KR, Rauh MJ, Myer GD, Huang B et al (2010) Biomechanical measures during landing and postural stability predict second anterior cruciate ligament injury after anterior cruciate ligament reconstruction and return to sport. Am J Sports Med 38(10):1968–1978

20.

Sonnery-Cottet B, Daggett M, Fayard JM, Ferretti A, Helito CP, Lind M et al (2017) Anterolateral Ligament Expert Group consensus paper on the management of internal rotation and instability of the anterior cruciate ligament-deficient knee. J Orthop Traumatol 18(2):91–106

21.

Sonnery-Cottet B, Daggett M, Helito CP, Fayard JM, Thaunat M (2016) Combined anterior cruciate ligament and anterolateral ligament reconstruction. Arthrosc Tech 5(6):e1253–e1259

22.

Vlaic J, Josipovic M, Bohacek I, Jelic M (2019) The plantaris muscle: too important to be forgotten. A review of evolution, anatomy, clinical implications and biomechanical properties. J Sport Med Phys Fit. 59(5):839–845

23.

White WL (1960) The unique, accessible and useful plantaris tendon. Plast Reconstr Surg Transplant Bull 25(2):133–141

24.

Wroble RR, Grood ES, Cummings JS, Henderson JM, Noyes FR (1993) The role of the lateral extraarticular restraints in the anterior cruciate ligament-deficient knee. Am J Sports Med 21(2):257–263

25.

Wytrykowski K, Swider P, Reina N, Murgier J, Laffosse JM, Chiron P et al (2016) Cadaveric study comparing the biomechanical properties of grafts used for knee anterolateral ligament reconstruction. Arthroscopy 32(11):2288–2294

26.

Zamarra G, Fisher MB, Woo SL, Cerulli G (2010) Biomechanical evaluation of using one hamstrings tendon for ACL reconstruction: a human cadaveric study. Knee Surg Sports Traumatol Arthrosc 18(1):11–19

27.

Zarzycki W, Mazurkiewicz S, Wisniewski P (1999) Research on strength of the grafts that are used in anterior cruciate ligament reconstruction. Pol Orthop Traumatol 64(3):293–302

28.

Zebis MK, Bencke J, Andersen LL, Døssing S, Alkjær T, Magnusson SP et al (2008) The effects of neuromuscular training on knee joint motor control during sidecutting in female elite soccer and handball players. Clin J Sport Med 18(4):329–337

29.

Zens M, Feucht MJ, Ruhhammer J, Bernstein A, Mayr HO, Südkamp NP et al (2015) Mechanical tensile properties of the anterolateral ligament. J Exp Orthop 2(1):7
Funding
There is not funding source.
Ethics declarations
Conflict of interest
The authors declare that they have no competing interests.
Ethics approval
The local Institutional review board (IRB) at the University Hospital Centre Zagreb was consulted prior to undertaking this surgery.
Informed consent
This manuscript has the consent of the patient for the use of her data and images. The authors obtained the written consent of the patient for the publication of the data and images that appear in the article.
Additional information
Publisher's Note
Springer Nature remains neutral with regard to jurisdictional claims in published maps and institutional affiliations.
About this article
Cite this article
Josipović, M., Vlaić, J., Serdar, J. et al. Plantaris tendon: a novel graft for anterolateral ligament reconstruction and additional reinforcement for anterior cruciate ligament autografts in combined reconstructive procedures. Knee Surg Sports Traumatol Arthrosc (2020). https://doi.org/10.1007/s00167-020-05885-x
Received:

Accepted:

Published:
Keywords
Anterolateral ligament

Plantaris tendon

Anterior cruciate ligament

Arthroscopy

Hamstring sparing