Abstract
Purpose
The aim of this study was to examine and evaluate the factors associated with changes in limb alignment 10 years after total knee arthroplasty (TKA). The hypothesis was that bone morphology and immediate postoperative alignment could be correlated with long-term post-operative alignment changes following TKA.
Methods
This study retrospectively analysed 136 consecutive primary TKA cases for varus deformity, performed from 2006 to 2008, that could be followed for at least 10 years postoperatively. Anteroposterior long-leg weight-bearing radiographs were obtained within 1 month and at least 10 years after surgery. The hip–knee–ankle (HKA) angle immediately after surgery was compared with that 10 years later; factors correlating with the change in HKA angle (δHKA) were evaluated.
Results
The mean HKA angles were significantly different between immediate and long-term postoperative assessments (0.1° ± 1.9° vs. 1.2° ± 2.9°, p < 0.001). Furthermore, a significant difference was observed in the outlier ratio (> 3° deviation from the 0° of HKA angle) (10% vs. 24%, p = 0.002). δHKA strongly correlated with a higher preoperative tibial plateau tip-to-proximal tibial shaft (TPTPS) angle, higher postoperative HKA angle, lateral distal femoral angle, and lower postoperative medial proximal tibial angle.
Conclusion
Varus deformity in the proximal part of the tibia, immediate postoperative varus alignment, and varus position of the femoral and tibial components may lead to varus progression in limb alignment in the long term, even 10 years after TKA; the surgeon should, therefore, weigh the risks of leaving a varus alignment during surgery. Moreover, if the preoperative TPTPS angle is high, the alignment may become varus after TKA, even in patients who have acquired neutral alignment.
Level of evidence
IV.
This is a preview of subscription content, log in to check access.
Access options
Buy single article
Instant unlimited access to the full article PDF.
US$ 39.95
Price includes VAT for USA
Subscribe to journal
Immediate online access to all issues from 2019. Subscription will auto renew annually.
US$ 199
This is the net price. Taxes to be calculated in checkout.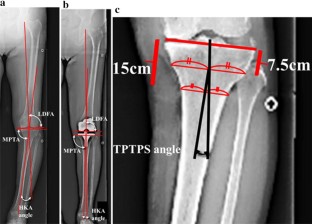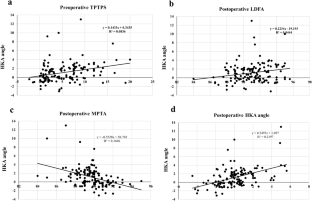 References
1.

Abdel MP, Oussedik S, Parratte S, Lustig S, Haddad FS (2014) Coronal alignment in total knee replacement: historical review, contemporary analysis, and future direction. Bone Jt J 96-B:857–862

2.

Bell ML, Teixeira-Pinto A, McKenzie JE, Olivier J (2014) A myriad of methods: calculated sample size for two proportions was dependent on the choice of sample size formula and software. J Clin Epidemiol 67:601–605

3.

Bellemans J, Colyn W, Vandenneucker H, Victor J (2012) The Chitranjan Ranawat award: is neutral mechanical alignment normal for all patients? The concept of constitutional varus. Clin Orthop Relat Res 470:45–53

4.

Boonen B, Kerens B, Schotanus MG, Emans P, Jong B, Kort NP (2016) Inter-observer reliability of measurements performed on digital long-leg standing radiographs and assessment of validity compared to 3D CT-scan. Knee 23:20–24

5.

Deep K (2014) Collateral ligament laxity in knees: what is normal? Clin Orthop Relat Res 472:3426–3431

6.

Hirschmann MT, Becker R, Tandogan R, Vendittoli PA, Howell S (2019) Alignment in TKA: what has been clear is not anymore! Knee Surg Sports Traumatol Arthrosc 27:2037–2039

7.

Hirschmann MT, Hess S, Behrend H, Amsler F, Leclercq V, Moser LB (2019) Phenotyping of hip-knee-ankle angle in young non-osteoarthritic knees provides better understanding of native alignment variability. Knee Surg Sports Traumatol Arthrosc 27:1378–1384

8.

Hirschmann MT, Moser LB, Amsler F, Behrend H, Leclerq V, Hess S (2019) Functional knee phenotypes: a novel classification for phenotyping the coronal lower limb alignment based on the native alignment in young non-osteoarthritic patients. Knee Surg Sports Traumatol Arthrosc 27:1394–1402

9.

Howell SM, Shelton TJ, Hull ML (2018) Implant survival and function ten years after kinematically aligned total knee arthroplasty. J Arthroplasty 33:3678–3684

10.

Kawakami Y, Matsumoto T, Takayama K, Ishida K, Nakano N, Matsushita T et al (2015) Intermediate-term comparison of posterior cruciate-retaining versus posterior-stabilized total knee arthroplasty using the new knee scoring system. Orthopedics 38:e1127–1132

11.

Kim YH, Park JW, Kim JS, Park SD (2014) The relationship between the survival of total knee arthroplasty and postoperative coronal, sagittal and rotational alignment of knee prosthesis. Int Orthop 38:379–385

12.

Lee BS, Cho HI, Bin SI, Kim JM, Jo BK (2018) Femoral component varus malposition is associated with tibial aseptic loosening after TKA. Clin Orthop Relat Res 476:400–407

13.

Matsuda S, Kawahara S, Okazaki K, Tashiro Y, Iwamoto Y (2013) Postoperative alignment and ROM affect patient satisfaction after TKA. Clin Orthop Relat Res 471:127–133

14.

Matsumoto T, Hashimura M, Takayama K, Ishida K, Kawakami Y, Matsuzaki T et al (2015) A radiographic analysis of alignment of the lower extremities–initiation and progression of varus-type knee osteoarthritis. Osteoarthritis Cartilage 23:217–223

15.

Nishida K, Matsumoto T, Takayama K, Ishida K, Nakano N, Matsushita T et al (2017) Remaining mild varus limb alignment leads to better clinical outcome in total knee arthroplasty for varus osteoarthritis. Knee Surg Sports Traumatol Arthrosc 25:3488–3494

16.

Park J-K, Seon J-K, Cho K-J, Lee N-H, Song E-K (2018) Is immediate postoperative mechanical axis associated with the revision rate of primary total knee arthroplasty? A 10-year follow-up study. Clinics in orthopedic surgery 10:167–173

17.

Riviere C, Iranpour F, Auvinet E, Howell S, Vendittoli PA, Cobb J et al (2017) Alignment options for total knee arthroplasty: a systematic review. Orthop Traumatol Surg Res 103:1047–1056

18.

Riviere C, Ollivier M, Girerd D, Argenson JN, Parratte S (2017) Does standing limb alignment after total knee arthroplasty predict dynamic alignment and knee loading during gait? Knee 24:627–633

19.

Slevin O, Hirschmann A, Schiapparelli FF, Amsler F, Huegli RW, Hirschmann MT (2018) Neutral alignment leads to higher knee society scores after total knee arthroplasty in preoperatively non-varus patients: a prospective clinical study using 3D-CT. Knee Surg Sports Traumatol Arthrosc 26:1602–1609

20.

Teeter MG, Naudie DD, McCalden RW, Yuan X, Holdsworth DW, MacDonald SJ et al (2018) Varus tibial alignment is associated with greater tibial baseplate migration at 10 years following total knee arthroplasty. Knee Surg Sports Traumatol Arthrosc 26:1610–1617

21.

Vanlommel L, Vanlommel J, Claes S, Bellemans J (2013) Slight undercorrection following total knee arthroplasty results in superior clinical outcomes in varus knees. Knee Surg Sports Traumatol Arthrosc 21:2325–2330
Ethics declarations
Conflict of interest
The authors have no conflict of interests to declare.
Ethical approval
This study was approved by the Institutional Review Board of the authors' affiliated institutions (identification number: 1510).
Informed consent
Informed consent was obtained from all patients.
Additional information
Publisher's Note
Springer Nature remains neutral with regard to jurisdictional claims in published maps and institutional affiliations.
About this article
Cite this article
Kuroda, Y., Takayama, K., Hayashi, S. et al. Varus deformity in the proximal tibia and immediate postoperative varus alignment result in varus progression in limb alignment in the long term after total knee arthroplasty. Knee Surg Sports Traumatol Arthrosc (2020) doi:10.1007/s00167-019-05841-4
Received:

Accepted:

Published:
Keywords
Total knee arthroplasty

Long-term outcome

Alignment

Morphology

Varus