Abstract
Purpose
Voluntary femoro-tibial subluxation is a rare entity predominantly found in pretoddlers. It presents as a dynamic phenomenon with uni- or bilateral audible snapping of the knee, often in a context of fatigue or irritation at the end of the day. The aim of the study was to observe the evolution and recovery in these patients.
Methods
Ten children were included. Other causes of dislocating joints and pathologies with snapping of the lateral meniscus were excluded from this study. Six-week immobilisation with a splint at 70° of knee flexion was primarily recommended to all patients.
Results
The mean age at onset of symptoms was 10 months. Forty percent of the patients presented with bilateral symptoms. Clinically, four patients were hyperlax. In all patients, subluxations could be reproduced passively by rotating the foot externally and advancing the internal tibial plateau anteriorly. Three of the patients were treated with a dorsal splint and experienced significantly less or cessation of symptoms. Two patients underwent surgery, one for a concomitant anterior cruciate ligament (ACL) rupture and meniscus tear that worsened the symptoms, another for concomitant patella dislocation and a meniscus tear. One patient's parents refused treatment and four patients experienced less symptoms at the time of consultation and were not immobilized. Except for the two patients undergoing surgeries, no sequelae were observed. In general, the symptoms got less frequent when the patient began to walk.
Conclusion
Voluntary femoro-tibial subluxation in children is a rare and benign condition that often resolves spontaneously without sequelae. The risk of meniscus tear should, however, be considered if subluxations do not cease.
Level of evidence
IV.
This is a preview of subscription content, log in to check access.
Access options
Buy single article
Instant unlimited access to the full article PDF.
US$ 39.95
Price includes VAT for USA
Subscribe to journal
Immediate online access to all issues from 2019. Subscription will auto renew annually.
US$ 199
This is the net price. Taxes to be calculated in checkout.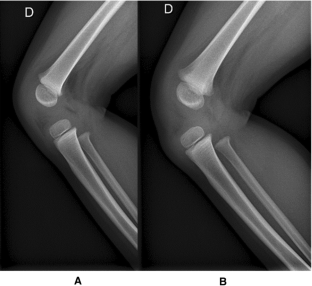 References
1.

Addison OL (1912) Two cases of partial subluxation of knee-joints, with voluntary production of noise during flexion and extension. Proc R Soc Med 5:9–10

2.

Beals RK (1978) The snapping knee of infancy. J Bone Joint Surg 60A:679–680

3.

Choudhary MM, Gupta S (2015) Voluntary inferior shoulder dislocation in a seven year old child—a case report. Int J Surg Cases 1(1):4–6

4.

Huber H, Gerber C (1994) Voluntary subluxation of the shoulder in children. J Bone Joint Surg (Br) 76(1):118–122

5.

Keret D, Reis ND (1986) Voluntary habitual dislocation of the hip joint in a child. J Ped Orthop 6:222–223

6.

Kocher MS, Logan CA, Kramer DE (2017) Discoid lateral meniscus in children: diagnosis, management and outcomes. J Am Acad Orthop Surg 25:736–743

7.

Maric Z, Stein SR (1994) Voluntary habitual dislocation of the hip in children. Orthopedics 17:1147–1148

8.

Mutlu S, Mutlu H, Mutlu B, Guler O, Duymus TM (2014) Symptoms of discoid lateral menisci. J Orthop 11:180–182

9.

Robinson D, Halperin N (1991) Active knee joint subluxation: its influence on the prognosis of ligament reconstruction. Acta Orthop Scand 62(3):264–265

10.

Song KS, Choi IH, Sohn YJ, Shin HD, Leem HS (2003) Habitual dislocation of the hip in children: report of eight additional cases and literature review. J Pediatr Orthop 23(2):178–183

11.

Takai S, Yoshino N, Hirasawa Y (1998) Arthroscopic treatment of voluntary superior dislocation of the patella. Arthroscopy 14:753–756

12.

Thorndike A (1898) Voluntary lateral dislocation of the knees in infants with lax ligaments. Two cases. J Bone Joint Surg 111:199–201

13.

Van Steyn MO, Mariscalco MW, Pedroza AD, Smerek J, Kaeding CC, Flanigan DC (2016) The hypermobile lateral meniscus: a retrospective review of presentation, imaging, treatment, and results. Knee Surg Sports Traumatol Arthrosc 24(1555–155):9

14.

Welby F, Filipe G, Mary P (2003) Luxation volontaire de la hanche chez l'enfant. Rev Chir Orthop 89:62–66
Ethics declarations
Conflict of interest
The authors declare that they have no conflict of interest.
Ethical approval
This article does not contain any studies with human participants or animals performed by any of the authors.
Additional information
Publisher's Note
Springer Nature remains neutral with regard to jurisdictional claims in published maps and institutional affiliations.
Electronic supplementary material
Below is the link to the electronic supplementary material.
Supplementary material 1 (MOV 2900 kb)
About this article
Cite this article
Kwiatkowski, B., Mouton, C., Raux, S. et al. Voluntary femoro-tibial subluxations: a benign differential diagnosis in the snapping knee of a child. Knee Surg Sports Traumatol Arthrosc (2020) doi:10.1007/s00167-019-05831-6
Received:

Accepted:

Published:
Keywords
Femoro-tibial subluxation

Knee subluxation

Voluntary subluxation