Abstract
Purpose
The aim of this study was to evaluate the union rate and risk factors for delayed union in the early postoperative period after an arthroscopic Latarjet with double-button fixation.
Method
In a retrospective study, postoperative CT scans at 3 months were analysed following an arthroscopic Latarjet with double-button fixation used to treat anterior shoulder instability. Healing of the bone block, its position in the sagittal and coronal planes, and the contact area graft/scapula were analysed.
Results
Ninety-eight CT scans (98 patients) were included. The rate of healing at 3 months was 63/98 (64%) and four grafts clearly migrated. The position was perfectly flush to the glenoid rim in 67% and under the equator in 96%. The mean contact graft/scapula area was 135 mm 2 (4–420). In multivariate analysis, the risk of non-union at 3 months was associated with tobacco consumption (p = 0.001, aOR = 12.17 95% CI [2.62–56.49]), absence of preoperative glenoid bone defect (p = 0.003, aOR = 8.06 95% CI [2.06–31.56]), and a contact area graft/scapula less than 120 mm 2 (p = 0.010, aOR = 5.25 95% CI [1.50–18.40]). Among 31 non-united grafts, 93% definitively healed on CT scan at 1 year, leaving an overall rate of 93% of united grafts at last follow-up.
Conclusions
The rate of union at 3 months after an arthroscopic Latarjet with double-button fixation was 64%, reaching 93% at 1 year. This procedure should be carefully indicated in case of tobacco use or instability without glenoid bone defect, especially when the shoulder is exposed to high-energy trauma in the early phase after surgery.
This is a preview of subscription content, log in to check access.
Access options
Buy single article
Instant unlimited access to the full article PDF.
US$ 39.95
Price includes VAT for USA
Subscribe to journal
Immediate online access to all issues from 2019. Subscription will auto renew annually.
US$ 199
This is the net price. Taxes to be calculated in checkout.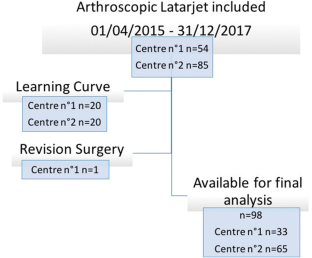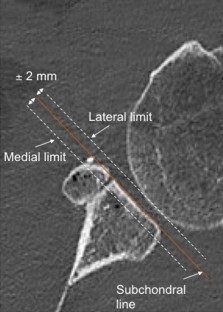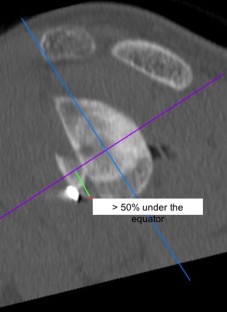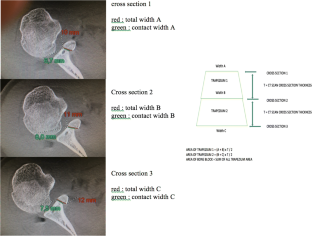 References
1.

Abdul-Rassoul H, Galvin JW, Curry EJ, Simon J, Li X (2019) Return to sport after surgical treatment for anterior shoulder instability: a systematic review. Am J Sports Med 47:1507–1515

2.

Athwal GS, Meislin R, Getz C, Weinstein D, Favorito P (2016) Short-term complications of the arthroscopic Latarjet procedure: a North American experience. Arthroscopy 32:1965–1970

3.

Balg F, Boileau P (2007) The instability severity index score. A simple pre-operative score to select patients for arthroscopic or open shoulder stabilisation. J Bone Joint Surg Br 89:1470–1477

4.

Boileau P, Thélu CE, Mercier N et al (2014) Arthroscopic Bristow-Latarjet combined with Bankart repair restores shoulder stability in patients with glenoid bone loss. Clin Orthop Relat Res 472:2413–2424

5.

Boileau P, Gendre P, Baba M et al (2016) A guided surgical approach and novel fixation method for arthroscopic Latarjet. J Shoulder Elbow Surg 25:78–89

6.

Bonnevialle N, Thélu CE, Bouju Y et al (2018) Arthroscopic Latarjet procedure with double-button fixation: short-term complications and learning curve analysis. J Shoulder Elbow Surg 27:189–195

7.

Butt U, Charalambous CP (2012) Complications associated with open coracoid transfer procedures for shoulder instability. J Shoulder Elbow Surg 21:1110–1119

8.

Di Giacomo G, de Gasperis N, Costantini A, De Vita A, Beccaglia MA, Pouliart N (2014) Does the presence of glenoid bone loss influence coracoid bone graft osteolysis after the Latarjet procedure? A computed tomography scan study in 2 groups of patients with and without glenoid bone loss. J Shoulder Elbow Surg 23:514–518

9.

Fleiss JL (1986) Reliability of measurement. In: Fleiss JL (ed) The design and analysis of clinical experiments. Wiley, Toronto, pp 1–32

10.

Gendre P, Thélu CE, d'Ollonne T, Trojani C, Gonzalez JF, Boileau P (2016) Coracoid bone block fixation with cortical buttons: an alternative to screw fixation? Orthop Traumatol Surg Res 102:983–987

11.

Griesser MJ, Harris JD, McCoy BW et al (2013) Complications and re-operations after Bristow-Latarjet shoulder stabilization: a systematic review. J Shoulder Elbow Surg 22:286–292

12.

Harrell FE (2013) Regression modeling strategies: with applications to linear models, logistic regression, and survival analysis. Springer, New York City, pp 103–126

13.

Hovelius L, Sandström B, Olofsson A, Svensson O, Rahme H (2012) The effect of capsular repair, bone block healing, and position on the results of the Bristow-Latarjet procedure (study III): long-term follow-up in 319 shoulders. J Shoulder Elbow Surg 21:647–660

14.

Kazum E, Chechik O, Pritsch T et al (2019) Biomechanical evaluation of suture buttons versus cortical screws in the Latarjet-Bristow procedure: a fresh-frozen cadavers study. Arch Orthop Trauma Surg. https://doi.org/10.1007/s00402-019-03269-6

15.

Kordasiewicz B, Małachowski K, Kiciński M et al (2019) Intraoperative graft-related complications are a risk factor for recurrence in arthroscopic Latarjet stabilisation. Knee Surg Sports Traumatol Arthrosc 27:3230–3239

16.

Lafosse L, Boyle S, Gutierrez-Aramberri M, Shah A, Meller R (2010) Arthroscopic Latarjet procedure. Orthop Clin N Am 41:393–405

17.

Latarjet M (1954) Treatment of recurrent dislocation of the shoulder. Lyon Chir 49:994–997

18.

Martin CT, Gao Y, Pugely AJ, Wolf BR (2013) 30-day morbidity and mortality after elective shoulder arthroscopy: a review of 9410 cases. J Shoulder Elbow Surg 22:1667–1675

19.

Moroder P, Hirzinger C, Lederer S et al (2012) Restoration of anterior glenoid bone defects in posttraumatic recurrent anterior shoulder instability using the J-bone graft shows anatomic graft remodelling. Am J Sports Med 40:1544–1550

20.

Provencher MT, Aman ZS, LaPrade CM et al (2018) Biomechanical comparison of screw fixation versus a cortical button and self-tensioning suture for the Latarjet procedure. Orthop J Sports Med 14(6):2325967118777842

21.

Rosset A, Spadola L, Ratib O (2004) OsiriX: an open-source software for navigating in multidimensional DICOM images. J Digit Imaging 17:205–216

22.

Samim M, Small KM, Higgins LD (2018) Coracoid graft union: a quantitative assessment by computed tomography in primary and revision Latarjet procedure. J Shoulder Elbow Surg 27:1475–1482

23.

Scolaro JA, Schenker ML, Yannascoli S, Baldwin K, Mehta S, Ahn J (2014) Cigarette smoking increases complications following fracture: a systematic review. J Bone Joint Surg Am 16(96):674–681

24.

Shah AA, Butler RB, Romanowski J, Goel D, Karadagli D, Warner JJ (2012) Short-term complications of the Latarjet procedure. J Bone Joint Surg Am 94:495–501

25.

Shrout PE, Fleiss JL (1979) Intraclass correlations: uses in assessing rater reliability. Psychol Bull 86:420–428

26.

Taverna E, Garavaglia G, Perfetti C, Ufenast H, Sconfienza LM, Guarrella V (2018) An arthroscopic bone block procedure is effective in restoring stability, allowing return to sports in cases of glenohumeral instability with glenoid bone deficiency. Knee Surg Sports Traumatol Arthrosc 26:3780–3787

27.

Van Houten AH, Heesterbeek PJ, van Heerwaarden RJ, van Tienen TG, Wymenga AB (2014) Medial open wedge high tibial osteotomy: can delayed or nonunion be predicted? Clin Orthop Relat Res 472:1217–1223

28.

Walch G (1991) Recurrent anterior shoulder instability. Rev Chir Orthop Reparatrice Appar Mot 77:177–191

29.

Willemot L, De Boey S, Van Tongel A, Declercq G, De Wilde L, Verborgt O (2019) Analysis of failures after the Bristow-Latarjet procedure for recurrent shoulder instability. Int Orthop 43:1899–1907

30.

Xu J, Liu H, Lu W et al (2019) Clinical outcomes and radiologic assessment of a modified suture button arthroscopic Latarjet procedure. BMC Musculoskelet Disord. 20:173

31.

Young AA, Maia R, Berhouet J, Walch G (2011) Open Latarjet procedure for management of bone loss in anterior instability of the glenohumeral joint. J Shoulder Elbow Surg 20:61–69
Ethics declarations
Conflict of interest
Yoann Dalmas, Pierre Laumonerie, Marie Faruch and Mathieu Girard have no conflict of interest. Charles Edouard Thélu and Nicolas Bonnevialle are consultant for Smith & Nephew.
Ethical approval
Approval was obtained from the Ethics Committee of University Hospital of Toulouse, France to conduct this study (IRB 01-526).
Additional information
Publisher's Note
Springer Nature remains neutral with regard to jurisdictional claims in published maps and institutional affiliations.
About this article
Cite this article
Dalmas, Y., Thélu, C.E., Laumonerie, P. et al. Arthroscopic double-button Latarjet: two-thirds of bone block healed at 90 days. Knee Surg Sports Traumatol Arthrosc (2020) doi:10.1007/s00167-019-05830-7
Received:

Accepted:

Published:
Keywords
Latarjet

Arthroscopic

Non-union

Shoulder instability

Bone block

Double button

CT scan

Risk factors

Tobacco