Abstract
Purpose
A mobile-bearing (MB) posterior-stabilized total knee arthroplasty (TKA) system with ball and socket post-cam mechanism has been developed with the aims of better prosthesis fit and enhanced stability. However, the data are limited to compare its clinical outcomes with an already established fixed-bearing (FB) implant design.
Methods
This is a prospective randomized study comparing 260 patients in the MB group and 133 patients in FB group with a minimum 2 years of follow-up. Intraoperative variables, post-operative functional outcomes and incidence of adverse events were compared.
Results
MB group showed better prosthesis fit as the incidence of over-hang of femoral component at junction (medial: 1% vs. 5% and lateral: 2% vs 4%, p < 0.001) and trochlea (medial: 2% vs 30%, p = 0.042 and lateral: 13% vs 21%, p = 0.015) was less than FB group. MB group also showed better gap balancing as the incidence of medio-lateral gap difference more than 2 mm was less in flexion (2.3% vs. 16%, p < 0.001) and extension (3.1% vs. 9.8%, p = 0.005). Post-operative functional outcomes and incidence of adverse events showed no difference between the two groups at 2 years.
Conclusions
New MB design offers similar functional outcomes and stability along with better intraoperative prosthesis fit and gap balancing compared to an established fixed-bearing design. Hence, this new MB design could be an alternative prosthesis of choice for posterior-stabilized TKA.
Level of evidence
I.
This is a preview of subscription content, log in to check access.
Access options
Buy single article
Instant access to the full article PDF.
US$ 39.95
Price includes VAT for USA
Subscribe to journal
Immediate online access to all issues from 2019. Subscription will auto renew annually.
US$ 199
This is the net price. Taxes to be calculated in checkout.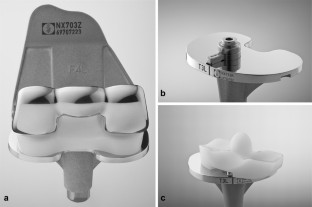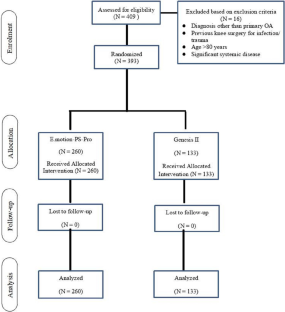 References
1.

Aggarwal AK, Agrawal A (2013) Mobile vs fixed-bearing total knee arthroplasty performed by a single surgeon: a 4- to 6.5-year randomized, prospective, controlled, double-blinded study. J Arthroplasty 28(10):1712–1716

2.

Angst F, Aeschlimann A, Stucki G (2001) Smallest detectable and minimal clinically important differences of rehabilitation intervention with their implications for required sample sizes using WOMAC and SF-36 quality of life measurement instruments in patients with osteoarthritis of the lower extremities. Arthritis Rheum 45(4):384–391

3.

Baker PN, van der Meulen JH, Lewsey J, Gregg PJ (2007) The role of pain and function in determining patient satisfaction after total knee replacement. Data from the National Joint Registry for England and Wales. J Bone Jt Surg Br 89(7):893–900

4.

Baktır A, Karaaslan F, Yurdakul E, Karaoğlu S (2016) Mobile- versus fixed-bearing total knee arthroplasty: a prospective randomized controlled trial featuring 6-10-year follow-up. Acta Orthop Traumatol Turc 50(1):1–9

5.

Beight JL, Yao B, Hozack WJ, Hearn SL, Booth RE Jr (1994) The patellar "clunk" syndrome after posterior stabilized total knee arthroplasty. Clin Orthop Relat Res 299:139–142

6.

Bellamy N, Buchanan WW, Goldsmith CH, Campbell J, Stitt LW (1988) Validation study of WOMAC: a health status instrument for measuring clinically important patient relevant outcomes to antirheumatic drug therapy in patients with osteoarthritis of the hip or knee. J Rheumatol 15(12):1833–1840

7.

Bonnin MP, Schmidt A, Basiglini L, Bossard N, Dantony E (2013) Mediolateral oversizing influences pain, function, and flexion after TKA. Knee Surg SportsTraumatol Arthrosc 21(10):2314–2324

8.

Chang CW, Lai KA, Yang CY, Lan SM (2011) Early mechanical complications of a multidirectional mobile-bearing total knee replacement. J Bone Jt Surg Br 93(4):479–483

9.

Chau R, Gulati A, Pandit H, Beard DJ, Price AJ, Dodd CAF, Gill HS, Murray DW (2009) Tibial component overhang following unicompartmental knee replacement—does it matter? Knee 16(5):310–313

10.

Cheng T, Zhu C, Wang J, Cheng M, Peng X, Wang Q, Zhang X (2014) No clinical benefit of gender-specific total knee arthroplasty. Acta Orthop 85(4):415–421

11.

Chung BJ, Kang JY, Kang YG, Kim SJ, Kim TK (2015) Clinical implications of femoral anthropometrical features for total knee arthroplasty in Koreans. J Arthroplasty 30(7):1220–1227

12.

Dennis DA (2004) Evaluation of painful total knee arthroplasty. J Arthroplasty 19(4 Suppl 1):35–40

13.

Gaillard R, Lustig S, Peltier A, Villa V, Servien E, Neyret P (2016) Total knee implant posterior stabilised by a third condyle: Design evolution and post-operative complications. Orthop Traumatol Surg Res 102(8):1061–1068

14.

Gebhard JS, Kilgus DJ (1990) Dislocation of a posterior stabilized total knee prosthesis. A report of two cases. Clin Orthop Relat Res 254:225–229

15.

Grupp TM, Schroeder C, Kim TK, Miehlke RK, Fritz B, Jansson V, Utzschneider S (2014) Biotribology of a mobile bearing posterior stabilised knee design–effect of motion restraint on wear, tibio-femoral kinematics and particles. J Biomech 47(10):2415–2423

16.

Haas BD (2006) Tibial post impingement in posterior-stabilized total knee arthroplasty. Orthopedics 29(9 Suppl):S83–S85

17.

Han SB, Nha KW, Yoon JR, Lee DH, Chae IJ (2008) The reliability of navigation-guided gap technique in total knee arthroplasty. Orthopedics 31(10):Supp1

18.

Hofstede SN, Nouta KA, Jacobs W, van Hooff ML, Wymenga AB, Pijls BG, Nelissen RGHH, Marang-van de Mheen PJ (2015) Mobile bearing vs fixed bearing prostheses for posterior cruciate retaining total knee arthroplasty for postoperative functional status in patients with osteoarthritis and rheumatoid arthritis. Cochrane Database Syst Rev 2:CD003130

19.

Hoogeboom TJ, van Meeteren NL, Schank K, Kim RH, Miner T, Stevens-Lapsley JE (2015) Risk factors for delayed inpatient functional recovery after total knee arthroplasty. Biomed Res Int 2015:1–5

20.

Hozack WJ, Rothman RH, Booth RE Jr et al (1989) The patellar clunk syndrome. A complication of posterior stabilized total knee arthroplasty. Clin Orthop Relat Res 241:203–208

21.

Huang CH, Huang CH, Liau JJ, Lu YC, Chang TK, Cheng CK (2009) Specific complications of the mobile-bearing total knee prosthesis. J Long Term Eff Med Implants 19(1):1–11

22.

Jawhar A, Hutter K, Scharf HP (2016) Outcome in total knee arthroplasty with a medial-lateral balanced versus unbalanced gap. J Orthop Surg (Hong Kong) 24(3):298–301

23.

Kim HA, Kim S, Seo YI, Choi HJ, Seong SC, Song YW, Hunter D, Zhang Y (2008) The epidemiology of total knee replacement in South Korea: National registry data. Rheumatology 47(1):88–91

24.

Kim JM, Kim SB, Kim JM, Lee DH, Lee BS, Bin SI (2015) Results of gender-specific total knee arthroplasty: comparative study with traditional implant in female patients. Knee Surg Relat Res 27(1):17–23

25.

Kim TK, Cho HJ, Kang YG, Kim SJ, Chang CB (2009) Improved early clinical outcomes of RP/PS mobile-bearing total knee arthroplasties. Clin Orthop Relat Res 467(11):2901–2910

26.

Kocmond JH, Delp SL, Stern SH (1995) Stability and range of motion of Insall-Burstein condylar prostheses. A computer simulation study. J Arthroplasty 10(3):383–388

27.

Kwak DS, Kong CG, Han SH, Kim DH, In Y (2012) Development of a pneumatic tensioning device for gap measurement during total knee arthroplasty. Clin Orthop Surg 4(3):188–192

28.

Lee DH, Lee TG, Park SJ, Han SB (2013) Spontaneous late dissociation of the tibial insert after high-flex posterior-stabilized Genesis II total knee arthroplasty. J Arthroplasty 28(2):374.e13–374.e1316

29.

Lombardi AV Jr, Mallory TH, Vaughn BK, Krugel R, Honkala TK, Sorscher M, Kolczun M (2013) Dislocation following primary posterior-stabilized total knee arthroplasty. J Arthroplasty 8(6):633–639

30.

Lombardi AV Jr, Mallory TH, Waterman RA, Eberle RW (1995) Intercondylar distal femoral fracture. An unreported complication of posterior-stabilized total knee arthroplasty. J Arthroplasty 10(5):643–650

31.

Lonner JH, Jasko JG, Bezwada HP, Nazarian DG, Booth RE (2007) Incidence of patellar clunk with a modern posterior-stabilized knee design. Am J Orthop 36(10):550–553

32.

Mahoney OM, Kinsey T (2010) Overhang of the femoral component in total knee arthroplasty: risk factors and clinical consequences. J Bone Jt Surg Am 92(5):1115–1121

33.

Mauerhan DR (2003) Fracture of the polyethylene tibial post in a posterior cruciate substituting total knee arthroplasty mimicking patellar clunk syndrome: a report of 5 cases. J Arthroplasty 18(7):942–945

34.

Memtsoudis SG, Valle AGD, Besculides MC, Gaber L, Laskin R (2009) Trends in demographics, comorbidity profiles, in-hospital complications and mortality associated with primary knee arthroplasty. J Arthroplasty 24(4):518–527

35.

Moskal JT, Capps SG (2014) Rotating-platform TKA no different from fixed-bearing TKA regarding survivorship or performance: a meta-analysis. Clin Orthop Relat Res 472(7):2185–2193

36.

Nakamura S, Sharma A, Nakamura K, Ikeda N, Zingde SM, Komistek RD (2014) Can post-cam function be replaced by addition of a third condyle in PS TKA? J Arthroplasty 29(9):1871–1876

37.

Pais-Brito JL, Rafols-Urquiza B, Gonzalez-Massieu L, Herrera-Perez M, Aciego-De Mendoza M, De Bergua Domingo J (2015) Reduced patellofemoral and walking pain with mobile-bearing vs. fixed-bearing total knee replacements: a mid-term prospective analytic study. Acta Orthop Traumatol Turc 49(4):375–381

38.

Ranawat CS, Luessenhop CP, Rodriguez JA (1997) The press-fit condylar modular total knee system. Four-to-six-year results with a posterior-cruciate-substituting design. J Bone Jt Surg Am 79(3):342–348

39.

Sakellariou VI, Poultsides LA, Ma Y, Bae J, Liu S, Sculco TP (2016) Risk assessment for chronic pain and patient satisfaction after total knee arthroplasty. Orthopedics 39(1):55–62

40.

Sansone V, da Gama Malchèr M (2004) Mobile-bearing total knee prosthesis: a 5- to 9-year follow-up of the first 110 consecutive arthroplasties. J Arthroplasty 19(6):678–685

41.

Scuderi GR, Bourne RB, Noble PC, Benjamin JB, Lonner JH, Scott WN (2012) The new knee society knee scoring system. Clin Orthop Relat Res 470(1):3–19

42.

Sharma G, Liu D, Malhotra R, Zhou YX, Akagi M, Kim TK (2017) Availability of additional mediolateral implant option during total knee arthroplasty improves femoral component fit across ethnicities: results of a multicenter study. JB JS Open Access 2(2):e0014

43.

Snider MG, Macdonald SJ (2009) The influence of the posterior cruciate ligament and component design on joint line position after primary total knee arthroplasty. J Arthroplasty 24(7):1093–1098

44.

Stern SH, Insall JN (1992) Posterior stabilized prosthesis. Results after follow-up of nine to twelve years. J Bone Jt Surg Am 74(7):980–986

45.

Thambiah MD, Nathan S, Seow BZ, Liang S, Lingaraj K (2015) Patient satisfaction after total knee arthroplasty: an Asian perspective. Singap Med J 56(5):259–263

46.

Ware JE Jr, Sherbourne CD (1992) The MOS 36-item short-form health survey (SF-36). I. Conceptual framework and item selection. Med Care 30(6):473–483

47.

Woolson ST, Northrop GD (2004) Mobile- vs. fixed-bearing total knee arthroplasty: a clinical and radiologic study. J Arthroplasty 19(2):135–140

48.

Zaffagnini S, Bignozzi S, Saffarini M, Colle F, Sharma B, Kinov PS, Marcacci M, Dejour D (2014) Comparison of stability and kinematics of the natural knee versus a PS TKA with a 'third condyle'. Knee Surg Sports Traumatol Arthrosc 22(8):1778–1785
Acknowledgements
We thank Jeong Seong Seong, MS, for her contribution in data collection for this study.
Funding
This research received grants from the company B.Braun—Aesculap, Tuttlingen, Germany.
Ethics declarations
Conflict of interest
Tae Kyun Kim has received royalties from B-Braun and Smith and Nephew. The other authors declare that they have no conflict of interest.
Ethical approval
This study was approved by the Institutional Review Board of Seoul National University Bundang Hospital (E-1406/254-001)
Human rights statement
All procedures performed in studies involving human participants were in accordance with the ethical standards of the institutional and/or national research committee, and with the 1964 Helsinki declaration and its later amendments or comparable ethical standards.
Informed consent
Each author certifies that his or her institution has approved the human protocol for this investigation that all investigations were conducted in conformity with ethical principles of research, and that informed consent was obtained. This work was performed at the Joint Reconstruction Center, Seoul National University Bundang Hospital.
Additional information
Publisher's Note
Springer Nature remains neutral with regard to jurisdictional claims in published maps and institutional affiliations.
About this article
Cite this article
Tiwari, V., Meshram, P., Park, C.K. et al. New mobile-bearing TKA with unique ball and socket post-cam mechanism offers similar function and stability with better prosthesis fit and gap balancing compared to an established fixed-bearing prosthesis. Knee Surg Sports Traumatol Arthrosc 27, 2145–2154 (2019). https://doi.org/10.1007/s00167-019-05430-5
Received:

Accepted:

Published:

Issue Date:
Keywords
Total knee arthroplasty

Mobile bearing

Prosthesis fit

Function

Outcome