Abstract
Purpose
To report the outcomes (subjective function, return to play, complications and reoperations) of arthroscopic all-inside meniscal fixation in a large sample of soccer players with hypermobile lateral meniscus.
Methods
Between 2010 and 2015, 55 patients undergoing surgical treatment for hypermobile lateral meniscus at Mutualidad Catalana de Futbolistas (Barcelona, Spain) were identified. Patients with open physes, associated injuries, discoid meniscus, or clinical follow-up less than 6 months were excluded. Once identified, all patients were contacted over the phone to collect cross-sectional data on International Knee Documentation Committee (IKDC) score, postoperative Tegner score, and postoperative visual analogue scale (VAS) for pain. In addition, complications and reoperations were retrospectively collected.
Results
Forty-six cases (in 45 patients) with a mean (SD) age of 26.3 (9.5) years and mean (SD; range) follow-up of 43 (19.5; 8–73) months were included. The pre- and post-operative median (range) Tegner score was 9 (6–9) and 8 (0–9), respectively. Compared to the preoperative period, the postoperative Tegner score was equal in 27/46 (59%) cases and lower in 16/46 (35%) cases (3 missing values). Return to play was possible in 38/46 (82%) cases, from which 27/46 (59%) corresponded to the same pre-injury activity level. Postoperatively, the median (range) VAS for pain was 1 (0–9), and the mean (SD) subjective IKDC was 86.2 (16.7). Three of the 46 cases (6.5%) required a reoperation because of pain in one patient (meniscal suture failure) and meniscal tear in two patients.
Conclusions
All-inside meniscal fixation is a successful treatment for hypermobile lateral meniscus, which allows acceptable return to play and good function in soccer players at a low reoperation rate. However, according to the present cross-sectional case series, players should be advised that return to the same pre-injury activity level is achieved in only 27 of 46 (59%) of the cases. Surgeons facing with the difficult problem of hypermobile lateral meniscus in soccer players should consider meniscus fixation as an easy and successful option.
Level of evidence
Level IV—Therapeutic Case Series.
This is a preview of subscription content, log in to check access.
Access options
Buy single article
Instant unlimited access to the full article PDF.
US$ 39.95
Price includes VAT for USA
Subscribe to journal
Immediate online access to all issues from 2019. Subscription will auto renew annually.
US$ 199
This is the net price. Taxes to be calculated in checkout.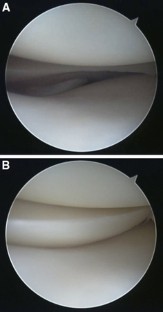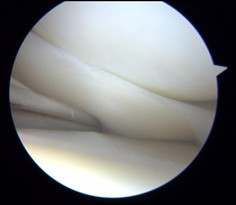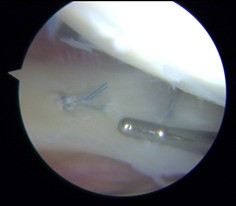 References
1.

Arendt EA, Fontbote CA, Rohr SR (2014) Displacing lateral meniscus masquerading as patella dislocation. Knee Surg Sports Traumatol Arthrosc 22:2315–2319

2.

Garofalo R, Kombot C, Borens O, Djahangiri A, Mouhsine E (2005) Locking knee caused by subluxation of the posterior horn of the lateral meniscus. Knee Surg Sports Traumatol Arthrosc 13:569–571

3.

George M, Wall EJ (2003) Locked knee caused by meniscal subluxation: magnetic resonance imaging and arthroscopic verification. Arthroscopy 19:885–888

4.

Higuchi H, Kimura M, Kobayashi A, Hatayama K, Takagishi K (2004) A novel treatment of hypermobile lateral meniscus with monopolar radiofrequency energy. Arthroscopy 20(Suppl 2):1–5

5.

Jordan MR (1996) Lateral Meniscal Variants: Evaluation and Treatment. J Am Acad Orthop Surg 4:191–200

6.

LaPrade RF, Konowalchuk BK (2005) Popliteomeniscal fascicle tears causing symptomatic lateral compartment knee pain: diagnosis by the figure-4 test and treatment by open repair. Am J Sports Med 33:1231–1236

7.

Moser MW, Dugas J, Hartzell J, Thornton DD (2007) A hypermobile Wrisberg variant lateral discoid meniscus seen on MRI. Clin Orthop Relat Res 456:264–267

8.

Neuschwander DC, Drez D, Finney TP (1992) Lateral meniscal variant with absence of the posterior coronary ligament. J Bone Joint Surg Am 74:1186–1190

9.

Ohtoshi K, Kimura M, Kobayashi Y, Higuchi H, Kikuchi S (2004) Arthroscopic thermal shrinkage for hypermobile lateral meniscus. Am J Sports Med 32:1297–1301

10.

Simonian PT, Sussmann PS, Wickiewicz TL, Potter HG, van Trommel M, Weiland-Holland S, Warren RF (1997) Popliteomeniscal fasciculi and the unstable lateral meniscus: clinical correlation and magnetic resonance diagnosis. Arthroscopy 13:590–596

11.

Suganuma J, Mochizuki R, Inoue Y, Yamabe E, Ueda Y, Kanauchi T (2012) Magnetic resonance imaging and arthroscopic findings of the popliteomeniscal fascicles with and without recurrent subluxation of the lateral meniscus. Arthroscopy 28:507–516

12.

Van Steyn MO, Mariscalco MW, Pedroza AD, Smerek J, Kaeding CC, Flanigan DC (2016) The hypermobile lateral meniscus: a retrospective review of presentation, imaging, treatment, and results. Knee Surg Sports Traumatol Arthrosc 24:1555–1559

13.

Yoo WJ, Choi IH, Chung CY, Lee MC, Cho TJ, Park MS, Lee DY (2008) Discoid lateral meniscus in children: limited knee extension and meniscal instability in the posterior segment. J Pediatr Orthop 28:544–548
Ethics declarations
Conflict of Interest
The authors declare that there are no conflicts of interest for the present study.
Ethical approval
This study has been conducted in accordance with the ethical standards at our Institution and with the 1964 Helsinki Declaration and its later amendments.
Electronic supplementary material
Below is the link to the electronic supplementary material.
Supplementary material 1 Video file: intraoperative positive Tom's aspiration test. The well positioned lateral meniscus becomes anteriorly displaced after turning the suction on through the arthroscope (WMV 6233 KB)
About this article
Cite this article
Steinbacher, G., Alentorn-Geli, E., Alvarado-Calderón, M. et al. Meniscal fixation is a successful treatment for hypermobile lateral meniscus in soccer players. Knee Surg Sports Traumatol Arthrosc 27, 354–360 (2019). https://doi.org/10.1007/s00167-018-5080-6
Received:

Accepted:

Published:

Issue Date:
Keywords
Hypermobile

Lateral meniscus

Soccer

Treatment