Abstract
Purpose
The objective of this study was to evaluate potential cytotoxicity of TXA on articular cartilage by assessing chondrocyte viability of osteochondral explants after exposure to different concentrations and durations of TXA.
Methods
Thirty-nine osteochondral plugs (OCPs) were harvested from three adult Yucatan minipigs immediately after their death. OCPs were divided into 13 groups exposed to different concentrations of TXA (1, 2 and 4 mg/ml in saline solution) for 1, 3 and 6 h. Negative controls were exposed to saline solution for 0, 1, 3 and 6 h. Chondrocyte viability was assessed by Live/Dead cell assay and calculated as the ratio of live cells (green fluorescence) to overall cells (green + red cells) for each concentration of TXA and time point in a 50-µm scanned image.
Results
No correlation was found between chondrocyte viability, and TXA concentration and time of exposure. Overall, chondrocyte viability ranged from 90 to 99%. There was no statistical difference among control group, 1, 2 and 4 mg/ml TXA solutions at each time point [1 h (n.s.), 3 h (n.s.), 6 h (n.s.)]. Similarly, no statistical difference among groups was observed when comparing cell viability at 1, 3 and 6 h of TXA exposure, (Fig. 2) [1 mg/ml (n.s.), 2 mg/ml (n.s.), and 4 mg/ml (n.s.)].
Conclusions
In conclusion, doses of TXA approximating the current clinical protocols for topical use did not demonstrate any cytotoxic effects on cartilage explants in a Yucatan mini pig model. Thus, supporting the topical application for procedures with intact cartilage, such as partial knee replacement surgery and cartilage repair procedures.
This is a preview of subscription content, log in to check access.
Access options
Buy single article
Instant access to the full article PDF.
US$ 39.95
Price includes VAT for USA
Subscribe to journal
Immediate online access to all issues from 2019. Subscription will auto renew annually.
US$ 199
This is the net price. Taxes to be calculated in checkout.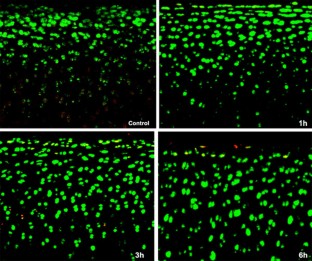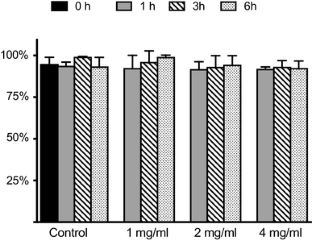 References
1.

Kim C, Park SS-H, Davey JR (2015) Tranexamic acid for the prevention and management of orthopedic surgical hemorrhage: current evidence. J Blood Med 6:239–244

2.

Ng W, Jerath A, Wasowicz M (2015) Tranexamic acid: a clinical review. Anaesthesiol Intensive Ther 47:339–350

3.

Alshryda S, Sukeik M, Sarda P, Blenkinsopp J, Haddad FS, Mason JM (2014) A systematic review and meta-analysis of the topical administration of tranexamic acid in total hip and knee replacement. Bone Joint J 96-B:1005–1015

4.

Wang H, Shen B, Zeng Y (2014) Comparison of topical versus intravenous tranexamic acid in primary total knee arthroplasty: a meta-analysis of randomized controlled and prospective cohort trials. Knee 21(6):987–993

5.

Wang S, Gao X, An Y (2016) Topical versus intravenous tranexamic acid in total knee arthroplasty: a meta-analysis of randomized controlled trials. Int Orthop 41(4):739–748

6.

Wei Z, Liu M (2015) The effectiveness and safety of tranexamic acid in total hip or knee arthroplasty: a meta-analysis of 2720 cases. Transfus Med 25:151–162

7.

Wong J, Abrishami A, Beheiry El H, Mahomed NN, Roderick Davey J, Gandhi R, Syed KA, Muhammad Ovais Hasan S, De Silva Y, Chung F (2010) Topical application of tranexamic acid reduces postoperative blood loss in total knee arthroplasty: a randomized, controlled trial. J Bone Joint Surg 92:2503–2513

8.

Shin YS, Yoon JR, Lee HN, Park SH (2016) Intravenous versus topical tranexamic acid administration in primary total knee arthroplasty: a meta-analysis. Knee Surg Sports Traumatol Arthrosc 371(3):169

9.

Karaaslan F, Karaoğlu S, Yurdakul E (2015) Reducing Intra-articular hemarthrosis after arthroscopic anterior cruciate ligament reconstruction by the administration of intravenous tranexamic acid: a prospective, randomized controlled trial. Am J Sports Med 43:2720–2726

10.

Schwab P-E, Lavand'homme P, Yombi JC, Thienpont E (2015) Lower blood loss after unicompartmental than total knee arthroplasty. Knee Surg Sports Traumatol Arthrosc 23:3494–3500

11.

Goldring MB (2000) The role of the chondrocyte in osteoarthritis. Arthritis Rheum 43:1916–1926

12.

Patel JN, Spanyer JM, Smith LS, Huang J, Yakkanti MR, Malkani AL (2014) Comparison of intravenous versus topical tranexamic acid in total knee arthroplasty: a prospective randomized study. J Arthroplasty 29:1528–1531

13.

Drosos GI, Ververidis A, Valkanis C, Tripsianis G, Stavroulakis E, Vogiatzaki T, Kazakos K (2016) A randomized comparative study of topical versus intravenous tranexamic acid administration in enhanced recovery after surgery (ERAS) total knee replacement. J Orthop 13:127–131

14.

Hooiveld M, Roosendaal G, Wenting M, van den Berg M, Bijlsma J, Lafeber F (2003) Short-term exposure of cartilage to blood results in chondrocyte apoptosis. Am J Pathol 162:943–951

15.

Aguilera-Roig X, Jordán-Sales M, Natera-Cisneros L, Monllau-García JC, Martínez-Zapata MJ (2014) Tranexamic acid in orthopedic surgery. Revista Española de Cirugía Ortopédica y Traumatología. (English Edition) 58:52–56

16.

Chu CR, Szczodry M, Bruno S (2010) Animal models for cartilage regeneration and repair. Tissue Eng Part B Rev 16:105–115

17.

Sitek P, Wysocka-Wycisk A, Kępski F, Król D, Bursig H, Dyląg S (2013) PRP-fibrinogen gel-like chondrocyte carrier stabilized by TXA-preliminary study. Cell Tissue Bank 14:133–140

18.

Tuttle JR, Feltman PR, Ritterman SA, Ehrlich MG (2015) Effects of tranexamic acid cytotoxicity on in vitro chondrocytes. Am J Orthop 44:E497–E502
Ethics declarations
Conflict of interest
All authors declare that they have no conflict of interest.
Funding
The authors received no financial support for the research, authorship, and/or publication of this article.
Ethical approval
This study was approved by the ethical committee of the Brigham Women's Hospital.
Informed consent
This is an experimental study with no humans involved.
About this article
Cite this article
Ambra, L.F., de Girolamo, L., Niu, W. et al. No effect of topical application of tranexamic acid on articular cartilage. Knee Surg Sports Traumatol Arthrosc 27, 931–935 (2019). https://doi.org/10.1007/s00167-017-4746-9
Received:

Accepted:

Published:

Issue Date:
Keywords
Cartilage

Tranexamic acid

Orthopedic surgery

Osteochondral

Animal study