Abstract
Purpose
Primary repair of the anterior cruciate ligament (ACL) has regained interest of clinicians with recent development of novel repair techniques. Dynamic intraligamentary stabilisation was introduced in an attempt to promote healing by shielding cyclic loads acting upon the ACL during the healing phase. The aim of this study was to identify negative factors likely to influence success of this procedure.
Methods
Between 2009 and 2014, 264 patients with an acute ACL rupture undergoing dynamic intraligamentary stabilisation were included in this study. Patients were evaluated for anterior/posterior laxity; range of motion and patient reported outcome measures. Adverse events and re-operations were noted. Failure was defined as AP Translation >3 mm, re-rupture or conversion to ACL reconstruction. Minimum follow-up was 24 months. Univariate and multivariate regression models were utilized to determine predictors of failure.
Results
An overall complication rate of 15.1% was noted comprising 9.5% (n = 25) re-ruptures, 4.1% (n = 11) persistent instability, and 1.5% (n = 4) > 10° fixed flexion deformity. Two factors were identified as negative predictors of failure: (1) pursuit of competitive sport activities with a Tegner pre-injury score >7 (Odds Ratio (OR) 4.4, CI 1.2–15.9, p = 0.02) and (2) mid-substance ACL rupture location (OR 2.5, 1.1–5.7, p = 0.02). When neither of those risk factors occurred the failure rate was limited to 3.9%.
Conclusions
Correct patient selection and narrowing of indications are necessary to maintain high success rates of the procedure. Mid-substance ACL ruptures and a high pre-injury sports activity level are two predictors of inferior outcome.
Level of evidence
II.
This is a preview of subscription content, log in to check access.
Access options
Buy single article
Instant unlimited access to the full article PDF.
US$ 39.95
Price includes VAT for USA
Subscribe to journal
Immediate online access to all issues from 2019. Subscription will auto renew annually.
US$ 199
This is the net price. Taxes to be calculated in checkout.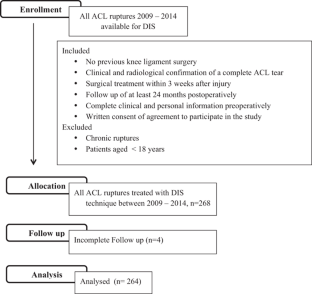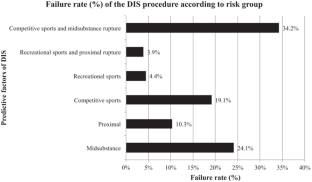 Abbreviations
ACL:

Anterior cruciate ligament

DIS:

Dynamic intraligamentary stabilisation

PROM:

Patient reported outcome score

IKDC:

International knee documentation committee

ROM:

Range of motion

LOM:

Loss of motion
References
1.

Andernord D, Desai N, Björnsson H, Ylander M, Karlsson J, Samuelsson K (2015) Patient predictors of early revision surgery after anterior cruciate ligament reconstruction a cohort study of 16,930 patients with 2-year follow-up. Am J Sports Med 43(1):121–127

2.

Büchler L, Regli D, Evangelopoulos DS, Bieri K, Ahmad SS, Krismer A, Muller T, Kohl S (2016) Functional recovery following primary ACL repair with dynamic intraligamentary stabilization. Knee 23(3):549–553

3.

Clancy WG (2015) Anatomic ACL reconstruction: the final answer? Knee Surg Sports Traumatol Arthrosc 23(3):636–639

4.

Crawford SN, Waterman BR, Lubowitz JH (2013) Long-term failure of anterior cruciate ligament reconstruction. Arthroscopy 29(9):1566–1571

5.

Eggli S, Kohlhof H, Zumstein M, Henle P, Hartel M, Evangelopoulos DS, Bonel H, Kohl S (2015) Dynamic intraligamentary stabilization: novel technique for preserving the ruptured ACL. Knee Surg Sports Traumatol Arthrosc 23(4):1215–1221

6.

Evangelopoulos DS, Kohl S, Schwienbacher S, Gantenden B, Exadaktylos A, Ahmad SS (2015) Collagen application reduces complication rates of mid-substance ACL tears treated with dynamic intraligamentary stabilization. Knee Surg Sports Traumatol Arthrosc. doi:10.1007/s00167-015-3838-7

7.

Kaeding CC, Pedroza AD, Reinke EK, Huston LJ, MOON Consortium, Spindler KP (2015) Risk factors and predictors of subsequent ACL injury in either knee after ACL reconstruction: prospective analysis of 2488 primary ACL reconstructions from the MOON cohort. Am J Sports Med 43(7):1583–1590

8.

Kohl S, Evangelopoulos DS, Schär MO, Bieri K, Müller T, Ahmad SS (2016) Dynamic intraligamentary stabilisation: initial experience with treatment of acute ACL ruptures. Bone Joint 98-B(6):793–798

9.

Lohmander LS, Englund PM, Dahl LL, Roos EM (2007) The long-term consequence of anterior cruciate ligament and meniscus injuries: osteoarthritis. Am J Sports Med 35(10):1756–1769

10.

Proffen BL, Sieker JT, Murray MM (2015) Bio-enhanced repair of the anterior cruciate ligament. Arthroscopy 31(5):990–997

11.

Salmon L, Russell V, Musgrove T, Pinczewski L, Refshauge K (2005) Incidence and risk factors for graft rupture and contralateral rupture after anterior cruciate ligament reconstruction. Arthroscopy 21(8):948–957

12.

Sherman MF, Lieber L, Bonamo JR, Podesta L, Reiter I (1991) The long-term followup of primary anterior cruciate ligament repair. Defining a rationale for augmentation. Am J Sports Med 19(3):243–255

13.

Thompson S, Salmon L, Waller A, Linklater J, Roe J, Pinczewski L (2015) Twenty-year outcomes of a longitudinal prospective evaluation of isolated endoscopic anterior cruciate ligament reconstruction with patellar tendon autografts. Am J Sports Med 43(9):2164–2174
Electronic supplementary material
Below is the link to the electronic supplementary material.
About this article
Cite this article
Krismer, A.M., Gousopoulos, L., Kohl, S. et al. Factors influencing the success of anterior cruciate ligament repair with dynamic intraligamentary stabilisation. Knee Surg Sports Traumatol Arthrosc 25, 3923–3928 (2017) doi:10.1007/s00167-017-4445-6
Received:

Accepted:

Published:

Issue Date:
Keywords
Dynamic intraligamentary stabilisation (DIS)

Anterior cruciate ligament (ACL)

Rerupture

Predictive factors