Abstract
Clavicle fractures are common traumatic injuries of the shoulder girdle, with surgery being the recommended treatment for some displaced midshaft fractures. Open surgery is widely used; however, the primary concerns of this procedure include cosmetic problems and incisional complications, such as wound dehiscence, infection, numbness, and sensitivity. A new arthroscopically assisted technique was developed, in which the Knowles pin was used for percutaneous fixation to treat the displaced midclavicular fracture. This technique is an attractive alternative treatment option for midclavicular fractures.
Level of evidence V.
This is a preview of subscription content, log in to check access.
Access options
Buy single article
Instant unlimited access to the full article PDF.
US$ 39.95
Price includes VAT for USA
Subscribe to journal
Immediate online access to all issues from 2019. Subscription will auto renew annually.
US$ 199
This is the net price. Taxes to be calculated in checkout.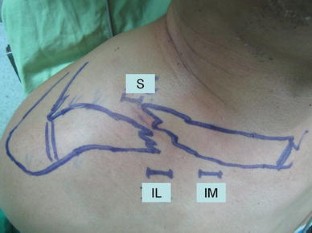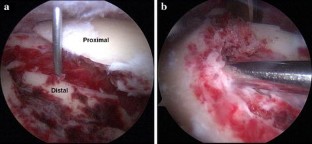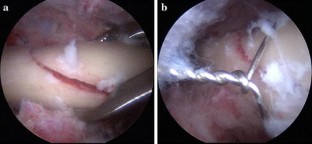 References
1.

Bernstein J (2007) Nonoperative treatment compared with plate fixation of displaced midshaft clavicular fractures. J Bone Joint Surg Am 89(8):1866

2.

Chuang TY, Ho WP, Hsieh PH, Lee PC, Chen CH, Chen YJ (2006) Closed reduction and internal fixation for acute midshaft clavicular fractures using cannulated screws. J Trauma 60(6):1315–1320

3.

Duan X, Zhong G, Cen S, Huang F, Xiang Z (2011) Plating versus intramedullary pin or conservative treatment for midshaft fracture of clavicle: a meta-analysis of randomized controlled trials. J Should Elbow Surg 20(6):1008–1015

4.

Ferran NA, Hodgson P, Vannet N, Williams R, Evans RO (2010) Locked intramedullary fixation vs plating for displaced and shortened mid-shaft clavicle fractures: a randomized clinical trial. J Should Elbow Surg 19(6):783–789

5.

Havet E, Duparc F, Tobenas-Dujardin AC, Muller JM, Freger P (2007) Morphometric study of the shoulder and subclavicular innervation by the intermediate and lateral branches of supraclavicular nerves. Surg Radiol Anat 29(8):605–610

6.

Khan LA, Bradnock TJ, Scott C, Robinson CM (2009) Fractures of the clavicle. J Bone Joint Surg Am 91(2):447–460

7.

Liu PC, Chien SH, Chen JC, Hsieh CH, Chou PH, Lu CC (2010) Minimally invasive fixation of displaced midclavicular fractures with titanium elastic nails. J Orthop Trauma 24(4):217–223

8.

O'Neill K, Stutz C, Duvernay M, Schoenecker J (2012) Supraclavicular nerve entrapment and clavicular fracture. J Orthop Trauma 26(6):e63–e65

9.

Robinson CM, Court-Brown CM, McQueen MM, Wakefield AE (2004) Estimating the risk of nonunion following nonoperative treatment of a clavicular fracture. J Bone Joint Surg Am 86(7):1359–1365
Acknowledgments
The authors are grateful to Michael Leon Su from New York Medical College and Stephanie Kuo from Johns Hopkins University Department of Biology for their assistance with editing this manuscript.
Electronic supplementary material
Below is the link to the electronic supplementary material.
Supplemental Digital Content 1 (MPG 30940 kb)
About this article
Cite this article
Lin, C., Jou, I., Huang, M. et al. Arthroscopically assisted percutaneous fixation of displaced midclavicular fracture using a Knowles pin. Knee Surg Sports Traumatol Arthrosc 22, 431–434 (2014). https://doi.org/10.1007/s00167-012-2302-1
Received:

Accepted:

Published:

Issue Date:
Keywords
Midclavicular fracture

Arthroscopy

Knowles pin