Abstract
Purpose
The pivot shift test (PST) is a complex, multiplanar maneuver used to assess rotatory instability of the knee. The grading is subjective due to the broad range of examination techniques and lack of tibiofemoral motion quantification. The goal of this study was to develop and evaluate a mechanized device for quantitative assessment of the PST.
Methods
We constructed a mechanized pivot shifter (MPS). In five cadaveric hip-to-toes specimens, the anterior cruciate ligament was resected. We used a surgical navigation system for acquisition of the tibiofemoral motion path during the PST. Two sets of measurements were obtained for the MPS and for two examiners performing the manual technique.
Results
Mean lateral compartment translation magnitudes for each MPS measurement were 13.5 mm (σ = 6.7) and 13.6 mm (σ = 6.7). For examiner 1, 14.9 mm (σ = 6.5) and 15.7 mm (σ = 6.3). For examiner 2, 16.9 mm (σ = 6.3) and 16.1 mm (σ = 5.2). Differences were not significant (n.s.). The MPS had narrower limits of agreement than both examiner 1 and examiner 2.
Conclusion
The MPS demonstrated no significant differences in the tibiofemoral translation magnitudes compared to the manual technique. It resulted in better test–retest reliability and more consistent measurements of tibiofemoral translation when compared to manual PST. The high repeatability factor conferred by the MPS is a clinical advantage.
This is a preview of subscription content, log in to check access.
Access options
Buy single article
Instant unlimited access to the full article PDF.
US$ 39.95
Price includes VAT for USA
Subscribe to journal
Immediate online access to all issues from 2019. Subscription will auto renew annually.
US$ 199
This is the net price. Taxes to be calculated in checkout.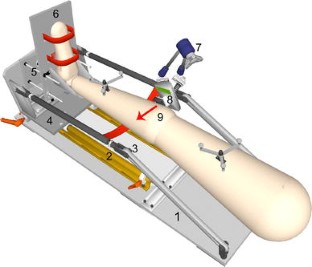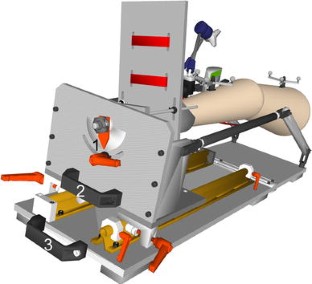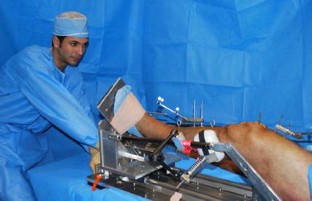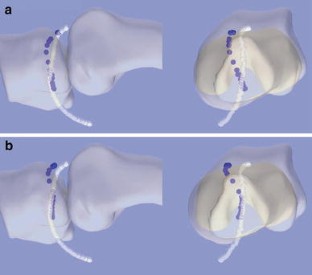 References
1.

Bach BR Jr, Warren RF, Wickiewicz TL (1988) The pivot shift phenomenon: results and description of a modified clinical test for anterior cruciate ligament insufficiency. Am J Sports Med 16:571–576

2.

Bland JM, Altman DG (1986) Statistical methods for assessing agreement between two methods of clinical measurement. Lancet 1:307–310

3.

Bonnet A (1845) Traité des maladies des articulations, vol 1 & 2 avec atlas. Baillière, Paris

4.

Brophy RH, Voos JE, Shannon FJ et al (2008) Changes in the length of virtual anterior cruciate ligament fibers during stability testing: a comparison of conventional single-bundle reconstruction and native anterior cruciate ligament. Am J Sports Med 36:2196–2203

5.

Burnett QM 2nd, Fowler PJ (1985) Reconstruction of the anterior cruciate ligament: historical overview. Orthop Clin North Am 16:143–157

6.

Colombet P, Robinson J, Christel P et al (2007) Using navigation to measure rotation kinematics during ACL reconstruction. Clin Orthop Relat Res 454:59–65

7.

Galway HR, MacIntosh DL (1980) The lateral pivot shift: a symptom and sign of anterior cruciate ligament insufficiency. Clin Orthop Relat Res 147:45–50

8.

Galway RD, Beaupre A, MacIntosh DL (1972) Pivot shift: a clinical sign of symptomatic anterior cruciate insufficiency. J Bone Joint Surg Br 54:763–764

9.

Hughston JC, Andrews JR, Cross MJ, Moschi A (1976) Classification of knee ligament instabilities. Part I. The medial compartment and cruciate ligaments. J Bone Joint Surg Am 58:159–172

10.

Jakob RP, Staubli HU, Deland JT (1987) Grading the pivot shift. Objective tests with implications for treatment. J Bone Joint Surg Br 69:294–299

11.

Kaplan N, Wickiewicz TL, Warren RF (1990) Primary surgical treatment of anterior cruciate ligament ruptures. A long-term follow-up study. Am J Sports Med 18:354–358

12.

Katz JW, Fingeroth RJ (1986) The diagnostic accuracy of ruptures of the anterior cruciate ligament comparing the Lachman test, the anterior drawer sign, and the pivot shift test in acute and chronic knee injuries. Am J Sports Med 14:88–91

13.

Kendoff D, Bogojevic A, Citak M et al (2007) Experimental validation of noninvasive referencing in navigated procedures on long bones. J Orthop Res 25:201–207

14.

Kendoff D, Citak M, Gardner MJ et al (2007) Navigated femoral nailing using noninvasive registration of the contralateral intact femur to restore anteversion. Technique and clinical use. J Orthop Trauma 21:725–730

15.

Kocher MS, Steadman JR, Briggs KK et al (2004) Relationships between objective assessment of ligament stability and subjective assessment of symptoms and function after anterior cruciate ligament reconstruction. Am J Sports Med 32:629–634

16.

Kubo S, Muratsu H, Yoshiya S et al (2007) Reliability and usefulness of a new in vivo measurement system of the pivot shift. Clin Orthop Relat Res 454:54–58

17.

Lane CG, Warren R, Pearle AD (2008) The pivot shift. J Am Acad Orthop Surg 16:679–688

18.

Lane CG, Warren RF, Stanford FC et al (2008) In vivo analysis of the pivot shift phenomenon during computer navigated ACL reconstruction. Knee Surg Sports Traumatol Arthrosc 16:487–492

19.

Leitze Z, Losee RE, Jokl P et al (2005) Implications of the pivot shift in the ACL-deficient knee. Clin Orthop Relat Res 436:229–236

20.

Losee RE (1983) Concepts of the pivot shift. Clin Orthop Relat Res 172:45–51

21.

Malcom LL, Daniel DM, Stone ML, Sachs R (1985) The measurement of anterior knee laxity after ACL reconstructive surgery. Clin Orthop Relat Res 196:35–41

22.

Moon DK, Woo SL, Takakura Y et al (2006) The effects of refreezing on the viscoelastic and tensile properties of ligaments. J Biomech 39:1153–1157

23.

Musahl V, Voos J, O'Loughlin PF et al (2010) Mechanized pivot shift test achieves greater accuracy than manual pivot shift test. Knee Surg Sports Traumatol Arthrosc 18:1208–1213

24.

Noyes FR, Grood ES, Cummings JF, Wroble RR (1991) An analysis of the pivot shift phenomenon. The knee motions and subluxations induced by different examiners. Am J Sports Med 19:148–155

25.

Palmer I (1938) On the injuries to the ligaments of the knee joint. Acta Chir Scand. (Suppl.) 53

26.

Pearle AD, Kendoff D, Musahl V, Warren RF (2009) The pivot-shift phenomenon during computer-assisted anterior cruciate ligament reconstruction. J Bone Joint Surg Am 91(1):115–118

27.

Slocum DB, Larson RL (1968) Rotatory instability of the knee. Its pathogenesis and a clinical test to demonstrate its presence. J Bone Joint Surg Am 50:211–225

28.

Smith AS (1918) The diagnosis and treatment of injuries to the cruciate ligaments. Br J Surg 6:176–189

29.

Stindel E, Briard JL, Merloz P et al (2002) Bone morphing: 3D morphological data for total knee arthroplasty. Comput Aided Surg 7:156–168

30.

Tamea CD Jr, Henning CE (1981) Pathomechanics of the pivot shift maneuver. An instant center analysis. Am J Sports Med 9:31–37

31.

Woo SL, Lee TQ, Gomez MA et al (1987) Temperature dependent behavior of the canine medial collateral ligament. J Biomech Eng 109:68–71

32.

Ishibashi Y, Tsuda E, Yamamoto Y, Tsukada H, Toh S (2009) Navigation evaluation of the pivot-shift phenomenon during double-bundle anterior cruciate ligament reconstruction: is the posterolateral bundle more important? Arthroscopy 25:488–495
About this article
Cite this article
Citak, M., Suero, E.M., Rozell, J.C. et al. A mechanized and standardized pivot shifter: technical description and first evaluation. Knee Surg Sports Traumatol Arthrosc 19, 707–711 (2011). https://doi.org/10.1007/s00167-010-1289-8
Received:

Accepted:

Published:

Issue Date:
Keywords