Abstract
Anterior translation of the lateral compartment was hypothesized to correlate with the clinical grade of a pivot shift maneuver. Using a computer-assisted navigation system, this hypothesis was tested by recording the maximum anterior tibial translation in the medial and lateral compartment as well as the arc of rotation during the pivot shift maneuver. One hundred and fifty-four pivot shift examinations were performed on cadavers with various degrees of instability, and 24 pivot shift exams were performed on patients under anesthesia before and after ACL reconstruction. In all positive pivot shift exams, anterior tibial translations were found to be higher on in the lateral compartment compared to the medial compartment. In addition, an excellent correlation was found between the amount of lateral compartment translation and the clinical grade of the pivot shift; medial compartment translations and amount of knee rotation could not distinguish between clinical grades. Finally, a threshold of 6–7 mm of anterior tibial translation in the lateral compartment was necessary to produce a positive pivot shift. Taken together, these data suggest that monitoring lateral compartment translations during a pivot shift exam may be a convenient means to evaluate the outcomes of ACL surgery and that requisite increases in anterior translation of the lateral compartment are necessary for each progressive clinical grade of the pivot shift examination.
This is a preview of subscription content, log in to check access.
Access options
Buy single article
Instant unlimited access to the full article PDF.
US$ 39.95
Price includes VAT for USA
Subscribe to journal
Immediate online access to all issues from 2019. Subscription will auto renew annually.
US$ 199
This is the net price. Taxes to be calculated in checkout.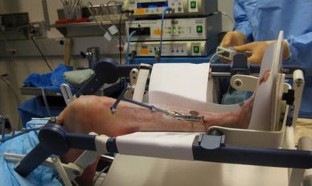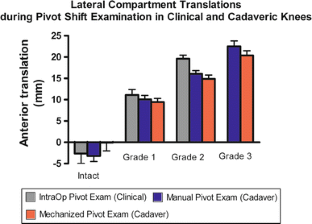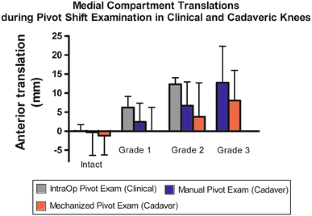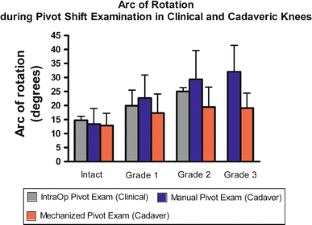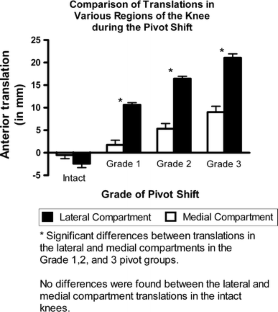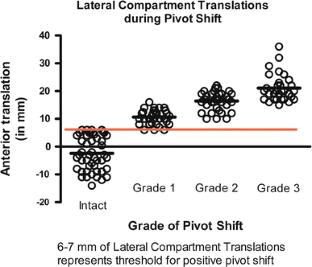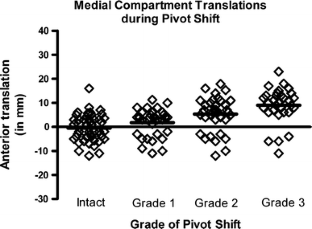 References
1.

Bach BR Jr, Warren RF, Wickiewicz TL (1988) The pivot shift phenomenon: results and description of a modified clinical test for anterior cruciate ligament insufficiency. Am J Sports Med 16:571–576

2.

Benjaminse A, Gokeler A, van der Schans CP (2006) Clinical diagnosis of an anterior cruciate ligament rupture: a meta-analysis. J Orthop Sports Phys Ther 36:267–288

3.

Bull AM, Earnshaw PH, Smith A, Katchburian MV, Hassan AN, Amis AA (2002) Intraoperative measurement of knee kinematics in reconstruction of the anterior cruciate ligament. J Bone Joint Surg Br 84:1075–1081

4.

Bull AM, Amis AA (1998) The pivot-shift phenomenon: a clinical and biomechanical perspective. Knee 5:141–158

5.

Burnett QM 2nd, Fowler PJ (1985) Reconstruction of the anterior cruciate ligament: historical overview. Orthop Clin North Am 16:143–157

6.

Cole BJ, Carter TR, Rodeo SA (2003) Allograft meniscal transplantation: background, techniques, and results. Instr Course Lect 52:383–396

7.

Colombet P, Robinson J, Christel P, Franceschi JP, Djian P (2007) Using navigation to measure rotation kinematics during ACL reconstruction. Clin Orthop Relat Res 454:59–65

8.

DeFranco MJ, Bach BR Jr (2009) A comprehensive review of partial anterior cruciate ligament tears. J Bone Joint Surg Am 91:198–208

9.

Galway HR, MacIntosh DL (1980) The lateral pivot shift: a symptom and sign of anterior cruciate ligament insufficiency. Clin Orthop Relat Res 45–50

10.

Hoshino Y, Kuroda R, Nagamune K, Yagi M, Mizuno K, Yamaguchi M, Muratsu H, Yoshiya S, Kurosaka M (2007) In vivo measurement of the pivot-shift test in the anterior cruciate ligament-deficient knee using an electromagnetic device. Am J Sports Med 35:1098–1104

11.

Kaplan N, Wickiewicz TL, Warren RF (1990) Primary surgical treatment of anterior cruciate ligament ruptures. A long-term follow-up study. Am J Sports Med 18:354–358

12.

Kocher MS, Steadman JR, Briggs KK, Sterett WI, Hawkins RJ (2004) Relationships between objective assessment of ligament stability and subjective assessment of symptoms and function after anterior cruciate ligament reconstruction. Am J Sports Med 32:629–634

13.

Kubo S, Muratsu H, Yoshiya S, Mizuno K, Kurosaka M (2007) Reliability and usefulness of a new in vivo measurement system of the pivot shift. Clin Orthop Relat Res 454:54–58

14.

Lane CG, Warren RF, Stanford FC, Kendoff D, Pearle AD (2008) In vivo analysis of the pivot shift phenomenon during computer navigated ACL reconstruction. Knee Surg Sports Traumatol Arthrosc 16:487–492

15.

Lane CG, Warren R, Pearle AD (2008) The pivot shift. J Am Acad Orthop Surg 16:679–688

16.

Leitze Z, Losee RE, Jokl P, Johnson TR, Feagin JA (2005) Implications of the pivot shift in the ACL-deficient knee. Clin Orthop Relat Res 436:229–236

17.

Lopomo N, Zaffagnini S, Bignozzi S, Visani A, Marcacci M (2010) Pivot-shift test: analysis and quantification of knee laxity parameters using a navigation system. J Orthop Res 28:164–169

18.

Lopomo N, Bignozzi S, Martelli S, Zaffagnini S, Iacono F, Visani A, Marcacci M (2009) Reliability of a navigation system for intra-operative evaluation of antero-posterior knee joint laxity. Comput Biol Med 39:280–285

19.

Musahl V, Voos J, O'Loughlin PF, Stueber V, Kendoff D, Pearle AD (2009) Mechanized pivot shift test achieves greater accuracy than manual pivot shift test. Knee Surg Sports Traumatol Arthrosc (PMID: 20012937)

20.

Sommerlath K, Lysholm J, Gillquist J (1991) The long-term course after treatment of acute anterior cruciate ligament ruptures. A 9 to 16 year followup. Am J Sports Med 19:156–162
About this article
Cite this article
Bedi, A., Musahl, V., Lane, C. et al. Lateral compartment translation predicts the grade of pivot shift: a cadaveric and clinical analysis. Knee Surg Sports Traumatol Arthrosc 18, 1269–1276 (2010). https://doi.org/10.1007/s00167-010-1160-y
Received:

Accepted:

Published:

Issue Date:
Keywords