Abstract
Rotational stability of the knee has been traditionally difficult to quantify, limiting the ability of the orthopedic community to determine the potential role of rotational laxity in the etiology of anterior cruciate ligament (ACL) injuries. The purposes of this multicenter cohort study were to evaluate the reliability of a robotic axial rotation measurement system, determine whether the uninjured knees of patients that had previous contralateral ACL reconstruction demonstrated different rotational biomechanical characteristics than a group of healthy volunteers, and determine whether knee rotational biomechanical characteristics differ between male and female non-injured limbs in groups of both healthy volunteers and patients with a previous contralateral ACL injury. Fourteen healthy volunteers and 79 patients with previous unilateral ACL injury participated in this study. Patients were tested using a computerized tibial axial rotation system. Only the normal (non-operated) knee data were used for analysis. In order to assess the reliability of the robotic measurement system, 10 healthy volunteers were tested daily over four consecutive days by four different examiners. Rotational laxity and compliance measures demonstrated excellent reliability (ICC = 0.97). Patients with a contralateral ACL injury demonstrated significantly increased tibial internal rotation (20.6° vs. 11.4°, P < 0.001) and reduced external rotation (16.7° vs. 26.6°, P < 0.001) compared to healthy volunteers. Females demonstrated significantly increased internal and external rotation, as well as significantly increased rotational compliance compared with males (P < 0.05). Computer-assisted measurement techniques may offer clinicians an accurate, reliable, non-invasive method to select the most appropriate preventative or surgical interventions for patients with increased knee rotational laxity.
This is a preview of subscription content, log in to check access.
Access options
Buy single article
Instant unlimited access to the full article PDF.
US$ 39.95
Price includes VAT for USA
Subscribe to journal
Immediate online access to all issues from 2019. Subscription will auto renew annually.
US$ 199
This is the net price. Taxes to be calculated in checkout.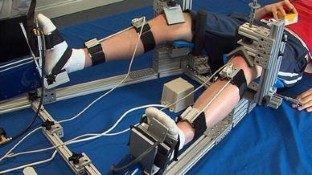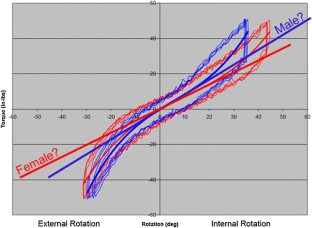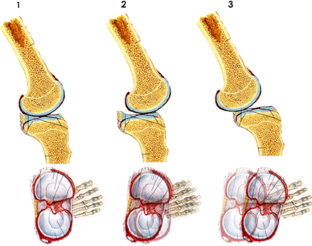 References
1.

Benjaminse A, Gokeler A, van der Schans C (2006) Clinical diagnosis of an anterior cruciate ligament rupture: a meta-analysis. J Orthop Sports Phys Ther 36:267–288

2.

Besier T, Lloyd D, Ackland T, Cochrane J (2001) Anticipatory effects on knee joint loading during running and cutting maneuvers. Med Sci Sports Exerc 33:1176–1181

3.

Besier T, Lloyd D, Cochrane J, Ackland T (2001) External loading of the knee joint during running and cutting maneuvers. Med Sci Sports Exerc 33:1168–1175

4.

Boden B, Dean G, Feagin JJ et al (2000) Mechanisms of anterior cruciate ligament injury. Orthopedics 23:573–578

5.

Durselen L, Claes L, Kiefer H (1995) The influence of muscle forces and external loads on cruciate ligament strain. Am J Sports Med 23:24–34

6.

Fung D, Zhang L (2003) Modeling of ACL impingement against the intercondylar notch. Clin Biomech 18:933–941

7.

Griffin L, Agel J, Albohm M, Arendt E, Dick R, Garrett W, Garrick J, Hewett T, Huston L, Ireland M, Johnson R, Kibler W, Lephart S, Lewis J, Lindenfeld T, Mandelbaum B, Marchak P, Teitz C, Wojtys E (2000) Noncontact anterior cruciate ligament injuries: risk factors and prevention strategies. J Am Acad Orthop Surg 8:141–150

8.

Hanson A, Padua D, Blackburn J, Prentice W, Hirth C (2008) Muscle activation during side-step cutting maneuvers in male and female soccer athletes. J Athl Train 43:133–143

9.

Hewett T, Ford K, Myer G (2006) Anterior cruciate ligament injuries in female athletes: Part 2, a meta-analysis of neuromuscular interventions aimed at injury prevention. Am J Sports Med 34:490–498

10.

Houck J, Duncan A, De Haven K (2006) Comparison of frontal plane trunk kinematics and hip and knee moments during anticipated and unanticipated walking and side step cutting tasks. Gait and Posture 24:314–322

11.

Huston L, Wojtys E (1996) Neuromuscular performance characteristics in elite female athletes. Am J Sports Med 24:427–436

12.

Ireland M (1999) Anterior cruciate ligament injury in female athletes: Epidemiology. J Athl Train 34:150–154

13.

Lane C, Warren R, Pearle A (2008) The pivot shift. J Am Acad Orthop Surg 16:679–688

14.

Li G, Rudy T, Sakane R, Kanamori A, Ma C, Woo S (1999) The importance of quadriceps and hamstring muscle loading on knee kinematics and in situ forces in the ACL. J Biomech 32:395–400

15.

Lubowitz J, Bernardini B, Reid JI (2008) Current Concepts Review: Comprehensive physical examination for instability of the knee. Am J Sports Med 36:577–594

16.

Malinzak R, Colby S, Kirkendall D, Yu B, Garrett W (2001) A comparison of knee joint motion patterns between men and women in selected athletic tasks. Clin Biomech 16:438–445

17.

Markolf K, Burchfield D, Shapiro M, Shepard M, Finerman G, Slauterbeck J (1995) Combined knee loading states that generate high anterior cruciate ligament forces. J Orthop Res 13:930–935

18.

Markolf K, Gorek J, Kabo M et al (1990) Direct measurement of the resultant forces in the anterior cruciate ligament. An in vitro study performed with a new experimental technique. J Bone Joint Surg (Am) 72-A:557–567

19.

Meredick R, Vance K, Appleby D, Lubowitz J (2008) Outcome of single-bundle versus double-bundle reconstruction of the anterior cruciate ligament: a meta-analysis. Am J Sports Med 36:1414–1421

20.

Olsen O, Myklebust G, Engebretsen L et al (2004) Injury mechanisms for anterior cruciate ligament injuries in team handball: a systematic video analysis. Am J Sports Med 32:1002–1012

21.

Park H-S, Wilson N, Zhang L (2008) Gender differences in passive knee biomechanical properties in tibial rotation. J Orthop Res 26:937–944

22.

Pritsch T, Blumberg N, Haim A, Dekel S, Arbel R (2006) The importance of the valgus stress test in the diagnosis of posterolateral instability of the knee. Injury 37:1011–1014

23.

Renstrom P, Ljungqvist A, Arendt E, Beynnon B, Fukubayashi T, Garrett W, Georgoulis T, Hewett T, Johnson R, Krosshaug T, Mandelbaum B, Micheli L, Myklebust G, Roos E, Roos H, Schamasch P, Shultz S, Werner S, Wojtys E, Engebretsen L (2008) Non-contact ACL injuries in female athletes: an International Olympic Committee current concepts statement. Br J Sports Med 42:394–412

24.

Shoemaker S, Markolf K (1982) In vivo rotary knee stability: ligaments and muscular contributions. J Bone Joint Surg (Am) 64-A:208–216

25.

Wallace B, Kernozek T, Bothwell E (2007) Lower extremity kinematics and kinetics of Division III collegiate baseball and softball players while performing a modified pro-agility task. J Sport Med Phys Fitness 47:377

26.

Withrow T, Huston L, Wojtys E, Ashton-Miller J (2006) The relationship between quadriceps muscle force, knee flexion, and anterior cruciate ligament strain in an in vitro simulated jump landing. Am J Sports Med 34:269–274
About this article
Cite this article
Branch, T.P., Browne, J.E., Campbell, J.D. et al. Rotational laxity greater in patients with contralateral anterior cruciate ligament injury than healthy volunteers. Knee Surg Sports Traumatol Arthrosc 18, 1379–1384 (2010). https://doi.org/10.1007/s00167-009-1010-y
Received:

Accepted:

Published:

Issue Date:
Keywords
Knee

ACL

Biomechanics

Sex

Stability