Abstract
This paper measures the links between aid from 14 rich to 113 developing economies and bilateral asylum applications during the years 1993 to 2013. Dynamic panel models and Sys-Generalized Method of Moments are used. The results show that asylum applications are related to aid nonlinearly in a U-shaped fashion with respect to the level of development of origin countries, although only the downward segment proves to be robust to all specifications. Asylum inflows from poor countries are significantly and negatively associated with aid in the short run, with mixed evidence of more lasting effects, while inflows from less poor economies show a positive but non-robust relationship to aid. Moreover, aid leads to negative cross-donor spillovers. Applications linearly decrease with humanitarian aid. Voluntary immigration is not related to aid. Overall, the reduction in asylum inflows is stronger when aid disbursements are conditional on economic, institutional and political improvements in the recipient economy.
This is a preview of subscription content, log in to check access.
Access options
Buy single article
Instant unlimited access to the full article PDF.
US$ 39.95
Price includes VAT for USA
Subscribe to journal
Immediate online access to all issues from 2019. Subscription will auto renew annually.
US$ 99
This is the net price. Taxes to be calculated in checkout.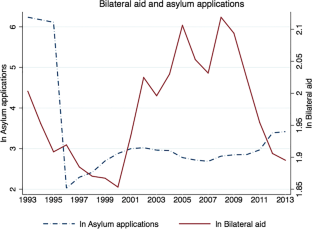 Notes
1.

The real impact of aid on growth and institutions remains elusive, as it depends on diverse factors, among which the incentives of recipients and donors in transferring and receiving aid. Several studies find that a substantial part of the aid provided by rich economies is unrelated to the real needs of recipient countries (Boone 1996; Alesina and Dollar 2000; Collier and Dollar 2002; Lancaster 2007; Fuchs et al. 2014; Jones 2015). However, there is a certain degree of agreement on a change of approach of Western donors after the end of the cold war. While during the Cold War, the political allegiance of recipients was decisive, afterwards, their economic and institutional development became more important.

2.

More aid from a country can intensify the attractiveness of the donor among alternative destinations. The presence of a donor in the recipient country, or projects funded by the donor, creates opportunities for contacts between the local population and the donor. More generally, it provides knowledge on the donor's social norms, institutions and culture, which can decrease migration costs.

3.

This can apply especially, but not only, to countries of origin with strong internal divisions determined by religion or ethnicity. Political divisions may also matter. Some evidence suggests that refugees from Latin America who flew their countries during the dictatorships of the 1970s of the last century scarcely interact with economic immigrants from their home countries who arrived later.

4.

Part of foreign aid is concessional in character and conveys a grant element (OECD). As an effect of interest repayment, some figures are negative. However, they are a very small proportion of total observations and have been substituted by zeros.

5.

Following Alesina et al. (2013), the share of variation in asylum application explained by foreign aid can be calculated by excluding Bilateral aid from the regression of column1. This makes the R2 to shrink from 0.871 to 0.868. Hence, Bilateral aid accounts for 0.3% of the total variation in asylum applications and 2.3% of the residual variation left unexplained by the control variables. The latter is calculated as (0.871–0.868)/(1–0.868). The same procedure shows that the exclusion of Bilateral aid and (Bilateral aid) × (pc GDP origin) produces almost identical figures.

6.

In regressions, not shown to save space, I also added the 'affinity' IV proposed by Alesina and Dollar (2000), based on dyads' coincidence of votes at the United Nations, but it failed first-stage tests.

7.

The size of the panel is N = 1582 (country-pairs), T = 21 (years). Although there might seem to be a high number of number of instruments, it is always lower than N (Roodman 2009b).

8.

I thank an anonymous reviewer for suggesting this test.

9.

Bilateral aid as a share of the per-capita income of the recipient country decreases with the country's level of development. It varies from 0.13% in the lowest income quintile to less than 0.003% in the highest quintile. Detailed figures are available from the author upon request.

10.

Hatton (2009, p. 187) reports that '[o]nly a small proportion of those who are displaced become asylum seekers in Western countries and fewer still are accepted as genuine refugees. The applications to industrialised countries are on average less than 5% of the refugee stock [during 1970–2005]. Most of those who are counted as refugees by the UNHCR are displaced into neighbouring countries and often into the poverty and squalor of refugee camps near the border.'

11.

The negative impact of Bilateral aid on applications from poor countries could be compatible with a different interpretation if, as some studies hypothesise, the relationship between development and asylum outflows was bell-shaped and if aid had a detrimental effect on either the growth or level of income. I tested for non-linearity in the relation between per-capita income and asylum flows, as well as for the effect of Bilateral aid on income growth. Results show that, as in all specifications in this study, the relation between per-capita income at home and asylum applications is linearly negative and significant. Moreover, Bilateral aid is positively related to growth in recipient countries. Hence, in poor economies, more aid and more income strengthen the incentives to stay. They are reinforced by aid both directly and indirectly. Regression results are available from the author upon request.

12.

A world economy where countries minimize the expenditure in aid for given levels of social welfare functions and negative aid spillovers can be characterised by multiple equilibria. Given other countries' transfers to a specific destination, a donor can choose to reduce its own attraction effect by reducing its aid transfers, and benefit from the attraction to the other donors. However, a generalised move of this kind would produce inferior equilibria: by worsening living conditions in poor countries, it would lead to higher aggregate asylum inflows (Table 1). Jones (2015) finds evidence of positive bandwagon effects, especially among larger donors.

13.

There is only one country-pair-year—in 33,222—with zeros for both asylum seekers and bilateral aid (Denmark-Comoros). The proportion of zeros in the variable of interest, bilateral aid, is 4.5%.

14.

Nyberg Sørensen et al. (2003) state that 'aid selectivity tends to allocate development aid to the well performing countries and humanitarian assistance to the crisis countries and trouble spots. However, development aid is more effective than humanitarian assistance in preventing violent conflicts, promoting reconciliation and democratization, and encouraging poverty-reducing development investments by migrant diasporas.' (p. 6).

15.

I thank an anonymous reviewer for suggesting this analysis.

16.

I thank an anonymous reviewer for suggesting this test.
References
Alesina A, Dollar D (2000) Who gives foreign aid to whom and why? J Econ Growth 5(1):33–63

Alesina A, Giuliano P, Nunn N (2013) On the origins of gender roles: women and the plough. Q J Econ 128(2):469–530

Balli HO, Sørensen BE (2013) Interaction effects in econometrics. Empir Econ 45(1):583–603

Bauer T, Zimmermann KF (1998) Causes of international migration: a survey. In: Gorter C, Nijkamp P, Poot J (eds) Crossing borders: regional and urban perspectives on international migration. Ashgate, Aldershot, pp 95–127

Belloc F (2015) International economic assistance and migration: the case of sub-Saharan countries. Int Migr 53(1):187–201

Berthélemy JC, Beuran M, Maurel M (2009) Aid and migration: substitutes or complements? World Dev 37(10):1589–1599

Bertoli S, Fernández-Huertas Moraga J (2013) Multilateral resistance to migration. J Dev Econ 102(C):79–100

Blundell R, Bond S (1998) Initial conditions and moment restrictions in dynamic panel data models. J Econ 87:115–143

Böhning WR, Schloeter-Paredes M-L (eds) (1994) Aid in place of migration? Selected contributions to an ILO-UNHCR Meeting, Geneva. International Labour Office, pp VIII, 1–253

Boone P (1996) Politics and the effectiveness of foreign aid. Eur Econ Rev 40:289–329

Clemens MA (2014) Does development reduce migration? In: Lucas REB (ed) International handbook of on migration and economic development. E. Elgar, USA, pp 152–185

Clemens MA, Sandefur J (2015) A self-interested approach to migration crises. Push factors, pull factors, and investing in refugees. Foreign Affairs

Collier P, Dollar D (2002) Aid allocation and poverty reduction. Eur Econ Rev 46:1475–1500

Czaika M, Mayer A (2011) Refugee movements and aid responsiveness of bilateral donors. J Dev Stud 47(3):455–474

Dao TH, Docquier F, Parsons C, Peri G (2018a) Migration and development: dissecting the anatomy of the mobility transition. J Dev Econ 132:88–101

Dao TH, Docquier F, Maurel M Schaus P (2018b) Global migration in the 20th and 21st centuries: the unstoppable force of demography. FERDI Working paper P223. <hal-01743799>

Davenport CA, Moore WH, Poe SC (2003) Sometimes you just have to leave: domestic threats and forced migration, 1964–1989. Int Interact 29:27–55

de Haas H (2007) Turning the tide? Why development will not stop migration. Dev Chang 38(5):819–841

de Haas H (2010) Migration transitions: a theoretical and empirical inquiry into the developmental drivers of international migration. IMI Working Paper 24 (DEMIG Project Paper ), University of Oxford: International Migration Institute

de Haas H (2011) The determinants of international migration. Conceptualizing policy, origin and destination effects. IMI Working Paper 32 (DEMIG Project Paper 2), University of Oxford: International Migration Institute

Docquier F, Peri G, Ruyssen I (2014) The cross-country determinants of potential and actual migration. Int Migr Rev 48(S1):S37–S99

Dreher A, Fuchs A, Langlotz S (2019) The effects of foreign aid on refugee flows. Eur Econ Rev 112(3):127–147

Dustmann C, Fasani F, Frattini T, Minale L, Schӧnberg U (2016) On the economics and politics of refugee migration. CREAM, CPD 16/16, On the Economics and Politics of Refugee Migration

Faini R, Venturini A (1993) Trade, aid and migrations: some basic policy issues. Eur Econ Rev 37(2–3):435–442

Fuchs A, Dreher A, Nunnenkamp P (2014) Determinants of donor generosity: a survey of the aid budget literature. World Dev. 56(C):172–199

Grogger J, Hanson GH (2011) Income maximization and the selection and sorting of international migrants. J Dev Econ 95(1):42–57

Hartog J, Vriend N (1989) Post-war international labour mobility: the Netherlands. In: Gordon I, Thirlwall AP (eds) European factor mobility. Palgrave Macmillan, pp 74–94

Hatton TJ (2004) Seeking asylum in Europe. Econ Policy 38:5–62

Hatton TJ (2009) The rise of asylum: what happened and why. Econ J 119(535):183–213

Hatton TJ (2016) Refugees, asylum seekers, and policy in OECD Countries. Am. Econ. Rev. 106(5):441–445

Hatton TJ, Moloney J (2015) Applications for asylum in the developed world: modelling asylum claims by origin and destination. CEPR Discussion Paper no. 10678

Hatton TJ, Williamson JG (2005) What fundamentals drive world migration? In: Borjas GJ, Crisp J (eds) Poverty, international migration and asylum. Palgrave Macmillan, Basingstoke, pp 15–38

Jones S (2015) Aid supplies over time: addressing heterogeneity, trends, and dynamics. World Dev 69:31–43

Katseli LT, Glystos NP (1989) Theoretical and empirical determinants of international labour mobility: a Greek-German perspective. In: Gordon I, Thirlwall AP (eds) European Factor Mobility. Palgrave Macmillan, pp 95–115

Lanati M, Thiele R (2017) The impact of foreign aid on migration revisited. EUI Max Weber Program Working Paper 2017/05

Lancaster C (2007) Foreign aid: diplomacy, development, domestic politics. The University of Chicago Press, Chicago

Lucas REB (2006) Migration and economic development in Africa: a review of evidence. J Afr Econ 15(S2):337–395

Lundborg P (1991) Determinants of migration in the Nordic labour market. Scand J Econ 93(3):363–375

Marfleet P (2006) Refugees in a global era. Palgrave Macmillan, Basingstoke

Martin P (1994) Reducing emigration pressure: what role can foreign aid play? In: Böhning WR, Scholoeter-Paredes ML (eds) Aid in place of migration? International Labour Office, Geneva, pp 241–257

Martin P, Taylor EJ (1996) The anatomy of a migration hump. In: Taylor EJ (ed) Development strategy, employment, and migration: insights from models. OECD, Paris, pp 43–62

Mayda AM (2010) International migration: a panel data analysis of the determinants of bilateral flows. J Popul Econ 23(4):1249–1274

Moore WH, Shellman SM (2007) Whither will they go? A global study of refugees' destinations. 1965-1995. Int Stud Q 51(4):811–834

Naudé WA (2010) The determinants of migration from sub-Saharan African countries. J Afr Econ 19:330–356

Neumayer E (2004) Asylum destination choice: what makes some European countries more attractive than others? Eur Un Pol 5(2):155–180

Neumayer E (2005) Bogus refugees? The determinants of asylum migration to Western Europe. Int Stud Q 49:389–410

Nickell S (1981) Biases in dynamic models with fixed effects. Econometrica 49(6):1417–1426

Nyberg-Sørensen N, Van Hear N, Engberg-Pedersen P (2003) Migration, development and conflict: state-of-the-art overview. In: Sørensen NN, Van Hear N (eds) The migration-development nexus. Co-published by the United Nations and the International Organization for Migration, pp 5–50

Ortega F, Peri G (2013) The effect of income and immigration policies on international migration. Migr Stud 1:47–74

Roodman D (2009a) How to do xtabond2: an introduction to difference and system GMM in Stata. Stata J 9(1):86–136

Roodman D (2009b) A note on the theme of too many instruments. Oxf Bull Econ Stat 71(1):135–158

Santos Silva JMC, Tenreyro S (2010) On the existence of the maximum likelihood estimates in Poisson regression. Econ Lett 107(2):310–312

Schiff M (1994) How trade, aid, and remittances affect international migration. Policy Research Working Paper, 1376, World Bank International Trade Division

Schmeidl S (1997) Exploring the causes of forced migration: a pooled time-series analysis 1971-1990. Soc Sci Q 78(2):284–308

Thielemann ER (2004) Does policy matter? On governments' attempts to control unwanted migration. 112. The Center of Comparative Immigration Studies, University of California, San Diego, USA

Vogler M, Rotte R (2000) The effects of development on migration. Theoretical issues and new empirical evidence. J Popul Econ 13:485–508

Vogler M, Rotte R, Zimmermann K (1997) South–north refugee migration: lessons for development cooperation. Rev Dev Econ 1:99–115
Acknowledgements
I thank the participants to the Bari Conference, Economics of Global Interactions, 2017. I am particularly indebted to Elisabetta Lodigiani, Massimiliano Bratti, Fréderic Docquier, Anzelika Zaiceva, Clementina Crocé and three anonymous reviewers for useful suggestions.
Funding information
Financial support was received from a UNIMORE FAR 2017 Grant.
Ethics declarations
Conflict of interest
The author declares that she has no conflict of interest.
Additional information
Publisher's note
Springer Nature remains neutral with regard to jurisdictional claims in published maps and institutional affiliations.
Responsible editor: Klaus F. Zimmermann
Appendix
Appendix
Table 7 presents some further robustness tests. Regressions include all covariates, but, to save space, only the coefficients of the variables considered are reported. In column 1, the logs on the dependent variable are taken without adding 1. This implies that about 18% of observations, corresponding to zeros, are lost. Column 2 includes controls for multilateral resistance to migration. They are as follows: origin-time effects, which should capture all time-varying terms that are constant across destinations d and only vary by year and country of origin; destination-time effects, meant to capture time-varying terms that are constant across origins, o, but vary year and country of destination; destination-origin dummies, which absorb all time-invariant dyadic variables that affect asylum applications; and destination fixed effects, which account for factors of the destination country that are invariant or change very slowly along time, such as culture or institutions and origin fixed effects which absorb similar factors of the origin country. This is a very demanding specification, where measurement is entirely concentrated on within country-pair time variations.
It has been hypothesised that some applicants could be 'bogus' asylum seekers (Neumayer 2005). For example, irregular immigrants who correctly foresee they will not be eligible for the refugee status might nonetheless apply for asylum, only to avoid deportation during time needed for the application to be processed. To control for this possibility, I restrict the sample to countries of origin with above average levels of political terror. Presumably, they are more likely to generate flows of 'genuine' asylum applicants. Large geopolitical shocks, such as the Afghan and Iraq wars, might affect Western countries' policies on asylum. In column 4, the Asylum Policy Index (previously tested in column 3, Table 3) is interacted with time dummies. Column 5 includes the Dreher et al. IV among the instruments of the Sys-GMM specification. Results in columns 1 to 5 are as in previous tests.
Former colonial links between origin and destination country might alter the choices of asylum seekers among potential destinations, as well as those of donors among potential aid recipients. In column 6, Bilateral aid and the interacted term are multiplied, first, by a dummy taking value 1 if the origin country was a donor's colony in 1945 and 0 otherwise, and, second, by a dummy taking opposite values. Results show that coefficients on the variable of interest, which split between former colonies and other developing countries, are as in previous regressions; also, they do not differ between them at a statistically significant level. Results (not shown) do not change with the dummy Colonies included among regressors.
Balli and Sørensen (2013) find that the coefficients of interaction terms could be biased in settings where fixed effects are used.Footnote 16 The solution they propose is to de-mean the components of the interaction term within the groups for which the fixed effects are included. Hence, I did de-mean Bilateral aidt−1 within each origin-destination dyad and year, as well as pc GDP origin within each origin country and year (column 7). Column 8 reports coefficients when the OLS regression is run after excluding outliers. Results are as in previous regressions.
About this article
Cite this article
Murat, M. Foreign aid, bilateral asylum immigration and development. J Popul Econ 33, 79–114 (2020) doi:10.1007/s00148-019-00751-8
Received:

Accepted:

Published:

Issue Date:
Keywords
Foreign aid

Asylum seekers and refugees

Development
JEL classification