Abstract
This paper uses a unique set of new indicators enabling us to test the effects of cultural barriers on migration between OECD countries. Using data on migration flows between 22 OECD countries over the period 1990–2003, we find strong evidence for the negative effect of cultural differences on international migration flows. Cultural barriers do a much better job in explaining the pattern of migration flows between developed countries than traditional economic variables such as income and unemployment differentials.
This is a preview of subscription content, log in to check access.
Access options
Buy single article
Instant unlimited access to the full article PDF.
US$ 39.95
Price includes VAT for USA
Subscribe to journal
Immediate online access to all issues from 2019. Subscription will auto renew annually.
US$ 99
This is the net price. Taxes to be calculated in checkout.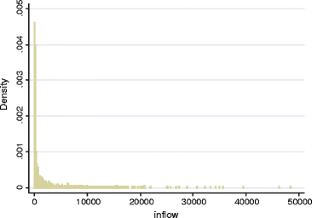 Notes
1.

See for example Decressin and Fatas (1995).

2.

Braunerhjelm et al. (2000) present a detailed overview of this literature.

3.

Changes in female labor participation in the destination country may matter as well. Ederveen et al. (2007) show that the sustenance of low labor mobility despite regional disparities can partly be explained through the adjustment in female labor participation.

4.

Some studies have the migration rate as a dependent variable instead of the number of migrants. The migration rate can potentially be problematic as a dependent variable if the size of the population in the denominator (origin or destination) is correlated with economic variables (see Young (1975) for an extensive discussion on the choice of the dependent variable in migration studies). We chose to enter the relative sizes of the population of the countries of origin and destination as regressors to avoid this problem.

5.

6.

7.

The exact results are not presented here, but are available from the authors upon request.

8.

In addition, there might be a trade-off with respect to GDP per capita. The meta-analysis of Ederveen and Bardsley (2004) concludes that studies that include only unemployment and not GDP per capita report significantly higher coefficients.
References
Antolin P, Bover O (1997) Regional migration in Spain: the effect of personal characteristics and of unemployment, wage and house price differentials using pooled cross-sections. Oxf Bull Econ Stat 59(2):215–235

Barro R, Sala-i-Martin X (1995) Economic growth. McGraw-Hill, London

Borjas GJ (1999a) The economic analysis of immigration. In: Ashenfelter OC, Card D (eds) Handbook of labor economics, 1st edn, vol 3, chap. 28. Elsevier, pp 1697–1760

Borjas GJ (1999b) Immigration and welfare magnets. J Labor Econ 17(4):607–637

Braunerhjelm P, Faini F, Norman V, Ruane F, Seabright P (2000) Integration and the regions of Europe: how the right policies can prevent polarization, Monitoring European Integration 10. CEPR, London

Cameron A, Trivedi P (1986) Econometric models based on count data: comparisons and applications of some estimators and tests. J Appl Econ 1(1):29–53

Carrington WJ, Detragiache E, Vishwanath T (1996) Migration with endogenous moving costs. Am Econ Rev 86(4):909–930

Chorny V, Euwals R, Folmer K (2007) Immigration policy and welfare state design; a qualitative approach to explore the interaction. CPB document 153. Netherlands Bureau for Economic Policy Analysis, The Hague

Clark X, Hatton TJ, Williamson JG (2004) What explains emigration out of Latin America? World Dev 32(11):1871–1890

Decressin J, Fatas A (1995) Regional labor market dynamics in Europe. Eur Econ Rev 39:1627–1655

Dyen I, Kruskal JB, Black P (1992) An Indoeuropean classification: a lexicostatistical experiment. Trans Am Philos Soc 82(5):1–132

Ederveen S, Bardsley N (2004) The influence of wage and unemployment differentials on labour mobility in the EU: a meta-analysis, ACCESSLAB Research Report, Workpackage 3, January 2004

Ederveen S, Nahuis R, Parikh A (2007) Labour mobility and regional disparities: the role of female labour participation. J Popul Econ 20(4):895–913

Edin P-A, Fredriksson P, Åslund O (2003) Ethnic enclaves and the economic success of immigrants: evidence from a natural experiment. Q J Econ 118(1):329–357

Faini R, Venturini A (1994) Migration and growth: the experience of Southern Europe. CEPR Discussion Papers 964

Fertig M, Schmidt CM (2002) Mobility within Europe, the attitudes of European youngsters. RWI Discussion Papers 1

Ghatak S, Levine P (1996) Migration theories and evidence: an assessment. J Econ Surv 10(2):159–98

Gianetti M (2001) Migration and skill complementarities. Labour 15(1):1–31

Gros D (1996) A reconsideration of the optimum currency area approach: the role of external shocks and labour mobility. Natl Inst Econ Rev 158:108–117

Gross D, Schmitt N (2003) The role of cultural clustering in attracting new immigrants. J Reg Sci 43(2):295–318

Harris J, Todaro M (1970) Migration, unemployment & development: a two-sector analysis. Am Econ Rev 60(1):126–42

Hatton T, Williamson JG (2005) What fundamentals drive world migration? In: Borjas GJ, Crisp J (eds) Poverty International Migration and Asylum, Palgrave-Macmillan

Hatton TJ, Williamson JG (2006) Refugees, asylum seekers and policy in Europe. In: Foders F, Langhammer RF (eds) Labour mobility and the world economy. Kiel, Springer

Hofstede G (1991) Cultures and organizations: software of the mind. McGraw-Hill, London

Hofstede G (2001) Culture's consequences: comparing values, behaviors, institutions, and organizations across nations, 2nd edn. Sage, London

Inglehart R, Baker WE (2000) Modernization, cultural change, and the persistence of traditional values. Am Sociol Rev 65(1):19–51

Kogut B, Singh H (1988) The effect of national culture on the choice of entry mode. J Int Bus Stud 22(2):209–24

Mauro P, Spilimbergo A (1999) How do the skilled and the unskilled respond to regional shocks? The case of Spain, IMF Staff Papers 46 (1)

Mayda AM (2010) International migration: a panel data analysis of the determinants of bilateral flows. J Popul Econ 23(4):1249–1274

McKenzie D, Rapoport H (2007) Self-selection patterns in Mexico–U.S. migration: the role of migration networks, Policy Research Working Paper Series 4118, The World Bank

Munshi K (2003) Networks in the modern economy: Mexican migrants in the U.S. labor market. Q J Econ 118(2):549–597

Palloni A, Massey D, Ceballos M, Espinosa K, Spittel M (2001) Social capital and international migration: a test using information on family networks. Am J Sociol 106(5):1262–98

Pedersen P, Pytlikova M, Smith N (2008) Selection and network effects—migration flows into OECD countries, 1990–2000. Eur Econ Rev 52(6):1160–1186

Santos Silva JMC, Tenreyro S (2006) The log of gravity. Rev Econ Stat 88(4):641–658

Sjastaad L (1962) The costs and returns of human migration. J Polit Econ 70:80–93

Tassinopoulos A, Werner H (1999) To move or not to move—migration of labour in the European Union, IAB Labour Market Research Topics 35

Van Wissen L, Visser H (1998) An explanatory analysis of international migration flows within the European Economic Area. Chapter 14. In: Gorter C, Nijkamp J, Poot J (eds) Crossing borders: regional and urban perspectives on international migration. Ashgate, Aldershot

Vinken H, Soeters J, Ester P (2004) Comparing cultures. Dimensions of culture in a comparative perspective. Brill, Leiden

Wildasin D (2000) Labor market integration, investment in risky human capital and fiscal competition. Am Econ Rev 90(1):73–95

Wooldridge JM (2002) Econometric analysis of cross-section and panel data. MIT Press, Cambridge

Young G (1975) The choice of dependent variable for cross-section studies of migration. Can J Econ 8(1):93–100
Acknowledgements
The authors would like to thank the editor Klaus Zimmermann, as well as three anonymous referees for their constructive comments. They also thank Roel Jennissen, Rob Euwals, Henri de Groot, Pierre Koning, Guido van Steen, Jeroen van de Ven, seminar participants at the University of Essex and at the CPB Netherlands Bureau for Economic Policy Analysis for useful comments on previous versions of the paper. The authors are also very grateful to Twan Verschaeren for his support in the data collection.
Additional information
Responsible editor: Klaus F. Zimmermann
Electronic Supplementary Material
Below is the link to the electronic supplementary material.
About this article
Cite this article
Belot, M., Ederveen, S. Cultural barriers in migration between OECD countries. J Popul Econ 25, 1077–1105 (2012) doi:10.1007/s00148-011-0356-x
Received:

Accepted:

Published:

Issue Date:
Keywords
International migration

Culture

OECD countries
JEL Classification