Abstract
We explore the pattern of elderly homeownership using 60 microeconomic surveys on about 300,000 individuals residing in 15 OECD countries. In all countries, the survey is repeated over time, permitting construction of an international dataset of repeated cross-sectional data. We find that ownership rates decline considerably after age 60. However, a large part of the decline depends on cohort effects. Adjusting for them, we find that ownership rates start falling after age 70 and reach a percentage point per year decline after age 75. We find that differences across country ownership trajectories are correlated with indicators measuring market regulation degree.
This is a preview of subscription content, log in to check access.
Access options
Buy single article
Instant access to the full article PDF.
US$ 39.95
Price includes VAT for USA
Subscribe to journal
Immediate online access to all issues from 2019. Subscription will auto renew annually.
US$ 99
This is the net price. Taxes to be calculated in checkout.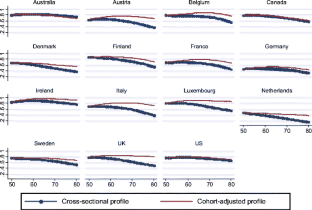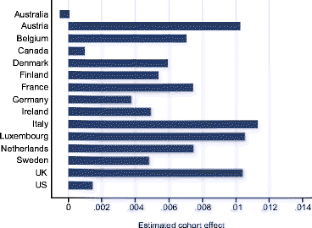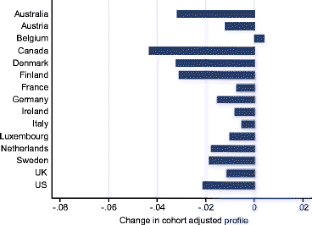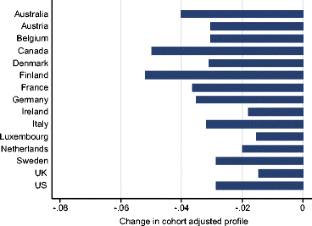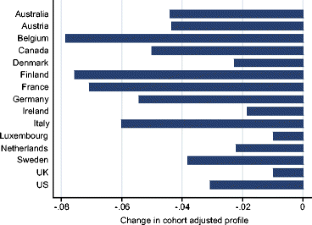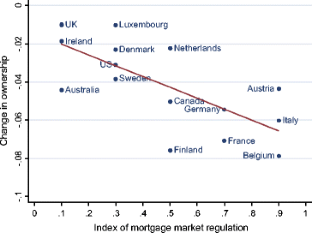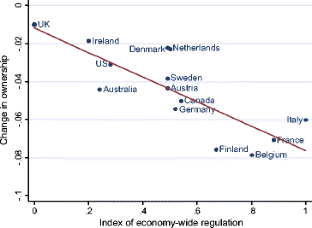 Notes
1.

The Survey of Health, Assets, Retirement and Expectations (SHARE) has information on income, consumption, and assets of a sample of the population aged 50+ in 11 European countries.

2.

In this case, no repayment is made until the homeowner dies, when the house is sold, and the proceeds are used to repay the loan.

3.

Data reported by Davidoff (2004) from the American Housing Survey data show that homeowners over 75 spend roughly 0.8% of home value less per year on routine maintenance than younger owners of similar homes.

4.

We choose to perform the analysis for women instead of men because women have longer life expectancies and are more likely to survive men than the other way around.

5.

In the literature, this preference is usually explained by the fact that owning eliminates the principal–agent relationship, i.e., the owner can make alterations as desired and is not subject to eviction or rent increases.

6.

Shorrocks (1975) used 60 years of estate-duty statistics, concluding that wealth is an increasing function of age. These statistics over-represent the most affluent households. Masson (1986) constructed cohort-adjusted age–wealth profiles using four cross-sections of French data. He found annual rates of decumulation ranging from 0.7% for wealthy self-employed persons to 3–4% for wage earners.

7.

We also checked if cells could have been defined on the basis of education. The fraction of individuals with "college degree" in the elderly population is quite small in several countries, so this procedure ends up selecting very small cells in several countries, preventing reliable estimates of the fraction of homeowners. For instance, in Austria in 1997, the average cell size of women in the age group 75–80 with college degree is only 4, and in Luxembourg in 1985, there were no individuals aged 75–80 with college degree.

8.

Detailed information on clustering and stratification in individual surveys is not available. We therefore proceed under the assumption that in each country, the surveys are drawn randomly and that individual errors are uncorrelated between different surveys. This assumption is questionable because some of the underlying surveys in the LIS are panel datasets or contain a panel section (e.g., the Italian SHIW). However, since we run individual country regressions, the residual correlation between sampling units should not be an excessively great concern.

9.

Reverse mortgage allow homeowners to make use of any equity they have in their property. Under the most common type of scheme, the mortgage-backed equity release scheme, a lender gives the homeowner either a lump sum or instalments (or both) on the basis of the value of their home. Lenders will receive their returns when the loan matures, typically on the death or disablement of the borrower.

10.

In the US, reverse mortgages were authorized in 1987. In Canada, borrowers receive a small public subsidy. In the UK, local governments have been recently involved in granting the loans.

11.

Trading down occurs when a seller moves to a cheaper property but reduces the mortgage by less; over-mortgaging if moving to a more expensive home, an owner-occupier increases the mortgage by more than the price between the old and the new house. Finally, re-mortgaging or second mortgage happens when a homeowner increases an existing mortgage or takes a second mortgage but does not use the funds to improve the property or buy another one.

12.

Using data from the March 1978 to 2001 Current Population Surveys, Engelhardt (2008) develops an instrumental-variable approach that relies on the large variation in Social Security benefits for birth cohorts from 1900 to 1930 due to double indexation of the system and the so-called Social Security "notch." Overall, the estimates indicate that between half and as much as all of the time series rise in elderly, homeownership over the last 25 years can be attributable to the rise in Social Security benefits.

13.

To understand if the results are not driven by differences in some form of cultural liberalism we also used two further indicators taken from the World Value Survey (2000). "Government responsibility" takes value 1 if respondents think that the government should take more responsibility to ensure that everyone is provided for, and 10 if they think that people should take more responsibility to provide for themselves. "Competition good or harmful" takes the value 1 if respondents think that competition is good (it stimulates people to work hard and develop new ideas), and 10 if they think that competition is harmful (it brings out the worst in people). Both variables are computed for individuals in the age classes 70–75 and 75–80. The coefficients of both regressors were not statistically different from zero.

14.

Other potentially relevant indicators were also considered, such as taxes on imputed rent, as a measure of property tax incidence, the social security income replacement rate, as a proxy for the importance of social security wealth in total wealth around retirement and price-to income ratio to capture the potential role plaid by housing prices. We also took into account the share of population covered by public health care and the public health expenditure as percentage of the total health expenditure. In order to control for differences in mortality rates we included life expectancy. However, we did not find any significant correlation between these variables and change in ownership.

15.

Cunningham and Engelhardt (2008), utilizing data drawn from the Current Population Survey (CPS) and a difference-in-difference approach, suggest that the repeal of the differential capital-gains tax embodied in the 1997 Taxpayer Relief Act raised the mobility rate by around 1–1.4 percentage points of homeowners in their early 50s.
References
Börsch-Supan A (1994) Aging in Germany and the United States: international comparisons. In: Wise DA (ed) Studies in the economics of aging. University of Chicago Press, Chicago, pp 291

Chiuri MC, Jappelli T (2003) Financial market imperfections and home ownership: a comparative study. Eur Econ Rev 47(5):857–875

Crossley T, Ostrovsky Y (2003) A synthetic cohort analysis of Canadian housing careers. Social and economic dimensions of an aging population research papers, no. 107. Mc Master University, Canada

Cunningham CR, Engelhardt GV (2008) Housing capital-gains taxation and homeowner mobility: evidence from the taxpayer relief act of 1997. J Urban Econ 63(3):803–815

Davidoff T (2004) Maintenance and the home equity of the elderly. Fisher center for real estate and urban economics paper no. 03-288. University of California, Berkeley

Davidoff T, Welke G (2007) Selection and moral hazard in the reverse Mortgage market. Mimeo. UC Berkeley, Berkeley CA

Deaton A (1997) The analysis of household surveys: a microeconometric approach to development policy. The John Hopkins University Press, Baltimore

Diamond PA, Hausman JA (1984) Individual retirement and saving behavior. J Public Econ 23(1–2):81–114

Engelhardt GV (2008) Social security and elderly homeownership. J Urban Econ 63(1):280–305

Ermisch JF, Jenkins SP (1999) Retirement and housing adjustment in later life: evidence from the British household panel survey. Labour Econ 6(2):311–333

Feinstein J, McFadden D (1989) The dynamics of housing demand by the elderly: wealth, cash flow and demographic effects. In: Wise DA (ed) The economics of aging. University of Chicago Press, Chicago, pp 55–91

Glaeser E, Shleifer A (2002) Legal origins. Q J Econ 117(4):1193–1229

Hurd MD (1987) Savings of the elderly and desired bequests. Am Econ Rev 77(3):298–312

Hurst E, Stafford F (2004) Home is where the equity is: mortgage refinancing and household consumption. J Money Credit Bank 36:985–1014

La Porta R, Lopez-de-Silanes F, Shleifer A (1998) Law and finance. J Polit Econ 106:1113–1155

Masson A (1986) A cohort analysis of wealth-age profiles generated by a simulation model in France (1949–75). Econ J 96(381):173–190

Mirer TW (1975) The wealth-age relation among the aged. Am Econ Rev 69(3):435–443

Mitchell OS, Piggott J (2004) Unlocking housing equity in Japan. J Jpn Int Econ 18(4):466–505

Mitchell OS, Piggott J, Sherris M, Yow S (2006) Financial innovation for an aging world. In: Kent C, Park A, Rees D (eds) Demography and financial markets. Pegasus, Chandler, pp 299–336

Nicoletti G, Scarpetta S (2003) Regulation, productivity and growth: OECD evidence. Econ Policy 18(36):9–72

OECD (2002) Revenue statistics 1965–2001. OECD, Paris

Ortalo-Magné F, Rady S (1999) Boom in, bust out: young households and the housing price cycle. Eur Econ Rev 43(4–6):755–766

Ortalo-Magné F, Rady S (2006) Housing market dynamics: on the contribution of income shocks and credit constraints. Rev Econ Stud 73:459–485

Shorrocks AF (1975) The age–wealth relationship: a cross-section and cohort analysis. Rev Econ Stat 57(2):155–163

Tatsiramos K (2006) Residential mobility and the housing adjustment of older European households in Europe. IZA Working Paper no. 2435, Bonn

Tsatsaronis K, Zhu H (2004) What drives housing price dynamics: cross-country evidence. BIS Q Rev March:65–78

UNESCO (1997) International standard classification of education. UNESCO, Paris

Venti SF, Wise DA (2002) Aging and housing equity. In: Bodie Z, Hammond P, Mitchell O (eds) Innovations in retirement financing. University of Pennsylvania Press, Philadelphia

Venti SF, Wise DA (2004) Aging and housing equity: another look. In: Wise DA (ed) Perspectives in the economics of aging. University of Chicago Press, Chicago, pp 9–48
Acknowledgements
We thank for the helpful comments the editor, two anonymous referees, Patrick Bolton, Andrea Brandolini, Janet Gornick, Ailsa Roell, Timothy Smeeding, Ernesto Villanueva, and participants at the CSEF-IGIER Symposium on Economics and Institutions (Anacapri, 24–28 June 2007), the 2007 Aldi Hagenaars Memorial Lecture (Luxembourg, 29 June 2007), and the LWS Final Conference: Enhancing Comparative Research on Household Finance (Bank of Italy, 5–7 July 2007). This work has been supported in part by the European Union under contracts HPRN-CT-2002-00235 (Economics of Aging in Europe–AGE) and by the Italian Ministry of Universities and Research (MUR).
Additional information
To our great sorrow, Maria Concetta Chiuri died on September 15, 2009.
Responsible editor: Junsen Zhang
About this article
Cite this article
Chiuri, M.C., Jappelli, T. Do the elderly reduce housing equity? An international comparison. J Popul Econ 23, 643–663 (2010). https://doi.org/10.1007/s00148-008-0217-4
Received:

Accepted:

Published:

Issue Date:
Keywords
Homeownership

Wealth decumulation

Aging
JEL Classification