Abstract
Recent developments in information technology and Web services have increased the potential for creating more rapid and extensive social networks and business relationships. Web 2.0 technologies, commonly referred to as online social media, have become important tools within the growth of information and communication technology (ICT) in the last few years. Web 2.0 tools such as blogs, Wiki and other services, which are widely used by individuals, also have an effect on customer relationship management (CRM) systems. Consequently, social CRM (SCRM) is emerging as a new paradigm for integrating social networking in more traditional CRM systems. However, social CRM is yet to be fully utilised as a value-adding tool in improving customer relationships. This paper reports on a scoping study that explored the current situation of CRM adoption in banking industry in Saudi Arabia. The aim of this paper is to identify the factors that may influence businesses and customers' adoption of social CRM. Various models have been proposed to study ICT and information systems acceptance and usage. This paper proposes an enhancement to one of these models, specifically the Technology Acceptance Model (TAM), by incorporating a range of factors identified in the social networking and business relationships literature believed to influence social CRM adoption. In particular, the model proposes that familiarity, caring behaviour, sharing information and perceived trustworthiness can generate cognitive view about the relationships between employees and customers. This view besides Web 2.0 features may offer a way of analysing the potential adoption of social CRM.
This is a preview of subscription content, log in to check access.
Access options
Buy single article
Instant unlimited access to the full article PDF.
US$ 39.95
Price includes VAT for USA
Subscribe to journal
Immediate online access to all issues from 2019. Subscription will auto renew annually.
US$ 99
This is the net price. Taxes to be calculated in checkout.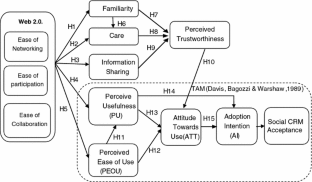 References
Ajzen I (1991) The theory of planned behavior. Organ Behav Hum Decis Process 50(2):179–211

Ali I (2007) Customer relationship management: a qualitative cross-case analysis in the UK and Saudi Arabia. Doctoral University of Stirling, Stirling

Baran RJ, Galka RJ, Strunk DP (2008) Principles of customer relationship management. Thomson/South-Western, Mason

Barsky E, Purdon M (2006) Introducing web 2.0: social networking and social bookmarking for health librarians. J Can Heal Libr Assoc/Journal de l'Association des bibliothèques de la santé du Canada (JCHLA/JABSC) 27:65–67

Bitner MJ (1995) Building service relationships: it's all about promises. J Acad Market Sci 23(4):246–251

Bohling T, Bowman D, LaValle S, Mittal V, Narayandas D, Ramani G, Varadarajan R (2006) Crm implementation: effectiveness issues and insights. J Serv Res 9(2):184–194

Boulos MNK, Maramba I, Wheeler S (2006) Wikis, blogs and podcasts: a new generation of web-based tools for virtual collaborative clinical practice and education. BMC Med Educ 6(1):41. Available at http://www.biomedcentral.com/1472-6920/6/41. Accessed 20 May 2009

Bull C (2003) Strategic issues in customer relationship management (crm) implementation. Bus Process Manage J 9:592–602

Burns KS (2008) A historical examination of the development of social media and its application to the public relations industry. Paper presented at the 2008 ICA preconference, Montreal, Quebec, Canada

Burt RS (1992) Structural holes: the social structure of competition. Harvard University Press, Cambridge

Da Silva RV, Rahimi I (2007) A critical success factor model for crm implementation. Int J Electron Cust Relatsh Manage 1:3–15

Davis FD (1989) Perceived usefulness, perceived ease of use, and user acceptance of information technology. MIS Q 13(3):319–340

Davis FD, Bagozzi RP, Warshaw PR (1989) Uuser acceptance of computer technology: a comparison of two theoretical models. Manage Sci 35(8):982–1003

Egger FN (2001) Affective design of e-commerce user interfaces: how to maximise perceived trustworthiness. Paper presented at the proceedings of the international conference on affective human factors design, London

Elowitz B, Li C (2009) The world's most valuable brands. Who's most engaged?—ranking the top 100 global brands. Available at http://www.engagementdb.com/downloads/ENGAGEMENTdb_Report_2009.pdf. Accessed 10 November 2009

Fishbein M, Ajzen I (1975) Belief, attitude, intention, and behavior: an introduction to theory and research. Addison-wesley series in social psychology. Addison-Wesley Pub. Co., Reading

Flavian C, Guinaliu M (2006) Consumer trust, perceived security and private policy: three basic elements of loyalty to a website. Ind Manage Data Syst 106(5):601–620

Ford WZ (2001) Customer expectations for interactions with service providers: relationship versus encounter orientation and personalized service communication. J Appl Commun Res 29:1–29

Fred DD (1993) User acceptance of information technology: system characteristics, user perceptions and behavioral impacts. Int J Man-Mach Stud 38(3):475–487

Frenzen J, Nakamoto K (1993) Structure, cooperation, and the flow of market information. J Consum Res 20(3):360–375

Fruchter R (2001) Bricks & bits & interaction. Paper presented at the proceedings of the joint JSAI 2001 workshop on new frontiers in artificial intelligence

Gouldner AW (1960) The norm of reciprocity: a preliminary statement. Am Sociol Rev 25(2):161–178

Greenberg P (2004) Crm at the speed of light: essential customer strategies for the 21st century. McGraw-Hill, Osborne

Greenberg P (2009) Crm at the speed of light: social crm strategies, tools, and techniques for engaging your customers, 4th edn. McGraw-Hill Osborne Media, USA

Gremler DD, Gwinner KP (2000) Customer-employee rapport in service relationships. J Serv Res 3(1):82

Gremler DD, Gwinner KP, Brown SW (2001) Generating positive word-of-mouth communication through customer-employee relationships. Int J Serv Ind Manage 12:44–59

Hickson DJ, Pugh DS (1995) Management worldwide: the impact of societal culture on organizations around the globe. Penguin, London

Huston L, Sakkab N (2006) Connect and develop: inside Procter and Gamble's new model for innovation. Harv Bus Rev 84(3):58–66

Ibarra H (1993) Network centrality, power, and innovation involvement: determinants of technical and administrative roles. Acad Manage J 36(3):471–501

Johnson MD, Olsen LL, Andreassen TW (2009) Joy and disappointment in the hotel experience: managing relationship segments. Manage Serv Qual 19:4–30

Kamprath N, Roeglingery M (2009) An organizational perspective on critical success factors for customer relationship management—a descriptive case study. Paper presented at the Americas conference on information systems (AMCIS), AMCIS 2009 proceedings, USA

Kania D (2001) Branding.Com: on-line branding for marketing success. McGraw-Hill, New York

Karantinou KM, Hogg MK (2009) An empirical investigation of relationship development in professional business services. J Serv Mark 23:249–260

Kassar T (2010) The top broadband speed countries in the arab world. Interactive Middle East. Available at: http://interactiveme.com/index.php/2010/04/the-top-broadband-speed-countries-in-the-arab-world/. Accessed 20 April 2010

Kilduff M, Tsai W (2003) Social networks and organizations. SAGE Publications, London

King N (2004) Using templates in thematic analysis of text. In: Cassell C, Symon G (eds) Essential guide to qualitative methods in organizational research. SAGE, London, pp 256–267

King SF, Burgess TF (2008) Understanding success and failure in customer relationship management. Ind Mark Manage 37(4):421–431

King WR, He J (2006) A meta-analysis of the technology acceptance model. Inf Manage 43(6):740–755

Koufaris M, Hampton-sosa W (2002) Initial perceptions of company trustworthiness online: a comprehensive model and empirical test. CIS working paper series. Zicklin School of Business, New York

Leary B (2008) Social crm: customer relationship management in the age of the socially-empowered customer. White paper (09/03/2009)

Li C, Bernoff J (2008) Groundswell: winning in a world transformed by social technologies. Harvard Business Press, Boston

Ling-yee L (2006) Relationship learning at trade shows: its antecedents and consequences. Ind Mark Manage 35(2):166–177

Long DE (2005) Culture and customs of Saudi Arabia. Greenwood Press, Westport

Luhmann N (2000) Familiarity, confidence, trust: problems and alternatives. In: Gambetta D (ed) Trust: making and breaking cooperative relations. Electronic edition, Department of Sociology, University of Oxford, chapter 6. Available at http://www.sociology.ox.ac.uk/papers/luhmann94-107.pdf. Accessed 20 May 2009

Mayer RC, Davis JH, Schoorman FD (1995) An integrative model of organizational trust. Acad Manage Rev 20(3):709–734

McKnight DH, Cummings LL, Chervany NL (1998) Initial trust formation in new organizational relationships. Acad Manage Rev 23(3):473–490

Miller L, Berg J (1984) Selectivity and urgency in interpersonal exchange. In: Derlega JV (ed) Communication, intimacy, and close relationships. Academic Press, Orlando

Ministry of Economy and Planning (2008) Saudi Arabia: long-term strategy for the Saudi economy—2005–2024. Available at http://wwwmepgovsa/. Accessed 07 Jan 2010

Mohan S, Choi E, Min D (2008) Conceptual modeling of enterprise application system using social networking and web 2.0 "Social crm system". Paper presented at the proceedings of the 2008 international conference on convergence and hybrid information technology

Morgan RM, Hunt SD (1994) The commitment-trust theory of relationship marketing. J Mark 58(3):20

Morgan SJ, Symon G (2004) Electronic interviews in organisation research. In: Cassell C, Symon G (eds) Essential guide to qualitative methods in organizational research. SAGE, London, pp 23–33

Morrison C (2010) Saudi arabia leads the middle east with high growth in March. Inside facebook. Available at http://www.insidefacebook.com/2010/04/15/saudi-arabia-leads-the-middle-east-with-high-growth-in-march/. Accessed 16 April 2010

Mukherjee A, Nath P (2003) A model of trust in online relationship banking. Int J Bank Market 21:5–15

Musser J, O'Reilly T, Team TORR (2006) Web 2.0: principles and best practices. O'Reilly Radar Report. Available at http://idrec.co.kr/ir/crop/uploaded/lab/62/web20_report_excerpt.pdf. Accessed 18 May 2009

Newman A, Thomas J (2009) Enterprise 2.0 implementation. McGraw-Hill, New York

Nishida T (2001) Social intelligence design—an overview. Paper presented at the proceedings of the joint JSAI 2001 workshop on new frontiers in artificial intelligence

O'Reilly T (2007) What is web 2.0: design patterns and business models for the next generation of software communications and strategies. Int J Digit Econ 65(1st quarter 2007):17–37

Oakes PJ, Haslam SA, Morrison B, Grace D (1995) Becoming an in-group: reexamining the impact of familiarity on perceptions of group homogeneity. Social Psychol Q 58(1):52–60

Osarenkhoe A, Bennani A-E (2007) An exploratory study of implementation of customer relationship management strategy. Bus Process Manage J 13:139–164

Payne A, Frow P (2005) A strategic framework for customer relationship management. J Market 69(4):167–176

Pesämaa O, Hair JF (2007) More than friendship is required: an empirical test of cooperative firm strategies. Manage Decis 45:602–615

Piskar F, Faganel A (2009) A successful crm implementation project in a service company: case study. Organizacija 42(5):199–208

Rahman S, Azhar SM (2008) Crm or service marketing: is there a choice in developing market economies? Int Rev Bus Res Papers 4(2):249–264

Schneider B, Parkington JJ, Buxton VM (1980) Employee and customer perceptions of service in banks. Adm Sci Q 25(2):252–267

Shin D-H, Kim W-Y (2008) Applying the technology acceptance model and flow theory to cyworld user behavior: implication of the web2.0 user acceptance. CyberPsychol Behav 11(3):378–382

Sigala M (2008) Integrating web 2.0 in e-learning environments: a socio-technical approach. Int Knowl Learn 3:628–648

Smith A (2006) Crm and customer service: strategic asset or corporate overhead? Handb Bus Strateg 7(1):87–93

Stone M, Woodcock N, Machtynger L (2000) Customer relationship marketing: get to know your customers and win their loyalty. Marketing in action series. Kogan Page in association with Marketing magazine, London

Venkatesh V, Davis FD (2000) A theoretical extension of the technology acceptance model: four longitudinal field studies. Manage Sci 46(2):186

Venkatesh V, Morris MG (2000) Why don't men ever stop to ask for directions? Gender, social influence, and their role in technology acceptance and usage behavior. MIS Q 24(1):115–139

Venkatesh V, Morris MG, Davis GB, Davis FD (2003) User acceptance of information technology: toward a unified view. MIS Q 27(3):425–478

Wang YS, Wang YM, Lin HH, Tang TI (2003) Determinants of user acceptance of internet banking: an empirical study. Int Serv Ind Manage 14:501–519

Wei-Chi T, Yin-Mei H (2002) Mechanisms linking employee affective delivery and customer behavioral intentions. J Appl Psychol 87(5):1001–1008

Wells C (2003) The complete idiot's guide to understanding Saudi Arabia. Alpha, Indianapolis

Wu IL, Wu KW (2005) A hybrid technology acceptance approach for exploring e-crm adoption in organizations. Behav Inf Technol 24(4):303–316
Acknowledgments
The authors would like to express their thanks to Saudi Arabian Ministry of Higher Education for having financially supporting this study, and the Saudi Arabian Cultural Bureau in UK. We also wish to acknowledge Saudi Arabian banks and CRM consultants who expressed interest in this research for their assistance and support to conduct the scoping study to understand the current situation of CRM implementation in Saudi Arabia.
About this article
Cite this article
Askool, S., Nakata, K. A conceptual model for acceptance of social CRM systems based on a scoping study. AI & Soc 26, 205–220 (2011). https://doi.org/10.1007/s00146-010-0311-5
Received:

Accepted:

Published:

Issue Date:
Keywords
CRM

Web 2.0

Social CRM

TAM

Saudi Arabia

Developing countries