Zusammenfassung
Hintergrund
Arthrodesen sind bewährte Eingriffe zur Behandlung der Arthrose des oberen Sprunggelenks (OSG). Das Risiko für Komplikationen, insbesondere der Weichteile, ist relevant. Unter diesem Gesichtspunkt wurde 1983 die arthroskopische Arthrodese beschrieben.
Ziel der Arbeit
Der Beitrag gibt eine Übersicht über Indikationen, Kontraindikationen und Komplikationen, Operationstechnik, Nachbehandlung und Grenzen des Vorgehens. Des Weiteren wird die Literatur diskutiert.
Diskussion
Patienten nach arthroskopischer Arthrodese des OSG zeigen eine gute Funktion, geringe Schmerzen und eine hohe subjektive Zufriedenheit. Im Vergleich zum offenen Vorgehen ist die Heilungszeit verkürzt, der Krankenhausaufenthalt kürzer und der Blutverlust geringer. Die Patienten haben weniger Schmerzen, die Rehabilitation verläuft schneller. Es treten weniger Komplikationen auf, insbesondere weniger Majorkomplikationen. Das Pseudarthroserisiko liegt wie beim offenen Vorgehen und in den meisten Studien im einstelligen Prozentbereich bei bis zu 10 %. Anschlussarthrose ist ein relevantes Problem, dessen genaue klinische Relevanz jedoch noch nicht abschließend geklärt ist. Höhergradige Fehlstellungen sind allenfalls eine relative Kontraindikation für das arthroskopische Vorgehen.
Abstract
Background
Ankle fusion is a well-accepted treatment option for end-stage ankle osteoarthritis. The risk of complications in particular concerning the soft tissue is relevant. This is why arthroscopic ankle fusion was introduced in 1983.
Objectives
We present an overview of the indications, contraindications, complications, surgical technique, follow-up treatment and limitations of the technique, and a discussion of the literature.
Discussion
Patients show a good function and little pain after arthroscopic ankle fusion and a high level of subjective patient satisfaction. In comparison to open fusion surgery the time to healing and the hospital stay is shorter and there is less blood loss. The patients have less pain and the rehabilitation is quicker. There are less complications, in particular less major complications. The risk for non-union is the same as for open fusion surgery and ranges up to 10% in most studies. Degeneration of the adjacent joints is a relevant issue. The clinical role of this adjacent joint arthritis still needs to be determined further. High-grade malalignment is a relative contraindication for arthroscopic ankle fusion.
This is a preview of subscription content, log in to check access.
Access options
Buy single article
Instant unlimited access to the full article PDF.
US$ 39.95
Price includes VAT for USA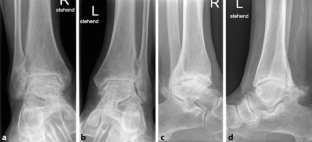 Literatur
1.

Abicht BP, Roukis TS (2013) Incidence of nonunion after isolated arthroscopic ankle arthrodesis. Arthroscopy 29:949–954

2.

Bevernage BD, Deleu PA, Maldague P et al (2010) Technique and early experience with posterior arthroscopic tibiotalocalcaneal arthrodesis. Orthop Traumatol Surg Res 96:469–475

3.

Bresler F, Mole D, Blum A et al (1993) Arthrodesis of the ankle joint: effect of the position of the arthrodesis on the foot. Apropos of a series of 50 cases reviewed with an average follow-up of 9 years. Rev Chir Orthop Reparatrice Appar Mot 79:643–649

4.

Brodsky JW, Kane JM, Coleman S et al (2016) Abnormalities of gait caused by ankle arthritis are improved by ankle arthrodesis. Bone Joint J 98–b:1369–1375

5.

Buckingham RA, Winson IG, Kelly AJ (1997) An anatomical study of a new portal for ankle arthroscopy. J Bone Joint Surg Br 79:650–652

6.

Cameron SE, Ullrich P (2000) Arthroscopic arthrodesis of the ankle joint. Arthroscopy 16:21–26

7.

Chalayon O, Wang B, Blankenhorn B et al (2015) Factors affecting the outcomes of uncomplicated primary open ankle arthrodesis. Foot Ankle Int 36:1170–1179

8.

Coester LM, Saltzman CL, Leupold J et al (2001) Long-term results following ankle arthrodesis for post-traumatic arthritis. J Bone Joint Surg Am 83–a:219–228

9.

Dannawi Z, Nawabi DH, Patel A et al (2011) Arthroscopic ankle arthrodesis: are results reproducible irrespective of pre-operative deformity? Foot Ankle Surg 17:294–299

10.

De Leeuw PA, Hendrickx RP, Van Dijk CN et al (2016) Midterm results of posterior arthroscopic ankle fusion. Knee Surg Sports Traumatol Arthrosc 24:1326. https://doi.org/10.1007/s00167-015-3975-z

11.

De Vriese L, Dereymaeker G, Fabry G (1994) Arthroscopic ankle arthrodesis. Preliminary report. Acta Orthop Belg 60:389–392

12.

Duan X, Yang L, Yin L (2016) Arthroscopic arthrodesis for ankle arthritis without bone graft. J Orthop Surg Res 11:154

13.

Elmlund AO, Winson IG (2015) Arthroscopic ankle arthrodesis. Foot Ankle Clin 20:71–80

14.

Ferkel RD, Hewitt M (2005) Long-term results of arthroscopic ankle arthrodesis. Foot Ankle Int 26:275–280

15.

Frey C, Halikus NM, Vu-Rose T et al (1994) A review of ankle arthrodesis: predisposing factors to nonunion. Foot Ankle Int 15:581–584

16.

Fuchs S, Sandmann C, Skwara A et al (2003) Quality of life 20 years after arthrodesis of the ankle. A study of adjacent joints. J Bone Joint Surg Br 85:994–998

17.

Golano P, Vega J, Perez-Carro L et al (2006) Ankle anatomy for the arthroscopist. Part I: the portals. Foot Ankle Clin 11:253–273

18.

Gougoulias NE, Agathangelidis FG, Parsons SW (2007) Arthroscopic ankle arthrodesis. Foot Ankle Int 28:695–706

19.

Greisberg J, Assal M, Flueckiger G et al (2004) Takedown of ankle fusion and conversion to total ankle replacement. Clin Orthop Relat Res 424:80–88

20.

Hintermann B, Barg A, Knupp M et al (2009) Conversion of painful ankle arthrodesis to total ankle arthroplasty. J Bone Joint Surg Am 91:850–858

21.

Hoke M (1921) An operation for stabilizing paralytic feet. J Bone Joint Surg 3:494–507

22.

Houdek MT, Wilke BK, Ryssman DB et al (2014) Radiographic and functional outcomes following bilateral ankle fusions. Foot Ankle Int 35:1250–1254

23.

Jain SK, Tiernan D, Kearns SR (2016) Analysis of risk factors for failure of arthroscopic ankle fusion in a series of 52 ankles. Foot Ankle Surg 22:91–96

24.

Lynch AF, Bourne RB, Rorabeck CH (1988) The long-term results of ankle arthrodesis. J Bone Joint Surg Br 70:113–116

25.

Myerson MS, Quill G (1991) Ankle arthrodesis. A comparison of an arthroscopic and an open method of treatment. Clin Orthop Relat Res 268:84–95

26.

Nielsen KK, Linde F, Jensen NC (2008) The outcome of arthroscopic and open surgery ankle arthrodesis: a comparative retrospective study on 107 patients. Foot Ankle Surg 14:153–157

27.

O'brien TS, Hart TS, Shereff MJ et al (1999) Open versus arthroscopic ankle arthrodesis: a comparative study. Foot Ankle Int 20:368–374

28.

Peterson KS, Lee MS, Buddecke DE (2010) Arthroscopic versus open ankle arthrodesis: a retrospective cost analysis. J Foot Ankle Surg 49:242–247

29.

Saltzman CL, El-Khoury GY (1995) The hindfoot alignment view. Foot Ankle Int 16:572–576

30.

Schneider D (1983) Arthroscopic ankle fusion – a case report. Annual AANA Meeting, New Orleans

31.

Thomas R, Daniels TR, Parker K (2006) Gait analysis and functional outcomes following ankle arthrodesis for isolated ankle arthritis. J Bone Joint Surg Am 88:526–535

32.

Townshend D, Di Silvestro M, Krause F et al (2013) Arthroscopic versus open ankle arthrodesis: a multicenter comparative case series. J Bone Joint Surg Am 95:98–102

33.

Valderrabano V, Horisberger M, Russell I et al (2009) Etiology of ankle osteoarthritis. Clin Orthop Relat Res 467:1800–1806

34.

Yoshimura I, Kanazawa K, Takeyama A et al (2012) The effect of screw position and number on the time to union of arthroscopic ankle arthrodesis. Arthroscopy 28:1882–1888
Ethics declarations
Interessenkonflikt
M.G. Walcher, L. Seefried, C. Konrads, P. Plumhoff, M. Hoberg, M. Rudert und L. Fraissler geben an, dass kein Interessenkonflikt besteht.
Dieser Beitrag beinhaltet keine von den Autoren durchgeführten Studien an Menschen oder Tieren.
Caption Electronic Supplementary Material
Video: Zustand nach arthroskopischer OSG – Arthrodese beidseitig. Zehenspitzen- und Hakengang.
About this article
Cite this article
Walcher, M.G., Seefried, L., Konrads, C. et al. Arthroskopisch gestützte Arthrodese des oberen Sprunggelenks. Arthroskopie 31, 117–122 (2018). https://doi.org/10.1007/s00142-018-0201-2
Schlüsselwörter
Arthrose

Weichteile

Endoprothetik

Fusion

Rehabilitation
Keywords
Arthritis

Soft tissue

Endoprosthetics

Fusion

Rehabilitation