Zusammenfassung
Traumatische Verletzungen der Subskapularissehne betreffen primär Patienten zwischen dem 40. und 50. Lebensjahr. Typische Verletzungsmechanismen sind eine traumatische Erstluxation der Schulter in diesem Alter oder ein forciertes Außenrotationstrauma. Bei beiden Verletzungsmechanismen kommt es zu einer exzentrischen Belastung der reflektorisch angespannten Sehne, was meist zum Abriss der Sehne vom Tuberculum minus führt. Seltener kommt es zu einem Ausriss des Tub. minus oder zu einem intratendinösen Riss der Sehne. Entsprechend der Klassifikationen wird davon ausgegangen, dass die Sehnenruptur mit zunehmendem Schweregrad von kranial nach kaudal fortschreitet. Allerdings sind mittlerweile auch isolierte Rupturen des inferioren Sehnenanteils beschrieben. Charakteristisch ist die begleitende Instabilität der langen Bizepssehne, die sich meist als mediale Luxation (LBS) präsentiert. Aufgrund der hohen Retraktionstendenz der Subskapularissehne müssen eine zeitnahe Diagnose und operative Therapie angestrebt werden. Die Heilungsergebnisse sowohl für die arthroskopische als auch die offene Sehnenrefixation sind sehr gut. Der postoperative Verbleib einer Innenrotationsschwäche bei rund 20 % der Patienten lässt sich zumeist auf eine bereits zum Operationszeitpunkt eingetretene Atrophie der Muskulatur zurückführen.
Abstract
Traumatic subscapularis tendon tears primarily occur in patients aged between 40 and 50 years. There are two dominant mechanisms of injury involving a traumatic first time anterior shoulder dislocation and a forced external rotation trauma. Both types of injury result in an eccentric strain on the tendon which in most cases leads to tearing the tendon from the lesser tuberosity, a bony avulsion of the lesser tuberosity or an intratendinous tear of the tendon (medial cuff tear). According to the established classification it can be assumed that with increasing severity the tear will show progression from cranial to caudal; however, more recently isolated tears of the inferior portion have also been described. Accompanying instability of the long biceps tendon is characteristic, which mostly present as a medial luxation (LBS). Due to a high disposition to early retraction of the subscapularis tendon, delayed diagnosis and surgical treatment should be avoided. The healing results of both arthroscopic and open tendon refixation are very promising. Nevertheless, in approximately 20% of the patients an internal rotation weakness remains, which may often be explained by preoperative atrophy of the subscapularis muscle.
This is a preview of subscription content, log in to check access.
Access options
Buy single article
Instant unlimited access to the full article PDF.
US$ 39.95
Price includes VAT for USA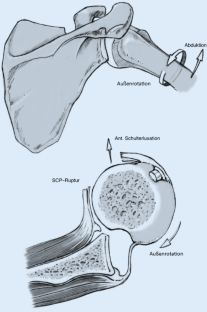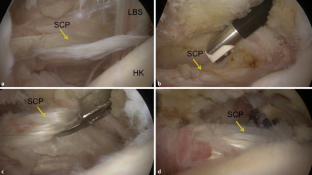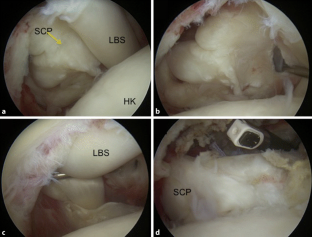 Literatur
1.

Achtnich A, Braun S, Imhoff AB, Martetschläger F (2015) Isolated lesions of the lower subscapularis tendon: diagnosis and management. Knee Surg Sports Traumatol Arthrosc. doi:10.1007/s00167-015-3933-9

2.

Bartl C, Salzmann GM, Seppel G, Eichhorn S, Holzapfel K, Wörtler K, Imhoff AB (2011) Subscapularis function and structural integrity after arthroscopic repair of isolated subscapularis tears. Am J Sports Med 39:1255–1262

3.

Curtis AS, Burbank KM, Tierney JJ, Scheller AD, Curran AR (2006) The insertional footprint of the rotator cuff: an anatomic study. Arthroscopy 22(609):e1

4.

Habermeyer P, Lichtenberg S, Magosch P, Baierle T (Hrsg) (2010) Schulterchirurgie: [mit dem Plus im Web; Zugangscode im Buch. Elsevier, Urban & Fischer, München

5.

Ide J, Tokiyoshi A, Hirose J, Mizuta H (2008) An anatomic study of the subscapularis insertion to the humerus: the subscapularis footprint. Arthroscopy 24:749–753

6.

Kim S‑J, Jung M, Lee J‑H, Kim C, Chun Y‑M (2014) Arthroscopic repair of anterosuperior rotator cuff tears: in-continuity technique vs. disruption of subscapularis-supraspinatus tear margin: comparison of clinical outcomes and structural integrity between the two techniques. J Bone Joint Surg Am 96:2056–2061

7.

Lafosse L, Jost B, Reiland Y, Audebert S, Toussaint B, Gobezie R (2007) Structural integrity and clinical outcomes after arthroscopic repair of isolated subscapularis tears. J Bone Joint Surg Am 89:1184–1193

8.

Loew M (2000) Traumatic development of rotator cuff lesion. Scientific principles and consequences for expert assessment. Orthopäde 29:881–887

9.

Loew M, Habermeyer P, Wiedemann E, Rickert M, Gohlke F (2000) Recommendations for diagnosis and expert assessment of traumatic rotator cuff lesions. Unfallchirurg 103:417–426

10.

Mall NA, Chahal J, Heard WM, Bach BR, Bush-Joseph CA, Romeo AA, Verma NN (2012) Outcomes of arthroscopic and open surgical repair of isolated subscapularis tendon tears. Arthroscopy 28:1306–1314

11.

Neyton L, Daggett M, Kruse K, Walch G (2016) The hidden lesion of the subscapularis: arthroscopically revisited. Arthrosc Tech 5:e877–e881

12.

Weiser L, Assheuer J, Schulitz KP, Castro WHM (2012) Magnetic resonance imaging criteria for the differentiation of traumatic and non-traumatic rotator cuff tears. Versicherungsmedizin 64:122–126

13.

Wellmann M (2016) Diagnostik und Therapie anterosuperiorer Rotatorenmanschettenläsionen. Orthopäde 45:130–135. doi:10.1007/s00132-015-3215-8

14.

Yoo JC, Rhee YG, Shin SJ, Park YB, McGarry MH, Jun BJ, Lee TQ (2015) Subscapularis tendon tear classification based on 3‑dimensional anatomic footprint: a cadaveric and prospective clinical observational study. Arthroscopy 31:19–28

15.

Zanetti M, Weishaupt D, Jost B, Gerber C, Hodler J (1999) MR imaging for traumatic tears of the rotator cuff: high prevalence of greater tuberosity fractures and subscapularis tendon tears. AJR Am J Roentgenol 172:463–467
Ethics declarations
Interessenkonflikt
M. Wellmann gibt an, dass kein Interessenkonflikt besteht.
Dieser Beitrag beinhaltet keine von den Autoren durchgeführten Studien an Menschen oder Tieren.
Caption Electronic Supplementary Material
Video 1: Durchstechen der SCP-Sehne mittels Nahtzange (Cleverhook) über anteriores Portal. Die SCP-Sehne ist mit Hilfe eines Zugfadens (ausgeleitet über anterolaterales Portal) armiert über den jeweils für das Durchstechen der Sehne die Reposition der Sehne durch Zug an den Fäden vorgenommen wird. Die Optik befindet sich während des Nahtvorgangs im posterioren Standardportal (rechte Schulter). (Aus Wellmann [13])
About this article
Cite this article
Wellmann, M. Traumatische Subskapularissehnenruptur beim jungen Patienten. Arthroskopie 30, 189–193 (2017) doi:10.1007/s00142-017-0153-y
Schlüsselwörter
Rotatorenmanschettenruptur

Sehnenrefixation

Bizepssehne

Schulterluxation

Außenrotationstrauma
Keywords
Rotator cuff lesion

Tendon refixation

Biceps tendon

Shoulder dislocation

External rotation trauma