This is a preview of subscription content, log in to check access.
Access options
Buy single article
Instant access to the full article PDF.
US$ 39.95
Price includes VAT for USA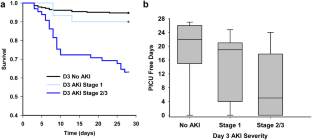 References
1.

Kaddourah A, Basu RK, Bagshaw SM et al (2017) Epidemiology of acute kidney injury in critically ill children and young adults. N Engl J Med 376:11–20. https://doi.org/10.1056/NEJMoa1611391

2.

Fitzgerald JC, Basu RK, Akcan-Arikan A et al (2016) Acute kidney injury in pediatric severe sepsis: an independent risk factor for death and new disability. Crit Care Med 44:2241–2250. https://doi.org/10.1097/CCM.0000000000002007

3.

Weiss SL, Fitzgerald JC, Pappachan J et al (2015) Global epidemiology of pediatric severe sepsis: the sepsis prevalence, outcomes, and therapies study. Am J Respir Crit Care Med 191:1147–1157. https://doi.org/10.1164/rccm.201412-2323OC

4.

Wong HR, Caldwell JT, Cvijanovich NZ et al (2019) Prospective clinical testing and experimental validation of the pediatric sepsis biomarker risk model. Sci Transl Med. https://doi.org/10.1126/scitranslmed.aax9000

5.

Stanski NL, Wong HR (2020) Acute kidney injury is independently associated with poor outcomes in children with septic shock. In: Abstract accepted at the 49th Critical Care Congress, Orlando, Florida, 16–19 February, 2020
Acknowledgements
The authors thank Kelli Harmon and Patrick Lahni (Cincinnati Children's Research Foundation) for technical assistance in the conduct of these studies. The members of the Genomics of Pediatric Septic Shock are: Scott L. Weiss: The Children's Hospital of Philadelphia, Philadelphia, PA, 19104; Parag N. Jain: Texas Children's Hospital and Baylor College of Medicine, Houston, TX, 77030; Adam Schwarz: Children's Hospital of Orange County, Orange, CA, 92868; Riad Lutfi: Riley Hospital for Children, Indianapolis, IN, 46202; Jeffrey Nowak: Children's Hospital and Clinics of Minnesota, Minneapolis, MN, 55404; Geoffrey L. Allen: Children's Mercy Hospital, Kansas City, MO, 64108; Neal J. Thomas: Penn State Hershey Children's Hospital, Hershey, PA, 17033; Jocelyn R. Grunwell: Children's Healthcare of Atlanta at Eggleston, Atlanta, GA, 30322; Torrey Baines: University of Florida Health, Gainesville, FL, 32610; Michael Quasney: CS Mott Children's Hospital at the University of Michigan, Ann Arbor, MI, 48109; Bereketeab Haileselassie: 14Lucile Packard Children's Hospital Stanford, Palo Alto, CA 94304.
Funding
Funded by National Institute of General Medical Sciences, R35GM126943 (H.R.W.)
Ethics declarations
Conflicts of interest
H.R.W. and the Cincinnati Children's Hospital Research Foundation hold U.S. patents for the PERSEVERE biomarkers. All other authors: no conflict of interest.
Ethical approval
All procedures performed in studies involving human participants were in accordance with the ethical standards of the institutional review boards of all participating institutions, and with the 1964 Helsinki Declaration and its later amendments or comparable ethical standards.
Additional information
Publisher's Note
Springer Nature remains neutral with regard to jurisdictional claims in published maps and institutional affiliations.
The members of the Genomics of Pediatric Septic Shock Investigators are listed in "Acknowledgements".
Electronic supplementary material
Below is the link to the electronic supplementary material.
About this article
Cite this article
Stanski, N.L., Cvijanovich, N.Z., Fitzgerald, J.C. et al. Severe acute kidney injury is independently associated with mortality in children with septic shock. Intensive Care Med (2020). https://doi.org/10.1007/s00134-020-05940-8