Alveolar recruitment in acute respiratory distress syndrome: should we open the lung (no matter what) or may accept (part of) the lung closed?
The conceptual model of acute respiratory distress syndrome (ARDS) includes: (a) lung inflammation; (b) severe hypoxemia; (c) edema, hyaline membranes, and alveolar hemorrhage. Common denominator is the loss of aerated lung tissue due to alveolar collapse. To open collapsed alveoli has been, therefore, proposed to restore gas exchange [
1
] with interventions such as positive end-expiratory pressure (PEEP), recruitment maneuvers, and prone position [
2
]. Moreover, loss of lung volume may contribute to ventilator-induced lung injury (VILI) [
2
]. We will review the physiology of alveolar recruitment and address the implications of the "full recruitment" vs "partial recruitment" approaches (Fig.
1
).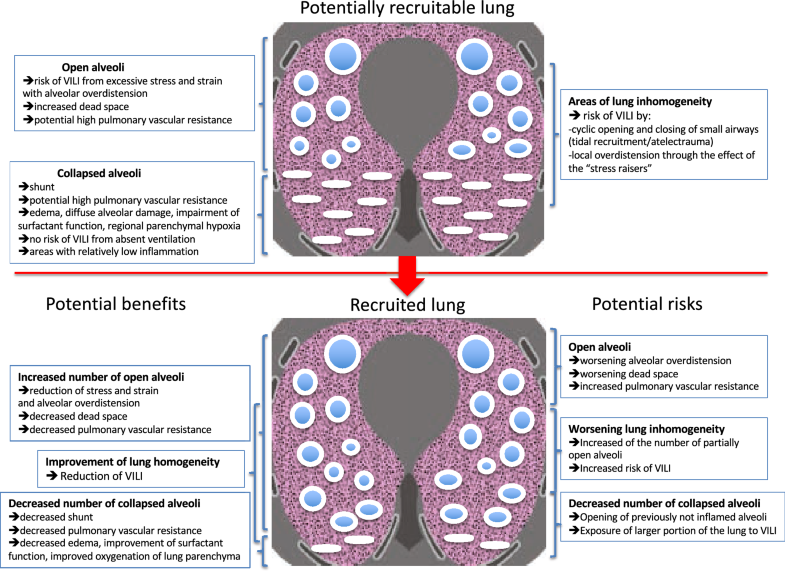 Notes
Acknowledgements
The funding has been received from Ministero dell'Università e della Ricerca with Grant No. (2017J4BE7A) PRIN 2017.
Compliance with ethical standards
Conflicts of interest
Authors declare no conflict of interests.
Copyright information
© Springer-Verlag GmbH Germany, part of Springer Nature 2019