Abstract
Purpose
Persistent critical illness has been described as a subtype of chronic critical illness, characterized as a transition after ICU admission where primary diagnosis and illness acuity are no better at predicting outcome than pre-hospital characteristics. Herein we describe the occurrence and outcomes associated with persistent critical illness in a large Canadian health region.
Methods
In this multi-center observational cohort study, all patients aged older than 14 years admitted to 12 ICUs in Alberta, Canada, between June 2012 and December 2014 were included. Primary outcome was in-hospital mortality. Predictors at ICU admission were separated into: (1) antecedent characteristics component (e.g., demographics, chronic health component of the APACHE II score, comorbid conditions); and (2) acute illness component (e.g., APACHE II score at admission, SOFA score, primary diagnostic category, surgical status, acute organ support). Using multiple statistical methods and randomly splitting the cohort into development and validation samples for risk scoring using logistic regression, we examined mortality prediction of each of these components to characterize the timing of transition to persistent critical illness.
Results
We included 17,783 patients with a median (IQR) age 61 years (49–71), 62% were male, and mean APACHE II score was 19.0 (7.9). In-hospital mortality was 16.8%. Among patients alive and in ICU, the acute illness component, which accurately predicted outcome at the time of admission [area under the receiver operating characteristics curve (AUC) 0.861; 95% CI 0.860–0.862], progressively lost predictive ability and was no longer more predictive than antecedent characteristics after 9 days. This transition defined the onset of persistent critical illness and comprised 16.1% (n = 2856) of the cohort. Transition ranged between 5 and 21 days across subgroups. In-hospital mortality was greater for those with persistent critical illness [23.9% vs. 15.5%, odds ratio (OR) 1.54; 95% CI 1.43–1.67, p < 0.001]. Persistently critically ill patients accounted for 54.5% of 97844 ICU bed-days and 36.3% of 420119 hospital bed-days, respectively.
Conclusions
Persistent critical illness occurred in one in six patients admitted to Alberta ICUs and portended greater risk of death, prolonged ICU and hospital stay, and disproportionate use of health resources compared to patients without persistent critical illness.
This is a preview of subscription content, log in to check access.
Access options
Buy single article
Instant access to the full article PDF.
US$ 39.95
Price includes VAT for USA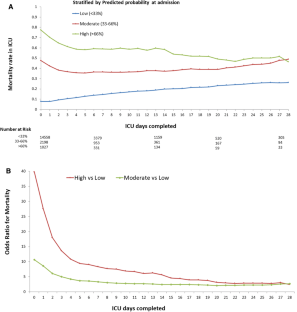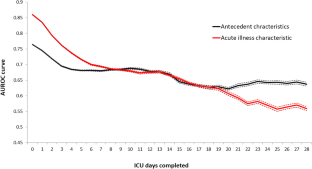 References
1.

Nelson JE, Cox CE, Hope AA, Carson SS (2010) Chronic critical illness. Am J Respir Crit Care Med 182:446–454

2.

Marchioni A, Fantini R, Antenora F, Clini E, Fabbri L (2015) Chronic critical illness: the price of survival. Eur J Clin Invest 45:1341–1349

3.

Kahn JM, Le T, Angus DC et al (2015) The epidemiology of chronic critical illness in the United States*. Crit Care Med 43:282–287

4.

Iwashyna TJ, Hodgson CL, Pilcher D et al (2015) Towards defining persistent critical illness and other varieties of chronic critical illness. Crit Care Resusc 17:215–218

5.

Iwashyna TJ, Hodgson CL, Pilcher D, Bailey M, Bellomo R (2015) Persistent critical illness characterised by Australian and New Zealand ICU clinicians. Crit Care Resusc 17:153–158

6.

Iwashyna TJ, Hodgson CL, Pilcher D et al (2016) Timing of onset and burden of persistent critical illness in Australia and New Zealand: a retrospective, population-based, observational study. Lancet Respir Med 4:566–573

7.

Hill AD, Fowler RA, Burns KE, Rose L, Pinto RL, Scales DC (2017) Long-term outcomes and health care utilization after prolonged mechanical ventilation. Ann Am Thorac Soc 14:355–362

8.

Bagshaw SM, Wang X, Zygun DA et al (2018) Association between strained capacity and mortality among patients admitted to intensive care: a path-analysis modeling strategy. J Crit Care 43:81–87

9.

Stelfox HT, Hemmelgarn BR, Bagshaw SM et al (2012) Intensive care unit bed availability and outcomes for hospitalized patients with sudden clinical deterioration. Arch Intern Med 172:467–474

10.

Trumble D, Meier MA, Doody M, Wang X, Bagshaw SM (2017) Incidence, correlates and outcomes associated with falls in the intensive care unit: a retrospective cohort study. Crit Care Resusc 19:290–295

11.

Stelfox HT, Ahmed SB, Zygun D, Khandwala F, Laupland K (2010) Characterization of intensive care unit acquired hyponatremia and hypernatremia following cardiac surgery. Can J Anaesth 57:650–658

12.

Quan H, Sundararajan V, Halfon P et al (2005) Coding algorithms for defining comorbidities in ICD-9-CM and ICD-10 administrative data. Med Care 43:1130–1139

13.

Knaus WA, Zimmerman JE, Wagner DP, Draper EA, Lawrence DE (1981) APACHE-acute physiology and chronic health evaluation: a physiologically based classification system. Crit Care Med 9:591–597

14.

Laupland KB, Kirkpatrick AW, Kortbeek JB, Zuege DJ (2006) Long-term mortality outcome associated with prolonged admission to the ICU. Chest 129:954–959

15.

Heyland DK, Muscedere J, Drover J, Jiang X, Day AG, Canadian Critical Care Trials G (2011) Persistent organ dysfunction plus death: a novel, composite outcome measure for critical care trials. Crit Care 15:R98

16.

Damuth E, Mitchell JA, Bartock JL, Roberts BW, Trzeciak S (2015) Long-term survival of critically ill patients treated with prolonged mechanical ventilation: a systematic review and meta-analysis. Lancet Respir Med 3:544–553

17.

Unroe M, Kahn JM, Carson SS et al (2010) One-year trajectories of care and resource utilization for recipients of prolonged mechanical ventilation: a cohort study. Ann Intern Med 153:167–175

18.

Hough CL, Caldwell ES, Cox CE et al (2015) Development and validation of a mortality prediction model for patients receiving 14 days of mechanical ventilation. Crit Care Med 43:2339–2345

19.

Bagshaw SM, Stelfox HT, McDermid RC et al (2014) Association between frailty and short- and long-term outcomes among critically ill patients: a multicentre prospective cohort study. CMAJ 186:E95–E102

20.

Ferrante LE, Pisani MA, Murphy TE, Gahbauer EA, Leo-Summers LS, Gill TM (2018) The association of frailty with post-ICU disability, nursing home admission, and mortality: a longitudinal study. Chest 153:1378–1386

21.

Gill TM, Gahbauer EA, Han L, Allore HG (2010) Trajectories of disability in the last year of life. N Engl J Med 362:1173–1180

22.

Griffith DM, Salisbury LG, Lee RJ et al (2018) Determinants of health-related quality of life after ICU: importance of patient demographics, previous comorbidity, and severity of illness. Crit Care Med 46:594–601

23.

Bagshaw SM, Muscedere J (2017) Is this intensive care unit patient frail? unraveling the complex interplay between frailty and critical illness. Am J Respir Crit Care Med 196:4–5

24.

Herridge MS, Chu LM, Matte A et al (2016) The RECOVER program: disability risk groups and 1-year outcome after 7 or more days of mechanical ventilation. Am J Respir Crit Care Med 194:831–844

25.

Dos Santos C, Hussain SN, Mathur S et al (2016) Mechanisms of chronic muscle wasting and dysfunction after an intensive care unit stay. A pilot study. Am J Respir Crit Care Med 194:821–830

26.

Puthucheary ZA, Rawal J, McPhail M et al (2013) Acute skeletal muscle wasting in critical illness. JAMA 310:1591–1600

27.

Redelmeier DA (2005) Improving patient care. The cognitive psychology of missed diagnoses. Ann Intern Med 142:115–120
Acknowledgements
SMB is supported by a Canada Research Chair in Critical Care Nephrology. HTS is supported by a Population Health Investigator Award from Alberta Innovates and an Embedded Clinician Researcher award from the Canadian Institutes of Health Research.
Funding
This work was funded by a Partnership for Research and Innovation in the Health System (PRIHS) grant, Alberta Innovates—Health Solutions and Alberta Health Services (Grant Record Number: 201300467). The funding agency had no role in the design or conduct of the study, in the collection, management, analysis or interpretation of the data, or in the preparation, review or approval of the manuscript.
Ethics declarations
Conflicts of interest
The authors have no conflicts of interest to declare.
Ethics approval and consent to participate
This study was approved by the research ethics board at the University of Alberta, Edmonton, Canada (File # Pro00046184). The need for written informed consent was waived.
Availability of data and material
The datasets used and/or analyzed during the current study are available from the corresponding author on reasonable request.
Electronic supplementary material
Below is the link to the electronic supplementary material.
About this article
Cite this article
Bagshaw, S.M., Stelfox, H.T., Iwashyna, T.J. et al. Timing of onset of persistent critical illness: a multi-centre retrospective cohort study. Intensive Care Med 44, 2134–2144 (2018). https://doi.org/10.1007/s00134-018-5440-1
Received:

Accepted:

Published:

Issue Date:
Keywords
Intensive care unit

Persistent critical illness

Timing of onset

Mortality

Burden of care