Abstract
Purpose
The intensity of procedural pain in intensive care unit (ICU) patients is well documented. However, little is known about procedural pain distress, the psychological response to pain.
Methods
Post hoc analysis of a multicenter, multinational study of procedural pain. Pain distress was measured before and during procedures (0–10 numeric rating scale). Factors that influenced procedural pain distress were identified by multivariable analyses using a hierarchical model with ICU and country as random effects.
Results
A total of 4812 procedures were recorded (3851 patients, 192 ICUs, 28 countries). Pain distress scores were highest for endotracheal suctioning (ETS) and tracheal suctioning, chest tube removal (CTR), and wound drain removal (median [IQRs] = 4 [1.6, 1.7]). Significant relative risks (RR) for a higher degree of pain distress included certain procedures: turning (RR = 1.18), ETS (RR = 1.45), tracheal suctioning (RR = 1.38), CTR (RR = 1.39), wound drain removal (RR = 1.56), and arterial line insertion (RR = 1.41); certain pain behaviors (RR = 1.19–1.28); pre-procedural pain intensity (RR = 1.15); and use of opioids (RR = 1.15–1.22). Patient-related variables that significantly increased the odds of patients having higher procedural pain distress than pain intensity were pre-procedural pain intensity (odds ratio [OR] = 1.05); pre-hospital anxiety (OR = 1.76); receiving pethidine/meperidine (OR = 4.11); or receiving haloperidol (OR = 1.77) prior to the procedure.
Conclusions
Procedural pain has both sensory and emotional dimensions. We found that, although procedural pain intensity (the sensory dimension) and distress (the emotional dimension) may closely covary, there are certain factors than can preferentially influence each of the dimensions. Clinicians are encouraged to appreciate the multidimensionality of pain when they perform procedures and use this knowledge to minimize the patient's pain experience.
This is a preview of subscription content, log in to check access.
Access options
Buy single article
Instant access to the full article PDF.
US$ 39.95
Price includes VAT for USA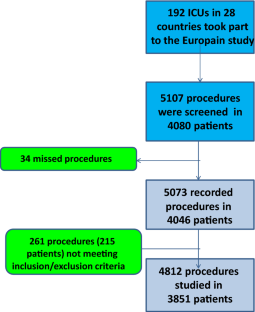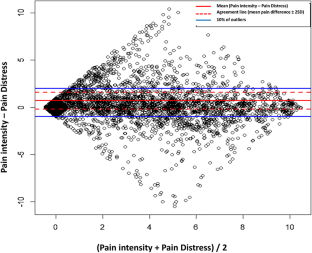 References
1.

Cazorla C, Cravoisy A, Gibot S, Nace L, Levy B, Bollaert P (2007) Patients' perception of their experience in the intensive care unit. Presse Med 36(2 Pt 1):211–216

2.

Gelinas C (2007) Management of pain in cardiac surgery ICU patients: have we improved over time? Intensive Crit Care Nurs 3:298–303

3.

Puntillo K, Weiss SJ (1994) Pain: its mediators and associated morbidity in critically ill cardiovascular surgical patients. Nurs Res 43:31–36

4.

Stanik-Hutt JA, Soeken KL, Fontaine DK, Gift AG (2001) Pain experiences of traumatically injured patients in a critical care setting. Am J Crit Care 10:252–259

5.

Chanques G, Sebbane M, Barbotte E, Viel E, Eledjam JJ, Jaber S (2007) A prospective study of pain at rest: incidence and characteristics of an unrecognized symptom in surgical and trauma versus medical intensive care unit patients. J Am Soc Anesthesiol 107:858–860

6.

Puntillo KA, White C, Morris AB, Perdue ST, Stanik-Hutt J, Thompson CL, Wild LR (2001) Patients' perceptions and responses to procedural pain: results from Thunder Project II. Am J Crit Care 10:238–251

7.

Price DD, Harkins SW, Baker C (1987) Sensory-affective relationships among different types of clinical and experimental pain. Pain 28:297–307

8.

Williams AC, Craig KD (2016) Updating the definition of pain. Pain 157:2420–2423

9.

Henoch I, Sawatyzky R, Falk H, Fridh I, Ung EJ, Sarenmalm EK, Ozanne A, Ohlen J, Falk K (2014) Symptom distress profiles in hospitalized patients in Sweden: a cross-sectional study. Res Nurs Health 37:512–523

10.

Tishelman C, Degner LF, Rudman A, Bertilsson K, Bond R, Broberger E, Dukkali E, Levealahti H (2005) Symptoms in patients with lung carcinoma: distinguishing distress from intensity. Cancer 104:2013–2021

11.

Puntillo KA, Arai S, Cohen NH, Gropper MA, Neuhaus J, Paul SM, Miaskowski C (2010) Symptoms experienced by intensive care unit patients at high risk of dying. Crit Care Med 38:2155–2160

12.

Rotondi AJ, Chelluri L, Sirio C, Mendelsohn A, Schultz R, Belle S, Im K, Donahoe M, Pinsky MR (2002) Patients' recollections of stressful experiences while receiving prolonged mechanical ventilation in an intensive care unit. Crit Care Med 30:746–752

13.

Granja C, Gomes E, Amaro A, Ribeiro O, Jones C, Carneiro A, Costa-Pereira A, the JJMIP Study Group (2008) Understanding posttraumatic stress disorder-related symptoms after critical care: the early illness amnesia hypothesis. Crit Care Med 36:2801–2809

14.

Kunz M, Lautenbacher S, LeBlanc N, Rainville P (2012) Are both the sensory and the affective dimensions of pain encoded in the face? Pain 153:350–358

15.

Hemington KS, Cheng JC, Bosma RL, Rogachov A, Kim JA, Davis KD (2017) Beyond negative pain-related psychological factors: resilience is related to lower pain affect in healthy adults. J Pain 18:1117–1128

16.

Price DD (2000) Psychological and neural mechanisms of the affective dimension of pain. Science 288(5472):1769–1772

17.

Rainville P (2002) Brain mechanisms of pain affect and pain modulation. Curr Opin Neurobiol 12:195–204

18.

Ploner M, Freund HJ, Schnitzler A (1999) Pain affect without pain sensation in a patient with a postcentral lesion. Pain 81:211–214

19.

Jensen MP, Karoly P, O'Riordan EF, Bland F, Burns RS et al (1989) The subjective experience of acute pain. An assessment of the utility of 10 indices. Clin J Pain 5:153–159

20.

Puntillo KA, Max A, Timsit JF, Vignoud L, Chaques G, Robleda G et al (2014) Determinants of procedural pain intensity in the intensive care unit. The Europain® study. Am J Respir Crit Care Med 189:39–47

21.

Downie WW, Leatham PA, Rhind VM, Wright V, Branco JA, Anderson JA (1978) Studies with pain rating scales. Ann Rheum Dis 37:378–381

22.

Jensen MP, Karoly P, Braver S (1986) The measurement of clinical pain intensity: a comparison of six methods. Pain 27:117–126

23.

Reading AE (1980) A comparison of pain rating scales. J Psychosom Res 24(3–4):119–124

24.

Johnson JE, Rice VH (1974) Sensory and distress components of pain: implications for the study of clinical pain. Nurs Res 23:203–209

25.

Puntillo K, Ley SJ (2004) Appropriately timed analgesics control pain due to chest tube removal. Am J Crit Care 13:292–301 (discussion 302; quiz 303–4)

26.

Voss JA, Good M, Yates B, Baun MM, Thompson A, Hertzog M (2004) Sedative music reduces anxiety and pain during chair rest after open-heart surgery. Pain 112:197–203

27.

Gelinas C, Puntillo KA, Levin P, Azoulay E (2017) The Behavior Pain Assessment Tool for critically ill adults: a validation study in 28 countries. Pain 158:811–821

28.

Yi P, Pryzbylkowski P (2015) Opioid induced hyperalgesia. Pain Med 16(Suppl 1):S32–S36

29.

Guignard B, Bossard AE, Coste C, Sessler DI, Lebrault C (2000) Acute opioid tolerance: intraoperative remifentanil increases postoperative pain and morphine requirement. Anesthesiology 93:409–417

30.

Puntillo K, Gelinas C, Chanques G (2017) Next steps in ICU pain research. Intensive Care Med 43:1386–1388

31.

Ely EW, Inouye SK, Bernard GR, Gordon S, Francis J, May L, Truman B et al (2001) Delirium in mechanically ventilated patients: validity and reliability of the confusion assessment method for the intensive care unit (CAM-ICU). JAMA 286:2703–2710

32.

Canadian Institute for Health Information (2016) Care in Canadian ICU. CIHI, Ottowa

33.

Hoang HT, Sabia M, Torjman M, Goldberg ME (2014) The importance of medical education in the changing field of pain medicine. Pain Manag 4:437–443

34.

Sabia M, Weaver M, Gessman R, Kalariya J (2017) Update on the importance of medical education if the changing field of pain medicine. J Anesth Patient Care 2:1–5

35.

Seers T, Derry S, Kate Seers K, Moore RA (2018) Professionals underestimate patients' pain: a comprehensive review. Pain 159:811–818

36.

Shaw S, Lamdin R (2011) Nurses have an ethical imperative to minimise procedural pain. Nurs N Z 17:12–14
Acknowledgements
Contributors: We recognize and thank patients and clinicians from the following ICUs who were involved in the Europain® study. (1) Medical Intensive Care Unit, University of Paris-Diderot, Saint Louis Hospital, Paris, France; (2) Medical Intensive Care Unit, Bichat University Hospital, France; (3) Institut Albert Bonniot, INSERM U823, Grenoble, France; (4) Département d'Anesthésie-Réanimation, Hôpital Saint Eloi, France; (5) Unite U1046 de l'Institut National de la Sante et de la Recherche, University of Montpellier, Montpellier, France; (6) Servei de Medicina Intensiva, Hospital de Sant Pau, Barcelona, Spain; (7) Anaesthesia, Critical Care and Pain, Tata Memorial Hospital, Mumbai, India; (8) D'Or Institute for Research Education, Postgraduate Program, Instituto Nacional de Cancer, Rio de Janeiro, Brazil; (9) Department of Anesthesia and Intensive Care I, Iuliu Hatieganu University of Medicine and Pharmacy, Cluj-Napoca, Romania; (10) Anesthesia and Intensive Care Department, Clinical Emergency Hospital, Bucharest, Romania; (11) Department of Anesthesiology and Intensive Care, Policlinico A. Gemelli, Università Cattolica del Sacro Cuore, Rome, Italy; (12) Department of Anaesthesiology and Intensive Care, General University Hospital, First Faculty of Medicine of Charles University, Prague, Czech Republic; (13) Department of Anaesthesiology and Intensive Therapy, Medical University of Gdansk, Gdansk, Poland; (14) Trauma Centre, Copenhagen University Hospital Rigshospitalet, Copenhagen, Denmark; (15) Department of Nursing, Cyprus University of Technology, Nicosia, Cyprus; (16) Nursing Department, Papageorgiou Hospital, Thessaloniki, Greece; (17) The Chinese University of Hong Kong, Department of Anaesthesia and Intensive Care, Prince of Wales Hospital, Shatin, Hong Kong; (18) Intensive Care Unit, Hospital Maciel, Santorio Americano and Sanatorio Hospital in Montevideo, Montevideo, Uruguay; (19) Intensive Care Services, Hawke's Bay Hospital, Hastings, New Zealand; (20) Department of Intensive Care Medicine and School of Population Health, Royal Perth Hospital and University of Western Australia, Perth, Australia; (21) Trauma ICU and CCU of Helsinki University Hospital, Helsinki, Finland; ICU of Kuopio University Hospital, Finland; ICU of Oulu University Hospital, Finland; (22) Department of Intensive Care, Medical Centre Leeuwarden, Netherlands; (23) Department of Intensive Care Medicine, University Medical Center, Utrecht, Netherlands; (24) Clinic of Anesthesiology and Intensive Medicine, Jessenius Faculty of Medicine in Martin-Comenius University in Bratislava, University Hospital Martin, Martin, Slovakia; (25) Intensive Care Unit Department, Erasme Hospital, Belgium; (26) Department of Intensive Care, Erasme University Hospital, Université Libre de Bruxelles, Brussels, Belgium; (27) ICU Maennedorf, Spital Maennedorf, Maennedorf, Switzerland; (28) ICU Department, Khoula Hospital, Muscat, Sultanate of Oman; (29) Intensive Care Unit of Clinica Las Americas, Medellin, Columbia; (30) ICU, Neurosurgery, Medical ICU, Hadassah Hebrew University Hospital, Jerusalem, Israel; (31) Intensive Care Unit, CHU F. Bourguiba, Monastir, Tunisia; (32) Department of Anaesthesia and Intensive Care, Mater Dei Hospital, Msida, Malta; (33) Servico Cuidados Intensivos, Hospital Santo Antonio, Centro Hospitalar do Porto, Porto, Portugal; and (34) Department of Critical Care Medicine, Peking University People's Hospital, Beijing, China.
Funding
Supported by a grant from the European Society of Intensive Care Medicine/European Critical Care Research Network Award (ECCRN Established Investigator Award, 2009) and by an academic grant from AP-HP, Hôpital Saint-Louis, Paris, France.
Ethics declarations
Conflicts of interest
The authors declare that they have no conflicts of interest.
Electronic supplementary material
Below is the link to the electronic supplementary material.
About this article
Cite this article
Puntillo, K.A., Max, A., Timsit, J. et al. Pain distress: the negative emotion associated with procedures in ICU patients. Intensive Care Med 44, 1493–1501 (2018). https://doi.org/10.1007/s00134-018-5344-0
Received:

Accepted:

Published:

Issue Date:
Keywords
ICU

Procedures

Pain distress