Abstract
Purpose
To investigate whether neuromuscular blocking agents (NMBA) exert beneficial effects in acute respiratory distress syndrome (ARDS) by reason of their action on respiratory mechanics, particularly transpulmonary pressures (P L).
Methods
A prospective randomised controlled study in patients with moderate to severe ARDS within 48 h of the onset of ARDS. All patients were monitored by means of an oesophageal catheter and followed up for 48 h. Moderate ARDS patients were randomised into two groups according to whether they were given a 48-h continuous infusion of cisatracurium besylate or not (control group). Severe ARDS patients did not undergo randomisation and all received cisatracurium besylate per protocol. The changes during the 48-h study period in oxygenation and in respiratory mechanics, including inspiratory and expiratory P L and driving pressure, were assessed and compared. Delta P L (∆P L) was defined as inspiratory P L minus expiratory P L.
Results
Thirty patients were included, 24 with moderate ARDS and 6 with severe ARDS. NMBA infusion was associated with an improvement in oxygenation in both moderate and severe ARDS, accompanied by a decrease in both plateau pressure and total positive end-expiratory pressure. The mean inspiratory and expiratory P L were higher in the moderate ARDS group receiving NMBA than in the control group. In contrast, there was no change in either driving pressure or ∆P L related to NMBA administration.
Conclusions
NMBA could exert beneficial effects in patients with moderate ARDS, at least in part, by limiting expiratory efforts.
This is a preview of subscription content, log in to check access.
Access options
Buy single article
Instant unlimited access to the full article PDF.
US$ 39.95
Price includes VAT for USA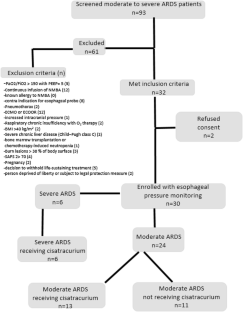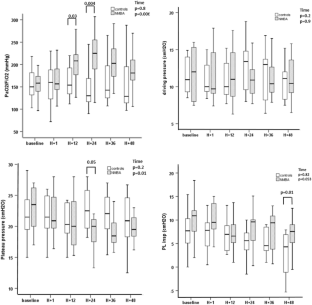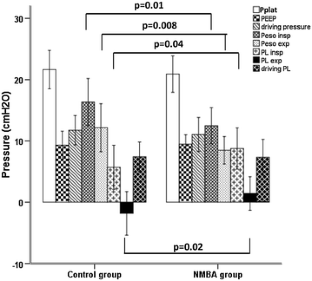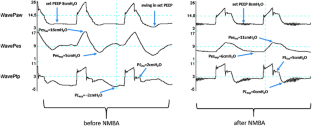 References
1.

The Acute Respiratory Distress Syndrome Network (2000) Ventilation with lower tidal volumes as compared with traditional tidal volumes for acute lung injury and the acute respiratory distress syndrome. N Engl J Med 342:1301–1308. doi:10.1056/NEJM200005043421801

2.

Briel M, Meade M, Mercat A et al (2010) Higher vs lower positive end-expiratory pressure in patients with acute lung injury and acute respiratory distress syndrome: systematic review and meta-analysis. JAMA 303:865–873. doi:10.1001/jama.2010.218

3.

Guérin C, Reignier J, Richard JC, PROSEVA Study Group et al (2013) Prone positioning in severe acute respiratory distress syndrome. N Engl J Med 368:2159–2168. doi:10.1056/NEJMoa1214103

4.

Gao Smith F, Perkins GD, Gates S, BALTI-2 study investigators et al (2012) Effect of intravenous β-2 agonist treatment on clinical outcomes in acute respiratory distress syndrome (BALTI-2): a multicentre, randomised controlled trial. Lancet 379:229–235. doi:10.1016/S0140-6736(11)61623-1

5.

McAuley DF, Laffey JG, O'Kane CM, HARP-2 Investigators, Irish Critical Care Trials Group et al (2014) Simvastatin in the acute respiratory distress syndrome. N Engl J Med 371:1695–1703. doi:10.1056/NEJMoa1403285

6.

National Heart Lung, and Blood Institute ARDS Clinical Trials Network, Truwit JD, Bernard GR, Steingrub J et al (2014) Rosuvastatin for sepsis-associated acute respiratory distress syndrome. N Engl J Med 370:2191–2200. doi:10.1056/NEJMoa1401520

7.

Cornet AD, Groeneveld AB, Hofstra JJ et al (2014) Recombinant human activated protein C in the treatment of acute respiratory distress syndrome: a randomized clinical trial. PLoS One 14:e90983. doi:10.1371/journal.pone.0090983

8.

National Heart Lung, and Blood Institute Acute Respiratory Distress Syndrome (ARDS) Clinical Trials Network, Matthay MA, Brower RG, Carson S et al (2011) Randomized, placebo-controlled clinical trial of an aerosolized β2-agonist for treatment of acute lung injury. Am J Respir Crit Care Med 184:561–568. doi:10.1164/rccm.201012-2090OC

9.

Afshari A, Brok J, Møller AM et al (2010) Inhaled nitric oxide for acute respiratory distress syndrome (ARDS) and acute lung injury in children and adults. Cochrane Database Syst Rev 7:CD002787. doi:10.1002/14651858.CD002787

10.

Pacheco J, Arnold H, Skrupky L et al (2014) Predictors of outcome in 216 subjects with ARDS treated with inhaled epoprostenol. Respir Care 59:1178–1185

11.

Papazian L, Forel JM, Gacouin A, ACURASYS Study Investigators et al (2010) Neuromuscular blockers in early acute respiratory distress syndrome. N Engl J Med 363:1107–1116. doi:10.1056/NEJMoa1005372

12.

Slutsky AS (2010) Neuromuscular blocking agents in ARDS. N Engl J Med 363:1176–1180. doi:10.1056/NEJMe1007136

13.

Forel JM, Roch A, Marin V et al (2006) Neuromuscular blocking agents decrease inflammatory response in patients presenting with acute respiratory distress syndrome. Crit Care Med 34:2749–2757

14.

Fanelli V, Morita Y, Cappello P et al (2016) Neuromuscular blocking agent cisatracurium attenuates lung injury by inhibition of nicotinic acetylcholine receptor-α1. Anesthesiology 124:132–140. doi:10.1097/ALN.0000000000000907

15.

Jung B, Constantin JM, Rossel N et al (2010) Adaptive support ventilation prevents ventilator-induced diaphragmatic dysfunction in piglet: an in vivo and in vitro study. Anesthesiology 112:1435–1443. doi:10.1097/ALN.0b013e3181d7b036

16.

Yoshida T, Uchiyama A, Matsuura N et al (2012) Spontaneous breathing during lung-protective ventilation in an experimental acute lung injury model: high transpulmonary pressure associated with strong spontaneous breathing effort may worsen lung injury. Crit Care Med 40:1578–1585

17.

ARDS Definition Task Force, Ranieri VM, Rubenfeld GD, Thompson BT et al (2012) Acute respiratory distress syndrome: the Berlin definition. JAMA 307:2526–2533. doi:10.1001/jama.2012.5669

18.

Le Gall JR, Lemeshow S, Saulnier F (1993) A new Simplified Acute Physiology Score (SAPS II) based on a European/North American multicenter study. JAMA 270:2957–2963

19.

Higgs BD, Behrakis PK, Bevan DR et al (1983) Measurement of pleural pressure with esophageal balloon in anesthetized humans. Anesthesiology 59:340–343

20.

Vincent JL, Moreno R, Takala J et al (1996) The SOFA (Sepsis-related Organ Failure Assessment) score to describe organ dysfunction/failure. On behalf of the Working Group on Sepsis-Related Problems of the European Society of Intensive Care Medicine. Intensive Care Med 22:707–710

21.

Mac Cabe WR, Jackson GG (1962) Gram negative bacteremia, etiology and ecology. Arch Intern Med 110:845

22.

Gainnier M, Roch A, Forel JM et al (2004) Effect of neuromuscular blocking agents on gas exchange in patients presenting with acute respiratory distress syndrome. Crit Care Med 32:113–119

23.

Chiumello D, Carlesso E, Cadringher P et al (2008) Lung stress and strain during mechanical ventilation for acute respiratory distress syndrome. Am J Respir Crit Care Med 178:346–355. doi:10.1164/rccm.200710-1589OC

24.

Conti G, Vilardi V, Rocco M et al (1995) Paralysis has no effect on chest wall and respiratory system mechanics of mechanically ventilated, sedated patients. Intensive Care Med 21:808–812

25.

Talmor D, Sarge T, Malhotra A et al (2008) Mechanical ventilation guided by esophageal pressure in acute lung injury. N Engl J Med 359:2095–2104. doi:10.1056/NEJMoa0708638

26.

Akoumianaki E, Lyazidi A, Rey N et al (2012) Mechanical ventilation-induced reverse-triggered breaths: a frequently unrecognized form of neuromechanical coupling. Chest 143:927–938

27.

Beitler JR, Sands SA, Loring SH et al (2016) Quantifying unintended exposure to high tidal volumes from breath stacking dyssynchrony in ARDS: the BREATHE criteria. Intensive Care Med 42:1427–1436

28.

Hraiech S, Yoshida T, Papazian L (2015) Balancing neuromuscular blockade versus preserved muscle activity. Curr Opin Crit Care 21:26–33. doi:10.1097/MCC.0000000000000175

29.

Mauri T, Yoshida T, Bellani G et al (2016) Esophageal and transpulmonary pressure in the clinical setting: meaning, usefulness and perspectives. Intensive Care Med 42:1360–1373. doi:10.1007/s00134-016-4400-x

30.

Cabello B, Mancebo J (2006) Work of breathing. Intensive Care Med 32:1311–1314

31.

Mojoli F, Chiumello D, Pozzi M et al (2015) Esophageal pressure measurements under different conditions of intrathoracic pressure. An in vitro study of second generation balloon catheters. Minerva Anestesiol 81:855–864
Acknowledgements
The authors would like to thank all of the nursing team for the excellent care provided to the patients during this study. We thanks Dr. Elizabeth Jouve from APHM, Hôpital La Timone, CIC-UPCET, Pharmacologie Clinique et Evaluations Thérapeutiques, for their methodological councils for conception of the study.
Ethics declarations
Conflicts of interest
The authors state that no significant conflicts of interest exist with regard to any companies or organizations whose products or services may be discussed in this article.
Funding
This project was supported by Assistance Publique-Hôpitaux de Marseille (AO 2011-005720).
Additional information
Take-home message: Neuromuscular blockers form part of the treatment of early-phase moderate to severe acute respiratory distress syndrome.
Trial registration NCT01573715.
Electronic supplementary material
Below is the link to the electronic supplementary material.
About this article
Cite this article
Guervilly, C., Bisbal, M., Forel, J.M. et al. Effects of neuromuscular blockers on transpulmonary pressures in moderate to severe acute respiratory distress syndrome. Intensive Care Med 43, 408–418 (2017). https://doi.org/10.1007/s00134-016-4653-4
Received:

Accepted:

Published:

Issue Date:
Keywords
Acute respiratory distress syndrome

Neuromuscular blocking agent

Esophageal pressure

Transpulmonary pressure

Driving pressure