Understanding preoxygenation and apneic oxygenation during intubation in the critically ill
Understanding the Disease
The most common adverse event encountered during the intubation of critically ill patients is oxygen desaturation, which is often a harbinger of serious complications such as cardiovascular collapse, anoxic brain injury, and death. It is imperative to attenuate this risk by optimizing preoxygenation prior to intubation. This paper explores the physiology and challenges related to preoxygenation and maintenance of oxygenation during intubation in these high-risk patients.
The purpose of preoxygenation is to maintain hemoglobin saturation despite ongoing oxygen consumption during apnea. This is accomplished in principle by denitrogenating the alveoli so that the functional residual capacity (FRC) serves as an oxygen reservoir, the efficacy of which can be evaluated by the fraction of expired O
2
(FeO
2
) (Fig.
1
).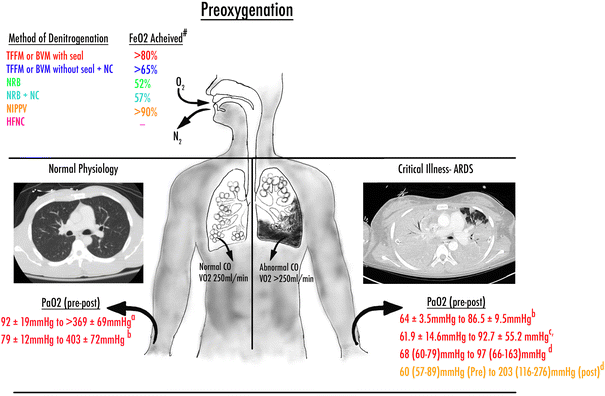 Keywords
FeO2 
Functional Residual Capacity 
Nasal Cannula 
Alveolar Recruitment 
Shunt Fraction 
These keywords were added by machine and not by the authors. This process is experimental and the keywords may be updated as the learning algorithm improves.
Notes
Compliance with ethical standards
Conflicts of interest
None for all authors.
Copyright information
© Springer-Verlag Berlin Heidelberg and ESICM 2016