The standard of care of patients with ARDS: ventilatory settings and rescue therapies for refractory hypoxemia
Abstract
Purpose
Severe ARDS is often associated with refractory hypoxemia, and early identification and treatment of hypoxemia is mandatory. For the management of severe ARDS ventilator settings, positioning therapy, infection control, and supportive measures are essential to improve survival.
Methods and results
A precise definition of life-threating hypoxemia is not identified. Typical clinical determinations are: arterial partial pressure of oxygen < 60 mmHg and/or arterial oxygenation < 88 % and/or the ratio of PaO2/FIO2 < 100. For mechanical ventilation specific settings are recommended: limitation of tidal volume (6 ml/kg predicted body weight), adequate high PEEP (>12 cmH2O), a recruitment manoeuvre in special situations, and a 'balanced' respiratory rate (20-30/min). Individual bedside methods to guide PEEP/recruitment (e.g., transpulmonary pressure) are not (yet) available. Prone positioning [early (≤ 48 hrs after onset of severe ARDS) and prolonged (repetition of 16-hr-sessions)] improves survival. An advanced infection management/control includes early diagnosis of bacterial, atypical, viral and fungal specimen (blood culture, bronchoalveolar lavage), and of infection sources by CT scan, followed by administration of broad-spectrum anti-infectives. Neuromuscular blockage (Cisatracurium ≤ 48 hrs after onset of ARDS), as well as an adequate sedation strategy (score guided) is an important supportive therapy. A negative fluid balance is associated with improved lung function and the use of hemofiltration might be indicated for specific indications.
Conclusions
A specific standard of care is required for the management of severe ARDS with refractory hypoxemia.
Keywords
Acute respiratory distress syndrome 
Refractory hypoxemia 
Ventilatory settings 
Prone positioning 
Infection management 
Neuromuscular blockade 
Introduction: hypoxemia in ARDS: definition, monitoring, and pitfalls
The acute respiratory distress syndrome (ARDS) is characterized by life-threatening impairment of pulmonary gas exchange, resulting in hypoxemia, hypercapnia, and respiratory acidosis and requiring acute rescue measures. Oxygen delivery to the tissues is necessary for all aerobic life, and tissue hypoxia will result in various deleterious effects including altered vascular reactivity, inflammation, cell apoptosis, and organ dysfunction or failure [1]. Tissue hypoxia is the result of hypoxemia, and hypoxemia is a consequence of insufficient support of the respiratory system and/or of the oxygen delivery system (cardiac output, hemoglobin level [2]). Unfortunately, a precise and "simple" limit area to hypoxemia has not been identified and a "critical" level at which harm appears might vary between organs and patients. Furthermore, it is not known whether critically ill patients have the same spectrum of compensatory mechanisms to hypoxemia as the "normal" human body, and the rapidity of onset ("acclimatization effect"), severity, and duration of hypoxemia may determine the induction of tissue hypoxia.
A clinical determination of hypoxemia varies, but typical values are
Arterial partial pressure of oxygen (PaO2) < 60 mmHg.

A ratio of PaO2 to FIO2 < 100.

Arterial oxygenation (pulse oximetry [SaO2]) < 88 %.
In recent years a strategy of permissive hypoxemia (SaO2 82–88 %) in patients with severe ARDS was proposed aimed at minimizing the harmful effects of high inspiratory oxygen concentrations by accepting a low SaO2 and optimizing cardiac output to maintain adequate oxygen delivery [3]. Of note the "classical" concept of oxygen delivery/consumption dependency is controversial [4]. A recent Cochrane review failed to identify any relevant studies evaluating hypoxemia versus normoxemia in ventilated patients with ARDS [5]. Furthermore, in a retrospective analysis of ARDS patients, lower PaO2 during mechanical ventilation (median < 72 mmHg) was associated with a higher incidence of long-term cognitive impairment and psychiatric disorders compared with higher PaO2 (median 86 mmHg, p < 0.02) [6].
Hypoxemia and tissue hypoxia could be detected by PaO2, SaO2, serum lactate, and central venous oxygen saturation (SvO2), which are global measurements, and the extent to which these flow/volume-average-weighted measurements reflect organ hypoxia remains unknown. In clinical practice the definition of "hypoxemia" is often based on one or more of these global values, and currently no parameter for the precise assessment of tissue hypoxia in the individual patient is available. Since inadequate tissue oxygenation as well as excessive oxygen administration (with expression of oxygen reactive species) can both be harmful [7], a careful balance based on precise control of arterial oxygenation including the acceptance of a "safe" threshold may avoid deleterious hypoxia as well as hyperoxia-associated injury. It remains to be evaluated in further studies whether selected biomarkers may help identify tissue hypoxia in the individual patient.
In summary, "simple" and global parameters (PaO2, SaO2, SvO2, lactate) are imprecise surrogates for hypoxia in ARDS patients. However an individualized, organ-specific approach for monitoring of hypoxemia is currently not available. Therefore a target for conservative arterial oxygenation is recommended (PaO2 = 65–75 mmHg, SaO2 = 90–95 %), which should be bundled in a general "organ failure prevention" strategy.
Ventilatory setting I: tidal volume/respiratory rate
Ventilatory settings II: PEEP/recruitment
Alveolar recruitment, obtained through positive end-expiratory pressure (PEEP) and/or lung recruiting maneuvers (LRMs), has been used to improve hypoxemia in patients with ARDS since the early 1970s, just after the first description of the syndrome [30]. At present, the aim of alveolar recruitment is not only to improve oxygenation but also to prevent VALI by minimizing tidal alveolar opening and collapse (atelectrauma) [31]. However, despite a myriad of clinical and translational studies and three large clinical trials, the effectiveness of recruitment remains controversial [32, 33, 34, 35]. One "simple" reason is that clinicians lack bedside methods to quantify alveolar recruitment and its impact on VILI. Hence, decisions are based on surrogates, such as arterial oxygenation, end-inspiratory plateau pressure, or driving pressure. Electrical impedance tomography (EIT), lung ultrasound, and the stress index have been proposed to monitor alveolar recruitment, but are seldom used in clinical practice [11, 36].
At present, the only evidence-based protocol for setting PEEP is the one proposed by the ARDS Network (ARDSNet) in a pivotal study [
8
]. However in that study the PEEP and FiO
2
combination was the same for the control and study arm and LRMs were not permitted. Overall, the ARDSNet protocol just "tolerates" atelectasis by applying the minimal PEEP and FiO
2
to match an acceptable (but rather low) arterial oxygenation target (between 55 and 80 mmHg). Nevertheless, two major issues remain controversial: prevention of the main VILI mechanisms (tidal recruitment and hyperinflation) [
9
], and the best "rescue" protocol to be adopted if the ARDSNet protocol fails (i.e., if oxygenation targets are not reached within the PEEP/FiO
2
and/or inspiratory plateau pressure limits imposed by the protocol). The overall side effects and complications associated with mechanical ventilation are summarized in Table 
1
.
Table 1
Incidence of side effects and complications of mechanical ventilation in ARDS
| Side effect/complication | Incidence | Comment |
| --- | --- | --- |
| Ventilator-associated lung injury (VALI) | Not known | Incidence and intensity depend on invasiveness/duration of mechanical ventilation |
| Ventilation-associated pneumonia (VAP) | 14–28 % | Problem: incidence depends on VAP definition; incidence increases with duration and invasiveness of mechanical ventilation |
| Right ventricular dysfunction, acute cor pulmonale | Up to 50 % | Often associated with severe hypercapnia/acidosis |
| Pleural effusions | Up to 80 % | Frequently related to fluid overload, hypo-oncotic states, cardiac dysfunction, and altered pleural pressure |
| Barotrauma/pneumothorax | 6–12 % | Depends on the invasiveness (P Plat) of mechanical ventilation |
| Damage of other organ systems via cross talk | Not known exactly | Lung, brain, and—renal cross talk via inflammation pathways |
| Prolonged sedation and immobilization | Not known | Incidence and intensity depend on sedation strategy, (early) wake up, and spontaneous breathing trials |
| Fibroproliferative response of the lung parenchyma | Up to 50 % in the "lung-protective era" | Decrements in lung function (vital capacity, forced expiratory volume) up to 5 years after discharge |
A meta-analysis of the three major clinical trials [37] evaluated the first issue and suggested that the application of LRMs and PEEP levels higher than those suggested by the ARDSNet protocol could improve both lung aeration and clinical outcome.
The second issue is a major clinical challenge in a small, but not negligible, cohort of patients. The first approach to persistent severe hypoxemia should be prone position [38] and neuromuscular blockade [39]. If these do not adequately improve oxygenation, patients are candidates for a "rescue" maximal alveolar recruitment. The simplest, though smart, "open lung approach" is the one proposed by the Express study [33], which was not exclusively dedicated for "rescue" patients. Briefly, it consists of a stepwise PEEP increase up to an end-inspiratory plateau pressure of 30–32 cmH2O (35 cmH2O if impaired chest wall elastance is likely), while ventilating with low tidal volumes (V T, i.e., 4–6 ml/kg PBW). LRMs were not mandatory in the Express protocol; however, in "difficult to ventilate" patients they were strongly advised before PEEP titration. Another important approach, though seldom applied in clinical practice, is to optimize the transpulmonary pressure (P L). Indeed during PEEP and LRMs the driving pressure delivered by the ventilator consists of two components: one to inflate the lung (P L) and one to expand the chest wall. Simultaneously measuring the airway opening and the esophageal pressure swings generated by positive pressure tidal inflation allows partitioning of the mechanical properties of the lung and chest wall. Accordingly PEEP and LRMs can be titrated safely to an "optimal" P L target. Recent evidence suggests that this could improve "refractory" hypoxemia [40]. The most aggressive open lung approach has been proposed by Barbas et al. [41] and is based on the physiological evidence that alveolar recruitment is a multi-inspiratory phenomenon and the critical "opening pressure" of atelectatic lung units is higher than the pressure needed to keep them open. Barbas et al. [41] proposed to titrate PEEP on the expiratory limb of the respiratory volume–pressure curve (to match the best compliance or the best oxygenation) immediately after a "maximal" LRM. The latter consists of a stepwise PEEP increase up to 45 cmH2O, while ventilating the patient with a pressure drive of 10–15 cmH2O.
The open lung approach may dramatically improve oxygenation, while minimizing VALI. The potential for alveolar recruitment in the individual patient is unfortunately extremely variable and difficult to estimate a priori [42]. As a general rule, patients with early, diffuse ARDS are good recruiters, whereas patients with late ARDS (>1 week) or focal ARDS are not [35, 43]. In poor recruiters, the open lung approach may induce alveolar hyperinflation and hence VALI [31]. The stress index (identification of injurious mechanical ventilation from the shape of the pressure–volume curve) could be a valuable tool to monitor open lung approach-induced hyperinflation [11]. Another potential adverse effect of the open lung approach is the hemodynamic impairment due to reduced preload or increased right ventricular afterload [44].
Advanced infection management in early ARDS
In the early phase of ARDS, at the time of admission to an ARDS center a lung and whole body computed tomography (CT) may be performed especially in the combination of sepsis and ARDS—if the indication is supported by careful anamnesis, clinical history, and examination—to diagnose (a) focus of infection as the major cause of ARDS; (b) typical complications of ARDS; (c) concomitant disorders requiring therapeutic interventions; and (d) risk factors for extracorporeal lung support. CT is performed for detection of several causal agents of infection (pulmonary infiltrates, ground glass opacities, pleural effusions, pleural empyema, lung abscess, lymphadenopathy, cerebral abscess, cerebral septic embolus, intra-abdominal abscess or infection). Transesophageal echocardiography is useful to exclude endocarditis and pericardial effusion and to assess right and left ventricular function. Flexible bronchoscopy is used as a diagnostic/therapeutic procedure but hypoxemia and hypercapnia may occur during bronchoscopy, and severe hypoxemia (PaO2/FiO2 < 100) might be seen as a contraindication for bronchoalveolar lavage (BAL). Protected specimen brush is used rarely, as it is costly and disposable.
Laboratory examination for diagnosis of infection
Major causes of ARDS are infections. Blood cultures (BC: 2 × 2 pair ≥30 ml blood volume, sterile conditions, before anti-infective treatment) are essential clinical diagnostics. A specific anti-infective strategy based on culture results is more effective compared to empiric broad-spectrum treatment [60]. New techniques (e.g., polymerase chain reaction [PCR] and deoxyribonucleic acid [DNA] amplification, microarray and/or matrix-assisted laser desorption/ionization [MALDI]) shortening total run time to less than 8 h are available [61, 62].
Tracheobronchial secretion should be investigated using quantitative BAL (100–120 ml 0.9 % NaCl) or mini-non-bronchoscopic BAL (20–40 ml 0.9 % NaCl), especially in (hypoxemic) situations were bronchoscopy-guided BAL might be too invasive [
63
]. The cutoff for significant number of colony forming units to differentiate between colonization and infection depends on the diagnostic test: tracheobronchial secretion, 10–5 CFU/ml; BAL, 10–4 CFU/ml; and protected specimen brush, 10–3 CFU/ml [
64
]. Gram-staining is still recommended, since in patients without anti-infective treatment a high negative predictive value is documented. For exclusion of atypical pneumonia,
Legionella
antigen assessment (urine, sputum) with two negative tests is recommended. New molecular assays as part of a panel for viral pneumonia (influenza A with two subtypes, parainfluenza 1–4) and atypical pathogens with a short run time are available. In ICU patients with influenza-associated pneumonia at risk for bacterial co-infections, a 5-day delay for treatment of seasonal influenza and influenza-associated infection is reported (Table 
3
) [
65
]. Of note careful examination may help to exclude some clinical entities that are mistaken for ARDS (e.g., idiopathic pulmonary fibrosis, cryptogenic organizing pneumonia, nonspecific interstitial pneumonitis, Wegener's granulomatosis, or acute eosinophilic pneumonia). These diseases need of course a lung-protective strategy (limitation of
V
T
), but some other ARDS-specific measures as addressed in this article are not proven and may not be "automatically" helpful [
66
,
67
]. Various diagnostic tools of BAL analysis (hemogram, cytology, and flow cytometric analysis) have been described as a complete diagnostic workup [
68
]. In immunosuppressed patients specific diagnostic and therapeutic procedures are essential. Pretreatment with anti-infectives, local resistance, and severity of illness with organ failure have to be considered for calculated use of broad-spectrum antibiotics [
69
]. Targeted treatment after successful detection of the responsible pathogen is more effective and lowers mortality. Moreover, de-escalation and targeted anti-infective treatment of pneumonia reduce superinfection with resistant pathogens.
Table 3
Diagnostic procedures for infection management in patients with severe ARDS (c/o Standard Operating Procedure, Charitè Berlin). All these diagnostic measures are subject to individual patient assessments and indications
General lab to detect focus of infection, host defense, and organ dysfunction
  Blood
    Blood counta, differential hemograma; C-reactive protein, procalcitonin
    Severe immunosuppression: immune status (lymphocyte subpopulation as B cells, T cells, natural killer cells, T cell subpopulation (CD3, CD4, CD8), HLA-DR expression on monocytes
    In ECMO patients: free hemoglobin, haptoglobin
  Urine
    Leucocytes, nitrites
Bacterial infections
  Blood
    Blood cultures; atypical pneumonia: Mycoplasma pneumoniae AB, Legionella pneumophila AB/nonpneumophila AB, Chlamydia pneumoniae AB, Chlamydia psittaci AB; interferon gamma release assay (tuberculosis)
  TBS/BAL
    Culturing bacteria on pathogen level and resistance; direct preparation and number of granulocytes/number of epithelium cells; direct immune fluorescence (DIF) for legionella; PCR for tuberculosis and acid-resistant rod, Giemsa staining for Pneumocystis jirovecii
  Urine
    Culturing bacteria on pathogen level and resistance; Legionella pneumophila antigen/nonpneumophila antigen; Streptococcus pneumoniae antigen
Viral infectionsb
  Blood
    Influenza A/B IgA, parainfluenza IgA, RSV IgA, CMV-DNA quantitativec, CMV-AG (pp65)c, CMV IgMc, EBV-IgMd, EBV-DNAd; VZV-IgMe, adenovirus IgMf; HSV1/2-IgMg
  TBS/BAL
    Influenza A/B virus RNA, influenza virus Ag, parainfluenza virus RNA, influenza H1N1 (2009) RNA RSV-Ag; CMV-DNAcq/q; EBV-DNAq/qd; VZV-DNAe; adenovirus-DNAf; HSV Typ1/2-DNAg
  Laryngo-pharyngeal scrape test
    H1N1-RNA
Mycoses
  Blood
    Aspergillus -AG (galactomannan), candida AG/AB (manna-anti-mannan); biopsies for invasive mycosis, e.g., intra-abdominal mycoses; β-d-glucanh
  TBS/BAL
    Aspergillus AG (galactomannan)
Autoimmune disease to detect vasculitis, M. Wegener/sarcoidosis, Goodpasture syndrome, Hamman–Rich syndrome
  Blood
    Rheumatoid factor; IgA/M, antinuclear antibody (ANA/HEp2), anti-dsDNS-Ak/ELISA, glomerular basal membrane Ab, anti-mitochondrial-Ab (AMA), cANCA-ELISA (PR3), pANCA-ELISA (MPO)
  TBS/BAL
    Differential hemogram; cytology
  Urine
    Protein
To diagnose sepsis resulting from invasive candidiasis, early BCs and laboratory examinations (e.g., β-d-Glucan) are recommended. Open lung biopsy should not be performed to demonstrate the presence of diffuse alveolar damage, but only considered if there is high clinical suspicion of contributive results for (risky) empirical therapy or when empirical therapy has failed [70]. Immunosuppressed patients are at high risk of invasive pulmonary aspergillosis. In these patients BAL galactomannan levels in CT-suspected areas are more sensitive and specific than in serum [71]. New diagnostic methods using lateral flow devices might enable bedside diagnoses in the future [72].
In conclusion, ARDS patients with suspected infection are candidates for advanced broad-spectrum antibiotics after obtaining BCs and fiber bronchoscopy results, and a daily reassessment of de-escalation is recommended as well as a strict infection prevention strategy including all aspects of interfering determinants of VAP [73].
Conclusions
Severe ARDS is often associated with refractory hypoxemia, and early identification and treatment are mandatory [
90
]; however, a "simple" definition of life-threating hypoxemia has not been identified. Specific ventilator settings comprising limitation of tidal volume, adequate high PEEP, a recruitment maneuver (open lung approach) in special situations, I:E ratio = 1:1 with a "balanced" respiratory rate as well as prone position (early and prolonged) are recommended in a specific "timetable" (Fig. 
1
). Additionally, neuromuscular blockade (within 48 h after onset of ARDS) and an adequate sedation strategy are important supportive therapies (Fig. 
2
). The inhalation of pulmonary vasodilators and/or the use of hemofiltration aimed at negative fluid balance might be indicated for specific indications. An advanced infection management/control includes early diagnosis of bacterial, atypical, viral, and fungal specimen (BC, BAL) and of infection sources by CT scan, followed by broad-spectrum anti-infectives. Various techniques of extracorporeal lung support are discussed in recent years as rescue measures in severe hypoxemic ARDS, but these specific measures are not in the scope of this article, and they are described extensively elsewhere. Actual mortality rates in ARDS patients are presented in Table 
4
. A large recent database of 2377 ARDS patients from 50 countries [
91
] indicates a different mortality in terms of the grade of the severity with the highest mortality rate of 46.1 % for those patients with severe ARDS.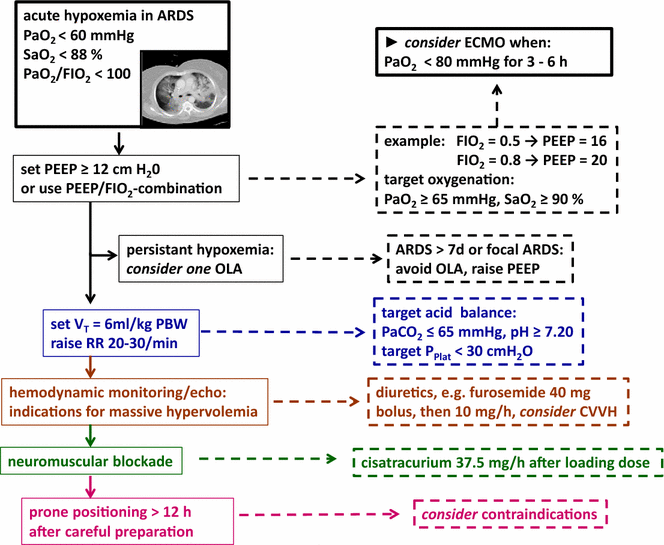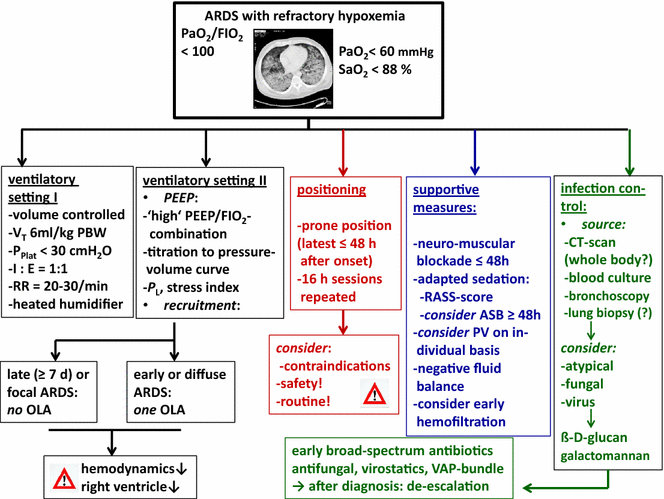 Table 4
Outcomes after ARDS: current data and subset analyses
Study, region, and time of data recording

Database

Mortality

Brun-Bruisson, ALIVE study, 10 European countries, 1999

401 ARDS patients

Hospital mortality 57.9 %

Villar, ALIEN study, Spain, 2008/2009

255 ARDS patients

Hospital mortality 47.8 %

Bellani, LUNG-SAFE study, 50 countries across five continents, 2014

2377 ARDS patients

Hospital mortality

  Mild ARDS 34.9 %

  Moderate ARDS 40.3 %

  Severe ARDS 46.1 %

Howard, USA, 2005–2013

183 trauma patients with ARDS

Hospital mortality 35 %

Barbier, France 2009

43 immunocompromised patients (HIV) with acute respiratory failure

Hospital mortality 19.7 %

Davies, Australia, New Zealand, 2009

68 patients with influenza A (H1N1)-associated ARDS treated with ECMO

Hospital mortality 21 %

Blum, USA, 2004

93 patients developing ARDS postoperatively

28-day mortality 22 %
Notes
Compliance with ethical standards
Conflicts of interest
All authors declare no conflicts of interest.
Copyright information
© The Author(s) 2016
Open AccessThis article is distributed under the terms of the Creative Commons Attribution-NonCommercial 4.0 International License (http://creativecommons.org/licenses/by-nc/4.0/), which permits any noncommercial use, distribution, and reproduction in any medium, provided you give appropriate credit to the original author(s) and the source, provide a link to the Creative Commons license, and indicate if changes were made.