This is a preview of subscription content, log in to check access.
Access options
Buy single article
Instant unlimited access to the full article PDF.
US$ 39.95
Price includes VAT for USA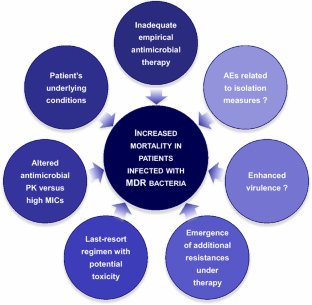 References
1.

Vincent J-L, Rello J, Marshall J et al (2009) International study of the prevalence and outcomes of infection in intensive care units. JAMA 302:2323–2329

2.

Nseir S, Di Pompeo C, Soubrier S et al (2005) First-generation fluoroquinolone use and subsequent emergence of multiple drug-resistant bacteria in the intensive care unit. Crit Care Med 33:283–289

3.

Martin-Loeches I, Deja M, Koulenti D et al (2013) Potentially resistant microorganisms in intubated patients with hospital-acquired pneumonia: the interaction of ecology, shock and risk factors. Intensive Care Med 39:672–681

4.

Bassetti M, De Waele JJ, Eggimann P et al (2015) Preventive and therapeutic strategies in critically ill patients with highly resistant bacteria. Intensive Care Med 41:776–795

5.

Vardakas KZ, Rafailidis PI, Konstantelias AA, Falagas ME (2013) Predictors of mortality in patients with infections due to multi-drug resistant Gram negative bacteria: the study, the patient, the bug or the drug? J Infect 66:401–414

6.

Zilberberg MD, Shorr AF (2011) Ventilator-associated pneumonia as a model for approaching cost-effectiveness and infection prevention in the ICU. Curr Opin Infect Dis 24:385–389

7.

Tabah A, Koulenti D, Laupland K et al (2012) Characteristics and determinants of outcome of hospital-acquired bloodstream infections in intensive care units: the EUROBACT International Cohort Study. Intensive Care Med 38:1930–1945

8.

Schwaber MJ, Carmeli Y (2007) Mortality and delay in effective therapy associated with extended-spectrum beta-lactamase production in Enterobacteriaceae bacteraemia: a systematic review and meta-analysis. J Antimicrob Chemother 60:913–920

9.

Garnacho-Montero J, Dimopoulos G, Poulakou G et al (2015) Task force on management and prevention of Acinetobacter baumannii infections in the ICU. Intensive Care Med 41:2057–2075

10.

Paul M, Kariv G, Goldberg E et al (2010) Importance of appropriate empirical antibiotic therapy for methicillin-resistant Staphylococcus aureus bacteraemia. J Antimicrob Chemother 65:2658–2665

11.

Combes A, Luyt C-E, Fagon J-Y et al (2004) Impact of Methicillin Resistance on Outcome of Staphylococcus aureus Ventilator-associated Pneumonia. Am J Respir Crit Care Med 170:786–792

12.

Spapen H, Jacobs R, Van Gorp V et al (2011) Renal and neurological side effects of colistin in critically ill patients. Ann Intensive Care 1:14

13.

Ruppé É, Woerther P-L, Barbier F (2015) Mechanisms of antimicrobial resistance in Gram-negative bacilli. Ann Intensive Care 5:61

14.

Lisboa T, Diaz E, Sa-Borges M et al (2008) The ventilator-associated pneumonia PIRO score: a tool for predicting ICU mortality and health-care resources use in ventilator-associated pneumonia. Chest 134:1208–1216

15.

Zahar JR, Garrouste-Orgeas M, Vesin A et al (2013) Impact of contact isolation for multidrug-resistant organisms on the occurrence of medical errors and adverse events. Intensive Care Med 39:2153–2160

16.

Sawa T, Shimizu M, Moriyama K, Wiener-Kronish JP (2014) Association between Pseudomonas aeruginosa type III secretion, antibiotic resistance, and clinical outcome: a review. Crit Care 18:668
Ethics declarations
Conflicts of interest
FB: MSD (advisory board), Pfizer (conference invitation), Novartis (speaker fees); TL: none; SN: Bayer (advisory board).
About this article
Cite this article
Barbier, F., Lisboa, T. & Nseir, S. Understanding why resistant bacteria are associated with higher mortality in ICU patients. Intensive Care Med 42, 2066–2069 (2016). https://doi.org/10.1007/s00134-015-4138-x
Received:

Accepted:

Published:

Issue Date:
Keywords
Colistin

Tigecyclin

Acinetobacter Baumannii

Augmented Renal Clearance

Alveolar Epithelial Injury