This is a preview of subscription content, log in to check access.
Access options
Buy single article
Instant unlimited access to the full article PDF.
US$ 39.95
Price includes VAT for USA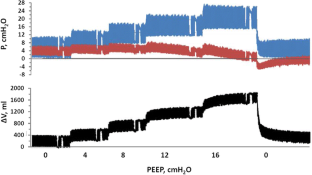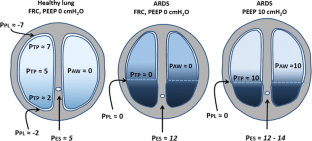 References
1.

Rahn H, Otis AB et al (1946) The pressure-volume diagram of the thorax and lung. Am J Physiol 146(2):161–178

2.

Cherniack RM, Farhi LE, Armstrong BW, Proctor DF (1955) A comparison of esophageal and intrapleural pressure in man. J Appl Physiol 8(2):203–211

3.

Hedenstierna G, Rothen HU (2012) Respiratory function during anesthesia: effects on gas exchange. Compr Physiol 2(1):69–96

4.

Gattinoni L, Pelosi P, Suter PM, Pedoto A, Vercesi P, Lissoni A (1998) Acute respiratory distress syndrome caused by pulmonary and extrapulmonary disease. Different syndromes? Am J Respir Crit Care Med 158(1):3–11

5.

Behazin N, Jones SB, Cohen RI, Loring SH (2010) Respiratory restriction and elevated pleural and esophageal pressures in morbid obesity. J Appl Physiol 108(1):212–218

6.

Jakob SM, Knuesel R, Tenhunen JJ, Pradl R, Takala J (2010) Increasing abdominal pressure with and without PEEP: effects on intra-peritoneal, intra-organ and intra-vascular pressures. BMC Gastroenterol 10:70

7.

Lundin S, Grivans C, Stenqvist O (2015) Transpulmonary pressure and lung elastance can be estimated by a PEEP-step manoeuvre. Acta Anaesthesiol Scand 59(2):185–196

8.

Cortes-Puentes GA, Gard KE, Adams AB, Faltesek KA, Anderson CP, Dries DJ et al (2013) Value and limitations of transpulmonary pressure calculations during intra-abdominal hypertension. Crit Care Med 41(8):1870–1877

9.

Valenza F, Chevallard G, Porro GA, Gattinoni L (2007) Static and dynamic components of esophageal and central venous pressure during intra-abdominal hypertension. Crit Care Med 35(6):1575–1581

10.

Stenqvist O, Grivans C, Andersson B, Lundin S (2012) Lung elastance and transpulmonary pressure can be determined without using oesophageal pressure measurements. Acta Anaesthesiol Scand 56(6):738–747

11.

Lu Q, Vieira SR, Richecoeur J, Puybasset L, Kalfon P, Coriat P et al (1999) A simple automated method for measuring pressure-volume curves during mechanical ventilation. Am J Respir Crit Care Med 159(1):275–282

12.

Van de Woestijne KP (1967) Influence of forced inflations on the creep of lungs and thorax in the dog. Respir Physiol 3(1):78–89

13.

Katz JA, Ozanne GM, Zinn SE, Fairley HB (1981) Time course and mechanisms of lung-volume increase with PEEP in acute pulmonary failure. Anesthesiology 54(1):9–16

14.

Putensen C, Baum M, Hormann C (1993) Selecting ventilator settings according to variables derived from the quasi-static pressure/volume relationship in patients with acute lung injury. Anesth Analg 77(3):436–447

15.

Mead J, Gaensler EA (1959) Esophageal and pleural pressures in man, upright and supine. J Appl Physiol 14(1):81–83

16.

Hedenstierna G (2012) Esophageal pressure: benefit and limitations. Minerva Anestesiol 78(8):959–966

17.

Chiumello D, Cressoni M, Colombo A, Babini G, Brioni M, Crimella F et al (2014) The assessment of transpulmonary pressure in mechanically ventilated ARDS patients. Intensive Care Med 40(11):1670–1678

18.

Talmor D, Sarge T, O'Donnell CR, Ritz R, Malhotra A, Lisbon A et al (2006) Esophageal and transpulmonary pressures in acute respiratory failure. Crit Care Med 34(5):1389–1394

19.

Gattinoni L, Chiumello D, Carlesso E, Valenza F (2004) Bench-to-bedside review: chest wall elastance in acute lung injury/acute respiratory distress syndrome patients. Crit Care 8(5):350–355
Conflicts of interest
On behalf of all authors, the corresponding author states that there is no conflict of interest.
About this article
Cite this article
Stenqvist, O., Gattinoni, L. & Hedenstierna, G. What's new in respiratory physiology? The expanding chest wall revisited!. Intensive Care Med 41, 1110–1113 (2015) doi:10.1007/s00134-015-3685-5
Received:

Accepted:

Published:

Issue Date:
Keywords
Chest Wall

Lung Volume

Acute Respiratory Distress Syndrome

Electric Impedance Tomography

Acute Respiratory Distress Syndrome Patient