Abstract
The use of ultrasonography has become increasingly popular in the everyday management of critically ill patients. It has been demonstrated to be a safe and handy bedside tool that allows rapid hemodynamic assessment and visualization of the thoracic, abdominal and major vessels structures. More recently, M-mode ultrasonography has been used in the assessment of diaphragm kinetics. Ultrasounds provide a simple, non-invasive method of quantifying diaphragmatic movement in a variety of normal and pathological conditions. Ultrasonography can assess the characteristics of diaphragmatic movement such as amplitude, force and velocity of contraction, special patterns of motion and changes in diaphragmatic thickness during inspiration. These sonographic diaphragmatic parameters can provide valuable information in the assessment and follow up of patients with diaphragmatic weakness or paralysis, in terms of patient–ventilator interactions during controlled or assisted modalities of mechanical ventilation, and can potentially help to understand post-operative pulmonary dysfunction or weaning failure from mechanical ventilation. This article reviews the technique and the clinical applications of ultrasonography in the evaluation of diaphragmatic function in ICU patients.
This is a preview of subscription content, log in to check access.
We're sorry, something doesn't seem to be working properly.
Please try refreshing the page. If that doesn't work, please contact support so we can address the problem.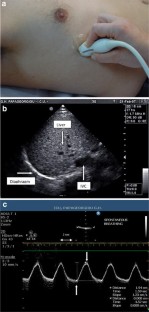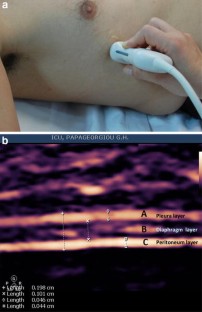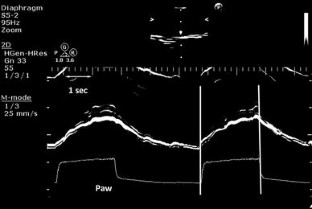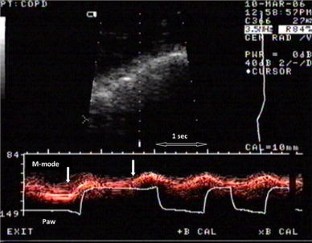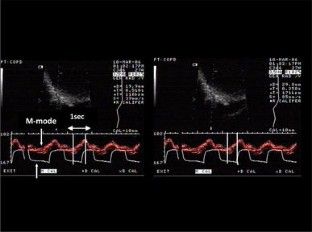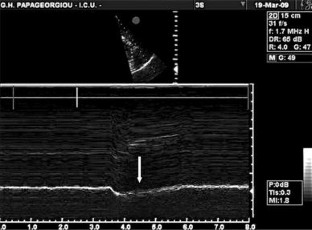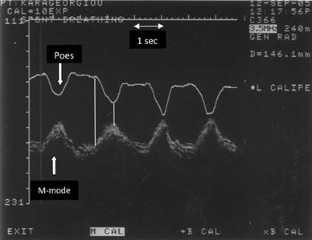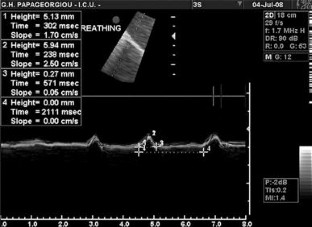 References
1.

Beaulieu Y, Marik PE (2005) Bedside ultrasonography in the ICU: part 1. Chest 128:881–895

2.

Beaulieu Y, Marik PE (2005) Bedside ultrasonography in the ICU: part 2. Chest 128:1766–1781

3.

Gottesman E, McCool FD (1997) Ultrasound evaluation of the paralyzed diaphragm. Am J Respir Crit Care Med 155:1570–1574

4.

Lerolle N, Guerot E, Dimassi S, Zegdi R, Faisy C, Fagon JY, Diehl JL (2009) Ultrasonographic diagnostic criterion for severe diaphragmatic dysfunction after cardiac surgery. Chest 135:401–407

5.

Tobin MJ, Laghi F, Brochard L (2009) Role of the respiratory muscles in acute respiratory failure of COPD: lessons from weaning failure. J Appl Physiol 107:962–970

6.

Ayoub J, Milane J, Targhetta R, Prioux J, Chamari K, Arbeille P, Jonquet O, Bourgeois JM, Prefaut C (2002) Diaphragm kinetics during pneumatic belt respiratory assistance: a sonographic study in Duchenne muscular dystrophy. Neuromuscul Disord 12:569–575

7.

Cohen E, Mier A, Heywood P, Murphy K, Boultbee J, Guz A (1994) Diaphragmatic movement in hemiplegic patients measured by ultrasonography. Thorax 49:890–895

8.

De Bruin PF, Ueki J, Bush A, Khan Y, Watson A, Pride NB (1997) Diaphragm thickness and inspiratory strength in patients with Duchenne muscular dystrophy. Thorax 52:472–475

9.

DePalo VA, McCool FD (2002) Respiratory muscle evaluation of the patient with neuromuscular disease. Semin Respir Crit Care Med 23:201–209

10.

Hardy F, Walker J, Sawyer T (2009) Sonographic measurement of diaphragm movement in patients with tetraplegia. Spinal Cord 47:832–834

11.

Yoshioka Y, Ohwada A, Sekiya M, Takahashi F, Ueki J, Fukuchi Y (2007) Ultrasonographic evaluation of the diaphragm in patients with amyotrophic lateral sclerosis. Respirology 12:304–307

12.

Kim SH, Na S, Choi JS, Na SH, Shin S, Koh SO (2010) An evaluation of diaphragmatic movement by M-mode sonography as a predictor of pulmonary dysfunction after upper abdominal surgery. Anesth Analg 110:1349–1354

13.

Diehl JL, Lofaso F, Deleuze P, Similowski T, Lemaire F, Brochard L (1994) Clinically relevant diaphragmatic dysfunction after cardiac operations. J Thorac Cardiovasc Surg 107:487–498

14.

Grosu HB, Lee YI, Lee J, Eden E, Eikermann M, Rose K (2012) Diaphragm muscle thinning in mechanically ventilated patients. Chest: PMID: 22722229

15.

Jiang JR, Tsai TH, Jerng JS, Yu CJ, Wu HD, Yang PC (2004) Ultrasonographic evaluation of liver/spleen movements and extubation outcome. Chest 126:179–185

16.

Kim WY, Suh HJ, Hong SB, Koh Y, Lim CM (2011) Diaphragm dysfunction assessed by ultrasonography: influence on weaning from mechanical ventilation. Crit Care Med 39:2627–2630

17.

Petrof BJ, Jaber S, Matecki S (2010) Ventilator-induced diaphragmatic dysfunction. Curr Opin Crit Care 16:19–25

18.

Lloyd T, Tang YM, Benson MD, King S (2006) Diaphragmatic paralysis: the use of M mode ultrasound for diagnosis in adults. Spinal Cord 44:505–508

19.

Summerhill EM, El-Sameed YA, Glidden TJ, McCool FD (2008) Monitoring recovery from diaphragm paralysis with ultrasound. Chest 133:737–743

20.

Harris RS, Giovannetti M, Kim BK (1983) Normal ventilatory movement of the right hemidiaphragm studied by ultrasonography and pneumotachography. Radiology 146:141–144

21.

Kunovsky P, Gibson GA, Pollock JC, Stejskal L, Houston A, Jamieson MP (1993) Management of postoperative paralysis of diaphragm in infants and children. Eur J Cardiothorac Surg 7:342–346

22.

Boussuges A, Gole Y, Blanc P (2009) Diaphragmatic motion studied by m-mode ultrasonography: methods, reproducibility, and normal values. Chest 135:391–400

23.

Steier J, Kaul S, Seymour J, Jolley C, Rafferty G, Man W, Luo YM, Roughton M, Polkey MI, Moxham J (2007) The value of multiple tests of respiratory muscle strength. Thorax 62:975–980

24.

Soilemezi E, Tsagourias M, Talias MA, Soteriades ES, Makrakis V, Zakynthinos E, Matamis D (2012) Sonographic assessment of changes in diaphragmatic kinetics induced by inspiratory resistive loading. Respirology. doi:10.1111/resp12011

25.

Ayoub J, Cohendy R, Dauzat M, Targhetta R, De la Coussaye JE, Bourgeois JM, Ramonatxo M, Prefaut C, Pourcelot L (1997) Non-invasive quantification of diaphragm kinetics using m-mode sonography. Can J Anaesth 44:739–744

26.

Vivier E, Mekontso Dessap A, Dimassi S, Vargas F, Lyazidi A, Thille AW, Brochard L (2012) Diaphragm ultrasonography to estimate the work of breathing during non-invasive ventilation. Intensive Care Med 38:796–803

27.

Cohn D, Benditt JO, Eveloff S, McCool FD (1997) Diaphragm thickening during inspiration. J Appl Physiol 83:291–296

28.

Ueki J, De Bruin PF, Pride NB (1995) In vivo assessment of diaphragm contraction by ultrasound in normal subjects. Thorax 50:1157–1161

29.

Scillia P, Cappello M, De Troyer A (2004) Determinants of diaphragm motion in unilateral diaphragmatic paralysis. J Appl Physiol 96:96–100

30.

Tobin M, Laghi F (1998) Monitoring of respiratory muscle function. In: Tobin M (ed) Principe and practice of respiratory care monitoring. McGraw-Hill, New York, pp 497–544

31.

Alexander C (1966) Diaphragm movements and the diagnosis of diaphragmatic paralysis. Clin Radiol 17:79–83

32.

Chetta A, Rehman AK, Moxham J, Carr DH, Polkey MI (2005) Chest radiography cannot predict diaphragm function. Respir Med 99:39–44

33.

Fiz JA, Montserrat JM, Picado C, Plaza V, Agusti-Vidal A (1989) How many manoeuvres should be done to measure maximal inspiratory mouth pressure in patients with chronic airflow obstruction? Thorax 44:419–421

34.

Wilcox PG, Pardy RL (1989) Diaphragmatic weakness and paralysis. Lung 167:323–341

35.

Kiryu S, Loring SH, Mori Y, Rofsky NM, Hatabu H, Takahashi M (2006) Quantitative analysis of the velocity and synchronicity of diaphragmatic motion: dynamic MRI in different postures. Magn Reson Imaging 24:1325–1332

36.

Kolar P, Sulc J, Kyncl M, Sanda J, Neuwirth J, Bokarius AV, Kriz J, Kobesova A (2010) Stabilizing function of the diaphragm: dynamic MRI and synchronized spirometric assessment. J Appl Physiol 109:1064–1071

37.

Epelman M, Navarro OM, Daneman A, Miller SF (2005) M-mode sonography of diaphragmatic motion: description of technique and experience in 278 pediatric patients. Pediatr Radiol 35:661–667

38.

Houston JG, Morris AD, Howie CA, Reid JL, McMillan N (1992) Technical report: quantitative assessment of diaphragmatic movement–a reproducible method using ultrasound. Clin Radiol 46:405–407

39.

Riccabona M, Sorantin E, Ring E (1998) Application of M-mode sonography to functional evaluation in pediatric patients. Eur Radiol 8:1457–1461

40.

Houston JG, Fleet M, Cowan MD, McMillan NC (1995) Comparison of ultrasound with fluoroscopy in the assessment of suspected hemidiaphragmatic movement abnormality. Clin Radiol 50:95–98

41.

Young DA, Simon G (1972) Certain movements measured on inspiration-expiration chest radiographs correlated with pulmonary function studies. Clin Radiol 23:37–41

42.

Gerscovich EO, Cronan M, McGahan JP, Jain K, Jones CD, McDonald C (2001) Ultrasonographic evaluation of diaphragmatic motion. J Ultrasound Med 20:597–604

43.

Remerand F, Dellamonica J, Mao Z, Ferrari F, Bouhemad B, Jianxin Y, Arbelot C, Lu Q, Ichai C, Rouby JJ (2010) Multiplane ultrasound approach to quantify pleural effusion at the bedside. Intensive Care Med 36:656–664

44.

McCool FD, Benditt JO, Conomos P, Anderson L, Sherman CB, Hoppin FG Jr (1997) Variability of diaphragm structure among healthy individuals. Am J Respir Crit Care Med 155:1323–1328

45.

Hudson MB, Smuder AJ, Nelson WB, Bruells CS, Levine S, Powers SK (2012) Both high level pressure support ventilation and controlled mechanical ventilation induce diaphragm dysfunction and atrophy. Crit Care Med 40:1254–1260

46.

Gilbert R, Auchincloss JH Jr, Peppi D (1981) Relationship of rib cage and abdomen motion to diaphragm function during quiet breathing. Chest 80:607–612

47.

Coirault CCD, Lecarpentier Y (1999) Relaxation of diaphragm muscle. J Appl Physiol 87:1243–1252

48.

Esau SABF, Grassino A, Permutt S, Roussos C, Prady RL (1983) Changes in relaxation rate with diaphragmatic fatigue in humans. J Appl Physiol 54:1353–1360

49.

Lerolle N, Diehl JL (2011) Ultrasonographic evaluation of diaphragmatic function. Crit Care Med 39:2760–2761
Acknowledgments
The authors are grateful to Aissam Lyazidi for technical assistance in preparation of the manuscript.
Electronic supplementary material
Below is the link to the electronic supplementary material.
Supplementary material 1 (MPG 7784 kb)
About this article
Cite this article
Matamis, D., Soilemezi, E., Tsagourias, M. et al. Sonographic evaluation of the diaphragm in critically ill patients. Technique and clinical applications. Intensive Care Med 39, 801–810 (2013). https://doi.org/10.1007/s00134-013-2823-1
Received:

Accepted:

Published:

Issue Date:
Keywords
Bedside ultrasonography

Critically ill

Diaphragmatic dysfunction