Abstract
Background and aims
Airway evaluation following infant cardiac surgery often reveals evidence of tracheobronchial narrowing. We studied the association between airway narrowing and extubation failure (EF) in this population.
Methods
Prospective cohort study of infants (age ≤6 months) from March–September 2009. Flexible bronchoscopy (FB) evaluations were obtained using a standardised protocol after operative intervention. The primary endpoint was the development of extubation failure (EF; defined as the need for invasive mechanical ventilation ≤48 h after primary extubation) and several secondary endpoints.
Results
Fifty-three patients were evaluated at a median age of 81 [interquartile range (IQR) 13–164] days and weight of 4.2 (IQR 3.2–6.0) kg; 13 (25 %) of the patients had single ventricle palliations and two subsequently underwent heart transplantation. Significant airway narrowing was noted in 15 of 30 [50 %, 95 % confidence interval (CI) 31–69 %] patients who underwent FB; ten of the 53 patients (19 %, 95 %CI 10–32 %) subsequently developed EF. Narrowed airway calibre on bronchoscopy had a sensitivity and specificity of 50 % (95 %CI 28–71 %) and 50 % (95 %CI 28–71 %), respectively, for EF. The single greatest predictor of EF by univariate analysis was the need for preoperative ventilation [odds ratio (OR) 6.5, 95 %CI 1.3–33.2, p = 0.03]. Patients with EF had a greater likelihood of intensive care readmission (OR 4.8, 95 %CI 1.1–21, p < 0.04) during the same hospital admission.
Conclusions
Airway narrowing on FB is noted frequently after infant cardiac surgery. Overall assessment and presence of narrowing on bronchoscopy had poor sensitivity and specificity for EF in our cohort. Expert assessment of tracheobronchial narrowing on FB has poor to moderate inter-rater reliability.
This is a preview of subscription content, log in to check access.
Access options
Buy single article
Instant unlimited access to the full article PDF.
US$ 39.95
Price includes VAT for USA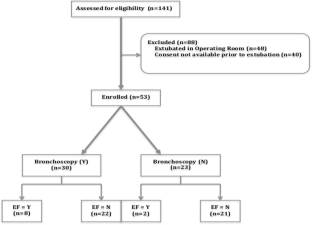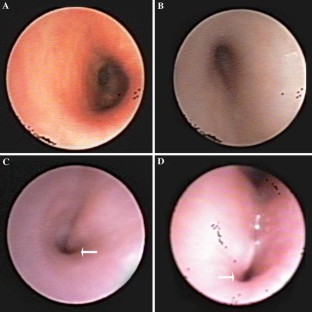 References
1.

Khan N, Brown A, Venkataraman ST (1996) Predictors of extubation success and failure in mechanically ventilated infants and children. Crit Care Med 24:1568–1579

2.

Thiagarajan RR, Bratton SL, Martin LD, Brogan TV, Taylor D (1999) Predictors of successful extubation in children. Am J Respir Crit Care Med 160:1562–1566

3.

Venkataraman ST, Khan N, Brown A (2000) Validation of predictors of extubation success and failure in mechanically ventilated infants and children. Crit Care Med 28:2991–2996

4.

Manczur T, Greenough A, Rafferty GF, Pryor D, Milner AD (2000) Comparison of predictors of extubation from mechanical ventilation in children. Pediatr Crit Care Med 1:124–126

5.

Kurachek SC, Newth CJ, Quasney MW, Rice T, Sachdeva RC, Patel NR, Takano J, Easterling L, Scanlon M, Musa N, Brilli RJ, Wells D, Park GS, Penfil S, Bysani KG, Nares MA, Lowrie L, Billow M, Chiochetti E (2003) Extubation failure in pediatric intensive care. A multiple-center study of risk factors and outcomes. Crit Care Med 31:2657–2664

6.

Núñez M, Beleña J, Cabeza R, Beltrán M (2005) Bronchial compression due to stent placement in pulmonary artery in a child with congenital heart disease. Paediatr Anaesth 12:1137–1139

7.

Saygili A, Aytekin C, Boyvat F, Barutçu O, Mercan S, Tokel K (2004) Endobronchial stenting in a two-month-old infant with bronchial compression secondary to tetralogy of Fallot and absent pulmonary valve. Turk J Pediatr 46:268–271

8.

Kussman BD, Geva T, McGowan FX (2004) Cardiovascular causes of airway compression. Paediatr Anaesth 14:60–74

9.

Lee SL, Cheung YF, Leung MP, Ng YK, Tsoi NS (2004) Airway obstruction in children with congenital heart disease: assessment by flexible bronchoscopy. Pediatr Pulmonol 34:304–311

10.

Kim YM, Yoo SJ, Kim WH, Kim TH, Joh JH, Kim SJ (2002) Bronchial compression by posteriorly displaced ascending aorta in patients with congenital heart disease. Ann Thorac Surg 73:881–886

11.

Prêtre R, Turina MI (2000) Relief of bronchial compression caused by a congenital heart defect by remodeling of the aortic arch. J Thorac Cardiovasc Surg 119:173–174

12.

Newth CJ, Venkataraman S, Willson DF, Meert KL, Harrison R, Dean JM, Pollack M, Zimmerman J, Anand KJ, Carcillo JA, Nicholson CE, Eunice Shriver Kennedy National Institute of Child Health and Human Development Collaborative Pediatric Critical Care Research Network (2009) Weaning and extubation readiness in pediatric patients. Pediatr Crit Care Med 10:1–11

13.

Cotton RT (1984) Pediatric laryngotracheal stenosis. J Pediatr Surg 19:699–704

14.

Gaies MG, Gurney JG, Yen AH, Napoli ML, Gajarski RJ, Ohye RG, Charpie JR, Hirsch JC (2010) Vasoactive–inotropic score as a predictor of morbidity and mortality in infants after cardiopulmonary bpass. Pediatr Crit Care Med 11:234–238

15.

Fleiss JL (1981) Statistical methods for rates and proportions, 2nd edn. Wiley, New York

16.

Uebersax JS (1987) Diversity of decision-making models and the measurement of interrater agreement. Psychol Bull 101:140–146

17.

Von Elm E, Altman DG, Egger M, Pocock SJ, Gotzsche PC, Vandenbroucke JP (2008) The Strengthening of Reporting of Observational Studies in Epidemiology (STROBE) statement: guidelines for reporting observational studies. J Clin Epidemiol 61:344–349
Acknowledgment
The authors would like to acknowledge the invaluable assistance of the Respiratory Therapists in the Critical Care Unit at The Hospital For Sick Children during the conduct of this study.
Electronic supplementary material
Below is the link to the electronic supplementary material.
Supplementary material 1 (MP4 10129 kb)
About this article
Cite this article
Nayak, P.P., Sheth, J., Cox, P.N. et al. Predictive value of bronchoscopy after infant cardiac surgery: a prospective study. Intensive Care Med 38, 1851–1857 (2012) doi:10.1007/s00134-012-2702-1
Received:

Accepted:

Published:

Issue Date:
Keywords
Bronchoscopy

Paediatric

Extubation failure

Cardiac surgery