Abstract
Purpose
Neutrophil and platelet activation and their interactions with endothelial cells are considered central features of sepsis-induced microcirculatory alterations. However, no study has evaluated the microvascular pattern of septic shock patients with chemotherapy-induced severe cytopenia.
Methods
Demographic and hemodynamic variables together with sublingual microcirculation recording [orthogonal polarization spectral imaging enhanced by sidestream dark-field technology (OPS-SDF) videomicroscopy] were collected in four groups of subjects: septic shock (SS, N = 9), septic shock in cytopenic patients (NSS, N = 8), cytopenia without infection (NEUTR, N = 7), and healthy controls (CTRL, N = 13). Except for controls, all measurements were repeated after complete resolution of septic shock and/or neutropenia. Video files were processed using appropriate software tool and semiquantitatively evaluated [total vascular density (TVD, mm/mm2), perfused vessel density (PVD, mm/mm2), proportion of perfused vessels (PPV, %), mean flow index (MFI), and flow heterogeneity index (FHI)].
Results
Compared with controls, there were statistically significant microcirculatory alterations within all tested groups of patients (TVD: SS = 8.8, NSS = 8.8, NEUTR = 9.1 versus CTRL = 12.6, p < 0.001; PVD: SS = 6.3, NSS = 6.1, NEUTR = 6.9 versus CTRL = 12.5, p < 0.001; PPV: SS = 71.6, NSS = 68.9, NEUTR = 73.3 versus CTRL = 98.7, p < 0.001; MFI: SS = 2.1, NSS = 1.9, NEUTR = 2.1 versus CTRL = 3.0, p < 0.05; FHI: SS = 1.0, NSS = 0.9, NEUTR = 0.6 versus CTRL = 0.0, p < 0.001). No significant differences were detected between SS, NSS, and NEUTR groups at baseline. Incomplete restoration of microcirculatory perfusion was observed after septic shock and/or neutropenia resolution with a trend towards better recovery in MFI and FHI variables in NSS as compared with SS patients.
Conclusions
Microvascular derangements in septic shock did not differ between noncytopenic and cytopenic patients. Our data might suggest that profound neutropenia and thrombocytopenia do not render microcirculation more resistant to sepsis-induced microvascular alterations. The role and mechanisms of microvascular alterations associated with chemotherapy-induced cytopenia warrant further investigation.
This is a preview of subscription content, log in to check access.
Access options
Buy single article
Instant unlimited access to the full article PDF.
US$ 39.95
Price includes VAT for USA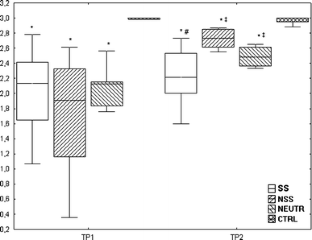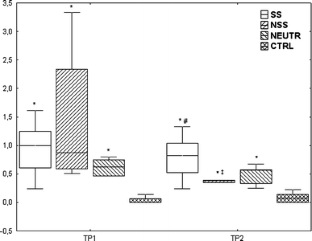 References
1.

Brown KA, Brain SD, Pearson JD, Edgeworth JD, Lewis SM, Treacher DF (2006) Neutrophils in development of multiple organ failure in sepsis. Lancet 368:157–169

2.

Annane D, Bellissant E, Cavaillon JM (2005) Septic shock. Lancet 365:63–78

3.

Hotchkiss RS, Karl IE (2003) The pathophysiology and treatment of sepsis. N Engl J Med 348:138–150

4.

De Backer D, Creteur J, Preiser JC, Dubois MJ, Vincent JL (2002) Microvascular blood flow is altered in patients with sepsis. Am J Respir Crit Care Med 166:98–104

5.

Sakr Y, Dubois MJ, De Backer D, Creteur J, Vincent JL (2004) Persistent microcirculatory alterations are associated with organ failure and death in patients with septic shock. Crit Care Med 32:1825–1831

6.

Ince C (2005) The microcirculation is the motor of sepsis. Crit Care 9(Suppl 4):S13–S19

7.

De Backer D, Ortiz JA, Salgado D (2010) Coupling microcirculation to systemic hemodynamics. Curr Opin Crit Care 16:250–254

8.

De Backer D, Ospina-Tascon G, Salgado D, Favory R, Creteur J, Vincent JL (2010) Monitoring the microcirculation in the critically ill patient: current methods and future approaches. Intensive Care Med 36:1813–1825

9.

Pottecher J, Deruddre S, Teboul JL, Georger JF, Laplace C, Benhamou D, Vicaut E, Duranteau J (2010) Both passive leg raising and intravascular volume expansion improve sublingual microcirculatory perfusion in severe sepsis and septic shock patients. Intensive Care Med 36:1867–1874

10.

Trzeciak S, Dellinger RP, Parrillo JE, Guglielmi M, Bajaj J, Abate NL, Arnold RC, Colilla S, Zanotti S, Hollenberg SM, Microcirculatory Alterations in Resuscitation and Shock Investigators (2007) Early microcirculatory perfusion derangements in patients with severe sepsis and septic shock: relationship to hemodynamics, oxygen transport, and survival. Ann Emerg Med 49:88–98

11.

Fondevila C, Busuttil RW, Kupiec-Weglinski JW (2003) Hepatic ischemia/reperfusion injury–a fresh look. Exp Mol Pathol 74:86–93

12.

Buras JA, Reenstra WR (2007) Endothelial-neutrophil interactions during ischemia and reperfusion injury: basic mechanisms of hyperbaric oxygen. Neurol Res 29:127–131

13.

Yilmaz G, Granger DN (2010) Leukocyte recruitment and ischemic brain injury. Neuromolecular Med 12:193–204

14.

Carden DL, Smith JK, Korthuis RJ (1990) Neutrophil-mediated microvascular dysfunction in postischemic canine skeletal muscle. Role of granulocyte adherence. Circ Res 66:1436–1444

15.

Dawson DA, Ruetzler CA, Carlos TM, Kochanek PM, Hallenbeck JM (1996) Polymorphonuclear leukocytes and microcirculatory perfusion in acute stroke in the SHR. Keio J Med 45:248–252

16.

Bertuglia S, Colantuoni A (2000) Protective effects of leukopenia and tissue plasminogen activator in microvascular ischemia-reperfusion injury. Am J Physiol Heart Circ Physiol 278:H755–H761

17.

Levy MM, Fink MP, Marshall JC, Abraham E, Angus D, Cook D, Cohen J, Opal SM, Vincent JL, Ramsay G, International Sepsis Definitions Conference (2003) 2001 SCCM/ESICM/ACCP/ATS/SIS International Sepsis Definitions Conference. Intensive Care Med 29:530–538

18.

Goedhart PT, Khalilzada M, Bezemer R, Merza J, Ince C (2007) Sidestream dark field (SDF) imaging: a novel stroboscopic LED ring-based imaging modality for clinical assessment of the microcirculation. Opt Express 15:15101–15114

19.

De Backer D, Hollenberg S, Boerma C, Goedhart P, Büchele G, Ospina-Tascon G, Dobbe I, Ince C (2007) How to evaluate the microcirculation: report of a round table conference. Crit Care 11:R101

20.

Boerma EC, Mathura KR, van der Voort PH, Spronk PE, Ince C (2005) Quantifying bedside-derived imaging of microcirculatory abnormalities in septic patients: a prospective validation study. Crit Care 9:R601–R606

21.

Boerma EC, van der Voort PH, Spronk PE, Ince C (2007) Relationship between sublingual and intestinal microcirculatory perfusion in patients with abdominal sepsis. Crit Care Med 35:1055–1060

22.

Ruiz C, Hernandez G, Godoy C, Downey P, Andresen M, Bruhn A (2010) Sublingual microcirculatory changes during high-volume hemofiltration in hyperdynamic septic shock patients. Crit Care 14:R170

23.

Lehr HA, Bittinger F, Kirkpatrick CJ (2000) Microcirculatory dysfunction in sepsis: a pathogenetic basis for therapy? J Pathol 190:373–386

24.

Looney MR, Matthay MA (2009) Neutrophil sandwiches injure the microcirculation. Nat Med 15:364–366

25.

Hernandez LA, Grisham MB, Twohig B, Arfors KE, Harlan JM, Granger DN (1987) Role of neutrophils in ischemia-reperfusion-induced microvascular injury. Am J Physiol 253:H699–H703

26.

Korthuis RJ, Grisham MB, Granger DN (1988) Leukocyte depletion attenuates vascular injury in postischemic skeletal muscle. Am J Physiol 254:H823–H827

27.

Suematsu M, DeLano FA, Poole D, Engler RL, Miyasaka M, Zweifach BW, Schmid-Schönbein GW (1994) Spatial and temporal correlation between leukocyte behavior and cell injury in postischemic rat skeletal muscle microcirculation. Lab Invest 70:684–695

28.

Hoesel LM, Neff TA, Neff SB, Younger JG, Olle EW, Gao H et al (2005) Harmful and protective roles of neutrophils in sepsis. Shock 24:40–47

29.

Turnage RH, Kadesky KM, Rogers T, Hernandez R, Bartula L, Myers SI (1995) Neutrophil regulation of splanchnic blood flow after hemorrhagic shock. Ann Surg 222:66–72

30.

Horie Y, Wolf R, Anderson DC, Granger DN (1997) Hepatic leukostasis and hypoxic stress in adhesion molecule-deficient mice after gut ischemia/reperfusion. J Clin Invest 99:781–788

31.

Sheridan BC, McIntyre RC Jr, Moore EE, Meldrum DR, Agrafojo J, Fullerton DA (1997) Neutrophils mediate pulmonary vasomotor dysfunction in endotoxin-induced acute lung injury. J Trauma 42:391–396

32.

Meinders AJ, Elbers P (2009) Images in clinical medicine. Leukocytosis and sublingual microvascular blood flow. N Engl J Med 360:e9

33.

Ognibene FP, Martin SE, Parker MM, Schlesinger T, Roach P, Burch C, Shelhamer JH, Parrillo JE (1986) Adult respiratory distress syndrome in patients with severe neutropenia. N Engl J Med 315:547–551

34.

Hirsh M, Carmel J, Kaplan V, Livne E, Krausz MM (2004) Activity of lung neutrophils and matrix metalloproteinases in cyclophosphamide-treated mice with experimental sepsis. Int J Exp Pathol 85:147–157

35.

Leung B, Harris HW (2010) NKT cells in sepsis. Clin Dev Immunol 2010:414650

36.

Efron P, Moldawer LL (2003) Sepsis and the dendritic cell. Shock 20:386–401

37.

Gando S (2010) Microvascular thrombosis and multiple organ dysfunction syndrome. Crit Care Med 38:S35–S42

38.

Levi M (2005) Platelets in sepsis. Hematology 10(Suppl 1):129–131

39.

Zarbock A, Polanowska-Grabowska RK, Ley K (2007) Platelet-neutrophil-interactions: linking hemostasis and inflammation. Blood Rev 21:99–111

40.

Weyrich AS, Zimmerman GA (2004) Platelets: signaling cells in the immune continuum. Trends Immunol 25:489–495

41.

Ma AC, Kubes P (2008) Platelets, neutrophils, and neutrophil extracellular traps (NETs) in sepsis. J Thromb Haemost 6:415–420

42.

Wakabayashi I, Groschner K (2003) Vascular actions of anthracycline antibiotics. Curr Med Chem 10:427–436

43.

Vasquez-Vivar J, Martasek P, Hogg N, Masters BS, Pritchard KA Jr, Kalyanaraman B (1997) Endothelial nitric oxide synthase-dependent superoxide generation from Adriamycin. Biochemistry 36:11293–11297

44.

Tyml K (2011) Critical role for oxidative stress, platelets, and coagulation in capillary blood flow impairment in sepsis. Microcirculation 18:152–162

45.

Senkus E, Jassem J (2011) Cardiovascular effects of systemic cancer treatment. Cancer Treat Rev 37:300–311

46.

Albini A, Pennesi G, Donatelli F, Cammarota R, De Flora S, Noonan DM (2010) Cardiotoxicity of anticancer drugs: the need for cardio-oncology and cardio-oncological prevention. J Natl Cancer Inst 102:14–25

47.

Giles FJ (2001) The vascular endothelial growth factor (VEGF) signaling pathway: a therapeutic target in patients with hematologic malignancies. Oncologist 6(Suppl 5):32–39

48.

Podar K, Anderson KC (2005) The pathophysiologic role of VEGF in hematologic malignancies: therapeutic implications. Blood 105:1383–1395

49.

Lopez-Pedrera C, Barbarroja N, Dorado G, Siendones E, Velasco F (2006) Tissue factor as an effector of angiogenesis and tumor progression in hematological malignancies. Leukemia 20:1331–1340

50.

Schmit X, Vincent JL (2008) The time course of blood C-reactive protein concentrations in relation to the response to initial antimicrobial therapy in patients with sepsis. Infection 36:213–219

51.

Azoulay E, Attalah H, Yang K, Herigault S, Jouault H, Brun-Buisson C, Brochard L, Harf A, Schlemmer B, Delclaux C (2003) Exacerbation with granulocyte colony-stimulating factor of prior acute lung injury during neutropenia recovery in rats. Crit Care Med 31:157–165
Acknowledgments
This work was supported by a research grant MSM 0021620819 (Replacement of and support to some vital organs).
Electronic supplementary material
Below is the link to the electronic supplementary material.
Supplementary material 2 (MPG 778 kb)
Supplementary material 3 (MPG 390 kb)
Supplementary material 4 (MPG 1158 kb)
Supplementary material 5 (MPG 752 kb)
About this article
Cite this article
Karvunidis, T., Chvojka, J., Lysak, D. et al. Septic shock and chemotherapy-induced cytopenia: effects on microcirculation. Intensive Care Med 38, 1336–1344 (2012). https://doi.org/10.1007/s00134-012-2582-4
Received:

Accepted:

Published:

Issue Date:
Keywords
Sepsis

Microcirculation

Neutropenia

Organ dysfunction

Chemotherapy