Abstract
Purpose
Ultrasonography allows the direct observation of the diaphragm. Its thickness variation measured in the zone of apposition has been previously used to diagnose diaphragm paralysis. We assessed the feasibility and accuracy of this method to assess diaphragmatic function and its contribution to respiratory workload in critically ill patients under non-invasive ventilation.
Methods
This was a preliminary physiological study in the intensive care unit of a university hospital. Twelve patients requiring planned non-invasive ventilation after extubation were studied while spontaneously breathing and during non-invasive ventilation at three levels of pressure support (5, 10 and 15 cmH2O). Diaphragm thickness was measured in the zone of apposition during tidal ventilation and the thickening fraction (TF) was calculated as (thickness at inspiration − thickness at expiration)/thickness at expiration. Diaphragmatic pressure–time product per breath (PTPdi) was measured from oesophageal and gastric pressure recordings.
Results
PTPdi and TF both decreased as the level of pressure support increased. A significant correlation was found between PTPdi and TF (ρ = 0.74, p < 0.001). The overall reproducibility of TF assessment was good but the coefficient of repeatability reached 18 % for inter-observer reproducibility.
Conclusions
Ultrasonographic assessment of the diaphragm TF is a non-invasive method that may prove useful in evaluating diaphragmatic function and its contribution to respiratory workload in intensive care unit patients.
This is a preview of subscription content, log in to check access.
Access options
Buy single article
Instant unlimited access to the full article PDF.
US$ 39.95
Price includes VAT for USA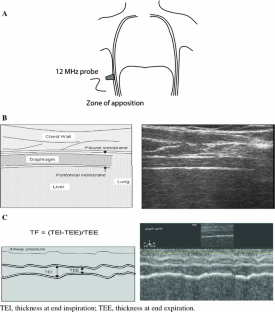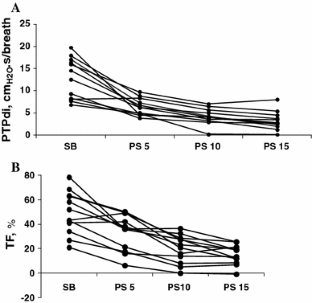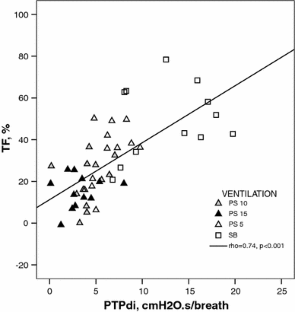 References
1.

Roussos C, Macklem PT (1982) The respiratory muscles. N Engl J Med 307:786–797

2.

Tobin MJ, Laghi F, Brochard L (2009) Role of the respiratory muscles in acute respiratory failure of COPD: lessons from weaning failure. J Appl Physiol 107:962–970

3.

Anzueto A, Peters JI, Tobin MJ, de los Santos R, Seidenfeld JJ, Moore G, Cox WJ, Coalson JJ (1997) Effects of prolonged controlled mechanical ventilation on diaphragmatic function in healthy adult baboons. Crit Care Med 25:1187–1190

4.

Le Bourdelles G, Viires N, Boczkowski J, Seta N, Pavlovic D, Aubier M (1994) Effects of mechanical ventilation on diaphragmatic contractile properties in rats. Am J Respir Crit Care Med 149:1539–1544

5.

Sassoon CS, Caiozzo VJ, Manka A, Sieck GC (2002) Altered diaphragm contractile properties with controlled mechanical ventilation. J Appl Physiol 92:2585–2595

6.

Hussain SN, Mofarrahi M, Sigala I, Kim HC, Vassilakopoulos T, Maltais F, Bellenis I, Chaturvedi R, Gottfried SB, Metrakos P, Danialou G, Matecki S, Jaber S, Petrof BJ, Goldberg P (2010) Mechanical ventilation-induced diaphragm disuse in humans triggers autophagy. Am J Respir Crit Care Med 182:1377–1386

7.

Jaber S, Petrof BJ, Jung B, Chanques G, Berthet JP, Rabuel C, Bouyabrine H, Courouble P, Koechlin-Ramonatxo C, Sebbane M, Similowski T, Scheuermann V, Mebazaa A, Capdevila X, Mornet D, Mercier J, Lacampagne A, Philips A, Matecki S (2011) Rapidly progressive diaphragmatic weakness and injury during mechanical ventilation in humans. Am J Respir Crit Care Med 183:364–371

8.

Levine S, Nguyen T, Taylor N, Friscia ME, Budak MT, Rothenberg P, Zhu J, Sachdeva R, Sonnad S, Kaiser LR, Rubinstein NA, Powers SK, Shrager JB (2008) Rapid disuse atrophy of diaphragm fibers in mechanically ventilated humans. N Engl J Med 358:1327–1335

9.

Boles JM, Bion J, Connors A, Herridge M, Marsh B, Melot C, Pearl R, Silverman H, Stanchina M, Vieillard-Baron A, Welte T (2007) Weaning from mechanical ventilation. Eur Respir J 29:1033–1056

10.

Brochard L, Mancebo J, Elliott MW (2002) Noninvasive ventilation for acute respiratory failure. Eur Respir J 19:712–721

11.

American Thoracic Society/European Respiratory Society (2002) ATS/ERS statement on respiratory muscle testing. Am J Respir Crit Care Med 166:518–624

12.

Kim SH, Na S, Choi JS, Na SH, Shin S, Koh SO (2010) An evaluation of diaphragmatic movement by M-mode sonography as a predictor of pulmonary dysfunction after upper abdominal surgery. Anesth Analg 110:1349–1354

13.

Kim WY, Suh HJ, Hong SB, Koh Y, Lim CM (2011) Diaphragm dysfunction assessed by ultrasonography: influence on weaning from mechanical ventilation. Crit Care Med 39:2627–2630

14.

Lerolle N, Guerot E, Dimassi S, Zegdi R, Faisy C, Fagon JY, Diehl JL (2009) Ultrasonographic diagnostic criterion for severe diaphragmatic dysfunction after cardiac surgery. Chest 135:401–407

15.

Wait JL, Nahormek PA, Yost WT, Rochester DP (1989) Diaphragmatic thickness–lung volume relationship in vivo. J Appl Physiol 67:1560–1568

16.

Gottesman E, McCool FD (1997) Ultrasound evaluation of the paralyzed diaphragm. Am J Respir Crit Care Med 155:1570–1574

17.

Knaus WA, Draper EA, Wagner DP, Zimmerman JE (1985) APACHE II: a severity of disease classification system. Crit Care Med 13:818–829

18.

Ferrer M, Valencia M, Nicolas JM, Bernadich O, Badia JR, Torres A (2006) Early noninvasive ventilation averts extubation failure in patients at risk: a randomized trial. Am J Respir Crit Care Med 173:164–170

19.

Nava S, Gregoretti C, Fanfulla F, Squadrone E, Grassi M, Carlucci A, Beltrame F, Navalesi P (2005) Noninvasive ventilation to prevent respiratory failure after extubation in high-risk patients. Crit Care Med 33:2465–2470

20.

Baydur A, Behrakis PK, Zin WA, Jaeger M, Milic-Emili J (1982) A simple method for assessing the validity of the esophageal balloon technique. Am Rev Respir Dis 126:788–791

21.

Diehl JL, Lofaso F, Deleuze P, Similowski T, Lemaire F, Brochard L (1994) Clinically relevant diaphragmatic dysfunction after cardiac operations. J Thorac Cardiovasc Surg 107:487–498

22.

Pepe PE, Marini JJ (1982) Occult positive end-expiratory pressure in mechanically ventilated patients with airflow obstruction: the auto-PEEP effect. Am Rev Respir Dis 126:166–170

23.

Lessard MR, Lofaso F, Brochard L (1995) Expiratory muscle activity increases intrinsic positive end-expiratory pressure independently of dynamic hyperinflation in mechanically ventilated patients. Am J Respir Crit Care Med 151:562–569

24.

Thorstensen A, Dalen H, Amundsen BH, Aase SA, Stoylen A (2010) Reproducibility in echocardiographic assessment of the left ventricular global and regional function, the HUNT study. Eur J Echocardiogr 11:149–159

25.

Bland JM, Altman DG (1996) Measurement error and correlation coefficients. BMJ 313:41–42

26.

Bland JM, Altman DG (1986) Statistical methods for assessing agreement between two methods of clinical measurement. Lancet 1:307–310

27.

Field S, Kelly SM, Macklem PT (1982) The oxygen cost of breathing in patients with cardiorespiratory disease. Am Rev Respir Dis 126:9–13

28.

Grasso S, Puntillo F, Mascia L, Ancona G, Fiore T, Bruno F, Slutsky AS, Ranieri VM (2000) Compensation for increase in respiratory workload during mechanical ventilation. Pressure-support versus proportional-assist ventilation. Am J Respir Crit Care Med 161:819–826

29.

Jubran A, Grant BJ, Laghi F, Parthasarathy S, Tobin MJ (2005) Weaning prediction: esophageal pressure monitoring complements readiness testing. Am J Respir Crit Care Med 171:1252–1259

30.

Sassoon CS, Light RW, Lodia R, Sieck GC, Mahutte CK (1991) Pressure-time product during continuous positive airway pressure, pressure support ventilation, and T-piece during weaning from mechanical ventilation. Am Rev Respir Dis 143:469–475

31.

Fried AM, Cosgrove DO, Nassiri DK, McCready VR (1985) The diaphragmatic echo complex: an in vitro study. Invest Radiol 20:62–67

32.

Boussuges A, Gole Y, Blanc P (2009) Diaphragmatic motion studied by m-mode ultrasonography: methods, reproducibility, and normal values. Chest 135:391–400

33.

Harris RS, Giovannetti M, Kim BK (1983) Normal ventilatory movement of the right hemidiaphragm studied by ultrasonography and pneumotachography. Radiology 146:141–144

34.

Houston JG, Fleet M, Cowan MD, McMillan NC (1995) Comparison of ultrasound with fluoroscopy in the assessment of suspected hemidiaphragmatic movement abnormality. Clin Radiol 50:95–98

35.

Cohn D, Benditt JO, Eveloff S, McCool FD (1997) Diaphragm thickening during inspiration. J Appl Physiol 83:291–296

36.

Ueki J, De Bruin PF, Pride NB (1995) In vivo assessment of diaphragm contraction by ultrasound in normal subjects. Thorax 50:1157–1161

37.

Wait JL, Johnson RL (1997) Patterns of shortening and thickening of the human diaphragm. J Appl Physiol 83:1123–1132

38.

Summerhill EM, El-Sameed YA, Glidden TJ, McCool FD (2008) Monitoring recovery from diaphragm paralysis with ultrasound. Chest 133:737–743

39.

Khan KS, Chien PF (2001) Evaluation of a clinical test. I. Assessment of reliability. BJOG 108:562–567

40.

Kramer MS, Feinstein AR (1981) Clinical biostatistics. LIV. The biostatistics of concordance. Clin Pharmacol Ther 29:111–123

41.

Wysocki M, Cracco C, Teixeira A, Mercat A, Diehl JL, Lefort Y, Derenne JP, Similowski T (2006) Reduced breathing variability as a predictor of unsuccessful patient separation from mechanical ventilation. Crit Care Med 34:2076–2083

42.

Loring SH (1994) Three-dimensional reconstruction of the in vivo human diaphragm shape at different lung volumes. J Appl Physiol 76:493–494

43.

Iwasawa T, Takahashi H, Ogura T, Asakura A, Gotoh T, Shibata H, Inoue T (2011) Influence of the distribution of emphysema on diaphragmatic motion in patients with chronic obstructive pulmonary disease. Jpn J radiol 29:256–264
Acknowledgments
This study was supported by AP-HP (Assistance Publique-Hôpitaux de Paris), a non-profit publicly funded organization.
Additional information
E. Vivier and A. Mekontso Dessap contributed equally to this work.
Electronic supplementary material
Below is the link to the electronic supplementary material.
Supplementary material 2 (AVI 50333 kb)
Supplementary material 3 (AVI 53478 kb)
About this article
Cite this article
Vivier, E., Mekontso Dessap, A., Dimassi, S. et al. Diaphragm ultrasonography to estimate the work of breathing during non-invasive ventilation. Intensive Care Med 38, 796–803 (2012). https://doi.org/10.1007/s00134-012-2547-7
Received:

Accepted:

Published:

Issue Date:
Keywords
Ultrasound

Diaphragm

Ventilation