Abstract
Purpose
Non-invasive ventilation is largely used to treat acute and chronic respiratory failure. This ventilation encounters a non-negligible rate of failure related to the used interface/mask, but the reasons for this failure remain unclear. In order to shed light on this issue and to better understand the effects of the geometrical design of interfaces, we aimed to quantify flow, pressure and gas composition in terms of CO2 and O2 at the passage through different types of interface (oronasal mask, integral mask and helmet). In particular, we postulated that due to specific gas flow passing throughout the interface, the effective dead space added by the interface is not always related to the whole gas volume included in the interface.
Methods
Numerical simulations, using computational fluid dynamics, were used to describe pressure, flow and gas composition during ventilation with the different interfaces.
Results
Between the different interfaces the effective dead spaces differed only modestly (110–370 ml), whereas their internal volumes were markedly different (110–10,000 ml). Effective dead space was limited to half the tidal volume for the most voluminous interface, whereas it was close to the interface gas volume for the less voluminous interfaces. Pressure variations induced by the flow ventilation throughout the interface were negligible.
Conclusions
Effective dead space is not related to the internal gas volume included in the interface, suggesting that this internal volume should not be considered as a limiting factor for their efficacy during non-invasive ventilation. Patient's comfort and synchrony have also to be taken into account.
This is a preview of subscription content, log in to check access.
Access options
Buy single article
Instant unlimited access to the full article PDF.
US$ 39.95
Price includes VAT for USA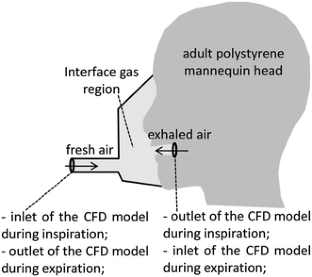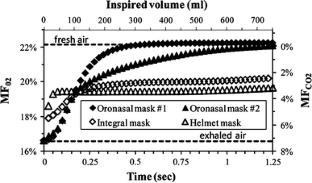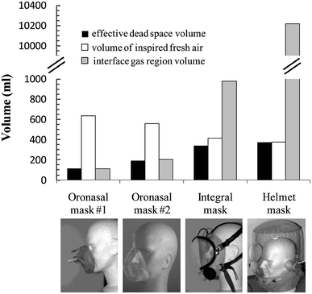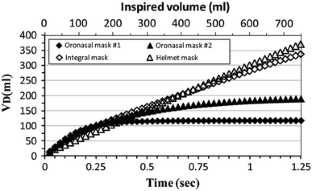 References
1.

Tarabini Fraticelli A, Lellouche F, L'Her E, Taille S, Mancebo J, Brochard L (2009) Physiological effects of different interfaces during noninvasive ventilation for acute respiratory failure. Crit Care Med 37:939–945

2.

Mehta S, Hill NS (2001) Noninvasive ventilation. Am J Respir Crit Care Med 163:540–577

3.

Brochard L, Mancebo J, Wysocki M, Lofaso F, Conti G, Rauss A, Simonneau G, Benito S, Gasparetto A, Lemaire F et al (1995) Noninvasive ventilation for acute exacerbations of chronic obstructive pulmonary disease. N Engl J Med 333:817–822

4.

Nava S, Ambrosino N, Clini E, Prato M, Orlando G, Vitacca M, Brigada P, Fracchia C, Rubini F (1998) Noninvasive mechanical ventilation in the weaning of patients with respiratory failure due to chronic obstructive pulmonary disease. A randomized, controlled trial. Ann Intern Med 128:721–728

5.

Carlucci A, Richard JC, Wysocki M, Lepage E, Brochard L (2001) Noninvasive versus conventional mechanical ventilation. An epidemiologic survey. Am J Respir Crit Care Med 163:874–880

6.

Girault C, Briel A, Hellot MF, Tamion F, Woinet D, Leroy J, Bonmarchand G (2003) Noninvasive mechanical ventilation in clinical practice: a 2-year experience in a medical intensive care unit. Crit Care Med 31:552–559

7.

Robino C, Faisy C, Diehl JL, Rezgui N, Labrousse J, Guerot E (2003) Effectiveness of non-invasive positive pressure ventilation differs between decompensated chronic restrictive and obstructive pulmonary disease patients. Intensive Care Med 29:603–610

8.

Chiumello D (2006) Is the helmet different than the face mask in delivering noninvasive ventilation? Chest 129:1402–1403

9.

Cuvelier A, Pujol W, Pramil S, Molano LC, Viacroze C, Muir JF (2009) Cephalic versus oronasal mask for noninvasive ventilation in acute hypercapnic respiratory failure. Intensive Care Med 35:519–526

10.

Antonelli M, Conti G, Pelosi P, Gregoretti C, Pennisi MA, Costa R, Severgnini P, Chiaranda M, Proietti R (2002) New treatment of acute hypoxemic respiratory failure: noninvasive pressure support ventilation delivered by helmet—a pilot controlled trial. Crit Care Med 30:602–608

11.

Bellani G, Patroniti N, Greco M, Foti G, Pesenti A (2008) The use of helmets to deliver non-invasive continuous positive airway pressure in hypoxemic acute respiratory failure. Minerva Anestesiol 74:651–656

12.

Chiumello D, Pelosi P, Carlesso E, Severgnini P, Aspesi M, Gamberoni C, Antonelli M, Conti G, Chiaranda M, Gattinoni L (2003) Noninvasive positive pressure ventilation delivered by helmet vs standard face mask. Intensive Care Med 29:1671–1679

13.

Mortimore IL, Whittle AT, Douglas NJ (1998) Comparison of nose and face mask CPAP therapy for sleep apnoea. Thorax 53:290–292

14.

Navalesi P, Fanfulla F, Frigerio P, Gregoretti C, Nava S (2000) Physiologic evaluation of noninvasive mechanical ventilation delivered with three types of masks in patients with chronic hypercapnic respiratory failure. Crit Care Med 28:1785–1790

15.

Pelosi P, Severgnini P, Aspesi M, Gamberoni C, Chiumello D, Fachinetti C, Introzzi L, Antonelli M, Chiaranda M (2003) Non-invasive ventilation delivered by conventional interfaces and helmet in the emergency department. Eur J Emerg Med 10:79–86

16.

Racca F, Appendini L, Gregoretti C, Stra E, Patessio A, Donner CF, Ranieri VM (2005) Effectiveness of mask and helmet interfaces to deliver noninvasive ventilation in a human model of resistive breathing. J Appl Physiol 99:1262–1271

17.

Taccone P, Hess D, Caironi P, Bigatello LM (2004) Continuous positive airway pressure delivered with a "helmet": effects on carbon dioxide rebreathing. Crit Care Med 32:2090–2096

18.

Vargas F, Thille A, Lyazidi A, Campo FR, Brochard L (2009) Helmet with specific settings versus facemask for noninvasive ventilation. Crit Care Med 37:1921–1928

19.

Lellouche F, Maggiore SM, Deye N, Taille S, Pigeot J, Harf A, Brochard L (2002) Effect of the humidification device on the work of breathing during noninvasive ventilation. Intensive Care Med 28:1582–1589

20.

Saatci E, Miller DM, Stell IM, Lee KC, Moxham J (2004) Dynamic dead space in face masks used with noninvasive ventilators: a lung model study. Eur Respir J 23:129–135

21.

Anton A, Tarrega J, Giner J, Guell R, Sanchis J (2003) Acute physiologic effects of nasal and full-face masks during noninvasive positive-pressure ventilation in patients with acute exacerbations of chronic obstructive pulmonary disease. Respir Care 48:922–925

22.

Gregoretti C, Confalonieri M, Navalesi P, Squadrone V, Frigerio P, Beltrame F, Carbone G, Conti G, Gamna F, Nava S, Calderini E, Skrobik Y, Antonelli M (2002) Evaluation of patient skin breakdown and comfort with a new face mask for non-invasive ventilation: a multi-center study. Intensive Care Med 28:278–284

23.

Colaizy TT, Younis UM, Bell EF, Klein JM (2008) Nasal high-frequency ventilation for premature infants. Acta Paediatr 97:1518–1522

24.

Fauroux B, Leroux K, Desmarais G, Isabey D, Clement A, Lofaso F, Louis B (2008) Performance of ventilators for noninvasive positive-pressure ventilation in children. Eur Respir J 31:1300–1307

25.

Louis B, Leroux K, Isabey D, Fauroux B, Lofaso F (2009) Effect of manufacturers inserted mask leaks on ventilator performance. Eur Respir J 35:627–636
Electronic supplementary material
Below is the link to the electronic supplementary material.
Supplementary material 2 (MPG 1256 kb)
About this article
Cite this article
Fodil, R., Lellouche, F., Mancebo, J. et al. Comparison of patient–ventilator interfaces based on their computerized effective dead space. Intensive Care Med 37, 257–262 (2011). https://doi.org/10.1007/s00134-010-2066-3
Received:

Accepted:

Published:

Issue Date:
Keywords
Interfaces/masks

Non-invasive ventilation

Dead space