Zusammenfassung
Hintergrund
Der Hauptanwendungsbereich von modularen Endoprothesen, auch Tumor- oder Megaprothesen genannt, ist die Extremitätenrekonstruktion nach Resektion von malignen Knochen- oder Weichteiltumoren. Gelegentlich wird dieser Prothesentyp auch bei Revisionseingriffen nach Versagen einer Gelenkprothese benötigt. Trotz technischer Verbesserungen und qualitätssichernder Maßnahmen ist die periprothetische Infektion eine der gefürchtetsten Komplikationen.
Ziel der Arbeit
Literaturrecherche im PubMed mit dem Themenschwerpunkt Silberbeschichtungen in der Endoprothetik und deren Auswirkungen hinsichtlich Infektionsprophylaxe, Outcome und Anwendungssicherheit.
Ergebnisse
Die aktuelle Literatur zeigt derzeit einen Trend, dass im Vergleich zu nichtbeschichteten Implantaten, Silberbeschichtungen bei Megaprothesen einen Vorteil hinsichtlich Revisionsraten für septische Komplikationen haben, vor allem nach Tumorresektionen mit schlechten Weichteilverhältnissen oder bei multimorbiden Risikopatienten.
Diskussion
Basierend auf den Daten und Ergebnissen früherer Publikationen, welche die Silberkonzentrationen im Blut, Serum und Urin untersucht haben, scheinen Silberbeschichtungen keine schwerwiegenden Nebenwirkungen zu haben. Einer der bekanntesten Nebeneffekte ist die lokale Argyrie. Dennoch wird eine weitere kontinuierliche Überwachung der Silberkonzentrationen in Blut oder Serum empfohlen, da Langzeitstudien ausstehen, die die Wirksamkeit und Sicherheit von Silberbeschichtungen im weiteren Verlauf überprüfen bzw. beweisen.
Abstract
Background
Modular endoprostheses, so-called "tumour or megaprostheses" are mainly used for limb salvage surgery after resection of malignant soft tissue or a bone tumour. Sometimes, this type of prosthesis is also used for revision surgeries after failed primary joint arthroplasty. Despite continuously improving techniques and quality management systems, periprosthetic infection is one of the most serious complications.
Aim of the study
Review of the literature in the PubMed data base with the main focus on silver coatings in joint arthroplasty and their effect on infection rate, outcome and patients' safety.
Results
The current literature shows that there is a beneficial role of silver coatings in megaprostheses in terms of revision rates for septic complications, especially following tumour resection with bad soft tissue coverage or in (multimorbid) high-risk patients, compared to uncoated implants.
Discussion
Based on the results of previous publications examining blood or serum silver concentrations or silver levels in urine, silver coatings do not appear to have side effects, except for local argyria. Continuous monitoring of silver levels in blood or serum is still recommended, and additional long-term studies will be necessary to verify the effectiveness and safety of silver coatings.
This is a preview of subscription content, log in to check access.
Access options
Buy single article
Instant unlimited access to the full article PDF.
US$ 39.95
Price includes VAT for USA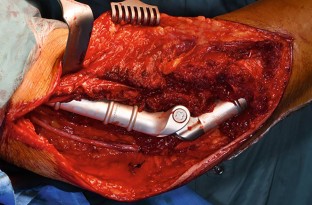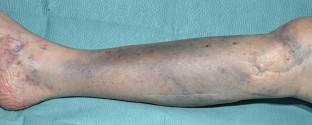 Abbreviations
DNA:

Desoxyribonukleinsäure

FDA :

Food and Drug Administration

METS :

Modular Endoprosthetic Tumour System

MUTARS :

Modular Universal Tumor And Revision System

ROS :

Freie Sauerstoffradikale
Literatur
1.

Albers CE, Hofstetter W, Siebenrock KA et al (2013) In vitro cytotoxicity of silver nanoparticles on osteoblasts and osteoclasts at antibacterial concentrations. Nanotoxicology 7:30–36

2.

Bartlomiejczyk T, Lankoff A, Kruszewski M et al (2013) Silver nanoparticles—allies or adversaries? Ann Agric Environ Med 20:48–54

3.

Cordero J, Munuera L, Folgueira MD (1994) Influence of metal implants on infection. An experimental study in rabbits. J Bone Joint Surg Br 76:717–720

4.

Donati F, Di Giacomo G, D'adamio S et al (2016) Silver-coated hip megaprosthesis in oncological limb savage surgery. Biomed Res Int 2016:9079041

5.

Flint MN, Griffin AM, Bell RS et al (2007) Two-stage revision of infected uncemented lower extremity tumor endoprostheses. J Arthroplasty 22:859–865

6.

Gao X, Topping VD, Keltner Z et al (2017) Toxicity of nano- and ionic silver to embryonic stem cells: a comparative toxicogenomic study. J Nanobiotechnology 15:31

7.

Glehr M, Leithner A, Friesenbichler J et al (2013) Argyria following the use of silver-coated megaprostheses: no association between the development of local argyria and elevated silver levels. Bone Joint J 95-B:988–992

8.

Gosheger G, Gebert C, Ahrens H et al (2006) Endoprosthetic reconstruction in 250 patients with sarcoma. Clin Orthop Relat Res 450:164–171

9.

Gosheger G, Goetze C, Hardes J et al (2008) The influence of the alloy of megaprostheses on infection rate. J Arthroplasty 23:916–920

10.

Gosheger G, Hardes J, Ahrens H et al (2004) Silver-coated megaendoprostheses in a rabbit model—an analysis of the infection rate and toxicological side effects. Biomaterials 25:5547–5556

11.

Hardes J, Ahrens H, Gebert C et al (2007) Lack of toxicological side-effects in silver-coated megaprostheses in humans. Biomaterials 28:2869–2875

12.

Hardes J, Von Eiff C, Streitbuerger A et al (2010) Reduction of periprosthetic infection with silver-coated megaprostheses in patients with bone sarcoma. J Surg Oncol 101:389–395

13.

Jeys LM, Grimer RJ, Carter SR et al (2005) Periprosthetic infection in patients treated for an orthopaedic oncological condition. J Bone Joint Surg Am 87:842–849

14.

Kim YS, Kim JS, Cho HS et al (2008) Twenty-eight-day oral toxicity, genotoxicity, and gender-related tissue distribution of silver nanoparticles in Sprague-Dawley rats. Inhal Toxicol 20:575–583

15.

Malawer MM, Chou LB (1995) Prosthetic survival and clinical results with use of large-segment replacements in the treatment of high-grade bone sarcomas. J Bone Joint Surg Am 77:1154–1165

16.

Schmidt-Braekling T, Streitbuerger A, Gosheger G et al (2017) Silver-coated megaprostheses: review of the literature. Eur J Orthop Surg Traumatol 27:483–489

17.

Schmolders J, Koob S, Schepers P et al (2017) Lower limb reconstruction in tumor patients using modular silver-coated megaprostheses with regard to perimegaprosthetic joint infection: a case series, including 100 patients and review of the literature. Arch Orthop Trauma Surg 137:149–153

18.

Scoccianti G, Frenos F, Beltrami G et al (2016) Levels of silver ions in body fluids and clinical results in silver-coated megaprostheses after tumour, trauma or failed arthroplasty. Injury 47(Suppl 4):S11–S16

19.

Shivaram A, Bose S, Bandyopadhyay A (2017) Understanding long-term silver release from surface modified porous titanium implants. Acta Biomater 58:550–560

20.

Streitbuerger A, Henrichs MP, Hauschild G et al (2018) Silver-coated megaprostheses in the proximal femur in patients with sarcoma. Eur J Orthop Surg Traumatol 29:79–85

21.

Tang J, Xiong L, Wang S et al (2009) Distribution, translocation and accumulation of silver nanoparticles in rats. J Nanosci Nanotechnol 9:4924–4932

22.

Tomi NS, Kranke B, Aberer W (2004) A silver man. Lancet 363:532

23.

Wafa H, Grimer RJ, Reddy K et al (2015) Retrospective evaluation of the incidence of early periprosthetic infection with silver-treated endoprostheses in high-risk patients: case-control study. Bone Joint J 97-B:252–257

24.

Zajonz D, Birke U, Ghanem M et al (2017) Silver-coated modular Megaendoprostheses in salvage revision arthroplasty after periimplant infection with extensive bone loss—a pilot study of 34 patients. BMC Musculoskelet Disord 18:383
Ethics declarations
Interessenkonflikt
J. Friesenbichler, M. Bergovec, W. Maurer-Ertl, P. Reinbacher, M. Maier, F. Amerstorfer und A. Leithner geben an: Bei keinem der Autoren besteht ein persönlicher Interessenskonflikt, abteilungsabhängige Fördergelder werden erhalten von Alphamed Österreich, Medtronic und Johnson & Johnson.
Für diesen Beitrag wurden von den Autoren keine Studien an Menschen oder Tieren durchgeführt. Für die aufgeführten Studien gelten die jeweils dort angegebenen ethischen Richtlinien.
About this article
Cite this article
Friesenbichler, J., Bergovec, M., Maurer-Ertl, W. et al. Silberbeschichtung auf Tumorendoprothesen. Orthopäde 48, 598–604 (2019). https://doi.org/10.1007/s00132-019-03720-x
Schlüsselwörter
Argyrie

Knochenkrebs

Endoprothesen

Extremitätenerhalt

Revisionschirurgie
Keywords
Agyria

Bone cancer

Endoprosthesis

Limb salvage

Revision surgery