Auffällige Portio in der Schwangerschaft
Anamnese.
Eine 24-jährige Patientin wurde wegen eines Dezidualpolypen (Überweisung) in der 15. SSW (Schwangerschaftswoche) vorgestellt. Kolposkopisch zeigte sich ein Polyp in statu nascendi. Der entnommene Abstrich ergab die Befunde Pap IIg, HPV(humane Papillomaviren)-negativ. In Absprache mit der Patientin wurde auf eine Probenentnahme verzichtet, eine Wiedervorstellung nach 8 Wochen wurde vereinbart (Abb.
1
).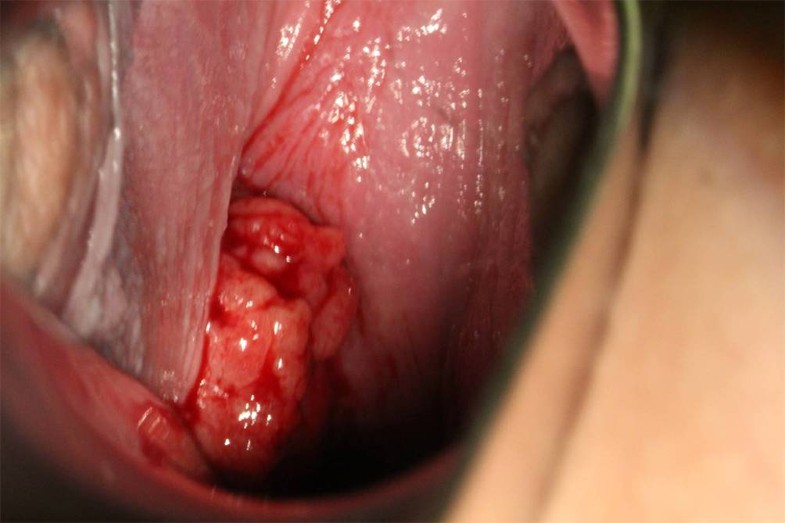 Abnormal external orifice of the uterus during pregnancy
Notes
Einhaltung ethischer Richtlinien
Interessenkonflikt
M. Schild-Suhren gibt an, dass für einen Expterten Roundtable ein Beratervertrag mit Roche bestand. Es entstehen dadurch keine Interessenkonflikte zu den Veröffentlichungen. A. Soliman und E. Malik geben an, dass kein Interessenkonflikt besteht.
Der Beitrag beinhaltet keine Studien an Menschen oder Tieren. Für Bildmaterial und anderweitige Angaben innerhalb des Manuskripts, über die Patienten zu identifizieren sind, liegt von ihnen und/oder ihren gesetzlichen Vertretern eine schriftliche Einwilligung vor.
Copyright information
© Springer Medizin Verlag GmbH, ein Teil von Springer Nature 2019