Pränatale Diagnose einer mandibulären Hypognathie erleichtert Sicherung der Atemwege postnatal
Pränatalmedizinische Anamnese
Die 31-jährige I‑Gravida 0‑Para wird zum Einholen einer Zweitmeinung in der 23. Gestationswoche in die pränatalmedizinische Praxis überwiesen. Bei dem Feten war zuvor sonographisch eine mandibuläre Retrognathie festgestellt worden, die daraufhin durchgeführte Amniozentese hatte einen normalen Karyotyp 46 XY ergeben. Schwangerschaftsrelevante Vorerkrankungen und familiäre Risiken bestanden nicht. Bei der sonographischen Untersuchung zeigte sich neben der bereits beschriebenen Retrognathie eine ausgeprägte Gesichtsasymmetrie (Abb. 1, 2, 3 und 4), der sonstige Organstatus war unauffällig, insbesondere wurde keine Gaumenspalte gesehen.
Im weiteren Schwangerschaftsverlauf fiel ein progredientes Polyhydramnion auf. Sonographisch konnte beim Feten kein Schluckakt dargestellt werden. Bei Verdacht auf eine syndromale Erkrankung des Feten erfolgte eine ausführliche kinderärztliche Aufklärung und Geburtsplanung.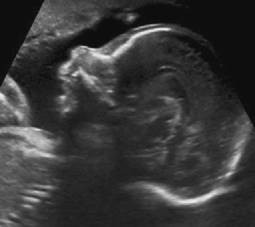 Prenatal diagnosis of mandibular hypognathism facilitates postnatal securing of the airway
Notes
Einhaltung ethischer Richtlinien
Interessenkonflikt
K. Schneider, S. Buderus, S. Kirkman und M. Martini geben an, dass kein Interessenkonflikt besteht.
Dieser Beitrag beinhaltet keine von den Autoren durchgeführten Studien an Menschen oder Tieren. Für Bildmaterial oder anderweitige Angaben innerhalb des Manuskripts, über die Patienten zu identifizieren sind, liegt von ihnen und/oder ihren gesetzlichen Vertretern eine schriftliche Einwilligung vor.
Copyright information
© Springer Medizin Verlag GmbH, ein Teil von Springer Nature 2018