Zusammenfassung
Die Mammasonographie stellt die 3. Säule der geburtshilflich-gynäkologischen Ultraschalldiagnostik dar und sollte in hoher Qualität von jeder gynäkologischen Praxis angeboten werden. Die direkte Abklärung klinischer Befunde der Mamma kann unmittelbar in der Praxis durch die Sonographie geleistet werden. In unklaren Fällen und im Fall eines suspekten Befundes sollte zur weiteren diagnostischen Abklärung die Zusammenarbeit mit einem Referenzzentrum etabliert sein. Für eine mögliche präventive Sonographie gelten besondere Voraussetzungen an Erfahrung und technischer Ausrüstung.
Abstract
Breast ultrasound represents the third pillar of obstetric and gynecological ultrasound diagnostics and should be provided in high quality by every gynecological practice. The direct clarification of clinical findings of the breast can be performed immediately in practices by ultrasound. In unclear cases and in the case of a suspicious finding, the cooperation with a reference center should be established for further diagnostic clarification. For a possible preventive sonography, special requirements, such as experience and technical equipment are necessary.
This is a preview of subscription content, log in to check access.
Access options
Buy single article
Instant unlimited access to the full article PDF.
US$ 39.95
Price includes VAT for USA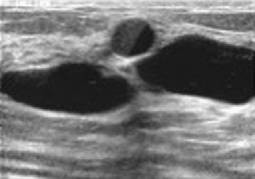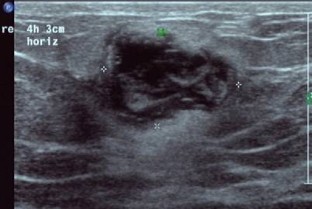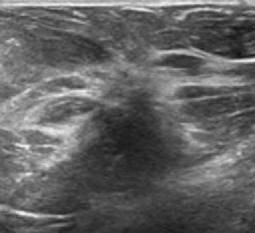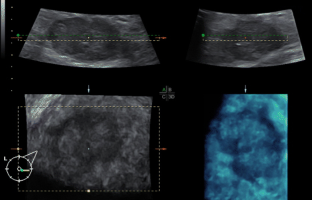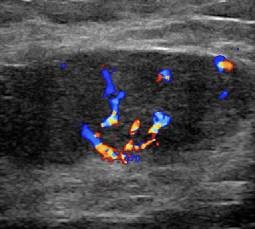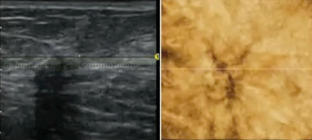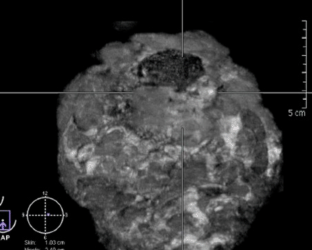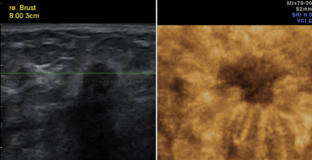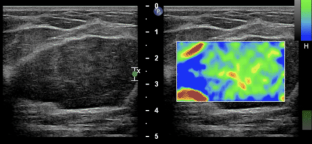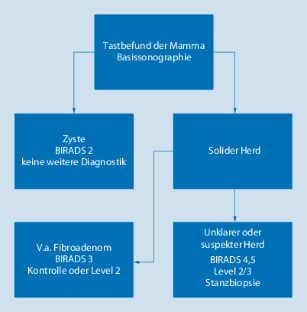 Literatur
1.

Lenz S (2011) Breast ultrasound in office gynecology—ten years of experience. Ultraschall Med. https://doi.org/10.1055/s-0029-1245426

2.

Madjar H, Becker S et al (2010) Bedeutung der Mammasonografie für die Brustkrebsfrüherkennung in der gynäkologischen Praxis. Ultraschall Med. https://doi.org/10.1055/s-0028-1110010

3.

Kolb TM, Lichy J et al (2002) Comparison of the performance of screening mammography, physical examination, and breast US and evaluation of factors that influence them: an analysis of 27,825 patient evaluations. Radiology 225:165–175

4.

Interdisziplinäre S 3‑Leitlinie für die Diagnostik, Therapie und Nachsorge des Mammakarzinoms. Langversion 3.0. Aktualisierung 2012. AWMF-Register-Nr. 032 – 045OL. https://www.senologie.org/publikationen/leitlinien/. Zugegriffen: 07.01.2018

5.

Cho KR, Seo BK et al (2016) Breast cancer detection in a screening population: comparison of digital mammography, computert-aided detection applied to digital mammography and breast ultrasound. J Breast Cancer 19:316–323

6.

Corsetti V, Houssami N et al (2008) Breast screening with ultrasound in women with mammographic-negative dense breasts: evidence on incremental cancer detection and false positives, and associated cost. Eur J Cancer 44:539–544

7.

Brem RF, Tabar L et al (2015) Assessing improvement in detection of breast cancer with three-dimensional automated breast US in women with dense breast tissue: the SomoInsight Study. Radiology 274:663–673

8.

Wilczek B, Wilczek HE et al (2016) Adding 3D automated breast ultrasound to mammography screening in women with heterogeneously and extreme dense breasts: report from a hospital-based, high-volume, singel-center breast cancer screening programm. Eur J Radiol 85:1554–1536

9.

Weigert JM (2017) The Connecticut experiment; the third installment: 4 years of screening women with dense breasts with bilateral ultrasound. Breast J 23:34–39

10.

Hille H, Vetter M et al (2012) The accuracy of BI-RADS classification of breast ultrasound as a first-line imaging method. Ultraschall Med 33:160–163

11.

Shen S, Zhou Y et al (2015) A multi-center randomised trial comparing ultrasound vs mammography for screening breast cancer in high-risk Chinese women. Br J Cancer 112:998–1004

12.

Giger ML, Inciardi MF et al (2016) Automated breast ultrasound in breast cancer screening of women with dense breasts: reader study of mammographiy-negative and mammography-positive cancers. AJR Am J Roentgenol 206:1341–1350
Ethics declarations
Interessenkonflikt
H. Hille und B.-J. Hackelöer geben an, dass kein Interessenkonflikt besteht.
Dieser Beitrag beinhaltet keine von den Autoren durchgeführten Studien an Menschen oder Tieren.
Additional information
Redaktion
A. Schröer, Berlin
B.-J. Hackelöer, Hamburg
J. Weichert, Lübeck
Caption Electronic Supplementary Material
C-Ebene im automatisierten Volumenscanner bei Mamma-Ca
About this article
Cite this article
Hille, H., Hackelöer, B. Mammasonographie in der Praxis. Gynäkologe 51, 171–177 (2018) doi:10.1007/s00129-017-4191-3
Schlüsselwörter
Mammakarzinom

Screening

Mammasonographie

Neoplasmen

Prävention
Keywords
Breast cancer

Screening

Breast ultrasound

Neoplasms

Prevention