Abstract
Biochar was prepared by mixing sewage sludge with sawdust via a co-pyrolysis with different mixture ratios and temperatures. The results showed that the sawdust addition resulted in a lower yield of biochar with higher C content. The total concentrations of Pb and Cd in biochar were reduced. Besides, pyrolysis can transform the potentially toxic Pb and Cd to stable fractions. However the sawdust addition had slight influence on the chemical forms of Pb and Cd in the biochar. The biochar with 50% sawdust at 600°C exhibited a remarkable reduction of the leachable metal concentrations. The possible transformation mechanisms of Pb and Cd were inferred as the formation of aluminum and silicon-containing minerals. These results provide insights into the influence of sawdust addition on the characteristics of biochar and the possible Pb and Cd immobilization mechanisms during co-pyrolysis process.
This is a preview of subscription content, log in to check access.
Access options
Buy single article
Instant access to the full article PDF.
US$ 39.95
Price includes VAT for USA
Subscribe to journal
Immediate online access to all issues from 2019. Subscription will auto renew annually.
US$ 199
This is the net price. Taxes to be calculated in checkout.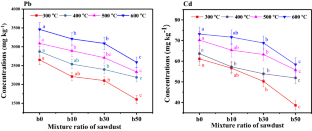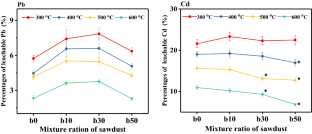 References
Chen FF, Hu YF, Dou XM, Chen DZ, Dai XH (2015) Chemical forms of heavy metals in pyrolytic char of heavy metal-implanted sewage sludge and their impacts on leaching behaviors. J Anal Appl Pyrolysis 116:152–160

Chen MX, Bao CZ, Hu DW, Jin X, Huang Q (2019) Facile and low-cost fabrication of ZnO/biochar nanocomposites from jute fibers for efficient and stable photodegradation of methylene blue dye. J Anal Appl Pyrolysis 139:319–332

Debela F, Thring R, Arocena J (2012) Immobilization of heavy metals by co-pyrolysis of contaminated soil with woody biomass. Water Air Soil Pollut 223(3):1161–1170

El-Eswed BI, Aldagag OM, Khalili FI (2017) Efficiency and mechanism of stabilization/solidification of Pb(II), Cd(II), Cu(II), Th(IV) and U(VI) in metakaolin based geopolymers. Appl Clay Sci 140:148–156

EPA US (1994) Test methods for evaluating solid wastes SW-846 volume IA-laboratory manual: physical and chemical methods. United States Environmental Protection. Agency Office of Solid Waste and Emergency Response. Washington, DC

Gupta GK, Mondal MK (2019) Bio-energy generation from sagwan sawdust via pyrolysis: product distributions, characterizations and optimization using response surface methodology. Energy 170:423–437

Harvey OR, Herbert BE, Rhue RD, Kuo LJ (2011) Metal interactions at the biochar-water interface: energetics and structure-sorption relationships elucidated by flow adsorption microcalorimetry. Environ Sci Technol 45(13):5550–5556

Huang HJ, Yang T, Lai FY, Wu GQ (2017) Co-pyrolysis of sewage sludge and sawdust/rice straw for the production of biochar. J Anal Appl Pyrolysis 125:61–68

Huang H, Yao WL, Li RH, Ali A, Du J, Guo D, Xiao R, Guo ZY, Zhang ZQ, Awasthi MK (2018) Effect of pyrolysis temperature on chemical form, behavior and environmental risk of Zn, Pb and Cd in biochar produced from phytoremediation residue. Bioresour Technol 249:487–493

Jin JW, Wang MY, Cao YC, Wu SC, Liang P, Li YN, Zhang JY, Zhang J, Wong WH, Shan SD (2017) Cumulative effects of bamboo sawdust addition on pyrolysis of sewage sludge: biochar properties and environmental risk from metals. Bioresour Technol 228:218–226

Liu XQ, Ding HS, Wang YY, Liu WJ, Jiang H (2016) Pyrolytic temperature dependent and ash catalyzed formation of sludge char with ultra-high adsorption to 1-naphthol. Environ Sci Technol 50(5):2602–2609

Meng J, Liang SJ, Tao MJ, Liu XJ, Brookes PC, Xu JM (2018a) Chemical speciation and risk assessment of Cu and Zn in biochars derived from co-pyrolysis of pig manure with rice straw. Chemosphere 200:344–350

Meng J, Tao MM, Wang LL, Liu XM, Xu JM (2018b) Changes in heavy metal bioavailability and speciation from a Pb-Zn mining soil amended with biochars from co-pyrolysis of rice straw and swine manure. Sci Total Environ 633:300–307

Nair A, Juwarkar AA, Devotta S (2008) Study of speciation of metals in an industrial sludge and evaluation of metal chelators for their removal. J Hazard Mater 152(2):545–553

Pedroza MM, Sousa JF, Vieira GEG, Bezerra MBD (2014) Characterization of the products from the pyrolysis of sewage sludge in 1 kg/h rotating cylinder reactor. J Anal Appl Pyrolysis 105:108–115

Rajapaksha AU, Vithanage M, Ahmad M, Seo DC, Cho JS, Lee SE, Sang SL, Yong SO (2015) Enhanced sulfamethazine removal by steam-activated invasive plant-derived biochar. J Hazard Mater 290:43–50

Ruiz-Gomez N, Quispe V, Abrego J, Atienza-Martinez M, Benita Murillo M, Gea G (2017) Co-pyrolysis of sewage sludge and manure. Waste Manag 59:211–221

Shen TS, Tang YY, Lu XY, Meng Z (2018) Mechanisms of copper stabilization by mineral constituents in sewage sludge biochar. J Clean Prod 193:185–193

Shi WS, Liu CG, Shu YJ, Feng CP, Lei ZF, Zhang ZY (2013) Synergistic effect of rice husk addition on hydrothermal treatment of sewage sludge: fate and environmental risk of heavy metals. Bioresour Technol 149(12):496–502

Sungur A, Soylak M, Ozcan H (2014) Investigation of heavy metal mobility and availability by the BCR sequential extraction procedure: relationship between soil properties and heavy metals availability. Chem Speciat Bioavailab 26(4):219–230

Tan C, Zhang YX, Wang HT, Lu WJ, Zhou ZY, Zhang YC, Ren LL (2014) Influence of pyrolysis temperature on characteristics and heavy metal adsorptive performance of biochar derived from municipal sewage sludge. Bioresour Technol 164(7):47–54

Tang Y, Alam MS, Konhauser KO, Alessi DS, Xu SN, Tian WJ, Liu Y (2019) Influence of pyrolysis temperature on production of digested sludge biochar and its application for ammonium removal from municipal wastewater. J Clean Prod 209:927–936

Wang YG, Han FL, Mu JQ (2018) Solidification/stabilization mechanism of Pb (II), Cd (II), Mn (II) and Cr (III) in fly ash based geopolymers. Constr Build Mater 160:818–827

Wang XD, Li CX, Li ZW, Yu GW, Wang Y (2019) Effect of pyrolysis temperature on characteristics, chemical speciation and risk evaluation of heavy metals in biochar derived from textile dyeing sludge. Ecotoxicol Environ Saf 168:45–52

Xu YG, Qi FJ, Bai T, Yan YX, Wu CC, An ZR, Luo S, Huang Z, Xie P (2019) A further inquiry into co-pyrolysis of straws with manures for heavy metal immobilization in manure-derived biochars. J Hazard Mater. https://doi.org/10.1016/j.jhazmat.2019.120870

Yuan JH, Xu RK, Zhang H (2011) The forms of alkalis in the biochar produced from crop residues at different temperatures. Bioresour Technol 102(3):3488–3497

Yue Y, Cui L, Lin QM, Li GT, Zhao XR (2017) Efficiency of sewage sludge biochar in improving urban soil properties and promoting grass growth. Chemosphere 173:551–556

Zhang SQ, Yue XM, Yin ZY, Pan TT, Dong MJ, Sun TY (2009) Study of the co-pyrolysis behavior of sewage-sludge/rice-straw and the kinetics. Procedia Earth Planet Sci 1(1):661–666

Zhao B, Xu XY, Xu SC, Chen X, Li HB, Zeng FQ (2017) Surface characteristics and potential ecological risk evaluation of heavy metals in the bio-char produced by co-pyrolysis from municipal sewage sludge and hazelnut shell with zinc chloride. Bioresour Technol 243:375–383
Acknowledgements
This work was supported by the Major Science and Technology Program for Water Pollution Control and Treatment (2017ZX07203-001) and the National Natural Science Foundation of China (51678280).
Electronic supplementary material
Below is the link to the electronic supplementary material.
About this article
Cite this article
Yang, Y., Cui, M., Ren, Y. et al. Towards Understanding the Mechanism of Heavy Metals Immobilization in Biochar Derived from Co-pyrolysis of Sawdust and Sewage Sludge. Bull Environ Contam Toxicol (2020). https://doi.org/10.1007/s00128-020-02801-4
Received:

Accepted:

Published:
Keywords
Co-pyrolysis

Lead

Cadmium

Immobilization

Biochar