Abstract
Biochar has become a popular soil amendment. However, its effect on soil microbial community is still unclear. In the present study, maize straw biochar was pyrolysed at 300°C, 450°C and 600°C, respectively, and then was added to agricultural soil at the ratio of 0.5%, 1% and 2%. Bacterial dynamics was analyzed in the pot experiments using denaturing gradient gel electrophoresis. The results indicated that the pyrolysis temperature has great impact on the elemental composition, pH and porous structures of biochar. Moreover, pyrolysis temperature was primary factor to drive the variation of bacterial community structure in biochar amended soil. In addition, the results suggested that biochar amendments on agricultural soil would decrease the bacterial diversity, and selectively promote growth of functional bacteria to become the dominant community, which could increase the bacterial community organization and improve the stability of bacteria to counteract effects of perturbation.
This is a preview of subscription content, log in to check access.
Access options
Buy single article
Instant access to the full article PDF.
US$ 39.95
Price includes VAT for USA
Subscribe to journal
Immediate online access to all issues from 2019. Subscription will auto renew annually.
US$ 199
This is the net price. Taxes to be calculated in checkout.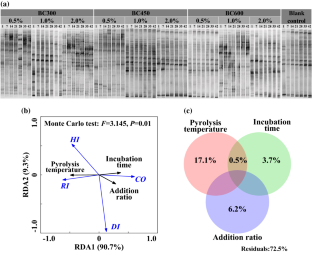 Acknowledgements
This work was supported by the National Key Basic Research Program of China [2015CB459000] and National Science Foundation of China [31670498].
Ethics declarations
Conflict of interest
The authors declare that they have no conflict of interest.
Additional information
Publisher's Note
Springer Nature remains neutral with regard to jurisdictional claims in published maps and institutional affiliations.
About this article
Cite this article
Liu, J., Ding, Y., Ji, Y. et al. Effect of Maize Straw Biochar on Bacterial Communities in Agricultural Soil. Bull Environ Contam Toxicol 104, 333–338 (2020). https://doi.org/10.1007/s00128-020-02793-1
Received:

Accepted:

Published:

Issue Date:
Keywords
Agricultural soil

Biochar

Bacterial community

Dissipative structures

Dynamics

Pyrolysis temperature