Abstract
Health status of freshwater fish, Cirrhina mrigala was studied by qualitative and quantitative histopathological analysis, alterations in frequency/prevalence percentages (%) and histological alteration indices (HAI) in response to metal contaminated sediments of the River Ravi aquatic ecosystem. Histo-structures of gill and liver samples of fish were analyzed and comparison between the degree of damage of the alterations in fish organs was performed after exposure to metal contaminated sediments for 7, 14 and 28 days under semi-static water renewal bioassays. Histopathological studies revealed marked histological alterations in the gills and liver of exposed fish as compared to normal tissue structure observed in control fish. The frequency and prevalence percentages observed in 28-day exposed fish were significantly higher as compared to 7- and 14-day exposed fish. The order of frequency and prevalence percentage for gills and liver of exposed fish was as: 28-day > 14-day > 7-day. The highest prevalence percentages recorded were 83 and 80% as focal area of necrosis in gill and liver, respectively, after 28-day exposure. The lowest prevalence percentage observed in 7-day exposed Cirrhina mrigala was dilation of sinusoids (17%).
This is a preview of subscription content, log in to check access.
Access options
Buy single article
Instant access to the full article PDF.
US$ 39.95
Price includes VAT for USA
Subscribe to journal
Immediate online access to all issues from 2019. Subscription will auto renew annually.
US$ 199
This is the net price. Taxes to be calculated in checkout.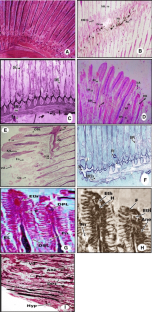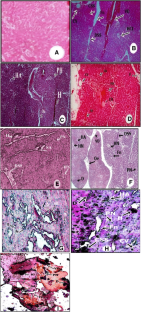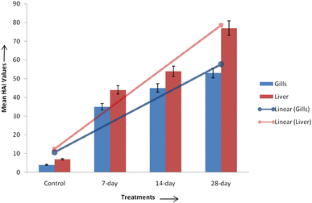 References
Abdel-warith AA, Younis EM, Al-asgah NA, Wahbi OM (2011) Effect of zinc toxicity on liver histology of Nile tilapia, Oreochromis niloticus. Sci Res Essays 6:3760–3769

Abdullah A (2001) Histological changes induced by zinc ion in the gills of common carp Cyprinus carpio (L.) juveniles.Bas. J Agri Sci 14:19–25

Akhtar M, Mahboob S, Sultana S, Sultana T (2014) Pesticides in the River Ravi and its tributaries between its stretches from Shahdara to Balloki Headworks, Punjab-Pakistan. Water Environ Res 86:13–19

Allison TA, Paul TA (2014) Histological based biomonitoring: a baseline ecotoxicological evaluation of new-calabar river using Chrysichthys nigrodigitatus. Int J Environ Poll Res 2:17–41

Amin OM, Bauer ON, Sidorov EG (1991) The description of paralongicollum nemacheili (Acanthocephala pomphorynchidae) from freshwater fishes in Kazakh. J Parasitol 77:26–31

APHA (2012). Standard methods for examination of water and waste water. 22nd (edn) APHA, AWWA, WPCF, Washington DC

Arellano JM, Blasco J, Ortiz JB, Capeta DA et al (2000) Accumulation and histopathological effects of copper in gills and liver of Senegales Sole, Solea senegalensis and Toad Fish, Halobatrachus didactyius. Ecotoxicol Environ Rest 3:22–28

Bernet D, Schmidt H, Meier W, Wahli T (1999) Histopathology in fish: proposal for a protocol to assess aquatic pollution. J Fish Dis 22:25–34

Bernet D, Schmidt-Posthaus H, Wahli T, Burkhardt-Holm P (2004) Histological alterations in fish. Hydrobiologia 524:53–66

Bhuvaneshwari R, Padmanaban K, Rajendran BR (2015) HistopathologicalAlterationsin muscle, liver and gill tissues of Zebra Fish Danio Rerio due to environmentally relevant concentrations of organochlorine pesticides (OCPs) and heavy metals. Int J Environ Res 9:1365–1372

Bilal A, Qureshi TA, Susan M, Pinky K, Rumysa K (2011) Effect of cadmium chloride on the histoarchitecture of liver and kidney of a freshwater catfish, Clarias batrachus. Int J Environ Sci 2:531–536

Carrola J, Fontainhas-Fernandes A, Matos P, Rocha E (2009) Liver histopathology in brown trout (Salmo trutta f. fario) from the Tinhela River, subjected to mine drainage from the abandoned Jales Mine (Portugal). Bull Environ Contam Toxicol 83:35–41

Cengiz EI, Unlu E (2003) Histopathology of gills in mosquito fish, Gambusia affinis after long-term exposure to sublethal concentrations of malathion. J Environ Sci Health 38(5):581–589

Deore SV, Wagh SB (2012) Heavy metal induced histopathological alterations in liver of Channa gachua (Ham). J Exp Sci 3:35–38

Fanta E, Rios F, Romao S, Vianna A, Freiberger S (2003) Histopathology of the fish Corydoras paleatus contaminated with sublethal levels of organophosphorus in water and food. Ecotoxicol Environ Safe 54:119–130

Georgieva E, Stoyanova S, Velcheva I, Yancheva V (2014) Histopathological alterations in common carp (Cyprinus carpio L.) gills caused by thiamethoxam. Braz Arch Biol Technol 57:991–996

Gunawickrama SHNP., Hettiarachchim DD, Gunawickrama KBS (2014) Effects of contaminated harbour sediment on the growth and histopathology of Nile tilapia (Oreochromis niloticus): a long-term study. J Univ Ruhuna 2:14–23

Harding JPC, Whitton BA (1981) Accumulation of zinc, cadmium and lead by field populations of Lamanea. Water Res 15:301–319

Ibrahim AT, Wassif ET, Alfons MS (2016) Heavy metals assessment in water, sediments and some organs of Oreochromis niloticus under the impact of sewage water. J Heavy Met Toxicity Dis 1:1–7

Jabeen G (2012). Studies on fish species specific metals bio-accumulation patterns in relation to water, sediments and plankton in the river Ravi. PhD Thesis. University of Agriculture, Faisalabad. pp 271

Jabeen F, Chaudhry AS (2013) Metal uptake and histological changes in gills and liver of Oreochromis mossambicus inhabiting Indus River. Pak J Zool 45:9–18

Jabeen G, Javed M, Azmat H (2012) Assessment of heavy metals in the fish collected from the River Ravi, Pakistan. Pak Vet J 32:107–111

Kaptaner B, Kankaya E, Dogan A, Celik I (2014) Histopathology and oxidative stress in the liver of Chalcalbur nustarichi living in lake Van, Turkey. Life Sci J 11:66–77

Marchand MJ, Van Dyk JC, Pieterse GM, Barnhoorn IE, Bornman MS (2009) Histopathological alterations in the liver of the sharptooth catfish, Clarias gariepinus from polluted aquatic systems in South Africa. Environ Toxicol 24:133–147

Marina MP, Martinez BR (2007) Histopathology of gills, kidney and liver of a Neotropical fish caged in an urban stream. Neotrop Ichthyol 5:327–336

Paruruckumani PS, Rajan AM, Ganapiriya V, Kumarasamy PK (2015) Bioaccumulation and ultrastructural alterations of gill and liver in Asian sea bass, Lates calcarifer (Bloch) in sublethal copper exposure. Aquat Living Resour 28:33–44

Paulo DV, Fontes FM, Flores-Lopes F (2012) Histopathological alterations observed in the lier of Poecilia vivipara (Cyprinodontiformes: Poeciliidae) as a tool for the environmental quality assessment of the Cachoeira River, BA. Braz J Biol 72:131–140

Peebua P, Kruatrachuea M, Pokethitiyooka P, Kosiyachinda P (2006) Histological effects of contaminated sediments in Mae Klong river tributaries, Thailand, on Nile tilapia, Oreochromis niloticus. Sci Asia 32:143–150

Ptashynski M, Pedlar R, Evan R, Baron C, Kamp KJ (2002) Toxicology of dietary nickel in lake white fish, Coregonus clupeaformis. Aquat Toxicol 58:229–247

Qadir A, Malik RN (2011) Heavy metals in eight edible fish species from two polluted tributaries (Aik and Palkhu) of the River Chenab, Pakistan. Biol Trace Elem Res 143:1524–1540

Qadir A, Malik RN, Ahmad T, Sabir AM (2009) Patterns and distribution of fish assemblage in Nullah Aik and Nullah Palkhu Sialkot, Pakistan. Biological Diversity Conservation 2:110–124

Rauf A, Javed M, Ubaidullah M (2009) Heavy metal levels in three major carps (Catla catla. Labeo rohita and Cirrhina mrigala) from the river Ravi, Pakistan. Pak Vet J 29:24–26

Rodrigues RV, Miranda-Filho KC, Gusmao EP, Moreira CB et al (2010) Deleterious effects of water-soluble fraction of petroleum, diesel and gasoline on marine pejerrey Odontesthes argentinensis larvae. Sci Total Environt 408:2054–2059

Sirimongkolvorakul S, Tansatit T, Preyavichyapugdee N, Kosai P et al (2012) Efficiency of Moringa oleifera dietary supplements reducing lead toxicity in Puntius altus. J Med Plants Res 6:187–194

Steel RGD, Torrie JH, Dinkey DA (1996). Principles and procedures of statistics, 2nd edn., McGraw Hill Book Co., Singapore

Tabinda AB, Bashir S, Yasar A, Munir S (2013) Heavy metals concentrations in water, sediment and fish in river Sutlej at Sulemanki headworks. Pak J Zool 45:1663–1668

Triebskorn R, Telcean I, Casper H, Farkas A, Sandu C et al (2008) Monitoring pollution in River Mures, Romania, Part II: metal accumulation and histopathology in fish. Environ Monit Assess 141:177–188

Van Dyk JC, Marchand MJ, Smit NJ, Pieterse GM (2009) A histology-based fish health assessment of four commercially and ecologically important species from the Okavango Delta panhandle, Botswana. African J Aqua Sci 34:273–282

Velcheva I, Tomova E, Arnaudova D, Arnaudov A (2010) Morphological Variations on gill and liver of freshwater fish from dam lake "Studen Kladenetes". Bulg J Agric Sci 16:364–368

Vinodhini R, Narayanan M (2009) Heavy metal Induced histopathological alterations in selected organs of the Cyprinus carpio L. (Common Carp). Int J Environ Res 3:95–100

Zimmerli S, Bernet D, Burkhardt-Holm P et al (2007) Assessment of fish health status in four Swiss Rivers showing a decline of brown trout catches. Aquat Sci 69:11–25
About this article
Cite this article
Jabeen, G., Manzoor, F., Javid, A. et al. Evaluation of Fish Health Status and Histopathology in Gills and Liver Due to Metal Contaminated Sediments Exposure. Bull Environ Contam Toxicol 100, 492–501 (2018). https://doi.org/10.1007/s00128-018-2295-7
Received:

Accepted:

Published:

Issue Date:
Keywords
Histopathology

Fish health

Histological alteration indices (HAI)

Sediment exposure