Abstract
Using trees as phytoremediators has become a powerful tool to remediate lead from contaminated environments. This study aims to identify potential candidates among fast-growing trees by comparing their ability to tolerate and accumulate Pb. Cuttings from Acacia mangium, Azadirachta indica, Eucalyptus camaldulensis, and Senna siamea were cultured in 25% modified Hoagland's solutions supplemented with 10, 30, and 50 mg/L Pb for 15 days. Lead concentrations were determined by a flame atomic absorption spectrophotometer. All species showed high Pb tolerance (over 78%) and low translocation factor (<1) in all treatments. The highest Pb content in roots (>40000 mg/kg) was recorded in A. mangium and E. camaldulensis grown in 50 mg/L Pb solution. Based on high biomass, tolerance index, and Pb content in plants, A. mangium and E. camaldulensis are good candidates for phytoremediation.
This is a preview of subscription content, log in to check access.
Access options
Buy single article
Instant access to the full article PDF.
US$ 39.95
Price includes VAT for USA
Subscribe to journal
Immediate online access to all issues from 2019. Subscription will auto renew annually.
US$ 199
This is the net price. Taxes to be calculated in checkout.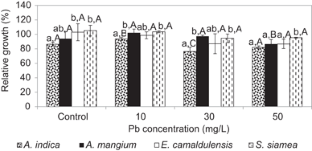 References
Aini Syuhaida AW, Sharifah Norkhadijah SI, Praveena SM, Suriyani A (2014) The comparison of phytoremediation abilities of water mimosa and water hyacinth. ARPN J Sci Technol 4:722–731

Ali H, Khan E, Sajad MA (2013) Phytoremediation of heavy metals-concepts and applications. Chemosphere 91:869–881

Baker AJM (1981) Accumulators and excluders-strategies in the response of plants to heavy metals. J Plant Nutr 3:643–654

Greger M (1999) Metal availability and bioconcentration in plants. In: Prasad MNV, Hagemeyer J (eds) Heavy metal stress in plants. Springer, Berlin, pp 1–27

Karimi LN, Khanahmadi M, Moradi B (2012) Accumulation and phytotoxicity of lead in Cynara scolymus. Indian J Sci Technol 5:3634–3641

Liu D, Li S, Islam E, Chen JR, Wu JS, Ye ZQ, Peng DL, Yan WB, Lu KP (2015) Lead accumulation and tolerance of Moso bamboo (Phyllostachys pubescens) seedlings: applications of phytoremediation. J Zhejiang Univ-Sci B 16:123–130

Malá J, Cvrčková H, Máchová P, Dostál J, Šíma P (2010) Heavy metal accumulation by willow clones in short-time hydroponics. J For Sci 56:28–34

Malar S, Manikandan R, Favas PJC, Sahi SV, Venkatachalam P (2014) Effect of lead on phytotoxicity, growth, biochemical alterations and its role on genomic template stability in Sesbania grandiflora: a potential plant for phytoremediation. Ecotoxicol Environ Saf 108:249–257

Niu ZX, Sun LN, Sun TH, Li YS, Wong H (2007) Evaluation of phytoextracting cadmium and lead by sunflower, ricinus, alfalfa and mustard in hydroponic culture. J Environ Sci 19:961–967

Pourrut B, Shahid M, Dumat C, Winterton P (2011) Lead uptake, toxicity, and detoxification in plants. Rev Environ Contam Toxicol 213:113–136

Pulford ID, Watson C (2003) Phytoremediation of heavy metal-contaminated land by trees-a review. Environ Int 29:529–540

Romeiro S, Lagôa AMMA, Furlani PR, Abreu CA, Abreu MF, Erismann NM (2006) Lead uptake and tolerance of Ricinus communis L. Braz J Plant Physiol 18(4):483–489

Sahi SV, Bryant NL, Sharma NC, Singh SR (2002) Characterization of a lead hyperaccumulator shrub, Sesbania drummondii. Environ Sci Technol 36:4676–4680

Tanhan P, Kruatrachue M, Pokethitiyook P, Chaiyarat R (2007) Uptake and accumulation of cadmium, lead and zinc by Siam weed [Chromolaena odorata (L.) King & Robinson]. Chemosphere 68:323–329

Wang S, Shi X, Sun H, Chen Y, Pan H, Yang X, Rafiq T (2014) Variations in metal tolerance and accumulation in three hydroponically cultivated varieties of Salix integra treated with lead. PLoS ONE 9(9):e108568. doi: 10.1371/journal.pone.0108568

Watson C, Pulford ID, Riddell-Black D (2003) Screening of willow species for resistance to heavy metals: comparison of performance in a hydroponics system and field trials. Int J Phytoremediation 5(4):351–365

Yanqun Z, Yuan L, Schvartz C, Langlade L, Fan L (2004) Accumulation of Pb, Cd, Cu and Zn in plants and hyperaccumulator choice in Lanping lead–zinc mine area, China. Environ Int 30:567–576

Yaowakhan P, Kruatrachue M, Pokethitiyook P, Soonthornsarathool V (2005) Removal of lead using some aquatic macrophytes. Bull Environ Contam Toxicol 75:723–730

Zacchini M, Pietrini F, Mugnozza GS, Iori V, Pietrosanti L, Massacci A (2009) Metal tolerance, accumulation and translocation in poplar and willow clones treated with cadmium in hydroponics. Water Air Soil Pollut 197:23–34

Zhivotovsky OP, Kuzovkina JA, Schulthess CP, Morris T, Pettinelli D, Ge M (2011) Hydroponic screening of willows (Salix L.) for lead tolerance and accumulation. Int J Phytoremediation 13:75–94
Acknowledgements
The work was supported by the Royal Golden Jubilee Ph.D. program (RGJ) under the organization of the Thailand Research Fund (TRF), Grant No. PHD/0214/2556.
About this article
Cite this article
Yongpisanphop, J., Babel, S., Kruatrachue, M. et al. Hydroponic Screening of Fast-growing Tree Species for Lead Phytoremediation Potential. Bull Environ Contam Toxicol 99, 518–523 (2017). https://doi.org/10.1007/s00128-017-2157-8
Received:

Accepted:

Published:

Issue Date:
Keywords
Metals

Woody plants

Bioaccumulation

Tolerance index