Abstract
Characterizing wastewaters only on a chemical basis may be insufficient owing to their complex nature. The purpose of this study was to assess toxicity of textile dyeing wastewater based on analytical techniques and short term toxicity based bioassays. In this study, screening of the fractionated wastewater through GC–MS showed the presence of phenols, phthalic acid derivatives and chlorpyrifos. Metal analysis revealed that chromium, arsenic and mercury were present in amounts higher than the wastewater discharge limits. Textile dyeing wastewater was found to be highly mutagenic in the Ames test. DNA damage in sheep lymphocytes decreased linearly with an increase in the dilution of wastewater. MTT assay showed that 8.3 percent v/v wastewater decreased cell survival percentage to 50 %. It can be concluded from this study that short term toxicity tests such as Ames test, in vitro comet assay, and cytotoxicity assays may serve as useful indicators of wastewater pollution along with their organic and inorganic chemical characterizations.
This is a preview of subscription content, log in to check access.
Access options
Buy single article
Instant access to the full article PDF.
US$ 39.95
Price includes VAT for USA
Subscribe to journal
Immediate online access to all issues from 2019. Subscription will auto renew annually.
US$ 199
This is the net price. Taxes to be calculated in checkout.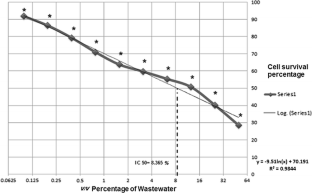 References
Akhtar MF, Ashraf M, Anjum AA, Javeed A, Sharif A, Saleem A, Akhtar B (2016) Textile industrial effluent induces mutagenicity and oxidative DNA damage and exploits oxidative stress biomarkers in rats. Environ Toxicol Pharmacol 41:180–186

Castillo M, Barceló D (2001) Characterisation of organic pollutants in textile wastewaters and landfill leachate by using toxicity-based fractionation methods followed by liquid and gas chromatography coupled to mass spectrometric detection. Anal Chim Acta 426:253–264

Engelmann MD, Hutcheson R, Henschied K, Neal R, Cheng IF (2003) Simultaneous determination of total polychlorinated biphenyl and dichlorodiphenyltrichloroethane (DDT) by dechlorination with Fe/Pd and Mg/Pd bimetallic particles and flame ionization detection gas chromatography. Microchem J 74:19–25. doi:10.1016/S0026-265X(02)00084-X

Frenzilli G, Nigro M, Lyons B (2009) The Comet assay for the evaluation of genotoxic impact in aquatic environments. Mutation Res Rev Mutation Res 681:80–92

Houk VS (1992) The genotoxicity of industrial wastes and effluents: a review. Mutation Res Rev Genet Toxicol 277:91–138

Icgen B, Yilmaz F (2014) Co-occurrence of antibiotic and heavy metal resistance in Kızılırmak river isolates. Bull Environ Contam Toxicol 93:735–743. doi:10.1007/s00128-014-1383-6

Lee DH, O'Connor TR, Pfeifer GP (2002) Oxidative DNA damage induced by copper and hydrogen peroxide promotes CG→ TT tandem mutations at methylated CpG dinucleotides in nucleotide excision repair-deficient cells. Nucleic Acids Res 30:3566–3573

Mortelmans K, Zeiger E (2000) The Ames Salmonella/microsome mutagenicity assay. Mutation Res Fundam Mol Mech Mutagen 455:29–60. doi:10.1016/S0027-5107(00)00064-6

Shakir L, Ejaz S, Ashraf M, Ahmad N, Javeed A (2012) Characterization of tannery effluent wastewater by proton-induced X-ray emission (PIXE) analysis to investigate their role in water pollution. Environ Sci Pollut Res 19:492–501

Sharif A et al (2015). Pharmaceutical wastewater being composite mixture of environmental pollutants may be associated with mutagenicity and genotoxicity. Environ Sci Pollut Res 23:2813–2820

Tice R et al (2000) Single cell gel/comet assay: guidelines for in vitro and in vivo genetic toxicology testing. Environ Mol Mutagen 35:206–221

Tiwari A, De Maio M, Singh P, Mahato M (2015) Evaluation of surface water quality by using GIS and a heavy metal pollution index (HPI) model in a coal mining area India. Bull Environ Contam Toxicol 95:304–310. doi:10.1007/s00128-015-1558-9

Varghese J, Jaya DS (2014) Metal pollution of groundwater in the vicinity of Valiathura Sewage farm in Kerala, South India. Bull Environ Contam Toxicol 93:694–698. doi:10.1007/s00128-014-1410-7

Yi H, Wu L, Jiang L (2007) Genotoxicity of arsenic evaluated by Allium-root micronucleus assay. Sci Total Environ 383:232–236

Zeiner M, Rezi I, Steffan I (2007) Analytical methods for the determination of heavy metals in the textile industry. Kem Ind 56:587–595
Acknowledgements
The authors wish to acknowledge the Chairman, Department of Pharmacology and Toxicology, Dr. Ovais Omer for his kind support throughout this study.
About this article
Cite this article
Akhtar, M.F., Ashraf, M., Javeed, A. et al. Toxicity Appraisal of Untreated Dyeing Industry Wastewater Based on Chemical Characterization and Short Term Bioassays. Bull Environ Contam Toxicol 96, 502–507 (2016). https://doi.org/10.1007/s00128-016-1759-x
Received:

Accepted:

Published:

Issue Date:
Keywords
Industrial wastewater

Genotoxicity

Mutagenicity

Cytotoxicity

Heavy metals