Abstract
Eight chromium resistant bacteria were isolated from a dry fly ash sample of DVC-MTPS thermal power plant located in Bankura, West Bengal, India. These isolates displayed different degrees of chromate reduction under aerobic conditions. According to 16S rDNA gene analysis, five of them were Staphylococcus, two were Bacillus and one was Micrococcus. The minimum inhibitory concentration towards chromium and the ability to reduce hexavalent chromium to trivalent chromium was highest in Staphylococcus haemolyticus strain HMR17. All the strains were resistant to multiple heavy metals (As, Cu, Cd, Co, Zn, Mn, Pb and Fe) and reduced toxic hexavalent chromium to relatively non toxic trivalent chromium even in the presence of these multiple heavy metals. All of them showed resistance to different antibiotics. In a soil microcosm study, S. haemolyticus strain HMR17 completely reduced 4 mM hexavalent chromium within 7 days of incubation.
This is a preview of subscription content, log in to check access.
Access options
Buy single article
Instant access to the full article PDF.
US$ 39.95
Price includes VAT for USA
Subscribe to journal
Immediate online access to all issues from 2019. Subscription will auto renew annually.
US$ 199
This is the net price. Taxes to be calculated in checkout.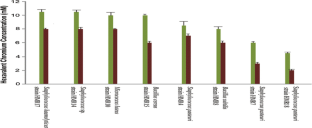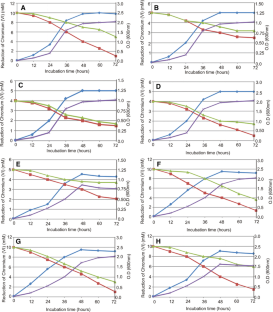 References
Altschul SF, Gish W, Miller W, Myers EW, Lipman DJ (1990) Basic local alignment search tool. J Mol Biol 215:403–410

Claus D, Berkeley RCW (1989) Bergey's manual of systematic bacteriology, vol 2. Williams and Wilkins, Baltimore, pp 1104–1139

Dyall-Smith M (2008) The Halohandbook: protocols for haloarchaeal genetics. Haloarchaeal Genetics Laboratory, Melbourne, p 14

Fendorf SE (1995) Surface reactions of chromium in soils and water. Geoderma 67:55–71

Francisco R, Alpoim MC, Morais PV (2002) Diversity of chromium-resistant and -reducing bacteria in a chromium-contaminated activated sludge. J Appl Microbiol 92:837–843

Ganguli A, Tripathi AK (2001) Inducible periplasmic chromate reducing activity in Pseudomonas aeruginosa from a leather tannery effluent. J Microbiol Biotechnol 11:355–361

He M, Li X, Guo L, Miller SJ, Rensing C, Wang G (2010) Characterization and genomic analysis of chromate resistant and reducing Bacillus cereus strain SJ1. BMC Microbiol 10:221

McLean J, Beveridge TJ (2001) Chromate reduction by a pseudomonad isolated from a site contaminated with chromated copper arsenate. Appl Environ Microbiol 67:1076–1084

Pal A, Paul AK (2004) Aerobic chromate reduction by chromium-resistant bacteria isolated from serpentine soil. Microbiol Res 159:347–354

Park D, Yun YS,  Park JM (2005) Studies on hexavalent chromium biosorption by chemically–treated biomass of Ecklonia sp. Chemosphere 60:1356–1364

Pattanapipitpaisal P, Brown NL, Macaskie LE (2001) Chromate reduction and 16S rRNA identification of bacteria isolated from a Cr(VI) contaminated site. Appl Microbiol Biotechnol 57:257–261

Saitou N, Nei M (1987) The neighbor-joining method: a new method for reconstructing phylogenetic trees. Mol Biol Evol 4:406–425

Sambrook J, Fritschi EF, Maniatis T (1989) Molecular cloning: a laboratory manual. Cold Spring Harbor Laboratory Press, New York

Stam AF, Meij R, Winkel HT, Eijk RJV, Huggins FE, Brem G (2011) Chromium speciation in coal and biomass co-combustion products. Environ Sci Technol 45:2450–2456

Thacker U, Parikh R, Shouche Y, Madamwar D (2006) Hexavalent chromium reduction by Providencia sp. Process Biochem 41:1332–1337

Viti P, Pace A, Giovannetti L (2003) Characterisation of chromium-resistant bacteria isolated from chromium-contaminated soil by tannery activity. Curr Microbiol 46:1–5

Yassi A, Nieboer E (1988) Carcinogenicity of chromium compounds. In: Nriagu JO, Neiboer E (eds) Chromium in the natural and human environments. Wiley, New York, pp 514–530

Zhu W, Chai L, Ma Z, Wang Y, Xiao H, Zhao K (2008) Anaerobic reduction of hexavalent chromium by bacterial cells of Achromobacter sp. strain Ch1. Microbiol Res 163:616–662
Acknowledgments
Laboratory facilities were provided by Techno India University. We are grateful to Mrs. Kalyani Pyne, Ex. Engineer (Elec.), EMPC division of DVC MTPS for providing us the fly ash samples.
About this article
Cite this article
Roychowdhury, R., Mukherjee, P. & Roy, M. Identification of Chromium Resistant Bacteria from Dry Fly Ash Sample of Mejia MTPS Thermal Power Plant, West Bengal, India. Bull Environ Contam Toxicol 96, 210–216 (2016). https://doi.org/10.1007/s00128-015-1692-4
Received:

Accepted:

Published:

Issue Date:
Keywords
Dry fly ash (DFA)

Chromate reducing bacteria

Minimal inhibitory concentration (MIC)

Multiple heavy metals

Antibiotic resistance

Soil microcosm