Abstract
The feathers and diet items of grey heron (Ardea cinerea) and black-crowned night-heron (Nycticorax nycticorax) chicks were collected at the Pyeongtaek colony, Korea in 2002 and 2008, and Cd, Pb, Mn and Zn concentrations were measured. Cd and Zn concentrations were higher in both species in 2008 than 2002 and were higher in grey herons than black-crowned night-herons in 2002. In 2008, Cd concentrations were higher in black-crowned night-herons than grey herons; Zn concentrations did not differ between species. Pb and Mn concentrations did not differ between species; however, there were yearly differences. Cd, Pb and Zn concentrations of feathers and diet were significantly correlated when species and years were combined. However, the predictive power of these relationships was limited because of species and yearly differences. All heron chicks had concentrations of Cd (<2 μg/g dw) and Pb (<4 μg/g dw) consistent with background concentrations for wild birds. Mn and Zn concentrations were within the range reported for other heron and egret species.
This is a preview of subscription content, log in to check access.
Access options
Buy single article
Instant access to the full article PDF.
US$ 39.95
Price includes VAT for USA
Subscribe to journal
Immediate online access to all issues from 2019. Subscription will auto renew annually.
US$ 199
This is the net price. Taxes to be calculated in checkout.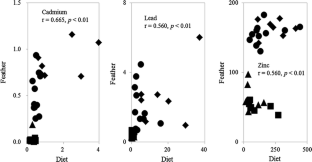 References
Abdennadher A, Ramírez F, Romdhane MS, Ruiz X, Jover L, Sanpera C (2011) Little egret (Egretta garzetta) as a bioindicator of trace element pollution in Tunisian aquatic ecosystems. Environ Monit Assess 175:677–684

Adán EG, Gerardo G-B (2013) Lead concentrations in sediments and blue-winged teals (Anas discors) from El Palmar State Reserve, Yucatan, Mexico. Arch Environ Contam Toxicol 65:588–597

Boncompagni E, Muhammad A, Jabeen R, Orvini E, Gandini C, Sanpera C, Ruiz X, Fasola M (2003) Egrets as monitors of trace-metal contamination in wetland of Pakistan. Arch Environ Contam Toxicol 45:399–406

Burger J (2008) Assessment and management of risk to wildlife from cadmium. Sci Total Environ 389:37–45

Burger J, Gochfeld M (1997) Lead and neurobehavioral development in gulls: a model for understanding effects in the laboratory and the field. Neurotoxicology 18:495–506

Burger J, Gochfeld M (2000) Metal levels in feathers of 12 species of seabirds from Midway Atoll in the northern Pacific Ocean. Sci Total Environ 257:37–52

Carpenter JW, Andrews GA, Beyer WN (2004) Zinc toxicosis in a free-flying trumpeter swan (Cygnus buccinator). J Wildl Dis 40:769–774

Connell DW, Wong BSF, Lam PKS, Poon KF, Lam MHW, Wu RSS, Richardson BJ, Yen YF (2002) Risk to breeding success of ardeids by contaminants in Hong Kong: evidence from trace metals in feathers. Ecotoxicology 11:49–59

Costa RA, Petronilho JMS, Soares AMVM, Vingada JV (2011) The use of passerine feathers to evaluate heavy metal pollution in Central Portugal. Bull Environ Contam Toxicol 86:352–356

Custer TW, Custer CM, Eichhorst BA, Warburton D (2007) Selenium and metal concentrations in waterbird eggs and chicks at Agassiz National Wildlife Refuge, Minnesota. Arch Environ Contam Toxicol 53:103–109

Custer TW, Golden NH, Rattner BA (2008) Element patterns in feathers of nestling black-crowned night-heron, Nycticorax nycticorax L., from four colonies in Delaware, Maryland, and Minnesota. Bull Environ Contam Toxicol 81:147–151

Dauwe T, Bervoets L, Blust R, Eens M (2002) Tissue levels of lead in experimentally exposed zebra finches (Taeniopygia guttata) with particular attention on the use of feathers as biomonitors. Arch Environ Contam Toxicol 42:88–92

Dauwe T, Janssens E, Bervoets L, Blust R, Eens M (2004) Relationships between metal concentrations in great tit nestlings and their environment and food. Environ Pollut 131:373–380

Deng H, Zhang Z, Chang C, Wang Y (2007) Trace metal concentration in great tit (Parus major) and greenfinch (Carduelis sinica) at the Western Mountains of Beijing, China. Environ Pollut 148:620–626

Eeva T, Ahola M, Lehikoinen E (2009) Breeding performance of blue tits (Cyanistes caeruleus) and great tits (Parus major) in a heavy metal polluted area. Environ Pollut 157:3126–3131

Fritsch C, Coeurdassier M, Faivre B, Baurand P-E, Giraudoux P, van den Brink NW, Scheifler R (2012) Influence of landscape composition and diversity on contaminant flux in terrestrial food webs: a case study of trace metal transfer to European blackbirds Turdus merula. Sci Total Environ 432:275–287

Jerez S, Motas M, Palacios MJ, Valera F, Cuervo JJ, Barbosa A (2011) Concentration of trace elements in feathers of three Antarctic penguins: geographical and interspecific differences. Environ Pollut 159:2412–2419

Kim J, Oh J-M (2014) Relationships of metals between feathers and diets of black-tailed gull (Larus crassirostris) chicks. Bull Environ Contam Toxicol 92:265–269

Malik RN, Zeb N (2009) Assessment of environmental contamination using feathers of Bubulcus ibis L., as a biomonitor of heavy metal pollution, Pakistan. Ecotoxicology 18:522–536

Norouzi M, Mansouri B, Hamidian AH, Ebrahimi T, Kardoni F (2012) Comparison of the metal concentrations in the feathers of three bird species from Southern Iran. Bull Environ Contam Toxicol 89:1082–1086

Padula V, Burger J, Newman SH, Elbin S, Jeitner C (2010) Metals in feathers of black-crowned night-heron (Nycticorax nycticorax) chicks from the New York Harbor Estuary. Arch Environ Contam Toxicol 59:157–165

Roodbergen M, Kloka C, van der Houta A (2008) Transfer of heavy metals in the food chain earthworm black-tailed godwit (Limosa limosa): comparison of a polluted and a reference site in The Netherlands. Sci Total Environ 406:407–412

Spahn SA, Sherry TW (1999) Cadmium and lead exposure associated with reduced growth rates, poorer fledging success of little blue heron chicks (Egretta caerulea). Arch Environ Contam Toxicol 37:377–384

Takekawa JY, Wainwright-De la Cruz SE, Hothem RL, Yee J (2002) Relating body condition to inorganic contaminant concentrations of diving ducks wintering in coastal California. Arch Environ Contam Toxicol 42:60–70

Ullah K, Hashmi MZ, Malik RN (2014) Heavy-metal levels in feathers of cattle egret and their surrounding environment: a case of the Punjab Province, Pakistan. Arch Environ Contam Toxicol 66:139–153
Acknowledgments
We are grateful on Thomas W. Custer (USGS) for a critical reading and comments on the manuscript.
About this article
Cite this article
Kim, J., Oh, J. Concentrations of Cd, Pb, Mn and Zn in Feathers and Diet in Heron Chicks in Korea. Bull Environ Contam Toxicol 94, 66–70 (2015). https://doi.org/10.1007/s00128-014-1421-4
Received:

Accepted:

Published:

Issue Date:
Keywords
Heron chicks

Feathers

Diet items

Cd

Pb