Abstract
In the present study, we investigated the distribution of 17β-estradiol (E2), 17α-ethynylestradiol (EE2), alkylphenol ethoxylates (APEs) and organochlorine pesticides (DDE/DDT) in water and sediment samples in the Eastern Anatolia of Turkey, Lake Van, which is the largest soda lake in the world. The procedure consisted of solid phase extraction performed with OASIS HLB cartridges followed by non-competitive enzyme-linked immunosorbent assays (ELISA). The endocrine disrupting compounds E2, EE2, and DDT/DDE were detected in most of the lake samples with mean concentrations of 0.996 ± 0.304, 0.050 ± 0.022, and 0.749 ± 0.658 ng/L in water, respectively. Mean concentrations of E2, EE2 and DDT/DDE in sediment were 0.098 ± 0.053, 0.091 ± 0.072, and 1.281 ± 0.754 ng/g, respectively. APEs were not measured in the sediment samples. The EDCs levels in surface water and sediment samples were lower than that of other countries. The EDCs were also found in effluent and influent municipal sewage samples. Van city municipal wastewater treatment plant has no removal efficiency for EDCs.
This is a preview of subscription content, log in to check access.
Access options
Buy single article
Instant access to the full article PDF.
US$ 39.95
Price includes VAT for USA
Subscribe to journal
Immediate online access to all issues from 2019. Subscription will auto renew annually.
US$ 199
This is the net price. Taxes to be calculated in checkout.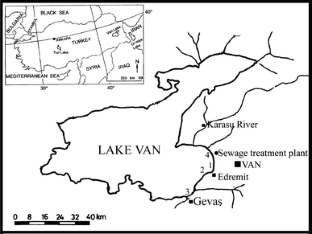 References
Ankley GT, Bencic DC, Breen MS, Collette TW, Conoly RB, Denslow ND, Edwards SW, Ekman DR, Garcia-Reyero N, Jensen KM, Lazorchak JM, Martinovic D, Miller DH, Perkins EJ, Orlando EF, Villeneuve DL, Wang RL, Watanabe KH (2009) Endocrine disrupting chemicals in fish: developing exposure indicators and predictive models of effects based on mechanism of action. Aquatic Toxicol 92:168–178

Ayas Z (2007) Review on DDT and its residues in Turkey`s wetlands. J Environ Biol 28(4):707–715

Danulat E, Selçuk B (1992) Life history and environmental conditions of the anadromous Chalcalburnus tarichi (Cyprinidae) in the highly alkaline Lake Van, Eastern Anatolia Turkey. Arch Hidrobiol 126(1):105–125

Desbrow C, Routledge EJ, Brighty GC, Sumpter JP, Waldock M (1998) Identification of estrogenic chemicals in STW effluent. 1. Chemical fractionation and in vitro biological screening. Environ Sci Technol 32:1549–1558

Gutendorf B, Westendorf J (2001) Comparison of an array of in vitro assays for the assessment of the estrogenic potential of natural and synthestic estrogens, phytoestrogens and xenoestrogens. Toxicology 166(1–2):79–89

Jobling S, Coey S, Whitmore JG, Kime DE, Van Look KJW, McAllister BG (2002) Wild intersex roach (Rutilus rutilus) have reduced fertility. Biol Reprod 67:515–524

Kime DE, Nash JP (1999) Gamete viability as an indicator of reproductive endocrine disruption in fish. Sci Total Environ 233:1–3

Kolpin DW, Furlong ET, Meyer MT, Thurman EM, Zaugg SD, Barber LB (2002) Pharmaceuticals, hormones, and other organic wastewater contaminants in US streams, 1999–2000: a national reconnaissance. Environ Sci Technol 36(6):1202–1211

Laganà A, Bacaloni A, De Leva I, Faberi A, Fago G, Marino A (2004) Analytical methodologies for determining the occurrence of endocrine disrupting chemicals in sewage treatment plants and natural waters. Anal Chim Acta 501:79–88

Liu R, Zhou JL, Wilding A (2004) Simultaneous determination of endocrine disrupting phenolic compounds and steroids in water by solid-phase extraction-gas chromatography–mass spectrometry. J Chromatogr A 1022:179–189

Oğuz AR (2013) Environmental regulation of mitochondria-rich cells in Chalcalburnus tarichi (Pallas, 1811) during reproductive migration. J Membr Biol 3:183–188

Oğuz AR, Ünal G (2011) The effects of 17α-ethynylestradiol, 4-nonylphenol and phenol red on vitellogenin synthesis in juvenile Chalcalburnus tarichi primary hepatocyte culture. Toxicol Ind Health 4:379–384

Pojana G, Gomiero A, Jonkers N, Marcomini A (2007) Natural and synthetic endocrine disrupting compounds (EDCs) in water, sediment and biota of coastal lagoon. Environ Int 33:929–936

Rocha S, Domingues VF, Pinho C, Fernandes VC, Delerue-Matos C, Gamerio P (2013) Occurrence of bisphenol A, Estrone, 17β-estradiol and 17α-ethynylestradiol in Portuguese rivers. Bull Environ Contam Toxicol 90:73–78

Seki M, Yokota H, Maeda M, Tadokoro H, Kobayashi K (2003) Effects of 4-nonylphenol and 4-tert-octylphenol on sex differentiation and vitellogenin induction in medaka (Oryzias latipes). Environ Toxicol Chem 22(7):1507–1516

Snedeker SM (2001) Pesticides and breast cancer risk: a review of DDT, DDE, and dieldrin. Environ Health Perspect 109:35–47

Tanaka JN, Grizzle JM (2002) Effects of nonylphenol on the gonadal differentiation of the hermaphroditic fish, Rivilus marmoratus. Aquatic Toxicol 57:117–125

Ünal G, Türkoğlu V, Oğuz AR, Kaptaner B (2007) Gonadal histology and some biochemical characteristics of Chalcalburnus tarichi (Pallas, 1811) having abnormal gonads. Fish Physiol Biochem 33:153–165

Viganò L, Benfenati E, van Cauwenberge A, Eidem JK, Erratico C, Goksøyr A (2008) Estrogenicity profile and estrogenic compounds determined in river sediments by chemical analysis, ELISA and yeast assays. Chemosphere 73:1078–1089

Wang Y, Zhang Q, Lv J, Li A, Liu H, Li G, Jiang G (2007) Polybrominated diphenyl ethers and organochlorine pesticides in sewage sludge of wastewater treatment plants in China. Chemosphere 68:1683–1691

Wang L, Ying GG, Zhao JL, Liu S, Yang B, Zhou LJ, Tao R, Su HC (2011) Assessing estrogenic activity in surface water and sediment of the Liao River system in northest China using combined chemical and biological tools. Environ Pollut 159:148–156

Ying GG, Williams B, Kokana R (2002) Environmental fate of alkylphenols and alkylphenol ethoxylates—a review. Environ Int 28:215–226

Zaroogian G, Gardner G, Horowitz DB, Gutjahr-Gobell R, Haebler R, Mills L (2001) Effect of 17beta-estradiol, o, p′-DDT, octylphenol and p, p′-DDE on gonadal development and liver and kidney pathology in juvenile male summer flounder (Paralichthys dentatus). Aquat Toxicol 54(1–2):101–112
Acknowledgments
This study was supported by Directorate of Scientific Research Projects of Yüzüncü Yıl University (Grant No. 2010-FED-B032). The authors kindly thank Van WWTP personnel for providing wastewater and sludge samples.
About this article
Cite this article
Oğuz, A.R., Kankaya, E. Determination of Selected Endocrine Disrupting Chemicals in Lake Van, Turkey. Bull Environ Contam Toxicol 91, 283–286 (2013). https://doi.org/10.1007/s00128-013-1036-1
Received:

Accepted:

Published:

Issue Date:
Keywords
Endocrine disruptors

Phenolic compounds

Enzyme-linked immunosorbent assay

Lake Van